Buying a home is one of the most important steps in our lives. It is a significant investment that shouldn't be taken lightly. That's why a professional home inspection is always recommended as part of any home purchase. However, many home buyers are don't know what a home inspection includes and doesn't include.
While most systems and components are included in a home inspection, some are not. A home inspection can unveil some red flags in your home purchase. Let's take a closer look at what a home inspection includes, and then we will look at what a home inspection doesn't include.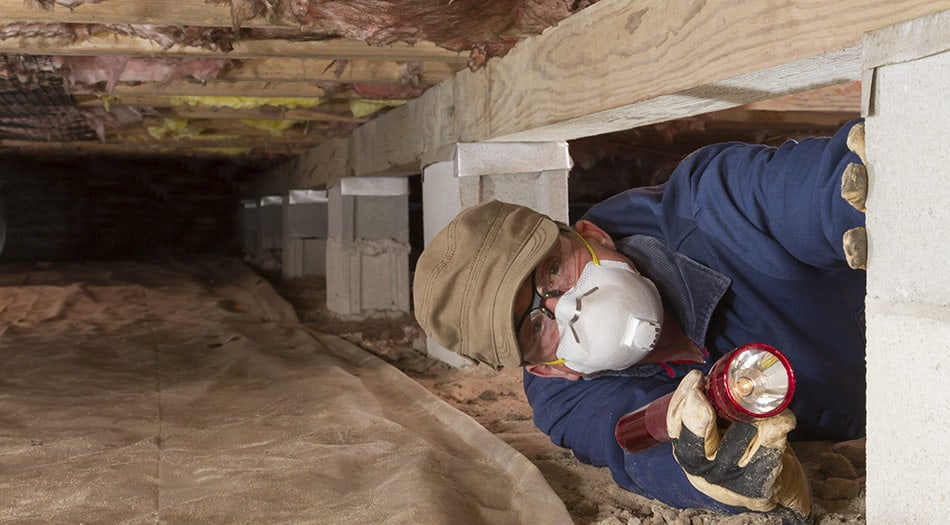 What a Home Inspection Includes
Here is what you can expect from a qualified home inspector:
First, your home inspector will inspect all the visible, physically accessible, and observable systems, elements, and building components. Then the home inspector will provide you with a report with the inspection findings, including their recommendations for repair.
Home inspectors follow a set of Standards of Practice. These Standards of Practice are set by National Associations like InterNACHI (the International Association of Certified Home Inspectors) or ASHI (American Society of Home Inspectors). In States where licensing is required, a version of these standards is adopted for use. You can read a copy of the Standards of Practice on the NACHI.org website.
A home inspector will check and inspect each segment component of the house listed below. They will check the following components of the building:
Roof: The roof's condition, the materials used, the drainage system, chimneys, skylights, and flashing. They will inspect for any repairs or damage to the shingles and gutters.
Foundation and structure: including the floor, walls, ceiling, and roof structure
Electrical systems: check the electrical systems to verify they are functioning correctly and for safety defects. This includes the electrical panel box, grounding, wiring, electrical outlets, switches, and circuit breakers.
Plumbing systems: check the plumbing system, including the water heater system, pipes, and fixtures, including bathtubs, showers, toilets.
Heating systems: check the heating equipment, chimneys, fireplaces, venting, and ductwork.
Air conditioning systems: The central and other cooling systems and ductwork condition.
Built-in Appliances: check any built-in appliances such as stoves, refrigerators, dishwashers, microwaves, washer machines, dryers, etc.
Basement, Attic, and Garage: check the foundations, walls, floors, windows, framing, roof, wiring, and electrical systems, and garage door openers.
Exterior: the condition of the exterior paint and siding, lights, outlets, and more.
Safety features: fire and carbon monoxide alarms, the condition of staircases, guardrails, etc.
Grounds: check the condition of sidewalks, driveways, fences, and lot drainage.
Items Not included in a Home Inspection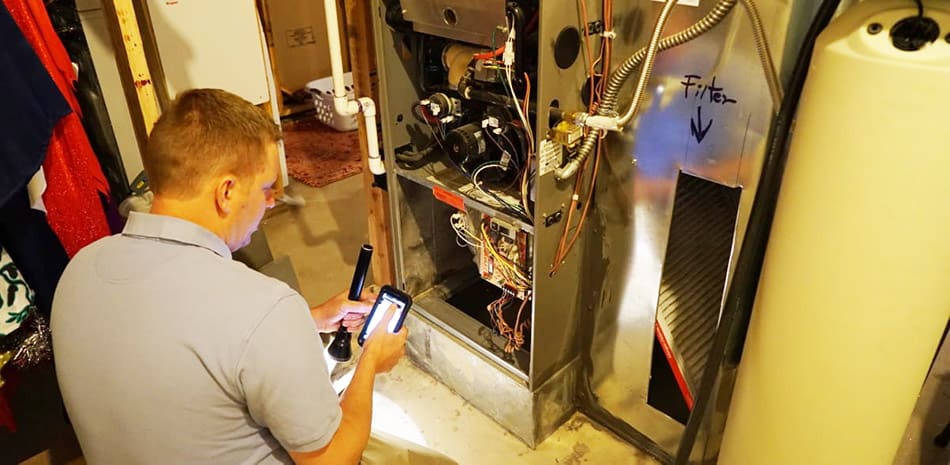 Your home inspection may not cover some features and systems unless specifically requested. While the items listed below are not part of a standard home inspection, they may be added for a fee depending on your home inspectors' training and skillset. When you call to schedule your home inspection, you should inform your home inspector if you need any of these items inspected.
Void in the Insulation
Voids in the insulation are areas of the floor, ceilings, and exterior walls where insulation is missing. Voids in the insulation can be due to poor installation or damage. Insulation voids are not usually inspected because many of these areas are inaccessible. Insulation voids help transfer heat and can reduce the home's energy efficiency. Even small gaps will result in reduced insulation effectiveness, impacting room temperatures and utility costs.
Pest Control: Bugs, Spiders, Fleas, Roaches
A home inspection does not cover pest control. However, this might be one of the most critical factors that need to be checked before buying or renting a new property. Home inspectors will check for damage caused by termites and other wood-destroying insects and organisms; however, treatment is up to the homeowner.
When inspecting the house, always check for any signs of pests. Ask if the seller has done any pest control treatments in the past and have taken any measurements to prevent any pests from getting into the house.
As a part of the necessary due diligence, it is crucial to speak with a pest control specialist and schedule your inspection. The pest control expert will take a look and inspect the house for any insects, bugs, termites, beetles, ants, mice, roaches, spiders, etc.
Suspicious Animal Activity in Attics
Your home inspector will inspect the exterior and attic for evidence of animal activity; however, this may not be fully detectable due to accessibility issues. Your home inspector will document potential entry points that need repair to prevent animal activity. However, activity is difficult to gauge unless the inspector sees an animal in the attic. Animal activity can include:
Animal droppings and urine.
Piles of leaves, nuts, food, twigs, and papers.
Disturbed insulation where animals have nested.
Torn screening on attic vents.
Animals seek shelter in houses for a variety of reasons. They could be seeking shelter, warmth, and potential food sources. A variety of different animals that can be found in your attic include:
Raccoons
Mice and rats
Birds
Squirrels
Opossums
Bats
Even if most of these animals are not necessarily dangerous, they can cause severe damage to the house. They can eat through the insulation, damage the electrical wiring, or even die in the walls. All of this can pose significant problems in the future. They can also carry diseases that could pose a health risk.
Swimming Pools, Spas, and Hot Tubs
When buying a home with a swimming pool, a hot tub, or a spa, there are certain things you always need to know. It is best to have a qualified pool expert inspect the pool, hot tub, or spa. They will make sure to inspect and provide you with a detailed list of the following:
Safety features required by the local authorities are present and functioning.
The condition of the pool foundation, structure, deck, interior, equipment systems, other components, and additional accessories.
The condition of the pool pump, filters, and heaters.
Overall backyard condition and pool accessibility.
They will check for proper wiring, automation, and other features.
A pool inspector is usually worth the investment as they can provide you with more in-depth information about the pool's actual condition.
Lawn Sprinkler Systems
A properly working and maintained lawn sprinkler system will save you money and water. A sprinkler system that has not been appropriately set can even cause mold accumulation if it sprays directly at the house.
Many potential problems with sprinkler systems occur from damage caused by lawn equipment. What are the most common issues you can expect with old sprinkler systems?
Broken sprinkler heads.
Water leaks.
Misaligned sprinkler heads lead to inadequate zone coverage and create dry or wet spots on the lawn.
Problems with the supply piping and drain valves.
Broken controller or sensors.
Fire Sprinkler Systems
This mainly pertains to condo buildings where a fire sprinkler system protects the units. The Homeowners Association maintains these systems. However, if present in a residential home, you should have a certified technician ensure that the system is properly working and in good condition.
Alarm and Intrusion Detection Systems
Home inspectors do not inspect existing alarm systems in a home. Sellers typically cancel the existing service when they sell the house. If the alarm system is left intact, you may reactivate the service with the same company. However, most alarm companies will install or update their existing equipment when the service is activated.
Television Antenna or Satellite Dishes
Television antennas and satellite dishes are not a part of the home inspection. Like alarm systems, sellers will cancel their service when the home is sold. Companies will install new equipment when the buyer takes possession of the house and calls to set up service.
Detached Structures
Home inspectors will often inspect detached structures for an additional fee. When a home inspector inspects a house, they only look at the primary structure. Rates for detached structures will depend on the size of the structure and its systems, such as electrical, heating/cooling, and plumbing systems.
Well Water Quality
Well water systems are inspected as part of the home inspection. Home inspectors will check the function of the well, piping, wiring, and output. However, the quality of the water from the well is not tested. Water from a well should be tested for various contaminants and bacteria. Water samples must be collected from a well and sent to a certified lab for analysis.
Building Code Compliance
Home inspectors are not the same as code compliance inspectors. Code compliance inspectors are city or county employees who have the authority to inspect a structure and levy fines for code violations. However, code enforcement inspectors do not inspect homes for real estate transactions unless it's a new structure. While home inspectors are trained to know building codes, they do not have the same authority as code enforcement officers. See our article Do Home Inspectors Interpret Code Violations?
Open Building Permits
Home inspectors do not check whether a property has open building permits from work performed on the house. When a contractor begins work on a house, a building permit must often be obtained. To close an activity building permit, a code enforcement inspector will check the work performed to determine if the work meets the current building codes. This is particularly important when purchasing a house that is being advertised as recently renovated.
Private Septic Systems
A house will either have a municipal sewer system or a private septic system. A private septic system generally includes a buried 1000 gallon tank with a drainage field. Private septic systems have to be maintained by the homeowner. A septic system that hasn't been appropriately maintained can cost thousands of dollars to repair.
A home inspector will inspect whether bathtubs and sinks are draining correctly; however, a septic system must often be used before potential problems surface. Septic systems are buried underground and therefore considered inaccessible during a home inspection.
Paint, Wallpaper, and Cosmetic Defects
A home inspection will not include paint, wallpaper, and other cosmetic defects. These defects include nail holes in the walls, poor paint color choices, peeling wallpaper, etc. For example, bold paint choices may appeal to some people but not to others. Most home buyers will paint a house once they take possession of the house to make their own.
Landscaping (Unless Touching Structure)
A standard home inspection will look at things like lot drainage; however, the condition of sod and other vegetation is not something a home inspector is concerned with unless it affects the building somehow. Trees growing too close to the foundation or touching the exterior or roof would be inspected while overgrown grass or bare spots in the lawn are not.
Scratches and Other Floor Damage Caused by Pets
A home with a pet might come with some damages. If the home has hardwood floors, scratches and stains likely exist if pets were kept indoors. Another thing worth knowing is that urine stains in carpeting might be tough to remove. The replacement of the flooring can only repair damage to certain types of wood flooring.
Smoke (by Cigarettes, Cigars, Candles)
If the seller or someone who lived in the home is a smoker or likes to burn candles, there could be smoke or nicotine buildup on the walls and ceilings throughout the house. Nicotine is left behind from cigarettes and cigar smoke. Nicotine leaves a tar-like substance behind, challenging to remove from wall surfaces without cleaning with a chemical solution or degreaser. Burning candles leave soot behind on the walls and ceilings if the wicks aren't appropriately trimmed before burning.
Squeaky Floors
During a home inspection, squeaky areas of the floor are left to the home inspector's discretion. The home inspector will examine the floor structure's accessible areas to determine if a repair is needed. Squeaky flooring is quite common in wood-frame homes and usually not a structural defect. Squeaky floors are often a result of wood subfloor sheathing moving against the floor joists.
Landscape Outdoor Lighting
Outdoor landscape lighting has grown in popularity over the past several years. While outdoor landscape lighting is not part of the home inspection, you may want to have it inspected by a professional landscape company. Many potential problems with outdoor landscape lighting occur from moisture problems and damage caused by lawn equipment.
Built-in Stereo Speaker System
Some homes have built-in stereo speakers. Stereo systems are not part of the home inspection for several reasons. The stereo speakers may not have a stereo system connected. If the equipment is old, it might need some service or even refurbishment. You may want to have the speaker system checked by a qualified audio technician to determine if it is working correctly.
Intercom System
Intercom systems were popular in the 1980s among middle-class families. Intercom systems are not popular among families today, as technology has advanced over time. Therefore, intercom systems are not part of the home inspection. If there is an intercom system present, it is likely old and no longer functional. With advancements in wireless technology, intercom systems are rarely ever used anymore.
Central Vacuum System
Central vacuum systems are not part of the home inspection. If the equipment is old, it might need some service or even replacement. The central vacuum system might need to be checked by a qualified contractor to determine if it is working correctly and that tubes are not clogged with debris. Sometimes a central vacuum system may be present, but the hoses and vacuum head will be missing.
Asbestos
The EPA has made numerous unsuccessful attempts to ban asbestos over the years altogether. The EPA's Clean Air Act in 1973 banned most spray-applied asbestos products for fireproofing and insulating purposes. This included most products used in building materials.
A full ban failed; however, most building materials were asbestos found in buildings built or refurbished before 2000. This material is dangerous as it can cause several severe and even fatal health diseases.
Asbestos can be found in cement flooring, walls, and the ceiling; in the carpet underlays, internal and external wall sheetings, shingles, insulation, gutters, garages, and fences, eaves, and pipes.
Radon Gas
Radon is a dangerous gas as it has no color and no smell. It is a radioactive gas that occurs naturally in the environment in small quantities. And it can get into the house if there are holes and cracks in the building's foundation, it can contaminate water sources, such as wells, too. Inhaling large amounts of it can cause lung cancer. All houses should be checked for radon, and a radon mitigation system should be installed if high levels exist.
Lead Paint
Lead-based paint was used in houses and apartments up until 1978. If the paint is in perfect condition and the surface hasn't been damaged in any way, the paint is not considered dangerous. But the wall surface can easily be chipped or scratched, which means you are at risk of inhaling lead particles.
Lead-based paint is especially dangerous to children and pregnant women and can cause serious health issues.
Although lead paint is not part of the home inspection, the paint should always be checked, especially if you are buying an old apartment or house. A qualified EPA contractor should assess suspected lead paint.
Toxic Mold
Toxic molds are a type of molds that generate mycotoxins. Exposure to mycotoxins is hazardous to both humans and animals. Toxic molds can cause neurological issues and, in some cases, even death. Molds can be found in several places like the bathroom, rooms with poor ventilation, leaky pipes, and damaged roofs. There is also a high risk of mold growing after a flood.
Indoor Air Quality
Indoor air quality is a separate inspection that is not part of a standard home inspection. An indoor air quality test examines the air inside a house for contaminants that could affect people with sensitivity to allergens. Problems with indoor air quality are caused by surface mold or mold inside the ductwork. In this case, a specific indoor air quality test is needed; a qualified home inspector must perform that. Not all home inspectors will offer this service.
Sellers don't have to fear home inspection day. See our list of 35 Seller Tips to Pass a Home Inspection.
First-time home buyers, we have a list of 11 Home Inspection Tips for First Time Home Buyers.
In conclusion, other items unique to the house you are buying may not be included in your home inspection. When you order your home inspection, ask your home inspector if they will inspect certain items for you. Many home inspectors will include items for little or no charge. For one, I often check several items for a buyer client to provide the best customer possible for my clients.