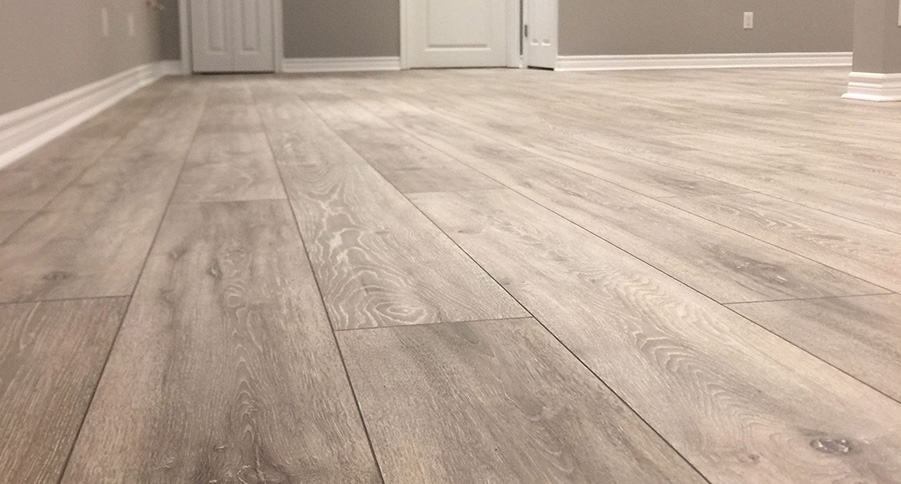 Whether you're buying a new house or remodeling a house with a concrete slab foundation, you're likely having long discussions about what flooring is best for concrete slabs?
When choosing a flooring material for concrete slabs, you should keep in mind that concrete is porous and susceptible to moisture. Certain flooring types, like hardwood, for example, aren't well suited for concrete slabs. To make it easier for you to choose the best flooring, we have compiled a list of flooring types that you can put on a concrete slab.
For the money, The best flooring types for concrete slabs are luxury vinyl tile (LVT) or planks (LVP) and ceramic or stone tile. These products are durable and work well in any room. Other great flooring options include engineered wood, laminate, carpet, or epoxy sealed floors; however, they aren't suitable in some rooms or lack durability somehow.
Before we get into a detailed discussion of our list, the following table outlines the best flooring for concrete slabs:
| Flooring | Life/years | Cost/sf | Rating |
| --- | --- | --- | --- |
| Luxury Vinyl Tile (LVT) or Planks (LVP) | 10-20 | $4-$7 | Best |
| Tile | 75-100 | $5-$20 | Best |
| Engineered Wood | 20-50 | $6-$25 | Better |
| Laminate | 10-20 | $3-$8 | Good |
| Carpet | 5-15 | $4-$11 | Good |
| Epoxy Sealed Concrete | 10-20 | $3-$7 | Good |
A home with 2500sf of floor area has an estimated installation cost of:*
LVT or LVP: $10,000 to $17,500
Tile: $12,500 to $50,000 (some stone tile installations can cost more)
Engineered Wood: $15,000 to $62,500
Laminate: $7,500 to $20,000
Carpet: $10,000 to $27,500 (custom wool carpeting can cost more)
Epoxy sealed: $7,500 to $17,500 (designer finishes can cost more)
*Note: Contractors will typically add 5% to 10% for cutting and waste
| Flooring | Highlights |
| --- | --- |
| Luxury Vinyl Tile (LVT) or Planks (LVP) | Great look, durable, long-lasting, and suited for all rooms in your home. |
| Tile | Durable, long-lasting, and suited for all rooms. Installation & costs are higher and vary based on tile quality. |
| Engineered Wood | Durable & well-suited for most rooms. Cost varies on thickness and quality. Not recommended in kitchens and baths |
| Laminate | Affordable & durable for most rooms. Avoid wet areas. The cost reflects the material quality. |
| Carpet | Affordable & soft underfoot. Durability depends on padding and carpet quality. Avoid wet areas. |
| Epoxy Sealed Concrete | Epoxy is a sealed concrete finish applied over bare concrete, paint, or stain. Offers a designer finish. Custom designs may cost more than estimated. |
Luxury Vinyl Tile or Plank Flooring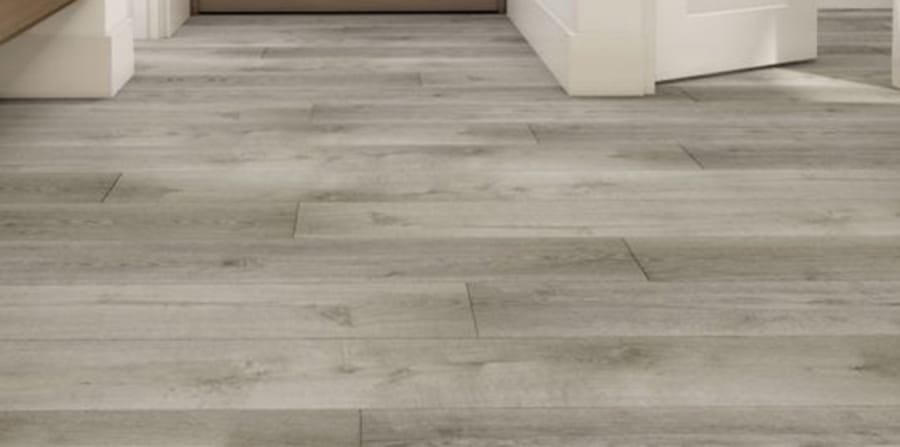 Luxury vinyl tile (LVT) or luxury vinyl plank (LVP) flooring mimics the look of real wood or stone flooring but is relatively maintenance-free and comes in a variety of shapes, sizes, and looks. LVT and LVP products are kid- and pet-friendly making them an ideal choice for active families.
Luxury vinyl tile and planks are constructed with a series of layers. The core stability layer helps the flooring lay flat. However, the flooring is almost rubber-like, making it flexible and easy to cut with a utility knife and install.
The realistic look is created with a high definition photograph protected by a clear PVC wear layer that is incredibly resilient against everyday wear and tear.
Luxury vinyl is often compared to laminate, but these floors are completely waterproof. Unlike laminate, you can install luxury vinyl planks or tiles in any room.
LVT and LVP flooring cost about $4 to $7 per square foot with professional installation. The typical lifespan is 10-20 years; however, there is no reason the flooring can't last longer depending on foot traffic.
Pros of LVT and LVP Flooring
Easy to install: LVT and LVP are relatively easy to install, making them popular among DIYers.
Low Maintenance: Requires no waxing or polishing. Luxury vinyl tiles and planks are virtually maintenance-free aside from daily sweeping and mopping.
Long-lasting: The flooring features a thick wear layer that can last up to 10 years before reapplying. The lifespan of LVT or LVP is 10 to 20 years.
Realistic Appearance: Features a wide variety of design options that realistically mimic natural wood and stone for about a 1/4 of the price and none of the maintenance.
Wear Resistant: The design is printed onto a film layer protected by a clear wear layer and a polyurethane coating. This preserves the finish from wear, scuffs, and scratches.
Affordable: LVT and LVP flooring are affordable. The typical cost is about $4 to $7 per square foot.
Cons of LVT and LVP Flooring
Low Added Value: LVT and LVP flooring does not add extra value to a home, like more permanent flooring options, such as tile or hardwood. Since hardwood can't be used on concrete slabs, this is not much of a con. However, stone tiles like travertine do carry more long-term value than LVT.
Durability: LVT and LVP floors are not impervious to damage. While the flooring is more durable than other flooring products, it can still suffer scratches and scuffs, particularly as it ages. LVT and LVP flooring are not repairable, so but some extra materials when purchasing.
Tile Flooring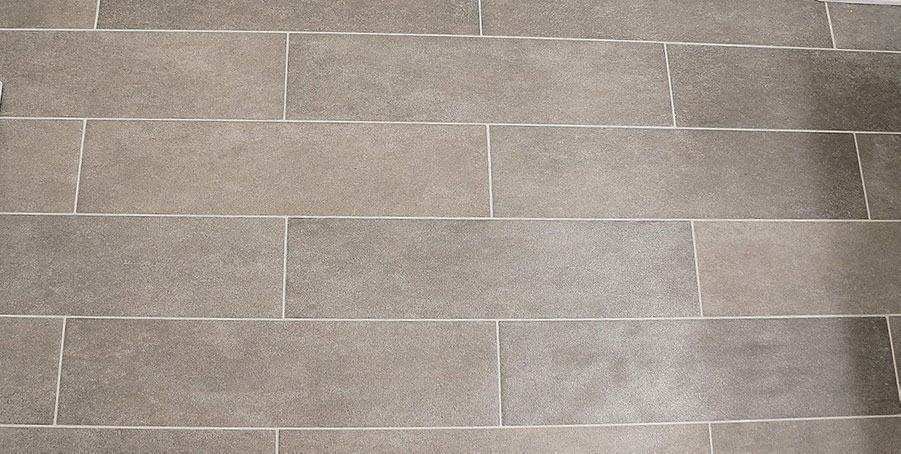 Tiles are usually made of ceramic or porcelain but can also be made of stone, baked clay, or even glass. Although many people commonly recognize ceramic and porcelain tiles.
These two materials actually differ in moisture absorption. Porcelain tiles are more resistant to moisture, so that they may be a better solution for a concrete slab. However, both materials have a protective layer in modern times that makes them waterproof and thus prevents water infiltration.
No matter which tiles you choose, they will successfully fight moisture from the cement, and your tiles will last for many years. According to some estimates, ceramic tiles can last up to 100 years if properly maintained and well laid. Porcelain tiles are stronger than ceramic so that they will last even longer.
Tiles offer a variety of different designs with varying patterns, colors, textures, and sizes. Tiles are manufactured in sizes ranging from one to twenty-four inches square. Natural stone tiles can be found on the market, but their price can often be very high.
Tile flooring can cost $5 to $20 per square foot.
Pros of Tile Flooring
Low Maintenance: Tile flooring is easy to maintain. Other than routine cleaning, there is not significantly needed to maintain it. While tile is commonly found in kitchens and bathrooms, tile is an excellent choice in any room in your house. The grout between the tiles does need to be sealed.
Durable: Tile flooring is durable. Tile flooring can last 75 to 100 years. Tiles are generally hard to crack. When properly installed, tiles can last for several decades. Tiles can crack if a hard object falls on them, but the damage is generally isolated.
Stain & water resistant: Tile is stain- and water-resistant. This makes tile flooring a great choice for homes with pets. It's also resistant to humidity, which can warp hardwood and wood products.
Affordable: Tile flooring is actually very affordable, starting at around $5 per square foot. Higher-end tile flooring can cost upwards of $10 to $20 per square foot, excluding stone tiles, which cost more.
Versatile: Tile flooring comes in various shapes and sizes—newer versions of tile flooring feature plank shapes that mimic the look of wood or natural stone.
Cons of Tile Flooring
Cold Floors: Tile flooring is cold underfoot. The tile doesn't hold heat well. While there are many reasons to choose tile flooring, there are also some disadvantages you should know about. This means tile may not be ideal for people in colder climates. In warmer climates, this may not be a con for some people.
Hard Surface: Tile flooring is hard, which is not kid-friendly. Kids play hard and tend to fall a lot, which could cause injuries. Hard tile flooring may not be a good choice for those with bad ankles, knees, or hips.
Slippery: Tile flooring is slippery. Tile flooring can cause slip and falls, which could cause injury.
Engineered Wood Flooring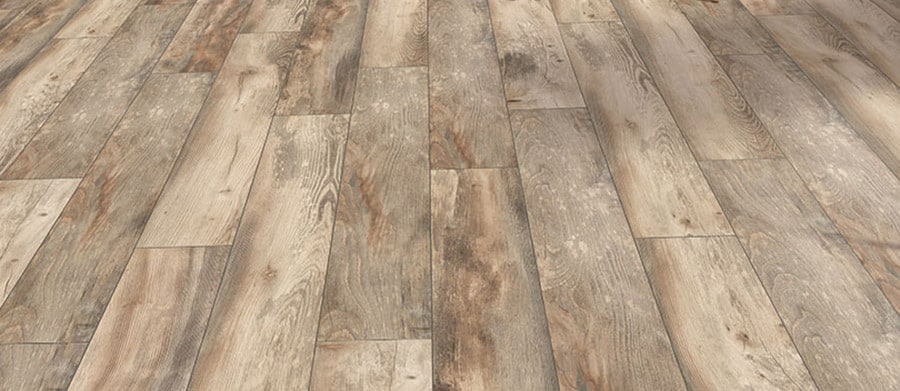 Engineered wood has a decorative layer that must be made of real wood. Unlike laminate and vinyl, whose decorative layer is printed, engineered wood has a decorative layer made of real wood with different thicknesses.
The thicker the decorative wooden layer, it provides strength and stability. Engineered wood lasts longer, and depending on the thickness, can be lightly sanded and refinished.
Below the decorative wooden layer is the core board, which is the base layer that merges with the decorative layer. This layer provides stability and strength and prevents the decorative wooden layer from breaking. Unlike real wood that does not tolerate moisture very well, the core board gives engineered wood flooring resistance to moisture so that you can place it on concrete slabs.
There are three types of engineered wood flooring: multi-ply, 3-ply, and HDF core engineered flooring.
Multi-ply engineered wood flooring is most often used because it best mimics real wood in appearance and in feeling underneath your foot. It has several layers that protect it from moisture and give it resistance and strength. Depending on the texture and the manufacturer, a multi-ply engineered wood floor can be between 13 and 20 millimeters thick.
3-ply engineered wood flooring is composed of three layers and is very resistant to overexpansion. This flooring looks very realistic but not as strong as a multi-ply engineered flooring.
HDF engineered flooring is not used very often. It is very easy to install because it has a click system that facilitates installation. It has a solid core, so it can be less thick without losing strength.
Engineered wood flooring will cost $6 to $25 per square foot, depending on the flooring's quality. The lifespan of engineered flooring often depends on how thick the veneer is. Most engineered wood flooring lasts 20 to 50 years.
Pros of Engineered Wood Flooring
Wide Selection: Engineered wood flooring looks elegant, and you can choose between a variety of species and colors. Engineered wood also have different finishes.
Moisture Resistant: Engineered wood flooring is designed to be moisture resistant, making it a good choice for concrete slabs.
Strong and Durable: The plies make for a solid and stable product that is durable and long-lasting. Some engineered wood can be refinished to extend the life of the flooring. Engineered wood is extremely durable so that you can place it in high-traffic areas of your home.
Moisture Resistant: Engineered flooring resists swelling or warping, making it very low maintenance.
Cons of Engineered Wood Flooring
More Expensive: Engineered wood flooring is more expensive than luxury vinyl planks, laminate plank, tile, and carpet flooring. However, engineered wood has a two- to three-time lifespan than compared products.
Can't be refinished: Engineered wood has a thin veneer that prohibits opportunities to refinish the flooring. Depending on the thickness of the veneer, refinishing may not be an option.
Fades in sunlight: Engineered wood flooring can fade in direct sunlight.
Not Waterproof: Engineered wood flooring veneers are not waterproof. Engineered wood flooring needs to be installed in dry areas, such as bedrooms, living rooms, and hallways. Engineered wood flooring is not suited for installation in wet areas such as basements, bathrooms, bathrooms, kitchens, and laundry rooms.
Laminate Flooring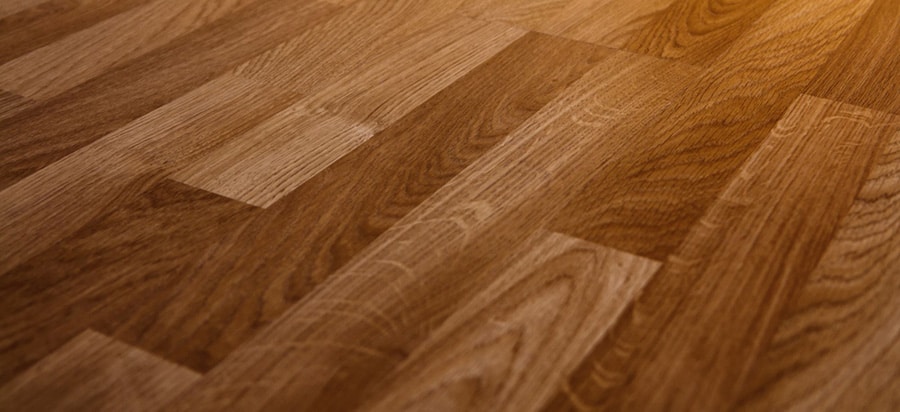 Laminate flooring is a popular flooring choice because it mimics wood flooring really well. Laminate utilizes an HD image of actual wood that's vivid and lifelike. The HD image is glued to a core fiberboard with a moisture barrier covered by a tough clear cover that resists wearing, scratches, and scuffing.
Laminate flooring has advanced over the years from a cheap-looking alternative to wood flooring to an advanced product that offers a realistic look, a wide variety of species, and color combinations.
What flooring that looks as if it was reclaimed from an old barn, laminate has it now. Advanced versions of laminate now can even mimic stone, tile, and even metal.
Laminate flooring costs about $3 to $8 per square foot to install. Laminate flooring has improved since it's inception. However, even the best laminate flooring will last about 10 to 20 years.
Pros of Laminate Flooring
Wide Selection: Laminate flooring comes in a variety of shapes and sizes. Laminate can be purchased as planks or tiles.
Easy Install: The edges interlock for easy installation with no gluing or nailing, making laminate a great choice for do-it-yourselfers.
Lightweight: Laminate is lightweight is over a foam underlayment that can be installed over bare concrete. Because laminate flooring floats, it hides minor unevenness and imperfections in concrete slabs.
Low Maintenance: Laminate flooring is relatively low maintenance. Routine cleaning such as vacuuming, sweeping, or mopping is needed.
Composite Materials: Laminate flooring is mostly made from composite materials. No old-growth or exotic trees are used to manufacture laminate flooring.
Cons of Laminate Flooring
Not Waterproof: Laminate flooring is susceptible to moisture damage. Installation on concrete slabs and concrete basement floors need a moisture barrier to protect the laminate flooring from moisture.
Avoid Wet Areas: It is not recommended that you install laminate flooring in wet areas like bathrooms or laundry rooms. If you install it in a bathroom, the seams need to be glued and the perimeter sealed with silicone caulking. Installing is kitchens is acceptable but special care because of the risk of water seeping through the seems.
Can't be refinished: Laminate flooring contains no real wood and can not be refinished. So when it wears out, it has to be replaced. Depending on the flooring quality and foot traffic, laminate flooring can last 10 years to 20 years.
Can be noisy: Without good quality padding underneath, laminate flooring is noisy to walk on. It can also be hard underfoot and has an unnatural feel.
Not Biodegradable: Laminate flooring doesn't degrade in landfills, which is not environmentally friendly. Some laminate flooring can contain formaldehyde and other chemicals that release toxic VOCs. The EPA has strengthened guidelines to help reduce VOC content in laminate flooring production.
Carpet Flooring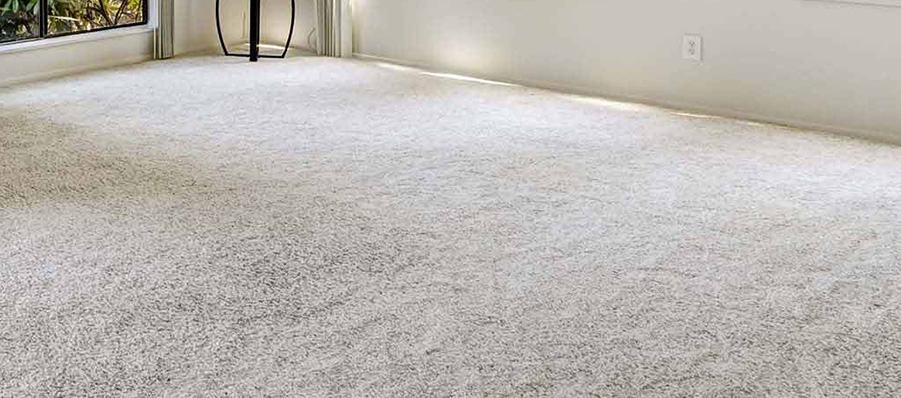 Carpet remains a top flooring choice among homeowners. Despite its drawbacks, carpet is the softest flooring option. The appeal of carpet, especially over a concrete slab, is that it's warm and luxurious to walk on.
Carpet is available in a wide variety of styles, textures, and designs. Carpet has four types of fiber; nylon, polyester, olefin, and wool. Carpets made from more natural materials (such as wool) tend to have shorter lifespans than carpets made using synthetic materials like polyester fibers or nylon.
Nylon is the most durable and stain-resistant of all carpet fibers. Nylon is the most family-friendly carpet, and it's well suited for kids and pets in high traffic areas like hallways and stairs.
Polyester has more of a luxurious look and feel. This makes it perfectly suited for normal traffic areas like bedrooms.
Olefin offers excellent stain and moisture resistance, making it well suited for commercial use. Olefin generally has a low pile that resists matting.
Wool is a premium fiber that resists dirt and can look good for many years. Wool carpets are preferred by many for their beauty and softness.
Carpeting typically costs $4-$11 per square foot. However, some premium carpeting, like wool, can cost more. Carpeting will last about 5 to 15 years. For more on how long carpet lasts, check out How Long Carpet Lasts: When to Replace & Costs.
Pros of Carpet
Warmth: Carpet has thermal resistance, which means carpeting stays warmer in the cold months. Carpet absorbs indoor heat and retains it's warmth longer than other floorings.
Soft: Carpeting is soft underfoot and has a luxurious feel when walked on. It's comfortable to sit on and play with children or watch TV.
Versatile and wide selection: Carpeting offers versatility in style and materials to fit nearly any budget. There is an ocean of color and style combinations. Carpet can be used to create both a casual or formal look and feel.
Safety: Carpet is safe for children and adults. It softens slip and falls, meaning they are excellent for families with small children.
Noise buffering properties: Carpeting is an excellent noise buffering material. Carpet can absorb sound from TVs, radios, etc. Paired with a good quality padding, carpeting is very quiet when walked on, making it a great choice for busy families.
Cons of Carpet
High maintenance: Carpet requires a higher maintenance level, including routine vacuuming and occasional shampooing or deep cleaning. Spills and pets are particularly harsh on carpeting.
Attracts dirt and allergens: Carpet can negatively affect people with allergies. Carpet can hide pet hair, dander, dust, dirt, and other allergens deep into the carpet fibers.
Not suited for wet areas: Carpet is not well suited for wet areas like bathrooms, kitchens, and laundry rooms. Use in basements should be limited and dependent on living conditions.
Shorter lifespan: Carpet has a shorter lifespan than other flooring types, particularly in high traffic areas. Carpeting can last on average 5 to 15 years.
Epoxy Sealed Concrete Flooring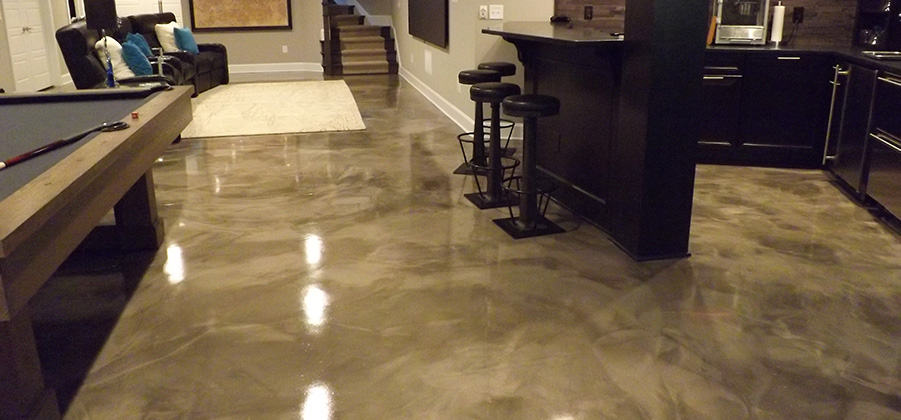 Looking for an affordable option that isn't flooring at all? Consider sealing your concrete slab with decorative epoxy. As an honorable mention, we want to discuss these options because they are affordable, durable, and in the right hands can offer in-depth beauty and character.
Epoxy sealed concrete flooring can be a clear, a solid color, or a layered free-flowing creation only limited by your own imagination. Epoxy finishes are low maintenance, affordable, and can be a great DIY project.
Epoxy can be applied over paint, stain, or bare concrete. The epoxy is applied in coats over several days and can last over 20 years. Epoxy flooring costs about $3.00 to $7.00 per square foot to apply.
Pros of Epoxy Sealed Concrete
Waterproof: epoxy sealed concrete is a waterproof finish. Water can easily be removed with a towel, mop, or wet vacuum.
Protection: epoxy offers protection from cracks and is stain-resistant. Because epoxy is waterproof, stains can generally be easily cleaned up.
Unique look: epoxy offers a unique look that is only limited by your imagination. Epoxy can be made to look like natural stone, wood, or anything else you can dream up. Every epoxy floor is a one-of-a-kind design that can't be duplicated.
Low Maintenace: Epoxy is easy to clean and only needs routine sweeping, vacuuming, or wet mopping to clean. Also, epoxy is allergen and mold-free, making it a great choice for those with severe allergies.
Cons of Epoxy Sealed Concrete
Cold: Epoxy floors are cold. Epoxy sealed concrete doesn't provide the thermal protection of other flooring types.
Hard: Epoxy sealed concrete is hard because it's finished concrete. Falls could cause injuries, which means it's not family-friendly. Like tile, it's also hard on people with joint conditions in their ankles, knees, or hips.
HomeInspectionInsider.com is owned and operated by Hubert Miles is a participant in the Amazon Services LLC Associates Program, an affiliate advertising program designed to provide a means for sites to earn advertising fees by advertising and linking to Amazon.com. HomeInspectionInsider.com also participates in affiliate programs with other affiliate sites. Hubert Miles is compensated for referring traffic and business to these companies.