Dishwashers are an essential appliance to have at home. However, not all are the best to buy. Therefore, it's worth noting the dishwasher brands to avoid. 
Surprisingly the General Electric (GE) dishwashers came in as the worst dishwasher brand to avoid. With 8 models on our list, GE had more poorly performing models than other brands. There are numerous dishwasher brands in the market today. This guide will help you learn the dishwasher brands to avoid and why. Our list of brands to avoid include:
General Electric (GE)
LG
Whirlpool
Fisher & Paykel
Frigidaire
Samsung
Kitchen-Aid
Amana
HotPoint
Once you remove them from the equation, you can focus on getting a good-quality appliance. It will help you reduce the workload in the kitchen and leave you with clean utensils. 
Below are the 9 dishwasher brands you should avoid. 
The Dishwasher Brands You Should Avoid
1. General Electric (GE)

You're probably surprised to see GE on our list. I was too. According to Consumer Reports, GE had eight models graded between 47 to 58 and has the most models in this range compared to other brands.
GE is a brand that has built its reputation manufacturing high-quality appliances. However, quality appears to have waned since being purchased by Haier and KKR in 2016.
The models listed above include:
GE GSD2100VWW
GE GDT565SSNS
GE GDF535PGRBB
GE GDT635HSMSS
GE GDF640HSMSS
GE GDF630PSMSS
GE GDF530PGMWW
GE GDT565SSNSS
Reasons Why You Should Avoid GE
The two key factors that appear to be driving the low scores are poor product reliability and customers satisfaction based on surveys performed from 2018 to 2020. According to Amazon reviews, the GSD2100VWW model has only 65% 5-star reviews, with 24% of the reviews being 1 or 2-star ratings.
The complaint reviews spoke of it being a poor quality machine that was flimsy and frequently broke down.
The models above ranged from $322 to $1,199. The GSD2100VWW model was the least expensive of the models listed.
Poor Washing Performance
The GSD2100VWW model performed poorly on heavily soiled dishes. The other models performed slightly better with average results.
Models Are Noisy
The above models are somewhat noisy and can be distracting. Noise assessments are based on observed test results and consumer reviews.
Drying Performance Poor
The GSD2100VWW model performed poorly when testing for drying plastics.

2. LG Dishwasher Brand
LG is known for manufacturing some of the best electronic devices in the world. Many people opt to purchase from them for this reason. 
But, it's not all roses. LG is among the dishwasher brands to avoid. Looking at customer reviews is a great place to start when you want to find out more. 
LG models reviewed include:
LG LDFN4542S
LG LDT5678ST
LG LDF5545ST
Reasons Why You Should Avoid the Brand
The dishwasher provides a bottom rack that is larger than most. It's supposed to open up and accommodate larger items like plates and bowls. However, it's made of weak materials and falls apart in a short while. 
After receiving a faulty dishwasher, getting in touch with the company proved frustrating. They requested sending the dishwasher back for a full refund but went silent on the customer after repairing it three times. 
The dishwasher isn't silent while fan-drying the dishes. It makes a loud whistling sound which is quite irritating. Even after replacing the fan, the issue persists, proving it's a faulty device. 
The LG dishwasher models aren't as efficient as expected. Since they don't use heat elements to dry, dishes remain wet even after fan drying. Even on 'Extra Dry,' dishes are still wet after. 

3. Whirlpool Dishwasher Brand
Probably one of the most popular dishwasher brands in the market is Whirlpool. It's a recognizable brand that has excellent colors and an impressive finish. 
However, the exterior doesn't match the interior. Many people express their frustrations with this popular dishwasher brand. That's why it's among the dishwasher brands to avoid. 
Model reviewed: WDT750SAKZ
Reasons Why You Should Avoid the Brand
Dirty Dishes
The primary purpose of a dishwasher is cleaning the dishes, right. That's not the case here. The dishwasher fills with water but fails to start the cleaning cycle as required. Mostly, the cause is a failed motor. 
Burnt Out Heat Element
After the dishes are clean, you need them to dry off before storing them away. However, some dishwashers have faulty heat elements that fail to dry the dishes. 
Poor Quality Control Panel
After a few months, you need to replace the control panel. The manufacturer uses low-quality plastic, which wears off after a short period. 
Not Odor-Proof
After several days, if you fail to clean the dishwasher, it starts getting a foul smell. It's due to the accumulation of bacteria and fungi in it. 

4. Fisher & Paykel Dishwasher Brand
Many people might not know the Fisher & Paykel dishwasher brand. That's because it's among the top luxury brands. Its high price turns many people who have a minimal budget away. 
Apart from the purchase costs, repairing the dishwasher is another reason people stay away. Parts are costly and rare in the market. Still, being expensive doesn't mean it's an excellent device to have in your kitchen. 
You end up paying so much money only to discover it's among the dishwasher brands to avoid. There are several issues it has that continue to put off users.
Models reviewed include:
Fisher & Paykel DD24DDFTX9N
Fisher & Paykel DD24DCHTX9N
Reasons Why You Should Avoid the Brand
It Breaks Easily
Customers have complained that the dishwasher breaks down constantly. It means you have to call an expert for repairs often, which can be costly. 
Not Compatible With Plumbing
The minute you bring the dishwasher home, you notice a problem. It has different plumbing requirements, which bring in an additional cost of changing the lines in your home. 
It's Noisy
After cleaning the dishes, you need to drain the water. The dishwasher makes lots of noise during this annoying process. 
It's Costly
As mentioned earlier, this is a luxury brand and quite expensive. At $1400 to $1500, it's out of reach for many buyers. 

5. Frigidaire Dishwasher Brand
The Frigidaire is another dishwasher brand to avoid. Many people are familiar with it, but it's essential also to note its fault. 
First, many customers complain about this brand and how to use it. Due to poor customer service, it's not possible to get much after-sale support. The results are high costs to repair when something goes wrong. 
Models reviewed include:
Frigidaire Gallery FGIP2468UF
Frigidaire Gallery FGID2479SF
Frigidaire Gallery FGID2476SF
Reasons Why You Should Avoid the Brand
Poor Door Quality
Imagine a door that starts falling apart after using the dishwasher for only a few months. Since the springs come off, it's impossible to close them, meaning you have to call in a repair person to fix it. 
Normal Setting Doesn't Dry Dishes
One way to save on energy is to dry dishes in a normal Setting. However, some Frigidaire dishwasher models don't dry dishes in this Setting. 
Plastic Interior
The brand has a plastic interior which isn't what many users like. It's not good quality and can affect the effectiveness of the dishwasher after some time. 
Flimsy Racks
The dishwasher has some racks inside where you line up the dishes. However, the upper bit isn't good quality and falls apart quickly.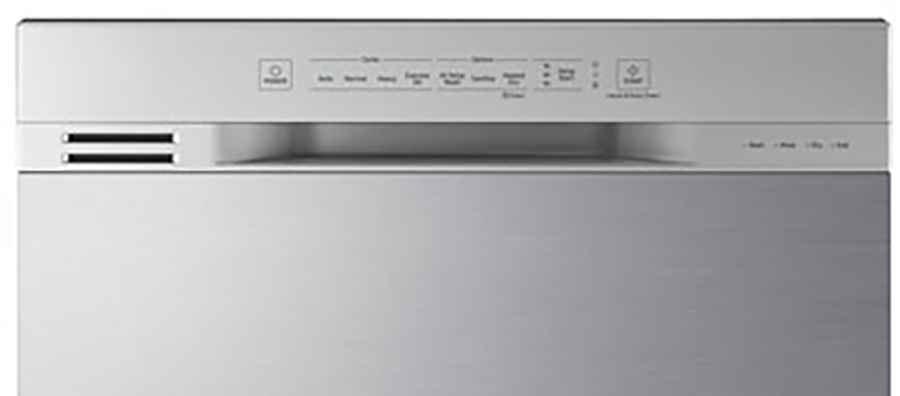 6. Samsung Dishwasher Brand
Samsung continues to take over the world of electronics. Many people use its devices due to the brand name, but is their dishwasher worth it?
Some people would disagree and rate Samsung among dishwasher brands to avoid. The dishwashers have certain flaws worth noting.
Models reviewed include:
Samsung DW80N3030US
Samsung DW80R2031US
Samsung DW80M2020US
Reasons Why You Should Avoid the Brand
Leaking Problem
The dishwasher had manufacturing flaws that caused it to leak water in your kitchen. Even after fixing it, the problem persists, which can be pretty frustrating. 
Error Code
The error code often comes on with the Samsung dishwasher brand. That's always an indication that there's a problem. But constantly fixing it is expensive. 
Doesn't Clean Effectively
A dishwasher is supposed to clean the dishes and ensure they come out looking much better. But, the brand is picky about what to clean and can make dishes dirtier. 
Pump Motor Failure
Due to numerous leakages, the pump motor keeps failing. The dishwasher had multiple faulty components, which made the matter worse. 
Poor Customer Support
The leaking dishwashers are frustrating. You can repair them under warranty. But once it elapses, it's hard to get any assistance from customer support.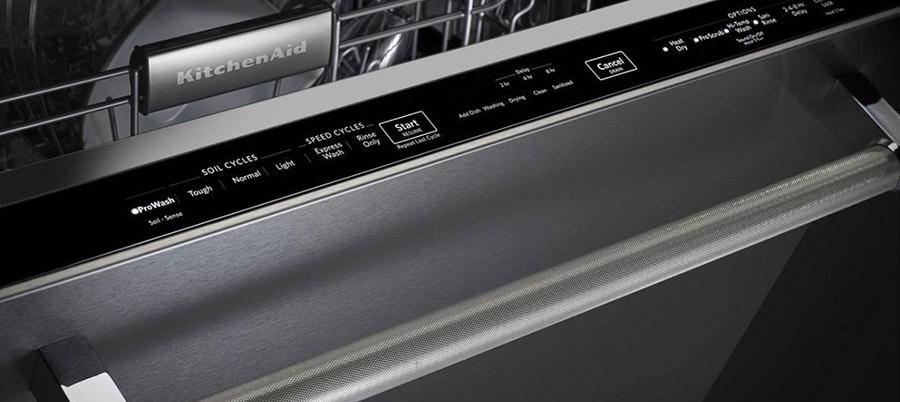 7. Kitchen Aid Dishwasher Brand
Reasons Why You Should Avoid the Brand
Poor Cleaning Performance
Drying Is Subpar
Noise and Efficiency is Good

8. Amana Dishwasher Brand
Amana ADB1400AGW
Amana ADB1500ADS
Reasons Why You Should Avoid the Brand
Good Washing Capabilities
Noisy Operation
Doesn't Dry Dishes Well
9. Hot Point
As you continue researching the dishwasher brands to avoid, add Hot Point to that list. The Hot Point brand is a lower-cost price leader on the market. The two models have a 63 score on Consumer Reports which was better performance scores than some of the more respected names listed above. 
Reasons Why You Should Avoid the Brand
Poor Overall Brand Quality
According to Consumer Reports, the Hot Point brand has a 3 out 5 owner satisfaction and product reliability rating. These faults end up costing you a lot of money at the end of the day. Some of these faults are:
Limited Features
These Hot Point dishwasher models have no adjustable upper rack, no delay start feature, a manually cleaned filter, and were somewhat loud during use. Ultimately, noise and drying were the driving factors to the overall low rating.
3 Dishwasher Brands That Are Reliable (with Models)
Bosch Dishwasher Brand
Bosch tops our list of the best dishwasher brand. According to Consumer Reports, the Bosch Ascenta, 300 Series, and 100 Series are the highest rated dishwashers and has the second-highest Product Reliability rating and Owner Satisfaction rating.
Models reviewed:
Bosch Ascenta SHE3AR72UC
Bosch Ascenta SHX3AR75UC
Bosch 300 Series SHX863WD5N
Bosch 300 DLX Series SHS863WD5N
Bosch 100 Series SHEM3AY55N
Bosch tops our list with the second-highest rating because of the price point. With a price point under $1000, Bosch outperformed many well-known brands like GE, Whirlpool, and Maytag.
The Ascenta series costs around $600 to $780
The 300 Series costs around $900 to $950
The 100 Series costs around $600
The Bosch dishwasher brands are rated best in washing, drying, noise, and energy efficiency with one of the shortest wash cycle times on the market.
However, owner satisfaction is where Bosch seems to shine. While some complaints exist, the vast majority of the Bosch reviews were positive.
Thermador Dishwasher Brand
Thermador is also a highly rated dishwasher brand. According to Consumer Reports, Thermador is the highest Product Reliability rating and the third-highest Owner Satisfaction rating.
Models reviewed:
Thermador DWHD650WFM
Thermador DWHD660WFP
Thermador DWHD660WPR
Thermador is a more luxury dishwasher and has a generally higher price point. The models reviewed sell from $1400 to $1800. Some models are even higher.
The Thermador dishwasher brands are rated best in several categories, such as drying, noise, and energy efficiency. However, it ranks just under Bosch on washing capability, although not by much. Overall, Thermador is a very reliable dishwasher that gets the job done.
Owner satisfaction of Thermador products seems good with many positive reviews.
Miele Dishwasher Brand
Miele rounds out our list of highly-rated dishwasher brands. According to Consumer Reports, Miele is the highest Owner Satisfaction rating and the third-highest Product Reliability rating.
Models reviewed:
Miele Classic Plus G4977SCVISF
Miele Futura Classic G4228SCUSS
Miele is also a luxury brand dishwasher but has a slightly lower price point than Thermador. The models reviewed sell for $1000 to $1200.
Miele dishwashers are rated best in several categories as well. However, it does rank just under Bosch and Thermador on washing capability. It also ranks under Thermador and Bosch in Drying capabilities. Overall, Miele is a very reliable dishwasher, and owners seem to love them and would recommend Miele.
In Summary
Once you note the dishwasher brands to avoid, you can purchase the best in the market. Good customer support, durable appliances, and easier to fix problems are the top traits to look for in a new dishwasher.  
Therefore, keep in mind the ones to avoid because it saves you money and time. Also, an expensive dishwasher doesn't mean it's the best to use at home. 
HomeInspectionInsider.com is owned and operated by Hubert Miles is a participant in the Amazon Services LLC Associates Program, an affiliate advertising program designed to provide a means for sites to earn advertising fees by advertising and linking to Amazon.com. HomeInspectionInsider.com also participates in affiliate programs with other affiliate sites. Hubert Miles is compensated for referring traffic and business to these companies.