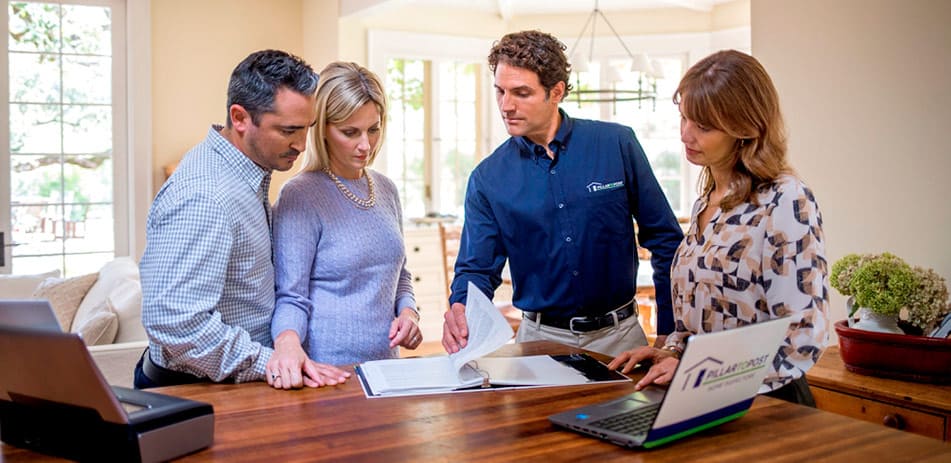 When buying a new home, most people will hire a home inspector to perform a thorough home inspection to verify the house is in good condition and doesn't need expensive repairs. But, many buyers don't know what happens after the home inspection is complete.
However, what happens after the home inspection? After the home inspection is complete, the buyer will review the home inspection report's findings with their real estate agent. They will determine if they want to; purchase the house, ask for repairs to be made, or cancel the purchase contract based on the home inspection findings.
So what do you do if the home inspection finds problems with the home you are trying to purchase? Let's examine this portion of the home buying process and how it affects the home buyer.
Next Steps: What To Do After the Home Inspection?
After you have received your home inspection report, you will need to do the following:
Read your home inspection report
Discuss your home inspection report with your agent
Prepare a repair addendum
Sellers response, negotiations, and counteroffers
Order Your home appraisal
Prepare for closing
These six steps may seem to be straight forward, but they do require some decision making. Let's review these six steps further.
Reading Your Home Inspection Report
After you've received your home inspection, you generally have 2-3 business days to review your home inspection report. You must read your home inspection report thoroughly. Your home inspection report will contain vital information concerning the structural components, foundation, roof, plumbing system, electrical system, and mechanical systems.
Your home inspection report will contain a list of repairs and potential health and safety issues. Not all repairs listed by the home inspector are critical. However, they still must be documented under the home inspector's standards of practice. Items such as blown light bulbs and dead smoke detector batteries while required are not critical. Use common sense and discernment when reviewing the list of repairs in your home inspection report.
Discuss Your Home Inspection Report with Your Agent
It's now time to sit down with your real estate agent and review the report. Your agent will help guide you through the home inspection report. This step is vital to help you identify what you should ask to be repaired or not. If defects or health and safety concerns exist, your agent will write a repair addendum and submit it to the sellers' agent for review. You want to make reasonable repair requests and avoid demands that will aggravate the seller and maybe kill the deal.
The following is a few unreasonable repair requests:
Cosmetic issues
Renovations you are planning to do anyway
Nonstructural cracks in concrete
Nonstructural cracks in drywall – like tape joints
Repairs to external detached buildings – like sheds
Landscaping not related to drainage problems affecting the foundation
Requesting to have Repairs Made by the Seller
If your inspection report lists defects or safety concerns, the following items are a few examples of things you should request a repair for:
Electrical system – double tapped breakers, faulty breakers, rusted panel boxes, improper wire connections, and defective electrical wiring.
Plumbing system – plumbing leaks in the supply or waste piping, leaky or loose toilets, and inoperative water heater systems.
Heating and cooling system – faulty thermostats, damage to ductwork, or inoperative heating or cooling systems.
Structural defects – wood rot to wood framing members, cut or broken framing members, improper or failing support systems.
Roof system – Damage to roof coverings, flashings, chimneys, and roof leaks.
Health/Safety Issues – Asbestos, lead-based paint, mold, moisture intrusion problems in basement or crawl spaces.
Remember, sellers will not repair cosmetic issues, and just because a system is at or near the end of its useful life does not constitute a repair. As long as the systems are in functional condition, sellers are not required to replace them.
Sellers Response, Negotiations, and Counteroffers
At this point, you are reentering negotiations with the seller. When the sellers' agent receives the repair addendum, they will sit down with their client to review the repair request. At this point, the seller typically has three responses:
Make the requested repairs
Negotiate the desired repairs
Refuse the make repairs
Agree to Repair the Items in the Repair Addendum
Most sellers will agree to make the necessary repairs provided your request is within reason. Many sellers do not have pre-listing inspections and are genuinely unaware that a defect exists and agree to make reasonable repairs to secure the sale.
Negotiate the Requested Repairs
Negotiating repairs can take many forms, and there is no clear cut answer. Sellers can agree to repair some of the repairs requests, or they may offer a financial concession to accept the home "as is." In some instances, sellers who don't want to undertake the cost of repairing the home may agree to reduce the price of the house to sell "as is."
However, not making repairs is not always an option and depends on the buyer's financing. Some lenders will require items to be repaired to fund the loan for the new buyers. For example, wood destroying insect damage, moisture problems, or existing wood rot listed on the CL-100 wood destroying insect report must be cleared by a licensed contractor before the lender will fund the loan.
Refuse to Repair or Provide Concessions
Some sellers may dig their heels in and refuse to make repairs or provide financial concessions. While this is not common, it does happen at times. Sellers are within their right to do so. If this occurs, buyers can generally exit the purchase contract and obtain a refund of their earnest deposit.
Order Your Home Appraisal
If you are satisfied with the home inspection report and the negotiations, it's time to order your appraisal. The real estate appraisal is very different from a home inspection. The real estate appraisal is used by your lender to determine the current market value of the home. Depending on your credit and loan type, it will also allow the lender to determine how much of a down payment you'll need at closing. Provided the home appraises for the agreed-upon purchase price and the lender's loan to value ratios line up, your lender will begin to schedule your closing.
Prepare for Closing Day
As you near the closing day for your new home purchase, the lender will have a few remaining items to complete. These items include the title search, homeowners insurance, and the final credit check. In some cases, a property survey may need to be ordered.
In preparing for your closing day, the title company will perform a title search. A title search examines public records to verify the property's legal owners and ensure there are no outstanding liens or no other additional mortgages against the property.
The title search is used to verify there are no outstanding liens such as unpaid property taxes, contractor liens, or other outstanding mortgage debts such as second mortgages or home equity lines of credit. Any of these items can delay or even prevent a home from closing.
You'll also need to shop around for homeowners insurance. You should get at least three home insurance quotes. Many people pay their home insurance premiums annually. Depending on your loan terms, you may have your home insurance premium rolled into your mortgage and paid as part of your escrowed taxes and insurance. Consult with your lender for more details.
Manage Your Credit Closely
During your home buying process, avoid making large purchases via cash or especially credit. Your lender will likely pull a final credit check right before closing to ensure that your debt to income ratio is still in line with their requirements.
Avoid trying to purchase things on credit, such as a car. The payment may throw your debt to income ratio out of proportion. If you are buying something like a car, wait until after your real estate closing.
Lastly, pay your bills on time. When you are trying to buy a home, it is not the time to miss payments, which will likely lower your credit score. Late or missed payments reported to credit bureaus will impact your credit score, causing you to lose your home loan approval.
Related Questions
How long does it take to close on a house after the home inspection? Most property closings occur within 30-45 days from an accepted offer. After the accepted offer, you generally have ten days to have a home inspection completed due to your due diligence. You should also anticipate ten days to complete the real estate appraisal. Once the inspection and appraisal process is complete, the lender typically schedules the closing within 15-20 days.
Does the seller get a copy of the inspection report? Since the buyer is generally the person who orders the home inspection, the seller typically does not get a copy of the home inspection report. The buyer often provides the seller with a copy of the inspection report (or the inspection report summary) to have repairs done.
What Repairs are Most Common after a Home Inspection? The home inspection report commonly denotes electrical issues, plumbing issues, mechanical issues, structural issues, and health and safety issues. The most common repairs include roofing leaks, frayed electrical wiring, improper electrical connections, plumbing leaks, inoperative water heaters, or heating/cooling systems.
Can a Home Fail a Home Inspection? No. Home inspectors do not pass or fail houses. If the home inspection findings are not what a buyer was expecting, a seller has an opportunity to correct the issues. Problems arise when items discovered cannot be fixed or negotiated. If a buyer and seller can not agree, the deal may be canceled by either party due to the home inspection contingency.
HomeInspectionInsider.com is owned and operated by Hubert Miles is a participant in the Amazon Services LLC Associates Program, an affiliate advertising program designed to provide a means for sites to earn advertising fees by advertising and linking to Amazon.com. HomeInspectionInsider.com also participates in affiliate programs with other affiliate sites. Hubert Miles is compensated for referring traffic and business to these companies.