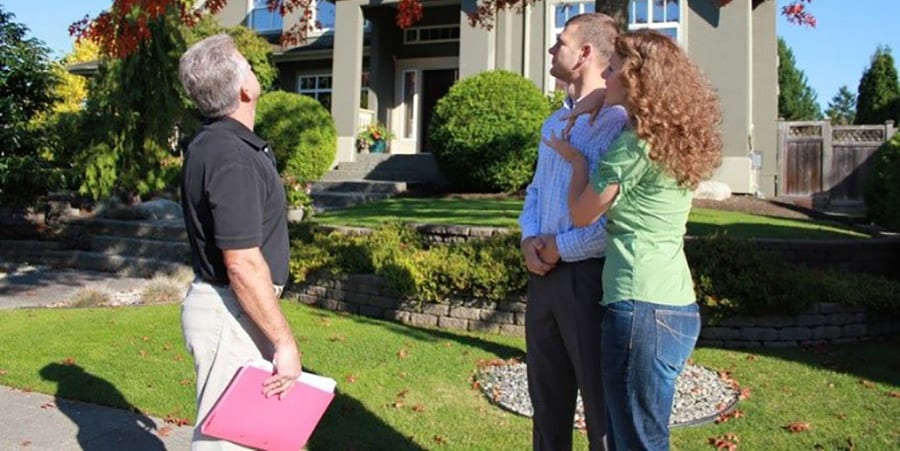 When scheduling their home inspection, I always ask the home buyer if they plan to attend the home inspection. It's shocking how many respond by asking, "Do I need to be present for the home inspection?"
When possible, the home buyer and buyer's agent should attend the home inspection. The home inspection is the best time for the buyer and the buyer's agent to ask questions and get clarification on items that will be included in the home inspection report.
Do you need a Licensed Contractor? We can help!
Get a free quote from top-rated, screened, and licensed contractors in your area!
Sometimes, it's impossible for the buyer to be present for the home inspection. Some buyers live out of state, and due to geographical restrictions simply can't be in attendance. Others can't take time off from work to attend. However, whenever possible, I highly encourage all buyers to be present for all or at least part of the home inspection.
Let's look at a few reasons why is important for homebuyers to attend their home inspection.
Learn more about the home
It's important to understand what a home inspection includes and that home inspectors are not building code inspectors. Buyers make an offer to purchase a home based on a 30-minute walk through with their realtor. They then hire a home inspector who spends several hours thoroughly examining the house. If the buyer is not present, they've wasted a golden opportunity to see the home they want to purchase through the eyes of an expert.
Discuss buyer's concerns
One of the first things I ask buyers whether they attend the inspection of not is, "do you have any initial concerns that I should be aware of?" Sure, I don't need this information to complete the home inspection, but it engages the buyers into the inspection process and lets them know I have their best interest in mind.
However, not all home inspectors do this, and a buyer should never assume anything. While home inspectors are certified and trained, they are still human. You may notice something as a potential concern that the home inspector didn't see. Being present for the home inspection allows the buyer the opportunity to bring up these concerns face to face with their home inspector.
Ask the home inspector questions
At the beginning of a home inspection, I inform buyers that I want to answer their questions and to please write them down during the home inspection. At the end of the home inspection, I'll gladly answer any questions that I haven't already addressed. Buyers who aren't present miss this opportunity for a face to face dialogue with their home inspector.
Many times the home inspector will share valuable insight with their clients that never make it into the home inspection report. Buyers can ask questions regarding the life span of systems, mechanical equipment, appliances, and home maintenance.
Learn where things are located
If buyers are present for your home inspection, home inspectors will usually walk them around the property, pointing out things such as:
Where the main water shut off is located?
Where to change the heating/cooling system filters?
Where to gas shut off valves are located?
Where the ground fault circuit interrupter (GFCI) and arc fault circuit interrupters are located?
Where is the main electrical disconnect located?
Where are the plumbing clean-outs located?
How to operate the thermostat?
How to operate the gas fireplace insert?
These are just a few examples, but you get the point. Touring the home with your home inspector can save you time and money when it comes time to move in.
Understand the home inspection report
In today's high tech world, more and more home inspectors are writing home inspection reports onsite. Even as little as 3 years ago, home inspectors would write inspection reports back at their office late at night. In some cases, 2-3 days after the home inspection was completed.
This has lead to problems in the past where home inspectors have left valuable information off inspection reports. Now with the advancements in report writing software and cell phone technology, home inspectors can write their inspection reports onsite and include photos with little to no effort. I often have inspection reports complete and ready to be emailed before I ever leave the property.
If the buyer is present for the home inspection, the home inspection can review his findings with the buyer directly and answer questions about the location of repairs and severity of the repair while it's fresh in their mind and ease any concerns that could arise from the inspection report. When buyers don't have a verbal review like this, inspection findings are left to the buyer's interpretation which is almost always worse than it should be causing buyers to overreact to what is a minor defect.
Things a buyer shouldn't do at the inspection
While we encourage the buyer to attend the home inspection, the buyer needs to let the home inspector do their job and not interfere. Below is a list of things home buyers shouldn't do during their home inspection.
Don't get overly involved in the inspection
When you hire a home inspector, you're hiring a trained professional. If you want to shadow your home inspector, that's fine but just observe. Each home inspector has a set routine that they do, which enables them to inspect the house without missing things.
When you're shadowing and chatting or asking a ton of unrelated questions, your home inspector could get distracted and miss something. Also, if you're overly involved, it increases the inspection time on site. Allow your home inspector the opportunity to complete the inspection and then review their findings with you at the end.
Also, don't try to do the home inspectors job. A lot of what home inspectors do can be dangerous. Buyers should never be climbing ladders, trying to access roofs, attics, or crawl spaces. These can be dangerous activities and requires specific training to complete.
Don't be disappointed when defects exist
Every home inspection is different. There is no pass or fail in a home inspection. Every house no matter how new it is will have flaws. They're built by humans and lived in by humans. Your home inspector is looking for significant material defects but will also note minor defects that are not cosmetic along the way at their discretion.
A home inspector expects to find dated bathrooms and fixtures in a 1950s built home, but that in and of itself is not a material defect. You may have a list of 30 or more minor defects but no major defects. An inspection report like this could easily be considered a good inspection report.
Understand, there are also things a home inspector isn't allowed to do and a home inspector will not move things that are obstructing components or systems, at their discretion.
Keep things in perspective
Lastly, ask your home inspector what the most critical items listed in the home inspection report are. Understand that no home is perfect. Repairs to the structure, roof, electrical, plumbing, and heating/cooling systems will likely be considered most critical.
As a rule of thumb, most home inspectors will advise their clients that if you can repair the items easily and for less than $100 and a trip to Home Depot, then it's not considered a critical repair.
Remember, this is the most critical step in the home buying process, and this is a time for you to learn as much as you can about the home you are buying. If you can, take advantage of this opportunity by attending your home inspection.
Related Questions
Should the buyer's agent be at the home inspection? The home inspection is an integral part of the real estate transaction. The buyer's agent is the buyers legal representative in the purchase transaction and should be present for the home inspection to represent the buyer and their interest in the property.
Often times, home inspectors get blamed for "killing the deal" but in most cases its due to a lack of participation from the buyer's and the buyer's agent. Being present at the home inspection allows the buyer's agent the opportunity to hear what the home inspector is saying to the buyer.
Oftentimes, buyers hear things that aren't entirely true. This selective hearing focuses on a few negative items rather than all the positive comments said. Buyers are left to stew over misinformation in the home inspection that was blown out of proportion.
Who pays for the home inspection? The home inspection is a part of the home buyer's due diligence. Since the buyer ultimately is the person hiring the home inspector, it's the buyer's responsibility to pay from the home inspection.
In cases where a home is being inspected before a house is listed for sale, the seller is responsible for paying for the home inspection. The seller should attend the home inspection so the home inspector can address items discovered. Even if the home is pre-inspected, homebuyers should always hire their own home inspector to represent their interest in the property.
Can you get a home inspection before making an offer? There are times where it is advantageous for a buyer to have a home inspected before making a purchase offer. An example of this is when a renter is looking to buy a home they are currently living in or if you are purchasing a home from a family member that would allow you access to the house outside of having a signed purchase offer.
HomeInspectionInsider.com is owned and operated by Hubert Miles is a participant in the Amazon Services LLC Associates Program, an affiliate advertising program designed to provide a means for sites to earn advertising fees by advertising and linking to Amazon.com. HomeInspectionInsider.com also participates in affiliate programs with other affiliate sites. Hubert Miles is compensated for referring traffic and business to these companies.
Recent Content