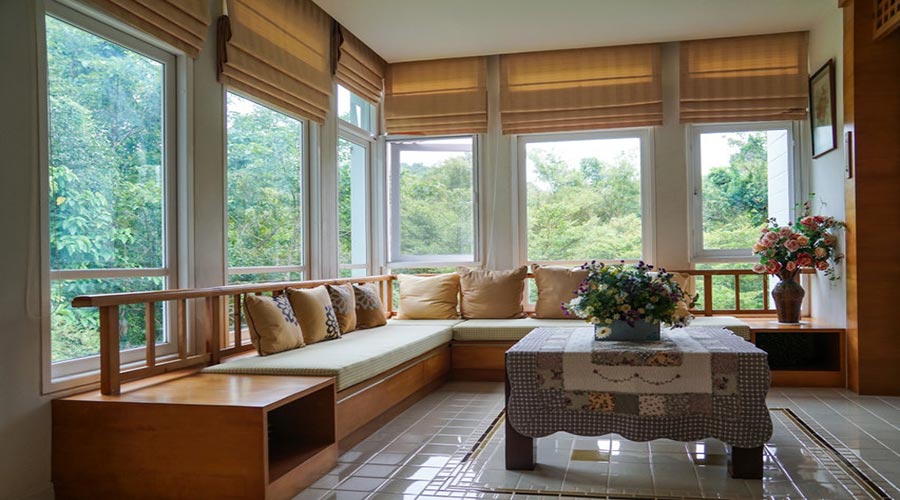 Milgard is a name that is well-known in the window and door manufacturing sector. This reputation is a point in their favor, but what are their products like? People who require quality windows don't only want to know that the company has a good reputation but also how good their products are.
Milgard windows are good quality windows that have been popular in the industry for more than 50-years. Milgard manufactures windows in vinyl, aluminum, and fiberglass. These durable materials make long-lasting, corrosion-resistant windows that are stylish and suitable for almost any home.
A company's reputation is one component that consumers consider when deciding to use products from a company, but it is only part of the equation. Customers want to know that its effects will be long-lasting, reliable, and meet their needs. The quality of the products is what the customer is most interested in before committing to using it in their home.
Who Is Milgard As A Company?
Milgard is a company that was started back in 1958 as a glass company, but the owners saw a need in the market, and within a few years, they diversified into making aluminum windows.
Milgard is an all-American company that was started by Maurice Milgard and his son, Gary. The roots of the company were in a small building in Tacoma, Washington.
Ten years after its inception, the company started manufacturing sliding glass doors. Within the space of two years of starting with the sliding doors, they redesigned and developed aluminum frames that are available for single and double pane glass.
The design of the frames is reworked to make them suitable for colder weather, which was an innovation in the sector since previously, wood was the only suitable material for cold conditions.
Are Milgard Windows High Quality?
Milgard Windows are known to have high-quality products. Numerous studies have been carried out on their windows, and the results are always impressive. The materials used in creating Milgard Windows make it durable while providing homeowners with long-term use of their windows.
Milgard stands out from other window and door suppliers because the company entirely manufactures its product. They manufacture the frames, whether aluminum, vinyl, or fiberglass, and the insulated glass components. They even temper the glass themselves.
Many other window suppliers do not sell their product but rather market a product produced by another company. Milgard is in control of the manufacturing process of their windows and patio doors from start to finish. It allows them to enforce specific quality standards on their products beyond the scope of many other suppliers who sell another manufacturer's product.
Milgard as a company was bought in 2019 by MI Windows and Doors, one of the largest suppliers of windows and doors across the USA.
The company's history speaks to the company's experience and the development that has gone into producing quality window products to compete with other products on the market.
Milgard produces both windows and patio doors, but we will focus on their range of windows to determine their quality and suitability for use in your home.
Milgard essentially has windows made from 3 different frame materials; vinyl, fiberglass, and aluminum. They also offer several window opening styles, but not all the available series come in all the opening styles.
Milgard Window Opening Styles
Milgard offers a wide range of opening styles for their window frames, making it easy to find a match for the style you prefer or that fits best with the design and look of your home.
The following are the leading window opening styles that you can choose from.
Single-hung windows. In single-hung window openings, the bottom sash moves up and down to open or close the window.
Double-hung windows. In double-hung windows, the upper and lower sash of the window can both move to open or close the window.
Horizontal slider windows. These windows slide horizontally to open or close, and you can choose if you want a frame that extends from the left or the right.
Double horizontal sliding windows. This style has a central, fixed window with a smaller sliding window on each side. The two windows on the edge slide towards the principal selected panel, giving you the option to open the left, right, or both windows simultaneously.
Casement windows. Casement windows are hinged on one side and swing open similar to a door. You can choose between left or right opening frames.
Awning windows. These windows are hinged at the top and swing out from the bottom to open or close.
Picture windows. These are non-opening windows and are available in many shapes and sizes.
Radius windows. These are styled windows with an arch at the top and come in a wide range of sizes and can be picture windows or opening windows.
Bay and bow window styles. Bay windows are three or more windows of varying sizes that are arranged to form a curve. Bow windows also form an angle but are constructed from four or more windows of the same size. These can be picture windows or operating windows.
Milgard Vinyl Windows
Vinyl is a plastic material made from PCV, but Milgard can adjust the product's formula to impart specific characteristics to the final product. Vinyl has several advantages when it is used as the base material for window frames.
Vinyl makes it possible to produce a durable window frame, resistant to corrosion, very energy efficient. These window frames require very little ongoing maintenance, which will cut down on the maintenance costs of the window frames over time.
The resistance to weather, corrosion, and durability of vinyl make this window frame material an excellent choice for longevity. The energy efficiency of the material will contribute to reducing the heating and cooling needs of your home.
Vinyl window frames are more commonly only available in a limited range of colors, primarily white and other neutral colors. Milgard has formulated its vinyl composition to allow for a range of different colors to be produced.
Milgard has also used new vinyl coating technology to protect the window frames from damaging UV radiation which is the cause of fading of most vinyl products in the sun. This coating technology protects the vinyl, keeping the window frames looking as good as new for many years.
The formulation of the vinyl used for the window frames is engineered to provide structural strength to the frames, provide superior heat resistance and optimize the insulation properties of the vinyl.
Because Milgard extrudes most of the vinyl themselves, they control each part of the manufacturing process to produce a high-quality product designed for a particular market.
Milgard Tuscany Vinyl Window Series
The Tuscany window series from Milgard is a premium vinyl window with a comprehensive profile to give the feeling of space and let in a lot of light from the outside.
The even and uninterrupted sightlines and the wide window style present a traditional style made from modern materials. The opening and locking mechanism use the Milgard patented SmartTouch design, making the windows easy to open, close, and seal. The SmartTouch tool is designed to not detract from the sightlines of the window to maintain a clean and stylish look.
The Tuscany series of vinyl windows are available in the following opening styles.
Single-hung
Double-hung.
Horizontal slider.
Double horizontal slider.
Casement window.
Awning window.
Picture window.
Radius window.
Bay and bow window styles.
Milgard Trinsic Vinyl Window Series
The Trinsic series is a style that has a narrow profile for a more contemporary style of Milgard windows. The technique incorporates a full view from a more limited profile window, offering a clean, modern look for a modern home.
This range offers different interior and exterior colors to match your house's inside and outside, giving you a more excellent choice and making the window frame part of the décor!
The Trinsic series is available in the following opening styles.
Single-hung
Horizontal slider.
Double horizontal slider.
Casement window.
Awning window.
Picture window.
Radius window.
Milgard Style Line Vinyl Window Series
The Style Line series is a range of affordable but stylish vinyl Milgard window frames. The profile of these window frames is narrow compared to the Tuscany series but presents a modern look that lets in lots of natural light to brighten up any home.
The series comes in a wide range of sizes within the various opening styles. The Style Line range is available in the following opening styles.
Single-hung window.
Horizontal slider.
Casement window.
Awning window.
Picture window.
Radius window.
Milgard Aluminum Windows
Aluminum Milgard windows are made to be a lightweight, strong material that is rust-resistant and durable. The characteristics of aluminum make it an ideal material for window frames. The process of anodization allows colors to be added to the aluminum that is long-lasting and fade-resistant.
The corners of aluminum window frames where sides join are traditionally the weak points in these frames. Milgard mechanically joins the corners and seals them to prevent this from becoming a problem in their aluminum frames.
Aluminum does not sag or warp over the years, a common problem with wood window frames. Milgard has developed their Thermally Improved Aluminum frame for regions with cold winter seasons, separating the internal part of the frame from the outer part with a thermal break.
The thermal break is in the form of a polyurethane channel between the two. This reduces heat transfer between the interior and the exterior, keeping your home warmer in winter and cooler in summer. These advancements in aluminum window frames' insulating ability will help reduce your home's heating and cooling costs.
Even though the aluminum frames are corrosion resistant, these frames are not recommended for homes close to the sea. The combination of salt in the air and saltwater can cause corrosion of the aluminum frames.
The more than 50-year experience of Milgard in the aluminum window and patio door industry has resulted in a quality aluminum window product rated as one of the best quality and innovative aluminum frame designs in the industry!
Milgard Thermally Improved Aluminum Window Series
The aluminum frames' clean lines and metallic look lend a modern, contemporary look to your home that will fit almost any architectural style. The quality of the frames helps to ensure smooth action of all the windows, and many of the locking and closing mechanisms are exclusive Milgard designs.
The Milgard aluminum window frames are available in the following opening styles.
Single-hung window.
Horizontal slider.
Casement window.
Awning window.
Picture window.
Radius window.
Milgard Fiberglass Windows
Fiberglass is a versatile material, and like vinyl, it can be imbued with different characteristics depending on the processing it is put through. Milgard's process to produce fiberglass is called pultrusion, which imparts tensile and torsion strength to the final product.
The advantage of the fiberglass product is that it is durable, allowing it to hold large pieces of glass. Fiberglass is very low maintenance and can be manufactured to look like natural wood. Even though it is not necessary to paint the fiberglass window frames, the surface is paintable if you wish to change the color at some point.
Fiberglass does not rot or corrode, and it is chemical resistant as well. This makes for a highly durable window frame that keeps its good looks for decades!
The fiberglass window frames are available in a wide range of colors with different interior and exterior colors so that you can match the window frames perfectly to your home.
Milgard Ultra Series Fiberglass Windows
The strength of the fiberglass allows the window frame to house large panes of glass with ease, allowing plenty of natural light into the home with expansive windows. The frames are suitable for weather conditions because they do not swell, warp, expand, or contract dramatically in high and low temperatures.
The wide range of types and colors also makes this series a versatile choice for many home designs. Combined with the fiberglass's durability and natural insulating nature, this product will provide the longevity you need for your home and save on heating and cooling costs from Milgard ultra series fiberglass windows.
These frames can offer a traditional look to your home with frames that look like wood or enhance the modern design of your home.
The slimline hardware designed to secure, open and close the windows are attractive and tucked away to maintain the clean sightlines of the windows.
The Ultra Series range of fiberglass windows from Milgard come in the following opening styles.
Single-hung
Horizontal slider.
Casement window.
Awning window.
Picture window.
Radius window.
Bay and bow window styles.
Conclusion
Milgard windows are quality windows that have a good reputation in the market for durability and style. The company controls each part of the manufacturing process of all their products, enabling them to produce a quality range of windows.
The variety and style of the windows offer a wide range that any homeowner will find suitable as a match for the style and décor of their home.
The hardware fitted to the windows for opening, closing, and securing the windows shows innovation and style. These fittings do not detract from the look of the windows or interfere with the view through the windows.
Milgard produces quality window products that you can trust for both precisions in manufacture for smooth operation and longevity of the window frames.
HomeInspectionInsider.com is owned and operated by Hubert Miles is a participant in the Amazon Services LLC Associates Program, an affiliate advertising program designed to provide a means for sites to earn advertising fees by advertising and linking to Amazon.com. HomeInspectionInsider.com also participates in affiliate programs with other affiliate sites. Hubert Miles is compensated for referring traffic and business to these companies.