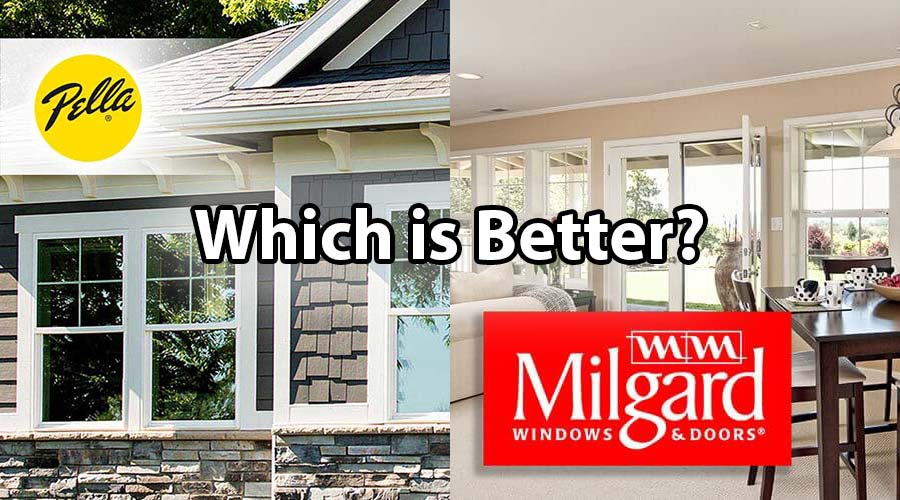 As a homeowner renovating windows or building a new home, you want to make sure you make the best choice for your windows. Two of the leading suppliers of windows to the building industry are Pella and Milgard. An objective review of the suppliers and their products is needed to find the best quality, type, and windows design for your home project.
Milgard and Pella both produce quality windows. Milgard makes aluminum windows as part of their range, which Pella does not. Pella makes wood and aluminum-clad wood windows, which Milgard does not. The vinyl products from both suppliers are comparable, but Pella makes better fiberglass windows.
When window shopping, the choices you make will influence your home and life for many years to come, making it essential to get your choice right. Comparing the two product lines side by side is only one part of the equation. You must include your needs, requirements, and local conditions to establish the product that best fits the bill.
How Does Milgard Compare To Pella?
Milgard and Pella both offer some great products. Milgard has an aluminum-clad wood product that is a step up from their vinyl products, where Pella does not offer such a choice in their product line.
When comparing the products from two companies that produce quality windows, a complete picture needs to be formed about each supplier's products. It would be challenging to install windows with proprietary mechanisms and features to find that you cannot get spare parts 10 or 12-years down the road.
We will compare the Pella and Milgard window products by investigating the following aspects.
The suppliers. Who the suppliers are and what is their reputation.
The materials used. What are the available different material construction options for the windows?
Available window styles. The styles of windows offered by each supplier.
Product availability. The availability of the products and lead times for sourcing the windows.
Product innovation. Are you getting run-of-the-mill mass-produced windows or innovative state-of-the-art windows?
What Is The Best Window Brand?
Both Milgard and Pella are included in the top brands for windows because of their quality and energy efficiency.
Many people are interested in buying products manufactured locally. Although not only from a patriotic point of view but also from a quality and availability point of view.
It is important to find a window that is the best fit for your needs, rather than just looking at which brand has the most features. The window having the fewest features may actually be better for your needs.
Let's get to know more about Milgard and Pella.
Who Is Pella?
Pella was started as a family business in Pella, Iowa, in 1925 by the Kuyper family. It produced roller screens and Venetian blinds.
The company progressed to making steel frame and wood frame windows and sliding doors. They also continued window blind production and development.
As the company grew and its quality products became more popular, it focused on designing and innovating its range of products.
Pella holds over 150 design and innovation patents for its products. It focuses on commitment to quality and ongoing product development and improvement.
The almost 100-year history of the company and the fact that the Kuyper family still owns them gives buyers confidence that the products will be available well into the future, and there is local support.
Who is Milgard?
Milgard is also an American company started by a father and son partnership in 1958 in Tacoma, Washington. The company started as a glass supplier and diversified into producing aluminum window frames.
Milgard innovated its products by designing and producing the first aluminum window and sliding door frames suitable for cold weather climates. Historically, wood window frames were the best option for cold winter climates.
The Milgard introduction of the thermally Improved Aluminum frame. This has thermal breaks between the internal and external structure, changing this perception. This innovation made aluminum frames available to homeowners who have cold winter seasons.
Milgard was purchased by the MI Windows and Doors company in 2019, so the Milgard family no longer runs the company.
What Materials Are Used In The Manufacture Of The Windows?
The choice of window materials is important, especially if your local climate has harsh conditions. This would make some materials unsuitable to the environment.
Pella and Milgard have some differences in the materials that are used for the manufacture of their windows.
Milgard Window Materials
Milgard manufactures its windows from several materials and is unique as a supplier because they manufacture most of the window components themselves.
Milgard offers windows made from the following materials.
Aluminum. Milgard has been using this material for windows since early on in their history. The innovations from Milgard with this material have made aluminum windows an option for homeowners in colder climates.
Vinyl. Milgard produces its vinyl, which gives them control over the manufacturing process. This allows them to make a vinyl product with specific characteristics and features for the windows and ensure quality.
Fiberglass. Milgard produces the fiberglass used in the manufacture of their fiberglass window range. The control over the manufacturing process allows for strict quality control and a product with the correct torsion and tensile strength for window frame material.
Pella Window Materials
Pella uses several different materials for the manufacture of their window range. The fiberglass range is of particular interest, as well as the wood range.
Pella uses the following materials for the construction of their range of windows.
Wood. Pella offers windows that are made from wood which provides a traditional and warm appeal to your home. You can choose from regular wood frames or wood frames with external aluminum cladding to protect the exterior of the wood frame from the elements but maintain the traditional wood look inside the home.
Vinyl. Pella uses vinyl manufactured to their unique formula for enhanced durability and color retention for the frames. They offer a Hurricane Shield range that is designed to withstand the onslaught of a hurricane.
Fiberglass. The Pella fiberglass is a patented design called Pella Impervia. It is a superior fiberglass product from a strength and durability perspective.
Which Type Of Window Is Best For Home?
Even though Pella and Milgard both produce quality windows, the choice of materials will depend on your individual needs and circumstances.
The vinyl product from both suppliers is comparable in strength and versatility. If you are looking for a vinyl product, the vinyl product from either supplier would be a good choice. Your decision between the two suppliers would be driven by the design and décor differences rather than product quality in vinyl.
If you are interested in an aluminum product, then Milgard is the best choice. This is not only because Pella does not have an aluminum range but because of the innovation of Milgard in its aluminum product range. The Milgard aluminum range is suitable for colder climates as an alternative to wood, but it is not ideal for homes close to the beach in coastal regions. The salty sea air combined with high moisture will cause the aluminum to corrode.
Should wood be the material of interest for you for the windows in your home, then Pella is the best choice. The wood is treated for longevity and durability. Wood is a natural insulator and gives a warm, rich feel to a home. The option of exterior aluminum cladding on the wood frames to provide extra protection for the wood makes wood a choice for locations where it was before unsuitable.
Fiberglass is a strong, durable, maintenance-free choice of material for your windows. If this material is on your list of possible options for your windows, you should opt for the Pella range of fiberglass windows. The fiberglass windows from Pella are a superior product to the one manufactured by Milgard.
Available Window Styles
Both Pella and Milgard offer various window frame styles to choose from, but one supplier offers a little more versatility.
Both suppliers offer window frames in the following styles. Some styles are only available in certain material types.
Horizontal sliding windows.
Single-hung windows.
Double-hung windows.
Casement windows.
Awning windows.
Picture windows.
Specialty windows.
The one supplier that offers something different is Pella, which provides a custom window option. Sometimes, as a homeowner, you need a custom window to fit an unusual space, or you want a unique window to enhance the charm of a room.
Pella offers a custom window service where they will build a custom window according to your design specifications. This option will have a slightly higher cost, but the window's uniqueness to the home can be worth the extra cost.
Window Product Availability
Product availability will be a contributing factor in your choice of either Pella or Milgard windows. Of the two suppliers, Milgard has the more localized distribution, and Pella has the wider distribution.
Milgard products are readily available in the western United States, where the distribution network for the supplier is well established. While you can get their products further afield via online ordering, this will increase the lead time, and local support will be limited should you have problems.
Pella products are more widely available across the United States. This has the advantage of a higher level of local knowledge for installing and maintaining these windows and parts availability.
Pella has a nationwide distribution network through registered dealers who stock the Pella products and receive training on the products and the installation and maintenance.
If you are in the western United States, you will have the option of either Pella or Milgard as a choice for the windows in your home. Outside of the western regions of the US, Pella would be the better choice simply from an availability standpoint.
Window Product Innovation
Milgard and Pella have both shown innovation in their respective product development. Both suppliers have been leaders in the innovation and development in design, materials, and associated hardware for windows and doors.
Milgard Window Innovations
Milgard has designed aluminum window frames that compete with wood to provide insulation in climates with extreme winters.
The Thermally Improved Aluminum frame technology uses vinyl thermal breaks between the inner and outer parts of the frame, a breakthrough in aluminum frames. This innovation makes aluminum an option for window frames in colder climates, where wood was traditionally the best material for this purpose.
Milgard hardware on their windows is slimline and innovative, making for smooth one-handed operation to open and close single and double-hung windows. They also have an integrated locking mechanism incorporated into the opening mechanism rather than a separate mechanism.
The window handles are low profile, so they do not interfere with the clean sightlines of the window frames.
Pella Window Innovations
Pella has a proven record of innovation in the window and door industry, evidenced by the number of patents for designs and products in the market.
One of the major innovations is in the production of fiberglass windows which are superior to most other fiberglass window products.
Pella has also produced an extreme weather-resistant window frame in their vinyl range rated to withstand hurricane-force weather.
Pella offers a smart-home option with their Insynctive technology, which is compatible with all their window products. This offers remote notification of windows left open and gives the homeowner the opportunity to remotely close windows, doors, and blinds, among other features.
Some of the Pella window ranges are compliant with the standards for building a passive house. A passive house is compliant with a very specific set of building standards that make the house aggressively energy efficient. Passive homes need very little energy for heating and cooling, dramatically cutting running costs in the home.
Conclusion
Pella and Milgard are both considered to be manufacturers of quality window frames. Their history and reputation in the marketplace are evidence of this fact. The innovations that each company has brought to the window industry show the dedication and commitment to improving their product line.
One of the primary deciding factors between the two producers would be the availability of the products in your region.
Pella definitely has the edge in product quality and superiority for fiberglass products, while the vinyl products are about the same for the two suppliers.
The final factor for consideration is the price. Milgard entry-level windows are about the same price as Pella entry-level products. However, the upper-end Milgard products are somewhat more expensive than the upper Pella range.
Apart from these differences, your choice will be influenced by your personal preference and which supplier meets those requirements. Either product will bring a stylish and long-lasting finish to your home.
HomeInspectionInsider.com is owned and operated by Hubert Miles is a participant in the Amazon Services LLC Associates Program, an affiliate advertising program designed to provide a means for sites to earn advertising fees by advertising and linking to Amazon.com. HomeInspectionInsider.com also participates in affiliate programs with other affiliate sites. Hubert Miles is compensated for referring traffic and business to these companies.