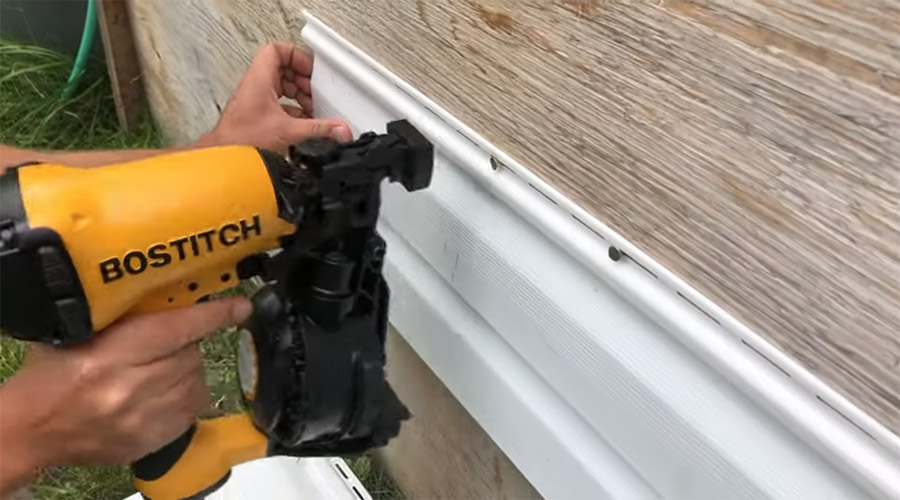 Whether you are a professional or a new homeowner, adding siding to your house is essential to add street value and protect exterior walls from the elements. OSB sheathing is usually nailed onto the side of the house and will weather-proof your home if installed correctly and wrapped in a weather-resistant barrier like Tyvek. One of the cheaper materials for siding is vinyl.
You typically will not use roofing nails for wood or cement siding. However, you can use roofing nails for vinyl siding. A siding nail gun is best to secure your siding; however, you can also use a pneumatic roofing nailer. Finally, roofing nail guns also serve multiple purposes. 
Read on to discover whether you can use roofing nails for siding. 
1. Do You Use Roofing Nails for Siding?
You will typically not use roofing nails for concrete and wood siding. You are not supposed to hammer siding nails all the way into the siding, while you are supposed to hammer roofing nails all the way into the roof.
The purpose of roofing nails is to secure objects, such as shingles, in place so that water cannot get through the material and damage the roof or other parts of the building. 
Instead, use siding nails. Siding nails need to be looser because the siding needs to expand and contract as temperatures rise and the climate varies. Siding will crack or warp if you nail it too close to the side of the building. Siding nails are also two inches longer than regular roofing nails for that purpose.
Read on to discover whether you can use roofing nails to secure vinyl siding.
2. Can I Use Roofing Nails for Vinyl Siding?
You can use roofing nails to secure vinyl siding. However, you must use 1-¾" nails. Drive the nails ¾ into the base of the siding. You should never use pins under 1″ long. Like any siding, vinyl siding needs flexibility.
If you secure it too close to the house and, therefore, limit its flexibility, it could buckle or ripple. Instead, the panel ends of the vinyl siding need extra room to expand and contract as temperatures rise and the climate varies. The panels will need space to expand, especially in the summer, when most materials expand in the heat.
There are also siding nail adapters that you can put over the front of the roofing gun. It is ideal to use galvanized roofing nails to secure your vinyl siding. Here are a few types of nails you should avoid using when attaching your vinyl siding to your house:
Faced nails 
Crooked nails
Bent nails
Read on to discover the best type of nail gun you should use to secure siding.
3. What Kind of Nail Gun Do You Use for Siding?
While you can use roofing nail guns for siding, it is ideal to use a pneumatic siding nail gun to secure vinyl, wood, and cement siding. You should set the pressure of the nail gun to the density of the material you are using. We do not recommend using a brad gun.
Read on to discover other functions of roofing nailers. 
4. What Else Can You Use a Roofing Nailer For? 
The primary function of a roofing nailer is to drive nails into roofing made of asphalt, insulation boards, and fiberglass. As mentioned, you can also use aluminum or galvanized pins can also be used with a roofing nailer to secure siding. Here are some other functions of a roofing nailer:
Driving in coil nails
Removing nails
Nailing down shingles
Securing an underlayment
Read on to discover the other functions of siding nail guns. 
5. What Other Functions do Siding Nail Guns Have?
While the primary function of siding nail guns is to use nails to secure the siding of your house, different types of nail guns use other pins. Here is a comparison of the three most common types of siding nail guns:
Type of Siding Nail Gun
Function
Coil Siding Nailer
It uses a solenoid metal piston
Used for heavier nails
Cordless Sliding Nailers
Uses battery power
Used for lighter nails
Pneumatic Siding Nailers
Air-powered device
Pressure determines its power
It can also use roof nails
Read on to discover other types of nail guns. 
6. What Other Types of Nail Guns are There?
Most guns come in coil, pneumatic, and cordless varieties. Within these, there are different guns with different functions. Here are four types of nail guns:
You can use a framing gun to frame houses or put up walls
Finish guns can nail down crown molding and baseboards
You can use brad guns to secure small pieces of trim
You can use crown staplers to secure edges or put plywood up
Read on to discover the best roof nail guns on the market.
7. What are the Best Roofing Nail Guns on the Market?
The quality of roofing nail guns will vary by manufacturer. Some manufacturers may not even give you a case for your nail gun. Here is a brief comparison of six of the more common types of roofing nail guns and their benefits and drawbacks:
MAX USA CORP SuperRoofer CN445R3 Roofing Coil Nailer
It has a fully round head driver blade
Little effort required to drive the nails into the roof
Magnet keeps the pins in place so that you don't accidentally waste them
However, the coil sometimes leaks
Check price at Amazon.
Metabo HPT NV45AB2 Roofing Nailer
Carbide-tipped push lever
It comes with safety goggles
Able to see what is in the magazine
Tool less depth adjustment
However, no case is included and you can't adjust the air deflector.
Check price at Amazon.
Here are some other models:
Make/Model
Benefits
Drawbacks
BOSTITCH RN46 Coil Nailing Roofer
Uses ¾" to 1-¾" nails
Lockout System
Wear Guards
Durable
Check price at Amazon.
Middle-of-the-Road
It breaks often
WEN 61783 Pneumatic Coil Roofing Nailer
120 nails in the magazine
Quick-release jam fix
Includes carrying case and hex wrench set
Check price at Amazon.
DEWALT DW45RN Pneumatic Coil Roofing Nailer
Seal and Feed System
Easy to load
High-Speed Valve
Check price at Amazon.
Hard to shut nail cover and align nails
Makita AN454 Roofing Nailer
Aluminum Hose
Lightweight
Fast Nail Driving Speed
Check price at Amazon.
The pneumatic cord is hard to connect
Read on to discover the best siding nailers on the market. 
8. What are the Best Siding Nailers on the Market?
The quality of siding nailers also varies by manufacturer. Some siding nailers come with free merchandise, such as a carrying case, while others might not. Here's a look at the features of three popular siding nail gun models:
BOSTITCH N66C Coil Siding Nailer
You can set the nail driving force
Good for smaller projects
It comes with a sequential trigger to disable the bump trigger
Low jamming and misfire rate
Check price at Amazon.
Metabo HPT NV65AH2 Coil Siding Nailer
Change the depth of the nailer with one button
Easy-to-adjust air deflector
Check price at Amazon.
MAX USA CORP SuperSider CN565S3 Siding Coil Nailer
Maintenance-free cap filter
It comes with a carrying case
Check price at Amazon.
Read on to discover the best vinyl siding brands on the market. 
9. What are the Best Vinyl Siding Brands on the Market?
Now that you've found the right nailers to use, you might want to look at the types of siding material available. Vinyl siding and their brands offer these benefits:
No hazardous material exposure when cutting
You also know that vinyl siding is less durable, that it can melt instead of catch fire, and it will not add a lot of value to your property compared to more premium siding. Here are three of the most popular siding brands and their characteristics:
CertainTeed Mainstreet
Electric work is required
An excellent alternative to wood
The job will take five days with a two-person crew
Alside/ABTCO Prodigy Siding
Durable where nails attached
Unlikely to suffer wind damage
Pieces stack on top of each other, which makes it easier to level
It comes standard in 16′ lengths
Shadow line makes it look like wood from a distance
Many colors are available, including dark colors
Mastic Ply Gem Siding
Will hold up in 195 mph wind
10. Final Thoughts
Whether you are using a roofing or siding nailer, it is essential to use siding nails. These specialized nails will ensure that your siding has room to expand under temperature increases and have leeway during intense storms. These two features, expansion and leeway, will ensure that your siding stays in place.
While roofing nail guns can also use siding nails, a siding nail gun is the best way to ensure that your vinyl siding is secured correctly. Roofing guns also have special adapters that you can use with siding nails.
If your nail gun uses pressure, the pressure should be set to equal the volume of the material that you are driving the nails into. Other types of guns, such as coil nail guns, use different mechanisms but will still get the job done.
The quality of roofing nailers differs by manufacturer. Some roofing nailers will break and jam frequently, while others will have no problems at all.
Some roofing nailers will come with a storage case, and others will not. The same is true for the quality of siding nailers. Pneumatic guns are the most popular type of siding nailer, but a coil nailer can also get the job done. 
The quality of siding nailers also differs by manufacturer. Most siding guns come with a free carrying case. However, the most significant difference between siding nail guns will be the features that they have. 
Some will have adjustable exhaust vents, shock absorbers, and blast shields. Others will be simpler to use bump fire and load nails. Toggling bump fire in favor of sequential fire is also an option. The difference in accessories is whether the company includes a belt hook. 
Finally, vinyl siding is a good choice if you want a siding material that is easy to repair, install, and maintain. It hardly needs any maintenance.
However, you should ensure that vinyl isn't near a heat source, such as a barbecue grill, to ensure that it won't melt. The significant difference between siding brands is whether they have foam insulation and how long the warranty is.
Regardless of the siding material you choose and the gun you use to secure the siding, the siding will protect your house if you attach it correctly and give room to adjust with storms and expand with the heat. It is the perfect addition to a home and will protect it from rot and insects for years to come.
Sources
HomeInspectionInsider.com is owned and operated by Hubert Miles is a participant in the Amazon Services LLC Associates Program, an affiliate advertising program designed to provide a means for sites to earn advertising fees by advertising and linking to Amazon.com. HomeInspectionInsider.com also participates in affiliate programs with other affiliate sites. Hubert Miles is compensated for referring traffic and business to these companies.