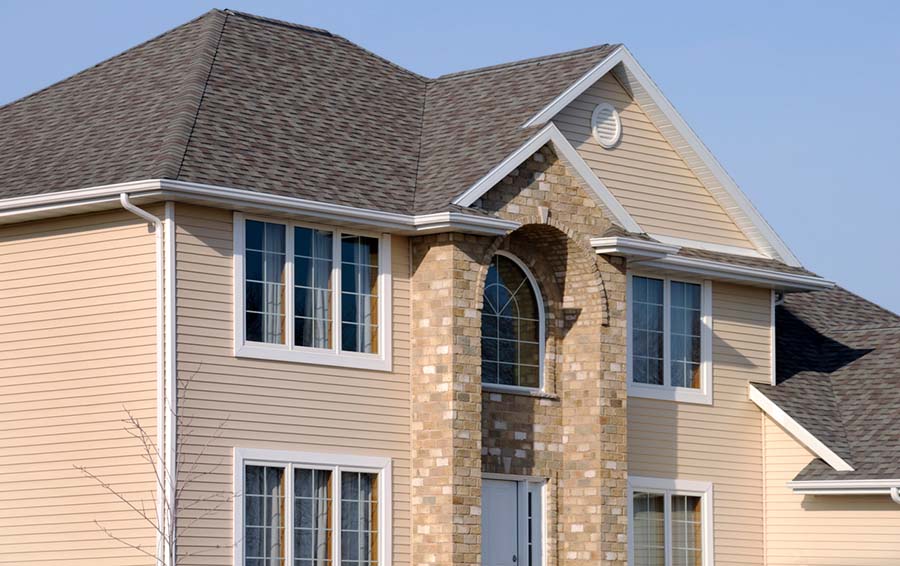 If you're in the market for new exterior siding, you're probably wondering how much it's going to cost. The good news is that there are many affordable siding options available. Here is an overview of seven cheap siding options and their cost. By the end, you should have a good idea of what kind of exterior siding works best for your home.
These seven cheap siding options cover exterior walls without sacrificing curb appeal:
Vinyl siding
Aluminum siding
Fiber cement siding
Stone veneer siding
Natural wood siding
Engineered wood siding
Stucco siding
Brick veneer is considered one of the most expensive siding options. Brick siding is a labor-intensive process. Establishing a firm list of the least expensive sidings can be difficult. We've compiled a list of the cheapest exterior wall materials and gradually scaled up to your most costly options (while remaining on the more affordable side of things).
But before you decide on which option is best for you, it's important to consider all the factors involved in the decision-making process. This blog post will provide an overview of the seven cheapest types of siding and their associated costs. We'll also discuss some things to keep in mind when making your final decision.
Which Siding is the Least Expensive?
Jumping directly into things, here are the seven least expensive siding materials. We have created a chart for better understanding:
| Type of Siding | Cost per square foot |
| --- | --- |
| Vinyl siding | $3.50 to $12 |
| Aluminum siding | $1.75 to $7 |
| Fiber cement siding | $10 to $12 |
| Stone veneer siding | $14 to $22 |
| Natural wood siding | $6 to $12 |
| Engineered wood siding | $3 to $9 |
| Stucco siding | $7 to $9  |
We will also discuss how they measure up to one another and what kind of home themes can allow them to truly shine and potentially even raise your home's overall property value.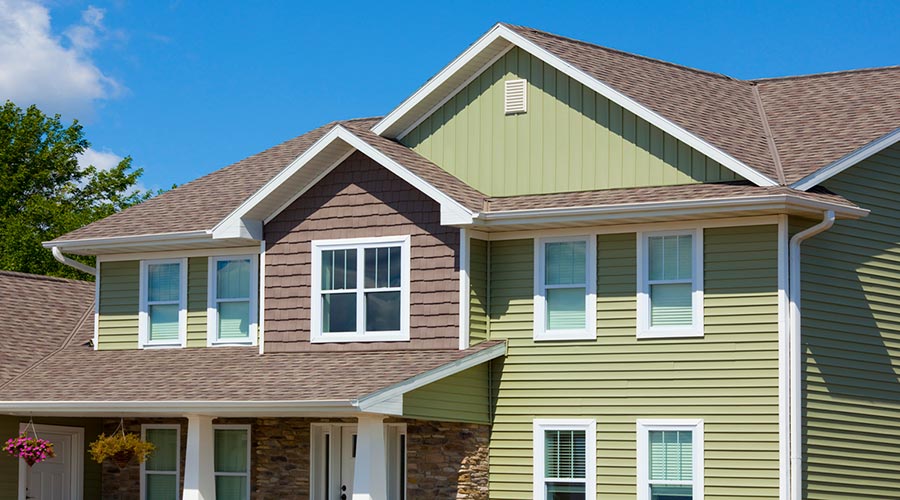 Vinyl Siding: Most Popular Choice for Affordability
Starting with the staple of all siding, we have vinyl, and there is a reason it is the forerunner in the world of siding, and that reason is affordability. Vinyl siding comes in a wide variety of styles and colors. Most basic white vinyl siding is considered the cheapest siding material overall.
Vinyl siding might not come off as appealing when you initially think about it. Still, because of the vast array of color pallets at your disposal, it comes in as a vital condenser as to which siding might work best for you.
While one of the most obvious choices in the siding world, it does come with a few cons. Unfortunately, the first is that while it is cheap, you do get what you pay for. 
Vinyl is not innately very durable, and if you do cut corners and install it poorly, it is much more likely to peel, crack, and even warp, costing you much more money in the long run.
Vinyl siding is considered energy efficient and nearly impervious to water damage (provided water doesn't get behind the siding and a weather-resistant barrier is used).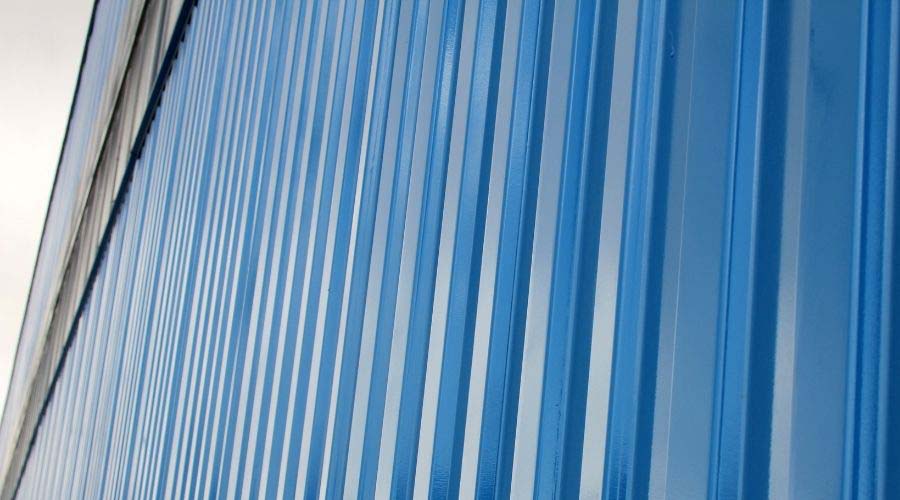 Aluminum Siding: Popular Option for Sheds and Workshops
Keeping that same pace we next up comes aluminum siding, or any metal siding really, and some of the most annoying downsides that vinyl suffered from ring opposite when it comes down to this durable siding.
Aluminum is notorious for its durability as a siding. It is known to last for over 50 years, assuming you are diligent with the upkeep and installing it correctly. 
Unlike steel and other metal siding, aluminum siding resists rust.
Alumium siding can be installed as a horizontal lap siding or as vertical panels.
Copper is also suitable but not cheap, which explains why its use is limited to roofs and accents.
It is no wonder why it has become a standard in the industry, but stability comes at a price. While aluminum may still be a cheaper alternative for siding, it is on the higher end of the spectrum. 
Still, a myriad of color options and the ability to withstand most harsh weather conditions make it a worthy investment.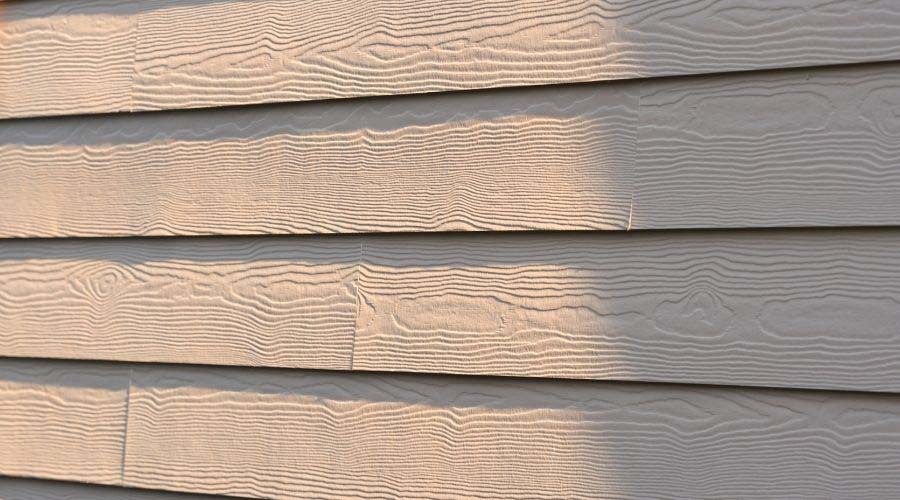 Cement Fiberboard Siding: Most Durable Option
If we were talking strictly from a structurally superior standpoint, aluminum would probably be the strongest on this list. Cement fiberboard is a durable material, often referred to as Hardie Plank or Hardie Board because they are manufactured by James Hardie Building Products.
Still, fiber cement is not only a close second, but it is also eco-friendly and has minimal maintenance, making it a much better choice if you wanted stability but without the time investment of aluminum upkeep.
James Hardie, among other companies, makes an array of popular types of siding products that are both durable and inexpensive.
Being relatively new to the world of siding does not keep this choice down. However, its wide range of styles allows it to mock almost any type of siding to a practically indistinguishable degree. 
Anything content from shingles planks to even natural wood grain and even stucco-panel is all choices you can go with if you so desire.
As we've grown accustomed to nothing coming without its price, fiber cement siding is no exception to this rule. 
It is somewhat expensive in terms of overall cost, but thanks to it being one of the more fire and forget installations, you get a great return on your initial investment when you go with this particular type of siding.
You may want to be wary of installing it yourself, though, as it is a burdensome alternative and requires some particular knowledge to install it properly. 
Failure to do so may result in instability and damage to the siding itself.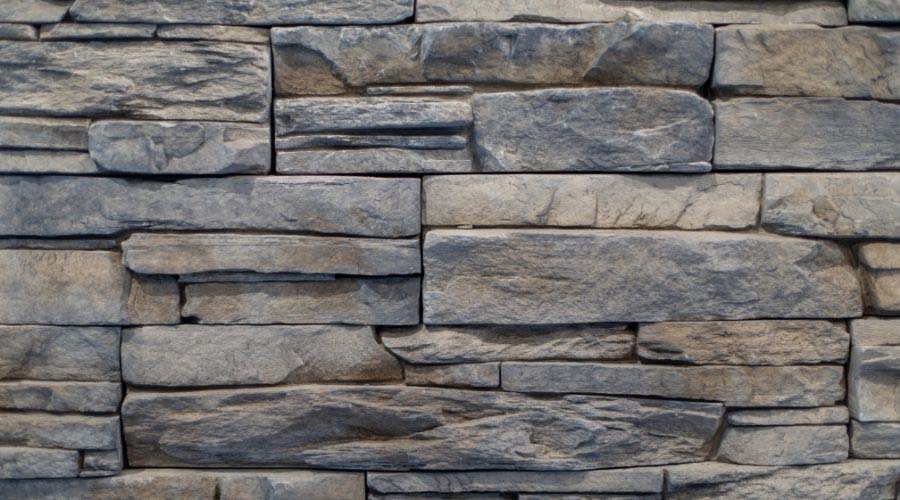 Stone Veneer Siding: Popular Accent Siding
Whether it be the natural look that comes from taking stone as a placeholder in any part of your home or the overall strength it bolsters, no one can deny that stone has a certain appeal that will always remain rather timeless. 
Real stone veneer aims to make that expensive siding option more affordable.
Stone veneer as a siding has some phenomenal perks, cost being a vast majority of them, but it makes a great complimentary piece on almost any design. It can allow for some very creative expression from an aesthetic standpoint. 
In most cases, stone veneer siding is used alongside other sidings to create a more contemporary style. 
It is a composite of iron oxides, specific aggregates, and Portland cement to be rather sturdy. 
Still, it obviously will not handle direct impact and an ordinary stone siding.
One of the final boons stone veneers has up its sleeve is a very acute resistance to weather damage, especially when appropriately installed and layered with something like builder's felt or paper, which would up its opposition to water-based damage and the elements in general.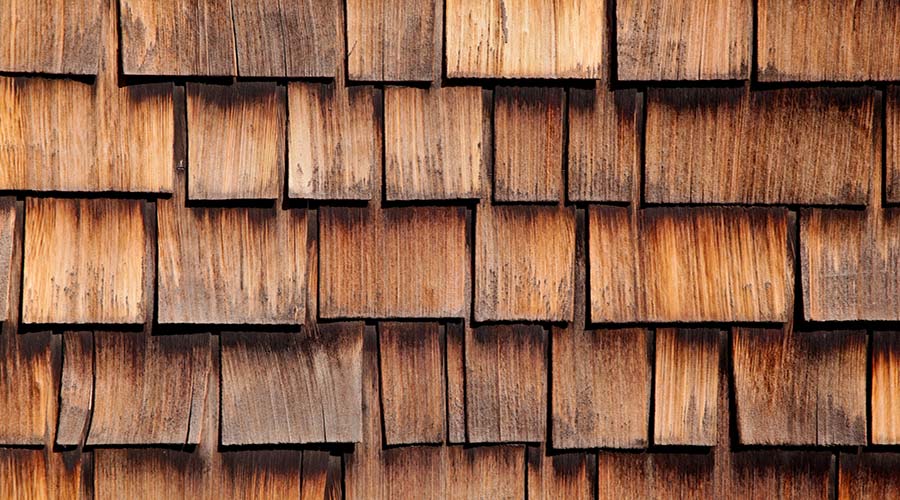 Natural Wood Siding: Popular Choice for Weather Exposure
Going all-natural can be one of the best choices you make, assuming you can afford it. 
For a good reason, too, cedar and other real wood siding have some innate tolerance to weather damage. Still, in the long run, you are going to have to invest quite a bit of time and money into the upkeep of your wood siding to have it not only be healthy but keep that beautiful look.
In terms of raw pricing of the materials alone, it can be on the rather abrupt end. 
Still, the return on that investment goes without saying. You get a beautiful home with a high level of customization options and a multitude of different siding types to choose from, like your regular shingles, planks, and boards. 
Also, you can just as quickly change things up with panels and even plywood.
You can use vertical plywood panels with wood batten strips as a cheap siding option.
Another fascinating benefit you could gain (depending on the wood you go with, of course) would be a little repellant to some of your more common pests. 
Even if you have simple annoyances, such as small rodents and insects (primarily termites), despise redwood, and as such may save you some mental room in the long run.
The overall aesthetic flexibility natural wood can offer typically makes up for the initial investment, assuming you have the time for maintenance and that it gets installed properly to avoid warping, of course.
You can install cedar siding like lap siding, hand-cut wood shingles, and wood board and batten. Painting cedar siding is an option, but most prefer its natural beauty.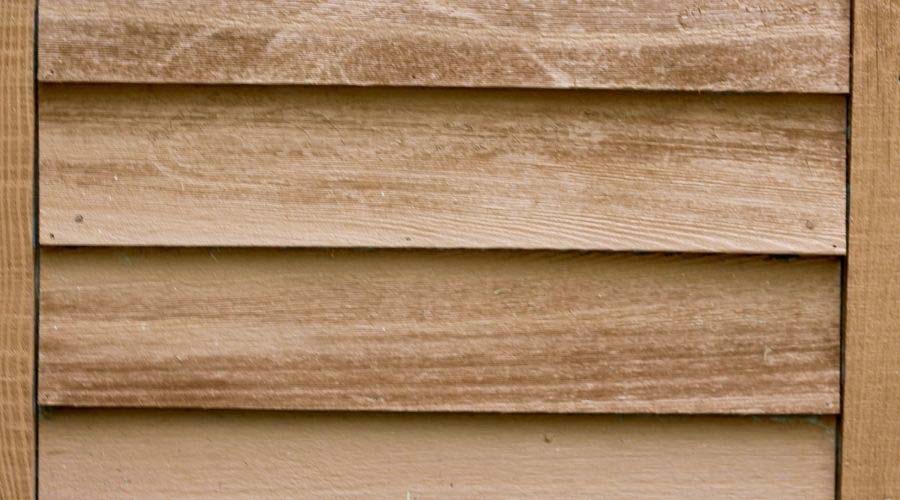 Engineered Wood Siding: Manufactured Wood Siding Alternative
You've likely heard of engineered wood flooring, but what about engineered wood siding? You cannot exactly talk about natural wood as a siding and not talk about its polar opposite, which is engineered wood siding or composite siding. 
As you might have guessed by its name, it is a synthetic wood-based alternative made to mimic both the feel and look, of natural wood, admittedly at about half the cost in most cases. Composite siding, much like composite decking, its primary function is resisting wood rot and maintaining beauty.
While some might argue there is not much difference between vinyl and engineered wood siding, there certainly is. That primary difference would be attention to detail and the commitment to imitating wood as much as possible. 
As a siding, engineered wood can be very aesthetically appealing from the outside and much more affordable than real wood. 
Still, it more often than not lacks the durability of its real-world counterpart and suffers immensely from exposure to water and general moisture damage. 
A poor installation here can quite literally leave you open to the elements to diligence is the name of the game if you want to take this as your choice in siding.
Thankfully, there are warranties in place in most scenarios that allow you to have some peace of mind when going with this choice.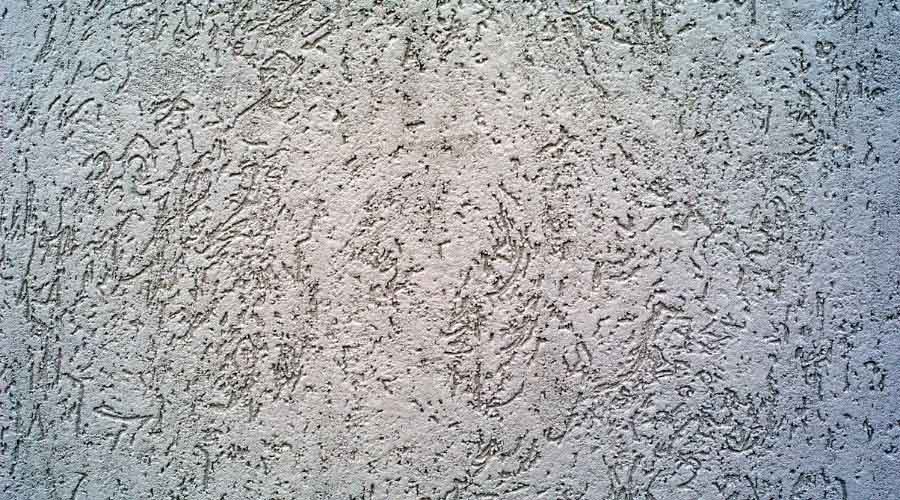 Stucco Siding: Seamless Alternative to Exterior Siding
Last but certainly not least, we have stucco, and despite it being final, it holds up quite well against its competition, but depending on how and where you installed it, it may not be the right choice for you and your home.
When used as a siding, stucco can have some significant issues you will have to address, first and foremost being the installation cost. 
Stucco is applied in layers, and because of this, it will take quite a bit of time to get it fully used in your home. 
Anyone who has experience in labor costs knows that time is quite literally money, and it will add up fairly quickly with this kind of siding.
The cost is worth it if you are paying up indeed, though, right? The answer here is somewhat debatable because it ultimately boils down to preference. 
Stucco doesn't require much maintenance after it's installed and is relatively durable, but it stains easily and can crack.
Assuming your worst enemy is general upkeep, using stucco might be the choice for you because you can get the job done and not have to worry about it until you need to fix cracks that crop up over time.
What is the Most Economical Way to Side a House?
Economical in itself would have to boil down into being affordable on the initial investment and cheap to install, and not very costly across the lifespan of the siding with proper maintenance to take into consideration.
1. Vinyl Siding
Bearing those pretenses in mind, the most economical way to side a house would be to use vinyl siding. There are many reasons for this:
The siding in itself has a ton of style options as a base siding (being able to have other materials used as a design option.)
The ability to paint it on top of the above makes it one of the most robust options you can go with to keep costs down.
Not only that, but vinyl also requires pretty minimal maintenance to look good for a long time. 
So, it's just a fantastic investment in terms of stretching your dollar as far as it can go while being able to keep your home aesthetically open and keeping your curb appeal strong.
One of the final things that make vinyl the best contender for an economically sound winner would be its low cost make it easy to replace if mother nature decides to send you a curveball from left field.
Replacing a shingle or whole piece of siding depending on what happens isn't tricky, and you will not break the bank doing it.
Overall, it goes without saying as an all-around choice, and vinyl is a clear winner.
When we speak of vinyl siding not being durable, what we mean is it can be damaged easily by rocks from a lawnmower, heat reflection from a window, and yeas even woodpeckers can damage vinyl siding.
2. Cement Fiberboard Siding
Cement fiberboard siding would come in as a close second place due to having more curb appeal than vinyl, but because it can be more costly upfront and requires more regular maintenance, it's second place.
Cement fiberboard has many the same reduced-maintenance features as vinyl without being brittle and susceptible to heat exposure.
Unlike early products like masonite siding, it doesn't rot like wood and wood-manufactured siding products. The only reason cement fiberboard needs exterior painting is for aesthetic purposes only.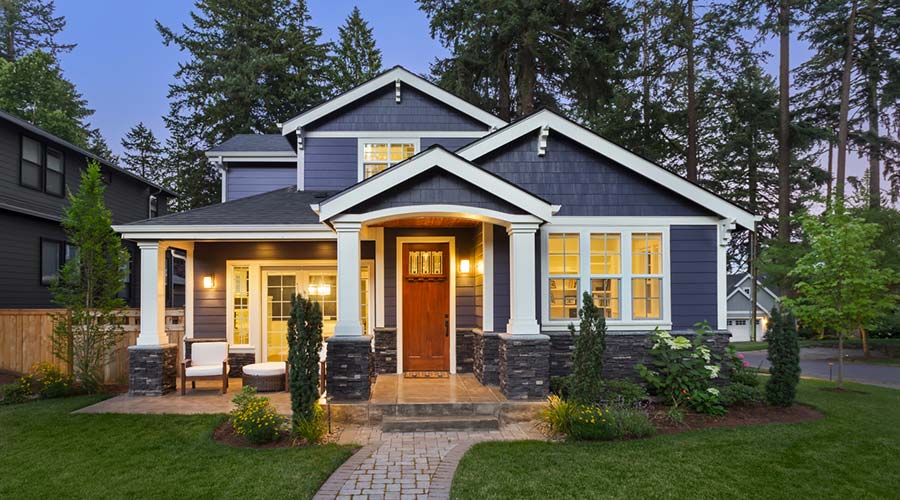 What Type of Siding Lasts the Longest?
Figuring out which type of siding lasts the longest isn't exactly an easy question to answer because the answer in itself relies on several key factors that would make your choices more or less relevant depending. 
One of the most significant factors in this equation is maintenance and weather.
The overall lifespan of siding is heavily dependent firstly on how much effort you put into keeping the siding itself in pristine condition. 
What comes into play is the following:
The kind of paints you put on it and how many times you will need to paint the siding throughout its lifespan.
Whether you plan to powerwash it regularly.
If the siding itself has been stained (if it can be).
What kind of weather the siding has to endure.
Due to those factors, your typical longest-lasting siding would be vinyl, but not because of the lifespan of the siding itself. 
However, it is from the longevity offered in the form of warranties you receive with the purchase efforts made to keep each installation lasting as long as possible.
Some warranties have been known to last as long as 20 to 40 years (varies significantly from company to company). 
You can stretch the lifetime of your vinyl siding to almost 60 years if you or the homeowners stay on top of things. 
That being said, this is optimal weather for vinyl; if it gets exposed to constant sun that can heavily damage and warp it over time, the true kingpin of siding would have to be fiber cement siding. 
Even though it can be challenging and expensive to install, it stands up to almost all weather damage and doesn't require too much maintenance to endure those conditions.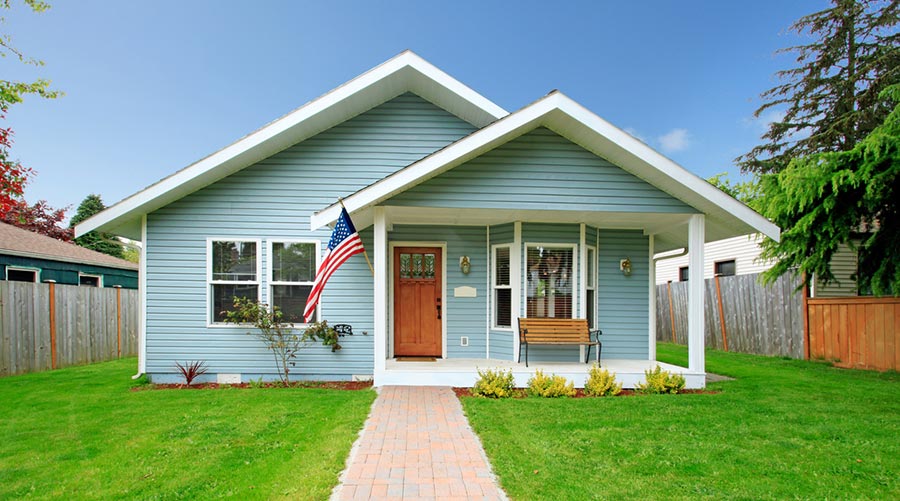 What is the Easiest Siding to Install?
Suppose you view the project from a purely DIY perspective or at the very least from someone who probably would not have very much experience installing siding in the first place. 
Easiest Siding Installation
In that case, vinyl is perhaps the easiest siding to install out of all the other choices you could go with.
While the process can be time-consuming, it does not require paint in most cases. 
You can cut it to whatever size and shapes you need it to be with minimal effort and get the job done in a pretty short amount of time. 
The vast majority of the action gets backloaded, meaning you need to prep for the job itself more than anything else.
The Installation Could Be Messed Up 
Another thing you might want to think about is how "easy" it is to mess up when considering an easy install. 
Seeing as this will be exposed to different weather conditions, a poor installation will have the vinyl damaged in no time, which will have you doing more "easy" installs.
In that case, you will want to take your time to get the job done right or do the job twice.
What is the Most Maintenance-Free Siding?
Fiber Cement Siding
Without a doubt, the absolute most maintenance-free siding has to be fiber cement, and there are countless reasons why it is the clear-cut winner, but we'll go in-depth as to why below.
Ideally, when someone pictures maintenance-free, you imagine very minimal involvement, with enough cushioning from natural stability that you don't have to take time to fortify the siding itself to enable it to withstand the elements, and fiber cement does just that.
Very Weather-resistant
It has an innate resistance to the harshest weather conditions you can experience. These weather conditions range from extreme heat and cold to strong winds that might blow other types of siding off. 
It does not require you to scrape and check for constant insect damage or any other efforts to keep that strength going for the long run.
It Does Not Need to Be Painted
You can completely mitigate the need to paint it (which by association means you don't need to paint it anymore later) by going with a finished color of your choice to be applied to it directly. 
The coloring itself not only resists most kinds of damage, but it also does not fade as fast as other siding types, giving you even more freedom from maintenance.
You Can Customize it
Customization isn't something you need to shy away from either with this kind of siding, as it can be anything ranging from board and batten to panels. 
You can even add lap siding and shingles if you so desire, it's also flame retardant in all of these forms, so it's relatively easy to see why it's the number one contender of fire and forget siding.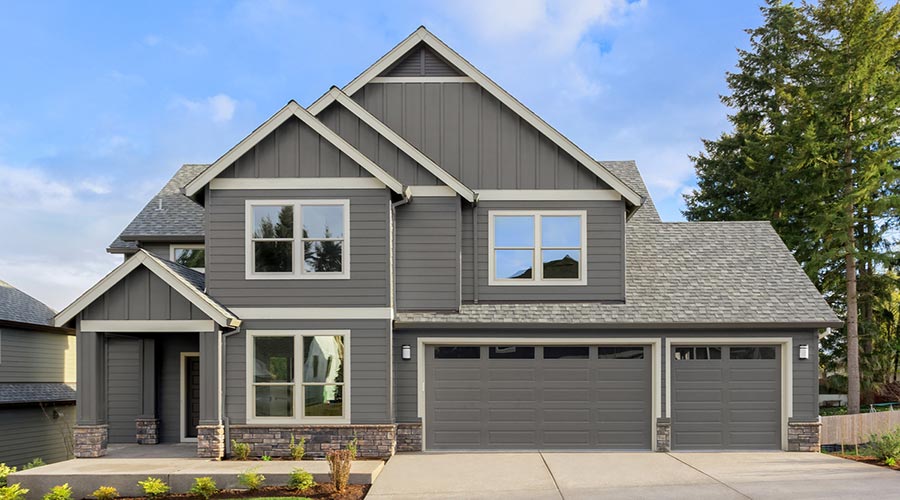 What is the Most Durable Home Siding?
Durability being the priority, there would be two primary contenders for the title. Once again, fiber cement will be a strong pick as it can resist almost everything thrown at it, ranging from weather to raw force. 
Still, if cost were to be thrown entirely out the window, then natural stone siding would be your ultimate choice for extreme durability.
It is tough to imagine natural stone getting damaged by much of anything. More so, if it is not a hazard, that would devastate almost any other kind of siding in the first place. 
It could be so short of slamming more stone, having trees fall into it, or some other unnatural occurrence raw stone will stand the test of time but cost you heavily for it.
Going with the raw stone will also detail you to need to pressure wash it routinely to keep up that beautiful look every so often unless you want your home to become a forgotten keep slowly (which has its charms, if that's your niche).
What Type of Home is Easiest to Maintain?
As you might have guessed, a home using fiber cement siding is going to be the absolute easiest to maintain.
With its structural integrity, resistance to moisture damage, harsh weather conditions, and almost any kind of blunt force damage you can throw at, fiber cement siding makes gold of its initial investment and keep maintenance down to a minimum.
Due to the extreme flexibility of fiber cement siding, you will find that it will always fill every need you have regardless of where you live or what kind of weather you would experience. 
It is especially true when it comes to staying strong in the face of difficulties and needing very little time investment from you.
What Siding Does Not Need Painting?
Natural stone does not need painting at all. There probably is not a circumstance that would allow you to do so without looking silly. 
Still, if you were to consider cost, fiber cement siding does not require paint because you can select it to come in a variety of colors, to begin with. It is much cheaper than natural stone as a siding to boot.
Between the two, the only difference you'd be looking at would have cost. Suppose aesthetic flexibility was to be the more significant concern.
In that case, you'd still want to go with fiber cement siding because of the immense amount of style options you'd have at your disposal, as well as a fairer price range.
Conclusion
Navigating siding options can be a daunting task for even the most experienced contractor or homeowner.
Still, with any luck, this article has helped be helpful in your journey to express yourself with a siding choice that can appeal to you and keep some money in your pocket after the project is finished.