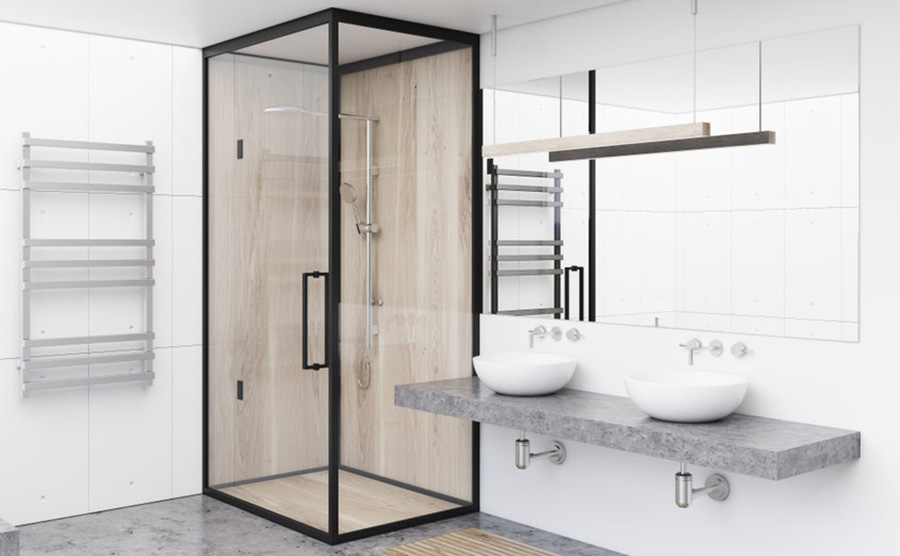 Whether you are remodeling an existing bathroom or planning to add a new one, you're likely to replace a shower and need to know the standard shower size. The truth is, there are many options available when it comes to shower sizes. So let's take a look.
A comfortable shower stall size measures 36″ x 36″, but the widths and depth will vary. Most people will be fine with a square shower, but for extra room, consider a larger size rectangular walk-in shower, such as a 60″ x 36″, which is available in standard and ADA base sizes.
Most people find the 60″ x 36″ ideal shower size.
Standard Shower Dimensions Include
We made a list of the most common standard shower sizes to inform you about your available choices.
Square Shower
Base Sizes
Rectangular Shower
Base Sizes
ADA Shower
Base Sizes
34″ x 34″
42″ x 34″
36″ x 36″
36″ x 36″
42″ x 36″
60″ x 36″
42″ x 42″
48″ x 34″
48″ x 36″
54″ x 36″
60″ x 34″
60″ x 36″
60″ x 42″
60″ x 48″
What are Standard Shower Base Sizes?
If you think of showers and shower dimensions, you probably think of putting up a new shower or possibly remodeling an old one. 
Regardless of which, you should find out and learn the standard shower basics that will help you make an informed choice when it comes down to selecting a shower size that will fit your space and meet your needs.
A standard bathroom shower size should allow you to move about and accommodate the frequent basic body movements like bending and stretching to make showering a fun activity.
Before picking out a size, it is essential to remember that these measurements are from the inner shower stall dimensions and are taken from within the stall, not outside.
Also, remember that remodeling or putting up a new bathroom stall is a long-term decision, so choosing well and picking a size with the extra space you desire is best. Rectangular showers provide enough room to be comfortable while showering.
Square Shower Sizes
Square showers are compact and measure from 32″x32″ to 42″x42″. Square showers are typically installed in corners and along one wall with a glass shower enclosure. A square shower is a one-person shower.
Square showers fit best in small bathrooms where floor space is limited. They can easily fit in the corner of your bathroom.
Rectangular Shower Sizes
Rectangular showers are larger and measure from 42″x34″ to 60″x48″. Rectangular showers are generally installed in corners but can be installed along one wall with a glass enclosure. A rectangular shower is a two-person shower.
Rectangular showers can replace most standard bathtub sizes. They work well in larger bathrooms where the bathroom layout allows additional space.
ADA Shower Sizes
The 2010 ADA Standards for Accessible Design recommend ADA showers be at least 36″ x 36″ in size. However, if you need a shower that is char accessible, a 60″x36″ shower is better because it allows room for maneuverability. In addition, ADA shower bases are threshold-free, allowing for safer access.
Tub/Shower Combo Size
Showers often come as part of a bathtub unit. The typical tub-shower combo size is 60″ x 30″ x 72″; this is the measurement of the tub opening required for installing a tub and shower combo. 
Tub-shower combos can feature porcelain tubs with tile shower surrounds. In addition, fiberglass tubs are available in one-piece or three-piece units.
Custom Showers
Custom showers can essentially be any size you desire them to be. A larger shower can allow additional shower heads, wall jets, and shower controls. Custom bathroom design requires a shower installation, including the extra space for shower benches.
The shower base is custom built versus using a stock fiberglass shower pan. These require professional installation by skilled contractors familiar with building custom shower bases that won't leak.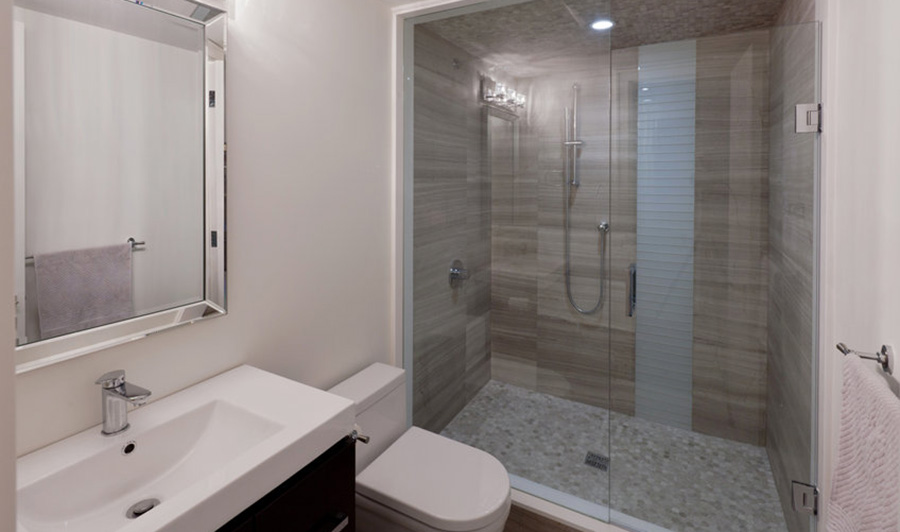 How Shower Stalls Are Measured
Bathroom shower stalls have three dimensions;
The Length/Breath
The Width
The Height
When choosing the perfect bathroom shower size for your available space, size is the first factor that will always crop up. 
Size is also predisposed to three critical factors;
Space
Location/Position
Bathroom shower design
How Much Space Will You Need?
To know what shower size to settle with, you need first to get the measurements of the available space and what is intended for the shower.
Step One: To get the right measurements, start by first measuring the height starting right from the base of the floor to the top of the existing shower unit. Be sure to get at least two different measurements from two different points. 
It is because the chances that you might get two varying measurements are high. If you get two different measurements and wonder what to do, always go with the highest measurement, as it will allow you a margin of error in case of any discrepancy.
Step Two: Now, get the measurements for both the Width and Length of the space
Now that you have noted down the correct measurement in a, it is essential to note that when it comes down to dimensions and focusing more on standard measurements, the standard denominator on the three dimensions is the width. 
The length and height become an individual choice based on how much space is available for a new bathroom shower stall.
More commonly, widths have standard measurements of 32, 36, and 60.
Where will the Shower be Located?  
Your shower room size could be affected by the position or location assigned inside the bathroom.
Shower spaces can be located in a corner, center of a room, or separate enclosures.
Square-shaped measurements like 32″ by 32″, 34″ by 34″, and 36″ by 36″ can be perfectly installed as corner shower stalls, along the wall, and in any other place with limited space.
And because bathrooms fall into the category of plumbing, be sure to put your new bathroom where the old one was. Putting one bathroom where another originally was placed will significantly reduce the amount of plumbing work and cost.
Most Common Shower Size Measurements
A shower should be able to accommodate just about anybody or anyone regardless of size and height. 
Standard sizes are mostly okay for most homes, but it is not uncommon to find smaller shower sizes coming in standard sizes of a 32-inch square or even less at a 30-inch square.
It is normal and acceptable, but many people might find it too small and prefer a slightly more spacious one, depending on length or width.
A shower could be more than just a place to take a quick shower. Most people who take longer showers have more space and enjoy their shower times better than people with less space or smaller showers.
Steam Shower
One more thing to also zero in on the bathroom size factor is whether you want to incorporate steam showers in your bathroom shower stall or not. 
Steam showers are a luxury many people are now venturing into. Steam showers, unlike water showers, have far much more rewarding health and rejuvenating benefits. 
In a world where many people are struggling with lifestyle, many are willing to spend good money and invest in a venture that is sure to alleviate their struggles.
Steam showers are fitted with accessories like aromatherapy and are known to reduce chronic stress, enhance restful and restorative sleep, and alleviate nasal congestion caused by colds and allergies.
Usually, the maximum ceiling height recommended for steam showers is 8feet but going by the book, steam showers come in a range of sizes(L+W+H);
42″ x 42″ x 82″
54″ x 35″ x 89″
60″ x 48″ x 96″
66″ x 66″ x 90″
71″ x 47″ x 88″
Shower Kits
Shower kits are typically detachable and portable shower cubicles ready to be installed when they get home.
Shower kits come complete with side panels, a door, and a base. They come in standard measurements, and all you need is to take correct measures of your available space and then order a kit that will fit.
However, the most important thing is to consider the side you prefer your drain to be on.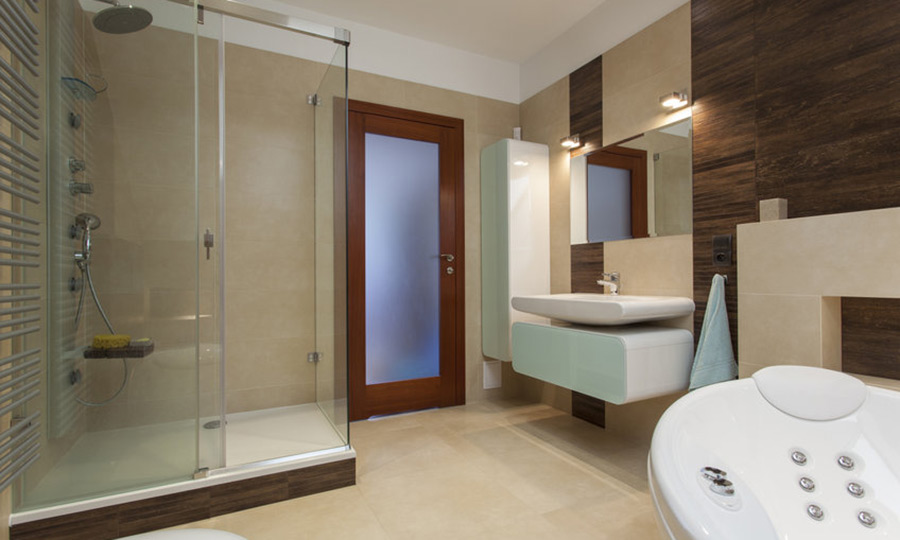 Walk-in Shower Dimensions: Standard Sizing and Comfort
Most homes prefer installing a shower in the corner of the bathroom. This area has ample space for the walk-in design, plus it's closer to the plumbing in the home. 
However, you have to determine the right size to install in your home as you choose walk-in shower dimensions. That doesn't mean you can't enjoy a lovely shower if you have a small space. 
There are several walk-in shower sizes, including some that suit small spaces. These sizes are:
Stand-alone Walk-in Shower
Picture this: A shower at the corner of the enclosed bathroom, keeping it separate. For instance, it's away from other features in the bathroom as the tub. That's a stand-alone shower that's tall and suits small spaces. 
Most stand-alone walk-in showers have a standard size. The size is 48 by 36 inches. It's the standard size because it doesn't take up too much space but leaves you ample room to turn when taking a shower. 
Stand-alone showers have specific characteristics to consider. These include:
1. Room Size
The stand-alone walk-in shower dimensions are 48 by 36 inches. However, this isn't the only size available in the market. 
The one you choose depends on the size of the room. For example, if it's an ample space with a higher ceiling, you can install a bigger and taller walk-in shower and vice versa. 
2. Installation Costs
Larger walk-in showers are costly to install. You might need to change the plumbing, hire more people, and get more materials to accomplish the task. That increases your total bathroom installation costs. 
3. Lighting
No one likes showering in a dark bathroom. So that's why many stand-alone showers have see-through doors. As a result, you can see better as you shower using natural bathroom lighting, and also, the space looks better. 
4. Extra Features
A larger stand-alone shower gives you more room to play around with other features. For instance, you can install a larger showerhead and a bench to sit on. More people are opting to have a bench inside the shower.
Other additional features include storage space in the shower to keep the soap and shampoo you need to shower. 
6. Budget
What is your budget for the bathroom upgrade to include a stand-alone shower? The size, type, and additional features depend on the amount of money you're willing to spend. 
All the features of the stand-alone showers will dictate how much to spend. For instance, you can choose simpler tiles on a tight budget or splurge when you have more money to spend on the bathroom upgrade. 
Square Walk-in Showers
When you have a small space, you can still have a shower and enjoy its benefits. The shower requires a corner with some lighting and a wall in a small home. 
The walk-in shower is set up at the corner against a wall and appears square in shape. The standard walk-in bathroom dimensions for such a space are 34 by 34 inches. The size can be smaller or bigger depending on the space. 
Walk-in Shower with Tub
Do you know that you can have a shower and tub in the same space? The space you want to set up must accommodate both features and leave you ample room to move around. 
Even in a smaller space, you can still include the tub but a smaller one. For example, the walk-in shower with a tub has a standard size of 60 by 30 by 72 inches. That gives you enough space to include a good-size tub in a glass enclosure. 
Once you note the different sizes, you can check out the various designs of walk-in showers. Here are several designs to help you choose the right one for your home. 
Walk-in Shower Dimensions
| Type of Shower | Dimensions | Best Suited House |
| --- | --- | --- |
| Quadrant Shower Spaces | 4 x 38.4 x 73 inches to 5 x 35.5 x 77 inches | Smaller Houses |
| Offset Walk-in Quadrant Spaces | 3 x 31.5 x 77 inches to 4 x 31.5 x 77 inches | Larger Houses |
| Pentagon Walk-in Shower Enclosure | 5 x 35.5 x 77 inches | Larger Houses |
| Square Walk-in Shower Spaces | 5 x 27.5 x 77 inches to 5 x 35.5 x 77 inches | Smaller Houses |
While these are the standard walk-in shower sizes, people with disabilities require something different. 
The Americans with Disabilities (ADA) Walk-in Shower Dimensions
ADA has recommendations for the right walk-in shower dimensions for people with disabilities. These can be a great guide when you want to upgrade the bathroom in your home. 
Here are factors you should consider when installing a walk-in shower for a person with a disability. 
Size
The walk-in shower dimensions are crucial when installing the right shower. First, the door space must be larger than usual. For instance, make it 36 inches wide. It gives anyone with special needs ample room to walk into the shower. 
However, you might need to make the door wider for a person using a wheelchair. 
Interior
Inside, the walk-in shower must be wide enough to accommodate them and help moving around become easier. If they need assistance bathing, make sure the space is large enough for two people. 
Additional Features
While keeping in mind the right walk-in shower dimensions, be sure to have space for a seating area. The sitting area becomes more useful for people with disabilities. 
Flat or Ramped Entry Way
Make sure the entryway is easy for the person to enter. Either it can be flat to prevent falling or have a ramp to access using a wheelchair. 
Sizes of Walk-in Shower Doors
The walk-in shower dimensions aren't complete without considering the doors. Most showers are enclosed to keep water away from the rest of the space and add elegance. 
The type of shower you opt for will dictate the size of the door. All this boils down to what you like and space you have to work with. 
At the base of it all, the standard walk-in shower dimensions for doors are 22 W by 77 H Inches or 36 W by 77 H inches. Any door larger than this requires a panel for extra support due to additional weight. 
The most common height is 77 inches, but you can have smaller sizes ranging from 70 to 76 inches. The different types of walk-in shower doors include:
| Type of Shower | Best Door |
| --- | --- |
| Quadrant Shower Spaces | Hinged and Pivot |
| Offset Walk-in Quadrant Spaces | Sliding Design |
| Pentagon Walk-in Shower Enclosure | Sliding Design |
| Square Walk-in Shower Spaces | Hinged and Pivot |
Hinged and Pivot
This type of door has an average width of 48 inches and a walk-in space of 26.5 inches. You can mount it with singular or double hinges, allowing the door to open outward or inward. 
It's the right door for a corner shower. 
Sliding Design
Apart from opening and closing the walk-in shower door, you can slide it. Sliding open and shuts it elegantly. 
For this design, the walk-in shower dimensions for the door averages 60 W inches. But the actual entry space measures 21.5 inches but can be wider up to 25.8 inches. 
The door design suits a walk-in shower with a tub in the enclosure, has extra panels and rolling tracks. 
Once you check out the walk-in shower dimensions for the door, take a look at the storage space. 
Extra Storage Space in the Walk-in Shower
Some walk-in shower designs include shelving in the shower. These are extra storage spaces for things like shampoo, soap, scrub, and washcloth. 
The spaces can be cuts on the wall and vary in size. These are convenient and help you utilize the shower space in the best possible way. 
The right place for the shelving space is the opposite side of the showerhead. That way, minimal water gets to it. In addition, you can choose a 12 by 24 inches shelving space at the chest level for easy reach. 
While that's the standard shelving size, you can also consider a 6″ x 6″ space to a 47″ x 12″ one. But, take note of the size and design of your walk-in shower. 
Apart from shelving, add a niche in the walk-in shower to have extra storage. The niche is smaller but still serves you as extra storage space. It's a better addition when you don't want a larger space to store soaps and other items. 
You can set up the shelving to also be next to the tub. It means you install two in the walk-in shower. One is next to the showerhead and the other next to the tub. 
Design of Walk-in Showers
Walk-in Shower in a Glass Enclosure
Imagine you have a walk-in shower but need to separate it from the rest of the bathroom. As you contemplate more on walk-in bathroom dimensions, be sure to include space for a glass enclosure. 
The glass enclosure design gives the space an elegant appearance and saves you much time wiping down the bathroom. 
You can opt to include the tub in the enclosure or not. All you need is the right transparent glass to keep the water at bay and bring in lots of light to the shower area. 
Walk-in Shower with Window
At times you can come across a shower with direct access to a window. The window can look out to the great views you enjoy while soaking in the tub or taking a shower. 
Such a design requires selecting the right spot for the shower or installing a new window in the space. That brings in more natural light, which can transform the space. 
Once you bring in more natural light, you can add more features to make the room look even better. 
Round Walk-in Shower
While the norm is to get the square-shaped walk-in shower design, it's not the rule. Instead, you can choose to make your home different by opting for the round shape. 
The glass cubicle is round rather than having corners. It makes the whole space glamorous and appealing to every person. 
You can make this the right design for the bathroom in the guest room. The round design works best with transparent glass that draws in lots of light to space. 
Walk-in Shower with an Arch
Do you have ample space to play around with walk-in shower dimensions? You can install an arch at the entrance of the shower. 
The arched walk-in shower brings luxury and prestige to space which improves your home value. It's a different design that gets people talking. 
Not to mention, the arch helps you separate the walk-in shower area from the rest of the bathroom. Inside, you can have a bench for sitting and placing soaps and shampoo. 
Small Walk-in Shower
If you have a small space in your bathroom, you can still install a walk-in shower with a glass door. The only thing to consider is the right walk-in shower dimensions for such a tiny area. 
The best way to avoid cramping the space is to have fewer features and make it less busy. That means using one or two tile designs for a smooth transition. 
Before settling on any of the above types of walk-in showers, keep in mind the dimensions. 
How Small Can a Shower Be?
The minimum allowable size allowed for a shower is 30″ x 30″. However, most people will find this size too small and hard to move around in. Showers of this size are often found in RVs, small apartments, etc. The best choice is a 36″ square base shower.
When considering a shower size, it's best to visit a bathroom showroom and stand in a variety of shower stall sizes to determine what feels most comfortable to you.
What is the Minimum Size For a Doorless Shower?
Any shower 30″ x 30″ or larger can be doorless, provided the orientation of the showerhead does not aim outside the opening. In addition, you can use a shower curtain to help keep the floor from becoming wet. Ideally, for most people, as we have stated in this article, a 36″ x 36″ is a good size for standing comfort and maneuverability.
Conclusion
When you are planning massive home improvements and are unsure where to start, upgrading the bathroom is a good place, to begin with.
The shower stall is an essential part of a bathroom setup, and so it becomes important to get it right in terms of size, style, design, the material used, water drainage, and even lighting.
While you may find standard showers as small as 30" x 30", most people would feel comfortable with a 48" x 36". This is because International Residential Code, a 30" x 30" is deemed the smallest permissible footprint for a walk-in shower.