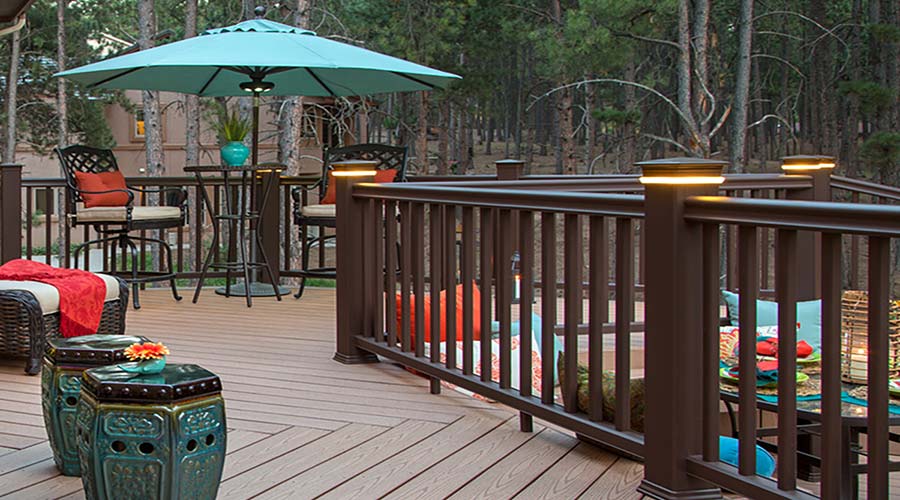 When choosing the right railing for your deck, there is no shortage of ideas and inspiration. 
Deck railings are typically made from; steel, wood, vinyl, glass, wire cable, or a combination of these materials. Your choice in railing type will depend on deck size, location, climate, usage, and of course, budget. 
According to the experts, you should, whenever possible, choose your railing design before your deck is built. Depending on what your desired railing is made from, accommodations may have to be made regarding the structure of your deck.
Whatever your preference, there are unlimited options for stylish and functional deck railing designs that will suit any budget. Check out our deck railing price comparison chart to better understand costs relating to the different materials.
Here are 47 deck railing ideas to get you inspired.
Steel Deck Railings
Steel deck railings are beautiful, low maintenance, and durable option for your deck.  Steel is the strongest and most durable material but is also the most expensive, especially stainless steel.
The weight of steel railings and custom options may pose challenges for the average DIY deck builder. As a solution to this, many companies offer pre-fabricated, customized panels making installation easier. There is always the option to hire a professional to install your steel railing as well.
We often see steel incorporated with other materials when used for deck railings, but it is possible to have the entire railing made of steel along with all its components. The posts and top railing can all be made of steel along with any corresponding hardware. 
Although steel is not likely to quickly corrode, those living near a body of water (especially salt water) may want to choose 316L or 2205 stainless steel. These types are great for ocean environments.
If you have your heart set on steel railing but want a specific color, it is possible to paint steel. Just be sure to use steel-compatible paint and prepare to re-paint every couple of years as it will eventually peel off.
1. Basic Black Steel Railing
This particular railing is the Fortress FE26 from Fortress Building Products and comes in pre-welded panels, which you can install with brackets of your choice. The panels are lightweight enough so that the average adult can easily lift and carry them. Classic and unassuming, this railing suits a range of decks and environments and is available in three colors, black, grey, and brown.
This is a complete railing system meant for DIYers. It is made of pre-galvanized steel, zinc phosphate, e-coat, and a premium powder coating. It has the charm and style of a wrought iron railing but without the weight and cost of the heavier material.  
2. White Steel Tube Beach House Railing 
This stunning white steel deck railing with tubular handrail would be a fantastic feature of any sunny location. White is a good choice for a high-temperature area, as the metal won't absorb as much heat as a darker color and will stay cooler to the touch.
Some companies offer steel deck railings in various colors, so best to order in white to avoid painting and future maintenance. 
Naturerails.com offers full decorative panels such as the colorful crab featured in the image above. Their in-house nature artist cuts the design from metal panels which are then sandblasted, given an acid bath and powder coated with primer, then again with the color of your choice. The panel is then baked at extremely high temperatures.
The result is a beautiful, custom design.
3. Steel Deck Stair Railing
Steel panels also make great stair railings. This amazing creation pictured above has been custom cut in matte black steel to fit a rustic staircase. We often see black steel paired with rich wood decks, as it is an eye-catching combination.
When choosing a stair railing such as this, it is important to consider the weight of the railing to make sure your staircase and posts can support it. Stair rails will take more traffic and pulling than the rest of your deck rail. You should be able to get the information you need from your railing manufacturer.
You also want to be sure your stair railing is up to any applicable safety codes and fastened with the proper hardware for your particular situation. 
4. Black Steel Deck Wildlife Railing Panel
Another amazing design from naturerails.com, this wildlife railing panel could not be a perfect choice for the location of this deck. Why use common balusters when you can turn your railing into a work of art?
The silhouetted nature scene looks like it is a natural part of the landscape and adds subtle drama to the already fantastic lake view behind it.
Along with the steel balusters, this panel has two layers of powder coat to make this railing durable and low maintenance. Using the proper hardware, this could be a fairly easy DIY project as you can order the decorative panel to fit your exact measurements.
5. Continuous Scene Deck Railing
This deck railing sets the perfect scene for "wine o'clock." Full-length custom steel railings depict a fun wine motif, complete with glasses, bottles, and grapevines. The sky's the limit on design themes, use your imagination and turn your deck into a conversation piece. 
The cost of these deck railing "scenes" will be substantially higher than your standard steel spindle railing, as they will have to be customized and installed by a professional. Depending on the length of your deck sides, you may require special equipment to lift and hold the panels into place. 
If solitude is your goal, you may want to consider a more run-of-the-mill deck railing. Once your friends and neighbors see your railing scenes, they will never want to leave!
6. Colored Continuous Scene Deck Railing
Imagine this bright green canoe scene popping off the warm wood of your cottage or home. There is no limit when it comes to what you can put between your deck posts. 
Basic black scene panels definitely have their classic charm, but adding color to your deck takes things to a whole new level. These steel panels can be double powder coated in any color. You could have each panel made in a separate hue or even try a gradient effect with each panel coated in several colors.
Once again, weight and height are important considerations when installing these railings. These particular scene panels have been custom fit into this raised deck's robust wooden post, upper and lower rails.
7. Steel Horizontal Deck Rail System
If a contemporary vibe is more your style, consider a horizontal steel railing design like this one.
Powder-coated for durability, these steel bars are painted in a popular shade of grey and pair nicely with a simple wooden handrail and anchor posts. 
With the cost landing on the high end of the spectrum and the heaviness of the material to consider, these steel railings are a good choice for a smaller deck.  Securing these substantial railings needs to be done properly, so a professional installation is probably a good idea. 
Although the wood elements of this deck rail may need some regular upkeep, the steel bars should hold up nicely in even the more extreme conditions.
8. Classic Elegant Twisted Steel Deck Railing
Some homes just don't call for woodsy scenes or modern railings. If your home is from the Victorian era or another elegant, classical time, the steel deck railing pictured above may be what you are looking for. 
Not as heavy as the chunkier contemporary design we looked at previously, these thin rails and balusters are more cost-efficient and are easier to transport and install. 
Adding to the visual interest and placed every few inches are "twisted" balusters featuring an ornamental element. The railing adds a nice contrast to the heavy white posts and doesn't take away from the unique octagon shape of the deck.
This elegant railing is a good choice for any sized deck and will stand up nicely to the elements.
9. Industrial Steel Tubing Deck Rail
Consider this steel piping idea for your deck railing if it is the modern, industrial look you're after.
Unfinished, galvanized steel provides a durable, more cost-efficient railing that will suit a more contemporary house or cottage. Steel piping is easy to find and easily fastened to your wood or concrete deck with the appropriate hardware.
Wire cables act as horizontal balusters in this example, fed through holes drilled into the steel pipe deck posts. The hand railing and posts could be assembled onsite or welded together before installation. 
This steel deck railing will stand up to any climate, with no maintenance required, and work for any deck size.
10. SteamPunk Steel Deck Railing
This unique deck railing style is dramatic, heavily ornate, and, well, just plain heavy!
Suited to a classic-style house, this railing is reminiscent of yesteryear. To find one for your home, you may have to contact a blacksmith for a custom order, or perhaps you'll hit the jackpot and find some pieces at a flea market or antique shop. Even if you just find a small section of this railing, you can always incorporate it into a design as a focal point using simpler steel rails.
When using this style of deck railing, you definitely want to consider the type of deck you have and whether it can support the weight of the steel. Attaching the railing securely is also very important and will require hardware specific to this unique design. Consulting a professional for installation would be recommended.
Wood Deck Railings
There is nothing quite like the natural beauty of wood, especially in an outdoor space. 
Wood deck railings offer the greatest flexibility out of all the materials, as it is the most affordable, versatile and easiest to install for the DIYer.  Wood railings are strong and can be painted or stained to match any color scheme and, if needed to be replaced at a minimal cost. Anyone can get creative with wood deck railings and enjoy their deck for years to come with proper, consistent maintenance. 
Maintenance and durability are the main concerns when building a wood deck railing. 
Maintaining your wood deck and railing will cost you an additional $1.00 to $2.00 a square foot per year to keep things looking good and functioning well. Your initial costs will be lower with wood, so be sure to factor in future maintenance when calculating your budget.
Wood decks and railings require routine upkeep like sweeping and long-term maintenance such as painting or staining. For tips on how to maintain your wood deck and railings, check out our deck maintenance tips.
Be sure to consider your environment and any wear and tear your wood deck railings will endure. If you live on the coast or another damp location or somewhere with harsh winters, wood may not be the best choice for you in the long run. Rot, cracking, and fading are all factors you will need to deal with at some point if you choose a wood railing.
11. Basic Pressure Treated Wood Deck Railing
The sturdy wood deck railing pictured above is a very traditional design common to many North American homes. Basic balusters attach a smaller lower rail to an extra-wide handrail, providing a convenient ledge to set down drinks and other items.
Pressure-treated lumber has been used to create this solid railing, protecting the wood from the elements. This type of lumber will last about 9 years in a climate with regular freeze-thaw cycles without any maintenance. 
If maintained every year, the wood should last up to 40 years in the same climate. Some manufacturers offer warranties for their wood, so be sure to enquire when you purchase your deck railing supplies. 
This standard deck and railing design are made from cuts found at your regular lumber yard or box store, and because of this, many stores offer downloadable deck and railing plans on their websites using materials they have in stock. 
12. Simple Cedar Privacy Deck Railing
Wood also lends itself to a more contemporary, sleek look. 
The railing pictured above adds a design element and privacy to the deck using wide wood planks placed horizontally.
Choosing unfinished wood boards, such as cedar allows you to stain the wood in a tone of your choice or leave the natural beauty of the panels to shine through with a clear varnish. If possible, stain or varnish your boards before installing them, making sure they are completely dry before beginning. 
This simple design would be a good choice for the DIYer, as long as everything is installed correctly and meets building regulations for your area.
13. Wood Deck Railing Bench
When choosing your wood deck railing design, why not consider adding a functional feature? 
Incorporating bench seating into your railing not only adds an aesthetically pleasing element but also provides extra built-in seating. Great for family barbeques, bench seating means less clutter on your deck and is never short on chairs. 
Your bench can be as straightforward or as elaborate as you would like. The example pictured above is stained the same color as the deck, giving a harmonious appearance to the railing. Creativity could come into play here, as you could paint or stain the bench any color. Cushions could also be added, bringing added comfort and color to your deck.
14. White Wood Deck Railing Parquet Design
This white-painted wood deck railing has a classic style with a twist. Reminiscent of the parquet flooring of the past, this design is clean and bridges the gap between traditional and modern styles. 
Although this design is not overly ornate, it is labor-intensive. You must paint every piece of wood with the appropriate type of paint. Then it must be measured and cut to the correct size to create the parquet formation. 
This type of railing would best suit a temperate, arid climate with a minimum amount of precipitation. Fading, peeling, and rot would not be easy problems concerning this type of railing.
15. Simple Cedar Deck Railing
Natural Cedar is one of the most beautiful and practical woods for its color, smell, and anti-fungal properties. 
The example pictured above is a straightforward "builder's deck" design but striking in the naturally occurring colors of the wood railings. Cedar is naturally resistant to rot and insects but can fade into a grey color if left untreated in the elements. To keep cedar deck railings looking fresh, you can apply a coat of clear varnish every year.
The lumber used in this design is available at lumberyards and big-box stores, and the balusters are available pre-cut and ready to use. Of course, all applicable building codes should be considered, and a professional consulted for any issues or questions regarding installation. 
16. Wood Privacy Screen Deck Railing
For an ultra-modern aesthetic, consider this privacy screen wood deck railing.
Long continuous boards of differing widths installed horizontally across concealed wood posts provide both railing and privacy. This idea is perfect for a home in a busy urban environment, as the wooden slats block the outside world yet still allow in light.
Although simple, you can customize this design. The wood can be painted or stained in any color, and the boards can be of whatever width you prefer. Depending on the height of the railing, you could also place a wider plank horizontally on the top to serve as a drink rail, perfect for entertaining guests.
17. Wood Chevron Deck Railing
Imagine sipping your morning coffee while taking in this beautiful view. 
This non-intrusive wood chevron-patterned railing is the perfect complement to a fantastic view. If you are looking for a quick DIY deck railing, this may not be the one for you. This design, although simple, would take significant time and labor to cut, sand, finish and assemble all the pieces into the chevron pattern. 
A deck solutions company may custom produce this design for you if you are not in the market to do it yourself. Just be sure to perform all the required maintenance, as it would be a shame to lose this great railing to the weather elements. 
18. Painted Wood "Candy Cane" Deck Railing
Reminiscent of a candy cane's stripes, this wood deck railing is a show stopper with two board widths and two colors. Spaced apart, the boards create an interesting pattern that would compliment any style of home or cottage. 
Once again, the design is simple and affordable enough for the DIYer and can be customized with any paint color.  The railing will require regular maintenance, including a yearly sanding and coat of paint, depending on the environmental conditions.
Painting the railing boards hides imperfections and allows for the use of more economical types of wood or even re-purposed boards taken from another project. 
19. Tree Branch Wood Deck Railing
The example pictured above is another great deck railing for nature lovers. The example above is made out of rough-hewn logs and branches. 
Perfect for a cottage, hunting camp, or rustic ranch, this railing is affordable, primarily if you can source the materials from your property. You can get creative with the branch placement and possibly make your scene or design between the deck posts.
Going along with the rustic look, the branches and logs don't need to be sealed with varnish but could be sanded down and sealed for a more refined look. If left to the elements, regular inspection of the railing is essential to ensure no rot or loose pieces.
Vinyl Deck Railings
Our next railing material is vinyl. Made from PVC (Polyvinyl Chloride), vinyl railings have pros and cons, just like any other railing material.
The vinyl railing is lightweight, low maintenance, and resistant to scratching and cracking. Many come in easy to assemble deck railing kits and colors that complement newly built homes commonly found in subdivisions. 
Easily cleaned with soap and water, vinyl deck railings resemble painted wood (but without the splinters) and are priced at the low end of the spectrum.
On the other hand, vinyl railings can look a bit cheap, and if located in a hot climate, they may be prone to fading and cracking. Structurally, vinyl is not as strong as other materials, and if you don't like the available colors, you may be out of luck as you cannot paint vinyl railings.
20. Two Tone Vinyl Deck Railing 
Incorporating a brown handrail, this vinyl deck railing does a great job of mimicking wood grain. The white posts add a nice contrast, and the black balusters give it a traditional feel. 
If you are looking for an economical solution to wood and steel, this railing may be a good option for you. Retailers often supply pre-drilled upper and lower rails, making spindle installation a snap.
When considering a railing such as this one, keep in mind that lots of traffic, wear and tear as well as adverse weather conditions may affect the lifespan of your railing.
21. Grey and White Vinyl Deck Railing
Grey and white is a classic color combination that has seen a massive resurgence in many new builds in recent years. 
This simple design is quite understated, but the grey handrail, specifically the width, makes this railing a good choice. Choosing a board with extra width provides a place to set drinks or a plate of food, always a welcomed feature of any entertaining area.
The post caps are a nice touch and give off a classy, welcoming vibe to the whole railing.
22. White Vinyl "Turned" Baluster Deck Railing
If your deck calls for a traditional, painted colonial look but you aren't willing to do the maintenance, this vinyl railing may be the perfect choice for you.
The railing pictured above from Durables Ashington has a t-top rail, a rectangular bottom rail, and colonial-style balusters. The railing comes in white, tan, and khaki. 
The detail in the balusters echoes that of wood,  allowing you to enjoy the look of classic wood balusters without maintenance and upkeep. This particular railing also comes with brackets that hide the installation hardware.
23. Contemporary Black Vinyl Deck Railing
Another excellent vinyl railing from Durables Ashington, this black system capped with a brown wood-like panel fits the bill for many homes and cottages. 
This design is unassuming and sophisticated and, of course, offers all the perks of easy care and maintenance. The color scheme and clean lines suit anything from a newly built home to a mid-century modern to a woodsy cottage. 
It is hard to tell how wide the handrail is in the example pictured above, but an oversized plank for the handrail would make an excellent addition for holding drinks or even just a nice place to lean on and enjoy the view.
24. Metallic Look Vinyl Deck Railing
Do you love the look of steel deck railing but aren't as keen on the cost? This may be an excellent choice for you.
To the untrained eye, the deck railing pictured above could easily pass for steel. Created by AZEK Building Products, this railing system comes in different color options and won't stain, mold, or fade. 
The color options allow for mixing and matching, as the above example shows. Classic black posts and balusters stand out against the metallic grey of the top and bottom railings. The combination is a dramatic choice and a lovely backdrop for outdoor furniture or potted plants and flowers.
25. Vinyl Deck Railing with Hog Wire Panels
What makes this vinyl deck railing interesting is the hog wire panel placed between the posts. 
This design is a blend of traditional and contemporary style, with the upper and lower rails sitting on the traditional side and the grid of hog wire adding a surprising modern element. 
This unique pairing is the result of a collaboration between Trex Transcend and Wild Hog. They use a technology called "Freedom Fill" to install the Wild Hog's panels into the railings. 
Freedom Fill is made by Wild Hog Products and consists of a powder-coated steel infill that fits into the Trex Transcend rails. The wire panels then slide inside the infill.
If you would like to try this idea, consider using a system to make installation fast and easy.
26. White Vinyl Deck Railing with Glass and Steel Balusters
Perhaps you would like to upgrade your vinyl deck railing and make it look a little more "high end." If that is the case, then why not consider adding glass and steel balusters?
This design is probably best suited to a deck that doesn't get a high traffic volume from children and pets. The vinyl railings are resilient, of course, but the balusters, although dramatic, may not take the wear and tear. 
For the experienced DIYer, this project will probably present minimal issues. As long as the glass is tempered and installed correctly, safety should not be too much concern.
Glass Deck Railings
Glass is another popular deck railing material. Glass exudes a modern appeal more than any other material reviewed here and can be considered the epitome of deck railing designs. 
As with any railing material, glass also has its disadvantages and advantages. 
Glass is an expensive material and usually very heavy, making it cumbersome to work with. It is best to let the professionals deliver and install your glass deck railing for anyone other than the most competent DIYer.
Glass also requires regular cleaning to maintain its beauty and transparency.
On the other hand, the gleaming aesthetic of glass offers unmatched beauty and drama to any deck space. It allows an unobstructed view of your surroundings and doesn't add bulk or barriers to a small space. 
We generally have the perception that glass is fragile, but glass made for deck railings is designed to be strong and can withstand accidental contact with people and objects.
27. Stained Glass Deck Railing Panels
This highly customizable stained-glass deck railing is the definition of functional art.
If you are looking for a deck railing that makes a statement and money is no object, this may be the perfect solution for you.
The full panel style pictured above lends itself to a more contemporary style of home or cottage. Your local stained glass artisan will be able to advise on the creation of such panels, their cost, and weight. You will have to discern if your deck will support the glass. 
The sunburst design pictured above is an attractive choice, but you can choose any design you wish because your panels will be made to order.
28. Frosted Glass Deck Railing Panels
Frosted glass panels are the perfect choice for those looking for the glass aesthetic but still wanting privacy for their deck.
Plain, frosted glass panels will add a contemporary look to your deck, and their uniform size will make them a less expensive glass option.
Inserted into a robust metal railing, these panels will provide long-lasting, low-maintenance privacy for years to come.
29. Lighted Glass Panel Deck Railing
Lighting adds a dramatic feature to these rectangular glass railing panels. 
The perfect complement to the beautiful landscaping, these glass panels add to the ambiance instead of blocking out the view. 
This design may be less expensive to implement than other glass panel railings due to the separate pieces. Every other panel has been lit with integrated LED lighting, spaced a few inches apart, showing the beautiful design etched into the glass. 
Not something you typically see at your local retail outlet, this design may be available from a specialty railing company.
30. Frosted Textured Glass Panel Deck Railing
Similar to the frosted glass panels, this particular design incorporates texture to add interest. 
Blurring but not obstructing the view or the light, these glass railing panels provide a simple, elegant solution and are perfect for a smaller deck.
Installed in a basic steel rail, this design will test time and the outdoor elements.
31. Seamless Glass Panel Deck Railing
This opulent and beautiful glass panel deck railing is a must-have for a million-dollar view. 
Aside from the thin border of the upper and lower rails, this railing offers an unobstructed view of whatever splendor you wish to showcase. Whether it is an ocean view or a mountain vistage, this glass railing is for you.
You will want to keep the glass sparkling clean to get the full benefit of its beauty, a small price to pay though after investing a more significant than average amount of money for your deck railing.
32. Glass Slat and Wood Deck Railing  
The warm tone of the wood against the sparkling beauty of the glass slats makes this deck railing a show stopper. 
These spaced glass slats are inserted directly into grooves cut into the upper and lower wood rails. These spaced glass slats offer an unobstructed view and allow light and airflow onto the deck.
There is some maintenance with this design as the wood will need to be regularly stained and checked for rot, while the glass slats will need regular cleaning to keep them shining and transparent.
33. LED Lighted Glass Panel Deck Railing
If it is a high drama idea you are looking for for your deck railing, look no further.
Perfect for a large deck for entertaining guests, these bottom-mounted full glass panels bring the "wow factor" to the party.
These panels light up the night with solar-powered LED lights installed in the brushed nickel bottom mounts with etched edges.
This big-budget project is best left to the professionals to install so that you can enjoy and show off your dramatic railings for years to come.
Aluminum Deck Railings
Aluminum deck railings are a trendy choice among home and cottage owners. Durable and lightweight, aluminum railings are a favorite with DIYers and contractors alike.
Like any deck railing material, aluminum has its advantages and disadvantages.
On the downside, aluminum railings can be cost-prohibitive to some. However, not the most expensive railing material out there, aluminum railings are on the higher end of the scale. 
If you are purchasing your railings premade from a retail outlet, your color and style choices may be limited, so if you are after a specific look, best to have your railing custom made or choose a different material. Aluminum is also easily scratched but can be touched up with paint if need be. 
If you choose to go with an aluminum deck railing, you will enjoy many advantages of this material.
Aluminum requires very little maintenance, is easy to clean (just wipe with soapy water), easy to install, and is very durable. It will never rot, fade, corrode or stain. It has a high combustion threshold making it safe to be near barbecues or other sources of heat. Aluminum is also an environmentally friendly choice as it can be recycled when no longer in use. 
34. Decorative Black Aluminium Deck Railing
This black aluminum railing is a stunning example of how elegant this material can look.
These railings feature glass panels as well as aluminum balusters capped with a lattice-like trim. The black aluminum perfectly complements the robust brick posts and the large staircase descending from the deck.
If you want to add unique features to your aluminum deck railing, consult your local metal works shop if you cannot find what you are looking for at the usual retail outlets. 
The weight of a deck railing is always essential to consider, although in the case pictured above, the lightweight aluminum railing provides no issue for the large brick pillars and solid wood staircase. 
35. Black Aluminum Deck Railing With Decorative Balusters
A few particular elements add interest to this simple deck railing design.
A decorative element has been added for visual impact, alternating every other baluster. In addition, a second horizontal rail has been incorporated under the handrail to give the railing a unique look.
A shorter version of the deck railing echoes the design on the staircase. 
Once again, you may need to contact a metal works shop if you cannot find this design at your local big box store.
36. Black Aluminum and Glass Deck Railing 
Similar to the previous design, this deck railing offers a discreet and straightforward look compatible with many styles of homes and cottages.
In addition to the decorative elements on every baluster and additional horizontal railing. Alternating around the deck's perimeter, these panels offer unobstructed views (perfect for keeping an eye on young children) and a classy element to the deck design.
As always, proper installation is key to ensuring a safe and long-lasting deck railing. If you aren't confident in your DIY skills for this railing design, consult a professional.
37. Lightweight Black Aluminum Deck Railing
This light and airy black aluminum deck railing is the perfect solution for a smaller deck.
The narrow width of the upper and lower railings, along with the slender angled balusters, won't overpower a small space and would be easy for the DIYer to install.
Anchored to basic wood posts, this design won't break the bank but will still benefit aluminum railings. Long-lasting and durable, this railing will endure for years and offer peace of mind because of its low maintenance. 
38. Aluminum Deck Railing With Accessibility Rail
If you require additional accessibility features on your deck, consider adding an aluminum handrail such as the one pictured above.
This railing type is perfect for those requiring a little extra help accessing the deck and is often installed alongside a ramp. Whether your railing is for home, cottage, or even a business, this solution blends seamlessly with the rest of the railing system.
Aluminum is the perfect choice for this feature as it will never rust or splinter and, if installed correctly, will hold up under any weight.
39. White Aluminum Deck Railing 
This bright white aluminum deck railing offers a striking contrast to the greenery behind it. 
This idea is great for those who want to enjoy a classic white railing without the worry of peeling and fading paint or unsightly rust stains.
The basic design will compliment almost any home or cottage. This railing has been taken to the next level with an extra-wide plank on top of the handrail. This can serve as a drink ledge or even a bar pictured above, complete with bar stools. The contrasting grey color of the bar rail adds some visual interest as well.
Lightweight and durable, this railing will stay bright and new even in the worst weather conditions.
40. Ornate Aluminum Deck Railing 
If you're looking for something extra special for your deck railing, why not consider a custom-made piece of functional art?
Although the railing pictured above is on an indoor staircase, one can imagine outdoor deck railing possibilities.
The sky's the limit when it comes to a whimsical design like this one. You'll want to contact a local artisan or perhaps find an online source on Etsy or Pinterest.
Depending on the design of your railing, it may be the best choice for a high traffic deck, and you will, of course, have to make sure it complies with your applicable building codes. A customized ornate deck railing will provide you and your guests with years of unique beauty.
Wire Cable Deck Railings
This popular deck railing type offers an attractive, versatile look while presenting its own set of drawbacks and advantages.
If using cables for your railing, you must ensure that you inspect them regularly for corrosion or tension loss. They cannot be depended on to withstand a lot of pressure or prevent someone or something from falling. They aren't the best railing choice for a deck frequented by children or pets, especially at high heights.
On the other hand, cable rails are budget-friendly, resist corrosion (they are often used in marine environments), and their hardware is easy to adapt to a specific project. They are a popular option and can be easily replaced if need be.
41. Wire Cable Deck Railing Rounded Corners
This fun cable deck railing idea incorporates rounded corners, an extra-wide top rail, along small six-sided tabletops. 
With all the extra space to set down drinks and snacks, this is a party deck. Cable railings are the perfect place to hang lights or other decorations too. 
It's easy to create a defined space without heavy borders when using cable railings, which benefit small and large decks.
42. Wire Cable Deck Railing With Wood Frame
If you're looking for rustic charm, look no further than this excellent cable deck railing design.
Six silver wire cables centered inside chunky wood frames give this railing a modern barn vibe. This design is functional and durable and would work with a variety of houses and cottages.
The railing unobtrusively defines the deck space, blending seamlessly with the natural background allowing light and unrestricted airflow.
This is a cost-efficient option for those looking for an affordable, durable rustic deck railing solution.
43. Wire Cable Deck Railing With Steel HandRail
This unique railing design would undoubtedly stand out on any deck.
Using the minimal amount of wire cable (4 in this case), this railing is extremely simple, with plain, pressure-treated posts supporting the wire and the industrial steel handrail mounted on top.
Chunk industrial hardware gives this railing a bold sturdy appearance, and pressure-treated lumber means the design will stand up longer under the elements.
44. Horizontal Wire Cable Deck Railing With Aluminum
This beautiful deck features a dramatic black aluminum railing with horizontal wire cables.
This design will stand the test of time, a perfect choice for a cottage or a home exposed to the elements. The railing is not visually heavy and is a good choice for a large deck as it is not overpowering with the surrounding landscape.
This railing is very low maintenance, with a yearly cable tension and corrosion check the only item on the to-do list. This is important to remember, especially for decks located high off the ground or for families with children and pets.
45. Wire Cable Deck Railing With Steel Balusters
This design is the epitome of a clean, industrial look.
The gleaming steel balusters support the horizontal wire cables with exposed hardware spaced apart. The tubular handrail is a beautiful addition to the railing and draws the eye in a continuous line around the deck.
Perfect for any location, this railing idea is economical and easy to install for the DIYer. Cables are easily accessible for replacement and maintenance when needed, and cleaning is a snap with a damp cloth and a bit of soap.
46. Vertical Wire Cable Deck Railing
This stunning design vertically uses wire cable.
Connected between black metal frames, these cable panels are then nestled between bright white wood posts. The three-material combination provides a striking yet unobtrusive railing for viewing a beautiful landscape.
The design is simple enough that a confident DIYer could successfully attempt to replicate this idea. Making sure the wire cable is installed securely would be a priority as it is not guaranteed to stop a fall from occurring.
This railing is durable, with the wood posts requiring the most maintenance. Regular cable checks would need to be performed as well as checks for loose hardware or corrosion.
47. Vertical Wire Cable Deck Railing With Aluminum Frame
This deck railing design is lightweight, maintenance-free, and durable as they come.
Thin black wire cables have been installed vertically between slender aluminum balusters for a minimalistic look that will not overpower a small deck.
This railing is perfect for a cottage or any home that bears the elements as it will not corrode or crack over time. Once again, regular cable checks are for this design. If any elements need replacing, they are easy to find and won't break the bank.
Conclusion
So there we have it. Forty-seven deck railing ideas to inspire you and help you make the most out of your outdoor space. Whatever your skill level or budget, you are sure to find a deck railing that suits your particular needs and adds charm and beauty to your deck.
Looking for something to do with your old porch railings? See 18 Creative Ways to Repurpose Old Porch Railing (You'll Love Number 8).
You can also check out How Often Should Decks Be Replaced? Let's Find Out.
HomeInspectionInsider.com is owned and operated by Hubert Miles is a participant in the Amazon Services LLC Associates Program, an affiliate advertising program designed to provide a means for sites to earn advertising fees by advertising and linking to Amazon.com. HomeInspectionInsider.com also participates in affiliate programs with other affiliate sites. Hubert Miles is compensated for referring traffic and business to these companies.