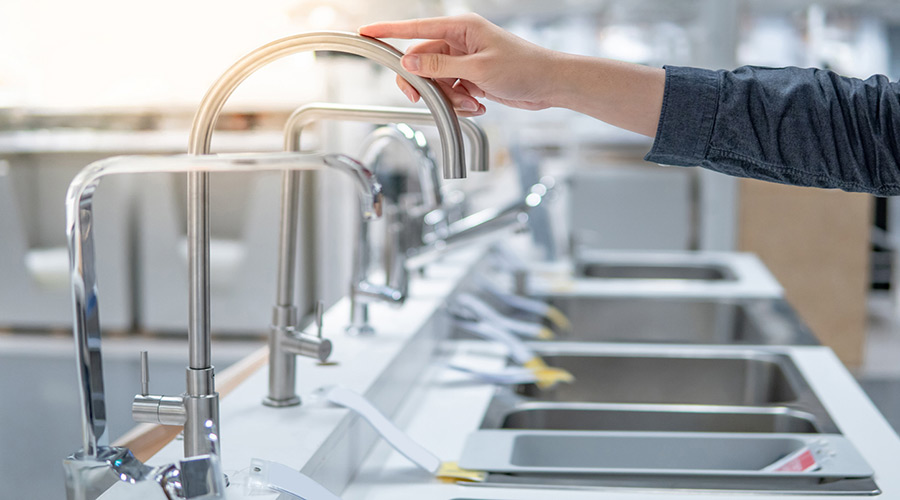 The type of kitchen faucet you get will largely depend on why you need it. The pull-down and pullout varieties of faucets are best for filling pots and scrubbing the sink, while a bridge faucet has two handles that control the temperature instead of one. There are many brands of kitchen faucets on the market. What you use will depend on your emphasis on quality, flexibility, and function.
There are 5 brands on the market that we do not recommend for various reasons, including being undersized and leaking. There are also nine superior kitchen faucet brands on the market, including Koehler and Moen. Moen is better than Delta, while Glacier Bay is better than Moen.
Read on to discover who makes the highest and lowest quality kitchen faucets.
What Faucet Brands Should You Avoid?
There are 5 brands that we do not recommend.
1. Delta
The Delta brand is a subsidiary of Masco. Although they place a heavy emphasis on technology, users and tests have confirmed the following problems:
Leaks
Loose
Pull-out is difficult
The cartridge can break under high pressure
Sprayer connection is loose
The weight is not effective in returning the sprayer to its original position 
Supply lines are inflexible and are hard to install
Can leak into the kitchen cabinet 
2. Brizo
Brizo is another subsidiary of Masco. Although it has a few great features, such as Lifetime Limited Warranty and the ability to pair with your smart devices, the good still outweighs the bad. Despite using cutting-edge technology, this brand will have the following problems:
Touch feature only works with the handle in the on position
Aerator and stream features apparently can cause low water flow
Pinched wires cause "ghost activity"
TempID™ shows the temperature of the water through an LED light
Euro-motion Diamond™ Valve with InnoFlex™ waterways
These issues are also present in the Delta brand.
3. Vigo
Vigo faucets have weak water flow issues, require a specific tool to replace the spray head, and suffer from water gasket jams. Vigo has an average rating across all platforms of 4.1 out of 5. Older models from Vigo can be somewhat lower, in the 3.4-3.9 out of 5 range.
Users also noted problems such as the faucet peeling off and the button for switching flows turning out to be dysfunctional in less than 3 months.
4. Hansgrohe
Hansgrohe faucets require that the handle on the one-handled version be on the front because it moves from left to right, not in and out. The sprayer also leaks, and the rubber on the inside of the hose braiding will crack as it ages. Finally, replacement parts might not be the same as the original faucet.
This outweighs the following technology:
QuickClean technology that ensures that you can clean limescale deposits and dirt can be cleaned by simply rubbing silicone nubs
Select Technology that interrupts the flow of water with a one-button touch
sBox technology that ensures that the sink takes up less space under the sink
MagFit technology that provides for magnetic spray head docking
Double backflow prevention
Comfort Zone technology means that the faucet is user-friendly 
AirPower technology mixes air with water to inflate water droplets and allows more effective use of the water 
5. Miseno and Signature Hardware
They are both owned by Ferguson and will likely have the following problems:
The tap is the size of a bar sink
Backsplash means that water will end up on the countertop 
These problems outweigh the following features:
PVD finishes
A rocker switch that converts the aerated stream to powerful spray
A squeeze-and-place weight that allows for easy installation
ADA Compliant
Resistant to Extreme Temperatures
Ripple-Resistant
Resists Stains
Dent and crack resistance
The drop-in design makes it easier to install
Eco-friendly PerformanceSpout™, which conserves water 
EternalSeal™ ceramic cartridge, which prevents leaks and dripping
FinishPlated™ technology that ensures hardware consistency
Who Makes the Highest Quality Kitchen Faucets?
There are 9 brands of high-quality kitchen faucets.
1. Kohler
Kohler's main selling point is that its kitchen faucet models are convenient to use. They manufacture pull-down faucets, pullout faucets, single-handle faucets, two-handle faucets, bridge faucets, and wall mount faucets. The finish uses physical vapor deposition (PVD), making the finish resistant to corrosion.
The brand also uses Koehler Advantage technologies:
Magnetic docking for the spray head
Touchless response technology (motion-activated) 
Each type of faucet has its benefits and functions:
| Faucet Type | Benefits and Functions |
| --- | --- |
| Pull-Down | high faucet height, multiple spray options, no need for a separate side spray |
| Pull Out | multiple spray functions for filling pots or cleaning fruits, larger grip area, more comfortable |
| Single-Handle | control both stream volume and water temperature with one handle, the lever is on the faucet or next to it |
| Two-handle | classic faucet, separate temperature controls that come as lever, cross, or wrist blade handles |
| Bridge | two-handled faucets with a swing spout, swing spout has a wide range, can be mounted |
2. Moen
Moen faucets come in one-handle, two-handled, pullout, pull-down, bar, and butler varieties. In its marketing, Moen does not use many buzzwords, choosing instead to focus on the functions of the faucet. Moen boasts of Duralast® cartridges that aid in temperature control, while the pull-down faucet does have MotionSense™ hands-free operation.
Each type of model has its functions and benefits:
| Faucet Type | Function and Benefits  |
| --- | --- |
| One-handle | control the volume of water flow and temperature with one hand |
| Two-handle | classic kitchen faucet model, hot/cold handles, the faucet can convert to a one-handle version |
| Pull Out | faucet pulls out from the base, and wand combines stream and spray |
| Pull Down | only the faucet head pulls out, Prevents backsplash |
| Bar | suitable for smaller sinks, good for height restrictions, best suited for a prep area or as an island sink  |
| Butler | provides cold, filtered drinking water, compatible with a water filtration system under the sink |
3. Kraus
Kraus places a heavy emphasis on how ergonomically sound its faucets are. It manufactures taps in the pull-down, pullout, semi-professional, bar, bridge, water filter, sensor, and touch varieties.
It also boasts of seven technologies:
TapFlow™, which allows you to touch anywhere on the faucet to turn it on.
Corrosion-Resistant Brite®-Spot Free Finish  
Combine spray and stream modes through the ergonomic EZGRip™ technology..
QuickDock™ technology allows for installation without an under-the-sink install.
Reach™ technology provides the sprayer with a more flexible reach. 
Healthy Home™ products limit germ flow. 
Their types of kitchen sinks also come with their own set of benefits and functions:
| Faucet Type | Benefits and Functions |
| --- | --- |
| Pull-Down | great for busy kitchens, fits under standard cabinets, high Arc 360-degree swivel, ergonomic handle, lead-free brass waterlines, pull-down sprayer |
| Pull-Out | the pullout, temperature and flow control, ceramic cartridge, Neoperl aerator to save water, easy-clean nozzles to prevent mineral build-up, 160-degree swivel, one or three-hole installation |
| Semi-Professional | the faucet looks like an industrial-style coil, pre-attached water lines, a high arc for oversized items, docking arm rotates to avoid interfering with the spray head, ergonomic single handle with a 90-degree rotation comes with a swivel adapter, ceramic cartridge, easy Clean nozzles, single hole installation |
| Bar | gooseneck spout, ergonomic comfort-grip handle with 90-degree forward rotation, 360-degree swivel range, ceramic cartridge, pre-attached water lines, spot-free finishes |
| Bridge | diamond-textured handles make for a no-slip grip, hexagonal bolt-shaped details, side sprayer with a wide range of maneuverability, spout height bacn be adjusted, two-function faucet |
| Water Filter | 100% lead-free brass, universal design connects to many under-the-counter water filtration systems, the gooseneck spout is perfect for filling pots, ceramic cartridge, single handle, single-hole installation, mounting hardware included, high-Arc spout, ADA compliant |
| Sensor | high-arc open coil spout, 18-inch height, hands-free activation, busy kitchen, the flow stops automatically after 3 minutes, pull-down spray head, pre-attached waterlines, spot-free, stainless steel and black matte finishes, single handle, ADA compliant, ceramic cartridge, installation-ready, single-hole installation |
| Touch | busy Kitchen, Clean Home product, reduces germ transfer, high-arc spout, 360-degree swivel range, pull-down sprayer with a swivel adapter, lead-free brass waterlines, ceramic cartridge, spot-free finish |
4. Glacier Bay
Owned by Home Depot, the faucets made by Glacier Bay have a PVD finish and use two technologies. One technology is the TurboSpray, which provides sprays of focused water columns and uses more power than the standard water tap. The second technology is the FastMount mounting system, which provides for quick installation.
This brand has pull-down, pullout, double-handle standard, bar, bridge, and pot filler faucets. Here are their benefits and functions:
| Faucet Type | Benefits and Functions |
| --- | --- |
| Pull Down | single-handle, high arc spout, 360-degree swivel range, pull-down spray wand |
| Pull Out | pullout sprayer with aerated spray or TurboSpray, high arc, quicker and easier installation with Fast Mount, single-handle metal, for 3-hole or 1-hole sinks, replacement parts available |
| Bar | all-metal body, oil-rubbed bronze finish, high-arc spout, 360-degree swivel range, solid brass and copper waterways, ADA compliant |
| Bridge | stainless steel finish, ceramic cartridge, 2-spray modes: TurboSpray and aerated, requires a 3-hole sink |
| Pot Fillers | pot fillers, ceramic cartridge, optional aerator, easy to install, wall mount |
The final 5 models are lesser-known brands that all have their great benefits and functions:
| Faucet Brand | Benefits and Functions |
| --- | --- |
| U Faucet | Brass and nickel, Fixed Top, Rotating middle, Fixed bottom, 360-degree rotation, Mixes water with air, Spray and stream options, Ceramic valves prevent dripping, Compact design |
| Forious  | Touchless Faucet, An infrared sensor in the base, Four-inch range, Water switches off after 3 minutes, Water automatically starts when you pull out the faucet, The spray head rotates 360 degrees, Trigger-operated Stream and spray, Needs 4 AA batteries. |
| Wewe | Pullout faucet that reaches 23 inches, Aerated stream, Water-efficient, Three spray functions: spray, stream, or pause  |
| Comllen | High arc, Stain and corrosion resistant, Needs deck plates for a 3-hole sink, 360-degree swivel range, Stream or spray modes, 20-inch hose, Switch toggles between spray modes, No magnetic docking |
| Biobidet | Hands-Free motion sensor, Durable ceramic cartridge, 2-function spray head, SmartLatch retraction, High arc, Durable and reliable Battery-powered, Easy installation |
Read on to discover the brands and models that plumbers recommend.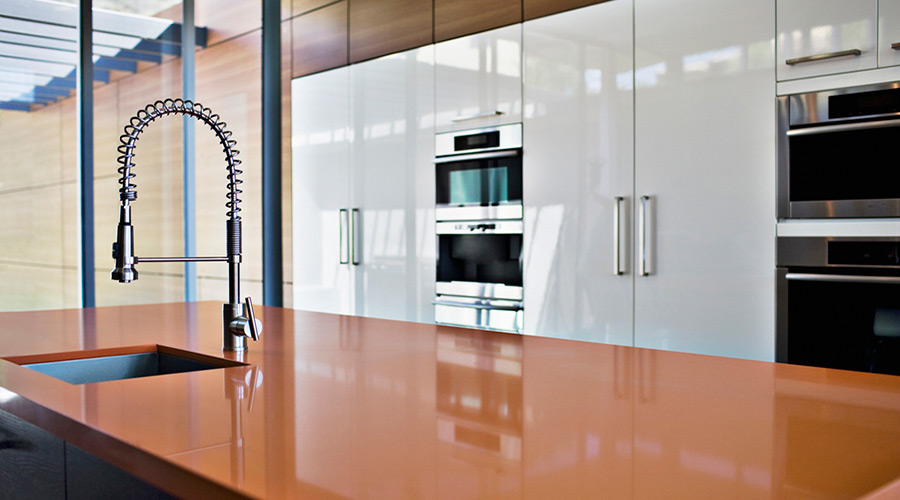 What Faucet Do Plumbers Recommend?
The plumbers recommend the 9 brands of faucets above. Most users agree. Here are the specific brands, models (or types) of faucets they recommend for each brand, plus what users said about the recommended faucets.
1. Kohler Sous Pro-Style Single-Handle Pull-Down Kitchen Faucet
This model is known for being durable and reliable. It also features a two-function spray head, touch control, and ScratchShield technology. Most users like it for having a spring and spray head that is detachable for cleaning.
User Reviews:
"The handle can move the spout. The spray is effective for dishwashing"
"Sturdy handle, Kohler-brand sink is not necessarily compatible with faucet depending on the house"
2. Kohler K-596-VS Simplice Pull-Out Faucet
One of the unique characteristics of this pullout faucet is its three-function spray head. Like most Kohler models, it also has a magnetic docking system and a pull-down spout.
User Reviews:
"Easily installed by one person, Prevents water contamination but all internal components must remain intact"
"Swivel length helps it reach hard-to-reach areas"
3. Forious Pull-Out Faucet
The Forious pullout faucet is all about convenience. Water switches off after 3 minutes and automatically starts when you pull out the faucet.
User Reviews:
"Love its anti-fingerprint surface and extendable hose"
"Good for cleaning fruits and I can toggle between spray and stream"
4. Wewe Pull-out Faucet
The pullout hose that reaches 23 inches is the feature that consumers love the most about this Wewe faucet. It also features three spray functions: spray, stream, and pause.
User Reviews:
"Under 100 dollars, Sturdy swivel, Good water pressure"
"Easy install and natural fit, does not come with a stabilizing bracket"
5. Moen Kaden Single-Handle Pull-Down Faucet
You'll love the Moen Kaden model if aesthetics is what you're mainly after. This spot-resistant stainless steel faucet also has a mirror-like chrome finish which will easily fit into most home designs.
User Reviews:
"Fingerprint and stain resistant"
"Plastic faucet head"
6. Moen 7594ESRS Kitchen Faucet (Pull Out)
Aside from having an easy installation process, this Moen kitchen faucet also features two sensors. You can also control the water flow by simply waving your hand!
User Reviews:
"Includes battery, You can swivel the spray control 360 degrees"
"Hard stops prevent it from moving and convert from spray to stream by turning water off"
7. Kraus Bolden Single Handle 18-inch Commercial Kitchen Faucet
A flexible hose, 20-inch range, 180-degree swivel range, open-spring spout, and an ergonomic pull-down spray head are some of the inclusions that you'll love on this Kraus model. It is also retractable and has a gooseneck design.
User Reviews:
"No backsplash!"
"Rocker switch toggles from spay to a regular stream and resets itself between uses"
Is Moen or Delta the Better Brand?
Consumers may wonder whether Moen or Delta is the better brand of faucet manufacturers. Moen is a company that only produces faucets. Meanwhile, Delta is a company that heavily emphasizes the technology it uses.
We believe that Moen is the superior brand, despite 2 flaws:
Tightening the faucet requires special tools because there is not enough room under the sink to use standard tools.
High-pressure exposure causes the water to leak from the tap and cartridge.
Despite these two problems, the following makes Moen superior:
No leaks in sprayer connections
Weight is easy to disconnect and moves easily
Superior supply lines and flexibility for an easier install
When cartridge failed, faucet did not leak into the cabinet
Meanwhile, under a test from a plumber, Delta is inferior for all of these reasons:
The cartridge can break under high pressure causing leaks inside the cabinet when the cartridge fails
Faucets come loose easily
Pull-out is difficult to operate because the weight on the hose is insufficient. The weight is not effective in returning the sprayer to its original position.
Sprayer connection is loose and can leak
It needs a specific device to take off the brace
Supply lines are inflexible and are hard to install
While the Delta is easier to install than the Moen, only a few minutes. Despite a slightly longer install time and the need for a special tool, the Moen proved to be more durable, with fewer leaks under high-pressure tests.
Final Thoughts 
Of all the faucet brands we reviewed, we discovered that some kitchen faucet brands stake their claims that their superior technology might not work correctly. All the bells and whistles cannot save the quality of your kitchen faucet if the essential functions — namely, that it works and does not leak — are not in working order. 
We also found out that independent faucet brands and companies perform better against companies that are subsidiaries. The better performance might be because their resources do not go to other divisions or companies. 
Finally, we also discovered that largely unknown faucet brands — such as WeWe and UFaucet — can sometimes be better than the top echelon of famous faucet brands.
Remember that it should not leak and otherwise function correctly when choosing your faucet. Some of the big names fail this basic test.