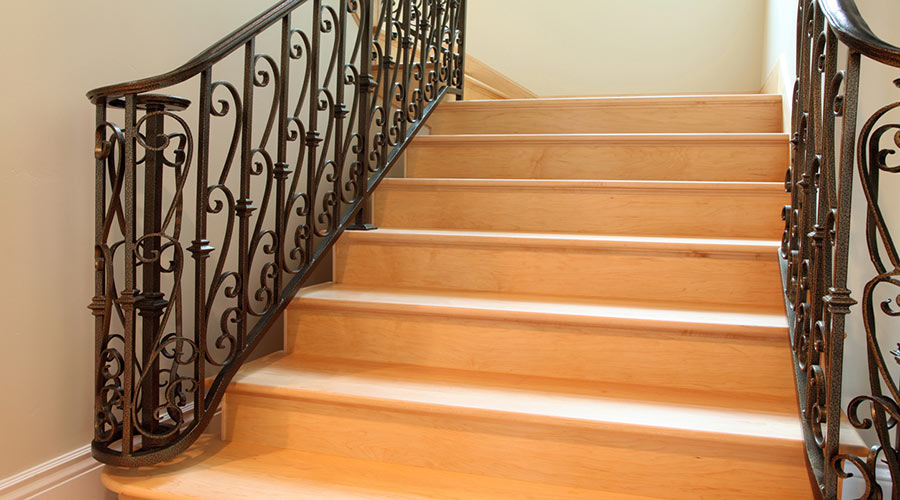 If you are raising a family, you may have toddlers running around the house. Stairs can be hazardous for toddlers. You need baby gates at the top of the stairs so that your loved ones do not take a tumble down the steps. If you have wrought iron stairs, this can be a particular challenge.
You attach a baby gate to a metal banister using Y-spindle rods and fit it to the handrail by anchoring it to the studs in the wall. You also need to drill into the wall to attach a baby gate to a railing. Some companies make superior baby gates, and others make low-quality barriers.
But there's more to know about baby gates and wrought iron railings before starting the installation process. We gathered 7 common questions about installing a baby gate and the answer to each one.
1. How Do You Attach a Baby Gate to a Metal Banister?
Use Y-spindle rods when attaching a baby gate to a metal banister.
Tighten them until they press against the handrail.
Make sure that the baby gate locks into place.
You will need one Y-spindle rod for the top of the gate and one for the bottom of the gate. This method is not suitable for hardware-mounted gates. 
2. How Do You Attach a Baby Gate to a Railing?
First, you cut the blocks in the kit and then drill holes in the wall.
Pinch the blocks together with screws, ensuring that one block is on the top and one is on the bottom.
Finally, attach the flush mount and install the gate mount to the flush mount. 
3. How Do You Install a Baby Gate Without Drilling?
First, use a hardware-mounted gate for an angle.
Have an installation kit and a wall cup protector ready.
Finally, use the Y-spindles for a wrought-iron railing if you are not using a hardware-mounted gate. 
4. How Do You Fit a Stair Gate to a Banister?
First, locate the studs in the wall using a stud finder. Then, put the straps and buckles around the banister. Pull the barrier across the stairs with the rod in place.
Slide in one of the brackets with the flat side to the wall. It should also be flush to the bottom of the step. The brackets should be as close to the floor, or the tread of the stair-step as possible. Mark these spots.
Then, follow these additional steps:
Drill the four screws directly into the bracket into the wall.
Insert the stair barrier rod into the bracket.
Disengage the top buckle on the banister.
Repeat the process for the second bracket.
If you are installing into the drywall and not a stud, use drywall anchors.
Reattach the barrier to the banister.
Tighten all buckles to ensure that the stair barrier is as tight as possible.
5. Where Should You Not Install a Baby Gate?
It is a bad idea to use specific baby gates in certain locations. Some gates present a trip hazard, so you should not install them at the top of the stairs. Stairs are the most hazardous area for a baby to be near, so installing gates on both sides of the stairs is essential. The installation also must be precise enough so that a baby cannot crawl under it. Here are some other tips:
Do not use a pressure gate near the stairs. The baby can push the gate out of the way, and adults can trip on the bar at the bottom.
Never use a homemade gate. You can not determine the quality and durability of the gate. 
Gates should cover both sides of the stairs.
Gates should not be installed too high off the ground because babies can crawl under them. 
It is not a good idea to leave a gate up past when your child is old and big enough to climb over it. At this point, the gate becomes hazardous. 
Never stack two baby gates on top of each other. Trip bars and other parts will present hazards for both baby and adult. 
6. Who Are the Best Manufacturers of Stair Gates?
There are also different makes and models of stair gates that are superior to others, usually due to their performance and versatility. The material of the gate also plays a crucial role in preventing children from getting into the stairwell. Baby gates also have a high return on investment in that the more expensive they are, the more they are likely to protect your babies from a fall down the stairs. 
Here are a few of our favorite makes, models, and manufacturers:
| Manufacturer/Make/Model | Cost | Positives | Negatives |
| --- | --- | --- | --- |
| Munchkin Loft | $175 | Can fit entryways up to 40 inches wide, Quick release for temporary removal, Made of aluminum, Sturdy, Two-direction, One-touch unlock, Audible click sound indicates that it is locked, Suitable for the top of the stairs | One of the more expensive models |
| North States Easy Swing & Lock | $38 | Prevents children from climbing over it, Operates in one direction, No trip bar, Made from heavy-duty steel | Plastic mounts are flimsy, Can be opened by a toddler if installed incorrectly, The latches are plastic, May not extend correctly to seat properly |
| Summer Infant Deco | $65 | Can be placed between doorways or at the top of the stairs with mounting hardware, Automatically closes and locks, Composed of metal, No trip bar | Hard to adjust extensions, Parts can get stuck together in packaging, Comes in four pieces |
| Babyseater Retractable | $85 | Extra-large hand latches enable one-hand operation, Rust-proof, Tear-resistant mesh, Push-and-twist locking mechanism, Locks are easy to use, Hard for dogs to get over | Instructions do not give the exact measurements needed, Screw holes do not have slots which prevents adjustments, May require an additional spacer to complete |
| Regalo 4-in-1 Baby gate | $80 | Eight detachable panesIt fits spaces up to 192 inches wide, Meets all safety standards, Folds flat for storage, Will contain dogs, Can work outdoors, Versatile, Impossible for dogs to move | There must be a bend between each panel for stability |
7. What Baby Gates Should I Not Use & Why?
Throughout history, companies have recalled baby gates for various reasons. These are primarily because the baby gate was not working as planned. A baby gate should lock and prevent a baby from entering the stairwell. For example: 
IKEA recalled pressure-mounted gates in May 2015 and then again in 2016 for a trip bar hazard and a faulty locking mechanism. 
Dorel Juvenile recalled 100,000 units of the Safety 1st Smartlight Stair Gate. They took it off the market because the hinges that held the gate in place could break.
Once in a while, however, a baby gate is recalled for a health hazard. For example, in 2019, Health Canada and Elfe Juvenile Products recalled 26,108 Bily Retractable Safety Gate units. The gate functioned correctly, but the coating of the gate had toxic levels of barium in it. The excess levels of barium would be a health hazard for babies who put the gate railings in their mouths. 
Meanwhile, other baby gates fail safety tests. While many countries, such as the United States, have their standards, the European Union has specific criteria relating to fatigue and sudden impact. The requirements are below:
Baby gates must withstand fatigue over 10,000 test cycles. The test cycles replicate a toddler pushing and pulling the gate. 
Baby gates must withstand sudden impact. The test replicates a child shoving or kicking the gate by ramming the gate with a 10 KG weight.
A total of 8 gates failed these tests as administered by an independent news agency. The failure not only means that they are inferior to others on the market; it also means that these gates represent a hazard for children as they will not work correctly.
Failed Impact Test
BabyDan Premier
True Pressure
BabyDan Perfect Close 
Dreambaby Liberty
Dreambaby Chelsea
Mothercare Wooden Wall Fix Gate
Lindam Sure Shut Orto 
Failed Fatigue Test
Cuggl Little Steps Auto-Close
Cuggl Wooden Extending Gate
Mothercare Wood Wall Fix Gate 
Two of these gates also had disastrous results. The gates were not only of inferior quality and design and hazardous to the health of infants, but also ineffective in their function. 
In the fatigue test, Lindam Sure Shut Orto did not even reach 1,000 test cycles. 
The Mothercare Wood Wall Fix Gate, and the Cuggl Extending Gate failed the test after only one impact.
We highly recommend against using Lindam Sure Shut Orto, the Mothercare Wood Wall Fix Gate, and the Cuggl Extending Gate because these products can fail instantly. If the baby is not delayed enough by the gate, you may not be fast enough to stop the infant from falling down the stairs!
Final Thoughts
Baby gates play an essential role in keeping your baby safe. Installing them on wrought iron railings and handrails can be tricky; however, there are many methods to install them, including drilling and using Y-Spindles to avoid drilling. 
The best baby gates can cost between $38 and $175 but could be cheaper on shopping websites. The best ones do not give when attacked by babies and will lock in place automatically. Some of the best gates work at the bottom of the stairs. Others are better for the top of the stairs.
You should also always be on the lookout for recalls of your particular baby gate. There are product safety standards that many nations follow to ensure that your baby will be safe. You should not buy these gates if you read about baby gates or stair gates that fail quality assurance tests. 
Finally, having a baby gate is one of the most important things you can do to protect your loved ones. Babies, especially toddlers, can be adventurous and can climb stairs rapidly. Without guards to protect the stairs, babies can slip and fall when you are not looking. If you prevent them from falling, your toddler will grow up to have a happy and healthy life. 
HomeInspectionInsider.com is owned and operated by Hubert Miles is a participant in the Amazon Services LLC Associates Program, an affiliate advertising program designed to provide a means for sites to earn advertising fees by advertising and linking to Amazon.com. HomeInspectionInsider.com also participates in affiliate programs with other affiliate sites. Hubert Miles is compensated for referring traffic and business to these companies.