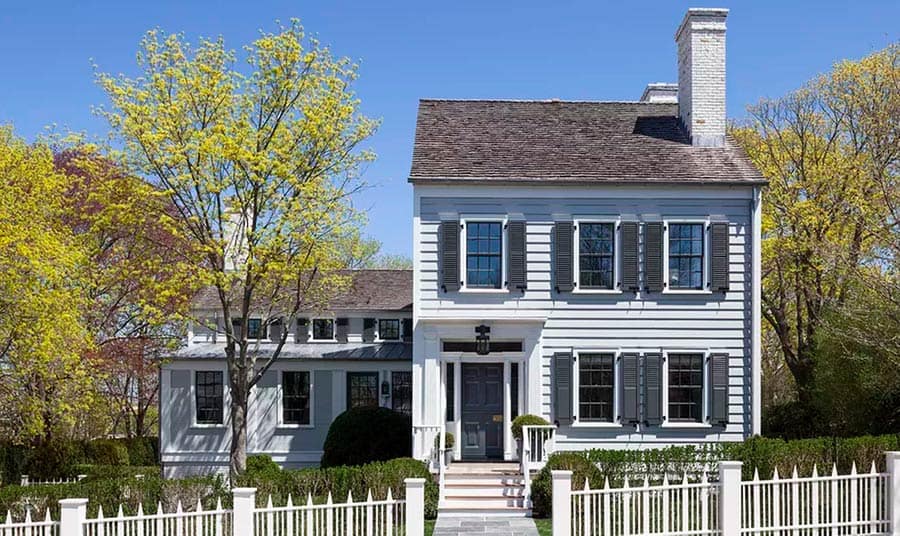 A home inspection is an extremely useful tool for homebuyers looking for a little extra information on the property they are looking to purchase. Professional home inspectors conduct hundreds of individual home inspections each year and are continually trained in how to spot defects that can cause problems in and around the house. 
Without an inspection, what the untrained eye would view as a potential dream move, could quickly turn into a disaster. On average, it's believed the home inspection saves buyers around $14,000. Not bad when you consider home inspection costs around $500. 1
Common issues that arise during a home inspection are usually related to water damage. Water is the number one threat to a house and can affect the structure, roofing, plumbing, and electrical components in many ways.
The implications of these issues vary depending on their severity and the location in which they are found. Let's take a closer look at these common issues.
Keeping water out of a home is a never-ending, yet critical task if you want to keep your property in tiptop shape. However, even though water is the arch-nemesis of your home, there are a few other issues that commonly arise in the inspector's reports.
In this article, we will take a look at the top 10 common home inspection issues and just how serious of a problem they are. The items that make an appearance in this list do not mean that the property would automatically fail an inspection (there is no pass or fail on a home inspection), they are simply the most common issues reported by both NACHI and ASHI certified home inspectors.
We will also look at some inexpensive repairs that can easily be corrected as well as some quite costly repairs that could become home inspection deal breakers. Let's get into it.
Water Leaks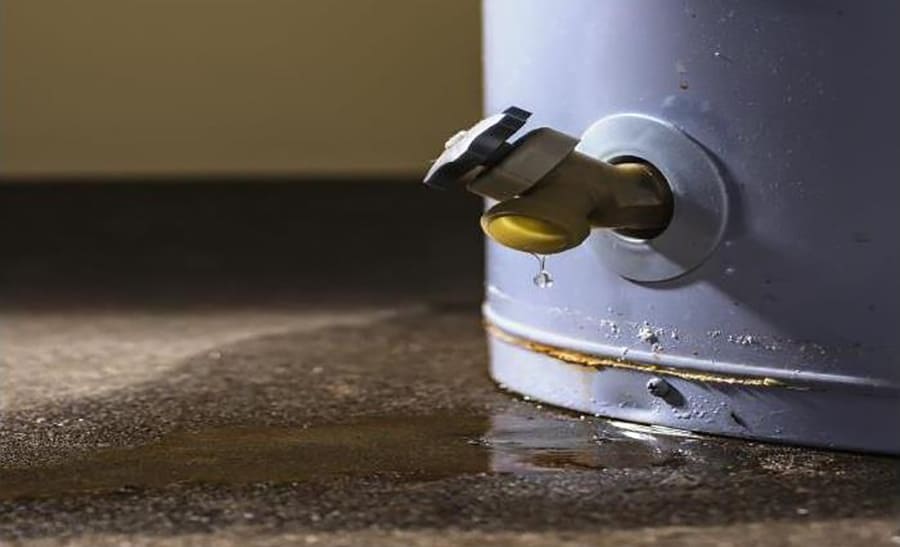 Water leaks make it to the number one spot in our most common home inspection issues as they can occur in a wide variety of locations throughout the home.
As previously mentioned, water damage is one of the more serious problems that the home inspector reports. What appears as a small, benign leak can sometimes turn into a severe issue that threatens the structural integrity of the home with an eye-watering repair bill.
If homeowners don't maintain their plumbing pipes and water entry points correctly, chances are they will end up with a leak at some points due to pipe breakages or poor drainage.
Unfortunately, leaks can prove to be notoriously hard to locate, especially so if you don't know what you're looking for. The majority of leaks occur beneath the floors and behind the walls. During their visit, home inspectors look out for tell-tale signs that a leak is present. Here are some things to watch out for:
A strange smell throughout the house
Mold and mildew visible on surfaces
Water stains on the walls, floors, and ceilings
Dripping sounds
A good way to check if you have a leak in the water supply is to turn off all the water in the house, wait for 15 minutes, and check the water meter to see if it's running. If there is still water running during this check and there is a high chance you have a supply piping leak somewhere throughout the house.
Here are a few repair cost breakdowns concerning water leaks:
Prices reflect national averages and can vary based on the location and severity of the repair
One of the most common places to find a leak is in your roof, and that next place we're going to divert our attention.
Damaged Roof
Certified NACHI and ASHI members report roof damage to be one of the most frequent problems that arise during their home inspection visit. As you might expect, the likelihood of roof damage increases greatly with the age of the house. 
According to NACHI, the typical residential 3-tab shingle roof's average life expectancy is between 15 and 20 years. A typical residential architecture shingle roof is between 25 and 30 years.
This may come as a surprise to some people, but it is unfortunately true. As you can imagine, the vast majority of roofs do not get replaced within this timeframe, so there is a disproportionately large number of older properties with inadequate roofing. Often, residential roofs require replacement much sooner than their anticipated lifespan due to environmental conditions.
The roof is one of the most important parts of the whole property structure as it protects your home from the outside elements and also helps to insulate the house during the winter months. If a homeowner does not conduct regular maintenance, such as cleaning leaves and the debris from the gutters, replacing damaged shingles, preventing ice dams, and caulking the flashings, there is a high chance of the roof falling into disrepair.
It is recommended that homeowners have their roof inspected annual if it is over 10 years in age and after severe weather events like hail storms, hurricanes, etc.
If the home inspector finds the roof merely needs a few shingles replaced this is not a major cause for concern as it is a relatively inexpensive and simple task to carry out. However, if the roof has more serious damage, installing a new roof can cost upwards of $30,000 depending on the size of the home.
Below is a list of common roofing issues and an estimated repair cost.
Prices reflect national averages and can vary based on the location and severity of the repair
Electrical Issues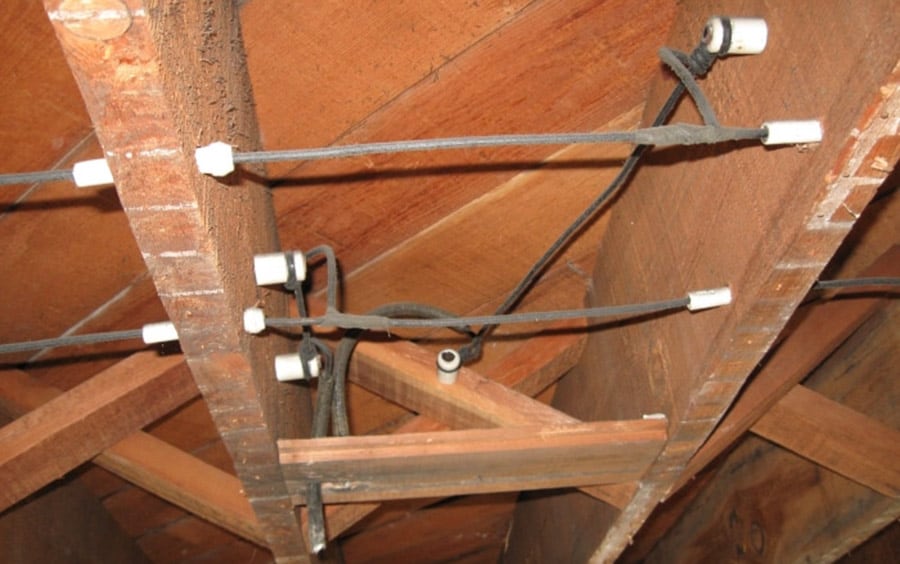 Examining the electrical components of the property is one of the most important aspects of the home inspectors' job. Not only are some electrical issues expensive to repair, but they also present a fire hazard and a potential risk to human life.
Some repairs, like exchanging faulty GFCI outlets with new ones is relatively easy. While replacement of outdated wiring and electrical panels, such as Federal Pacific and Zinsco, account for nearly 3,000 US house fires and the leading cause of home fire civilian deaths. 
One of the most common home inspection issues surrounding the electrical system is outdated wiring systems. As you can imagine, technology has changed radically over the last 80+ years and we have gone through several revelations over this period. What was once considered to be safe is now a major hazard and would not pass a home inspection or an electrical engineers report.
For example, in the USA, knob and tube wiring was particularly common between 1900 and 1950 years ago. The system does not use any form of grounding which is an important safety feature in modern electrical systems today.
Aluminum wiring was also a very popular method of electrical wiring in the 1960s and 1970s. Unfortunately, this type of wiring can overheat very quickly and is prone to electrical fires.
There are a large percentage of homes that have not replaced original wiring because it hasn't presented them with any problems. If it ain't broke, don't fix it, right?
Well, that's not the case when it comes to home safety. The home inspector will report any instances of unsafe electrical components and may suggest that the home is due for full electrical rewiring. This can cost up to $10,000 depending on the size of the home.
A certified home inspector will examine the home's electrical system and can recommend a more thorough investigation as a qualified electrician if necessary. If you suspect that the property you are viewing may have an old or faulty electrical system it might be a good idea to plan ahead and have an electrician on standby.
The following list contains some inexpensive electrical repairs and some that could be very expensive.
Prices reflect national averages and can vary based on the location and severity of the repair
Plumbing Issues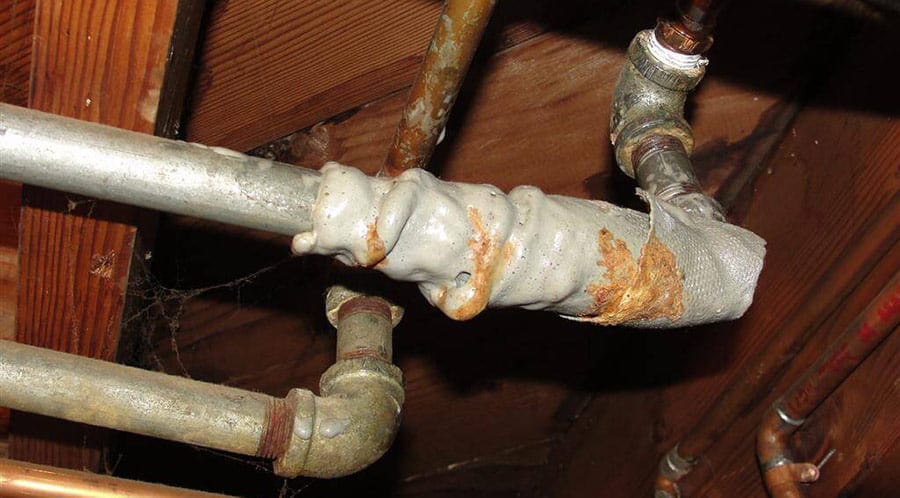 Plumbing issues are one of the most common things reported on a home inspection, especially in older homes. We separated this from water leaks because you can have plumbing issues without an actual leak being present.
Similar to the electrical issues that we raised above, there are plenty of homes throughout the USA that are still using outdated and inadequate plumbing systems that have not withstood the test of time.
While most of these issues are relatively insignificant and would not be anything to be overly concerned with, they can create a significant knock-on effect throughout the house. Some of the problems are glaringly obvious to see, such as constantly running toilets, dripping faucets, and visible leaks.
However, there are quite a number of issues that the untrained eye would not pick up. Here are some of the main plumbing issues that can arise around the house:
Inadequate or outdated piping
Leaks and broken pipes
Cross-connection issues
Low or high water pressure
Problems of the water heater
Most of the items listed above would not constitute a major failure, although the repair bill can still reach dizzying heights. If you suspect the house you are looking to purchase may have plumbing issues then you should consider hiring a qualified plumber to assess the severity of the problems.
Here is an estimated cost breakdown for some minor and major plumbing issues. Because of the wide array of problems that could exist, there is a fairly widespread in the average cost. Consider the low side to be minor defects and the high side to be major defects.
Prices reflect national averages and can vary based on the location and severity of the repair
Negative Surface Grading/Poor Drainage
Yet again we have another water woe on our list. According to ASHI, improper surface grading and poor drainage are by far the most frequently found problems that home inspectors report. One of the recent surveys reported that 35.8% of homes have issues in this department.
If water runs towards the foundations this will likely cause major problems with water penetration through the basement and crawl spaces. As you know, the structural aspect of the house is by far the most important to the safety and well-being of the individuals who live there.
On top of this, damage to the structural integrity of the property due to poor drainage can get very expensive to repair.
Negative surface grading is the term given when the ground around the building slopes towards the property. As rain falls, the water will naturally move towards the house and collect near the foundations.
Over time, this excess water will start to create puddles if there is inadequate drainage at this site. Negative grading and poor draining makes a huge contribution to structural issues and can cause a large amount of settlement if left untreated.
This seemingly innocuous issue has the potential to cause devastation if left untreated, which is why inspectors keep a keen watch for negative ingredients around the property.
Fortunately, this issue is relatively inexpensive to repair and the structural problems that arise due to negative gradients are largely preventable as a result.
The following list looks at some inexpensive and expensive repairs concerning water drainage around the home. Consider the low side to be minor issues and the high side to be major issues. Some repairs may require two or more in combination to work properly.
For example, it is common for a vapor barrier and a sump pump to both be needed. Another example is a gutter system and a french drain system often works in conjunction with one another.
Prices reflect national averages and can vary based on the location and severity of the repair
HVAC Problems
Most people want to have a functioning heating, ventilation, and air conditioning system in their homes to provide adequate heating and cooling year-round. This is especially important in homes that are located in states that are subject to extreme temperatures.
Both ASHI and NACHI certified home inspectors claim that issues with the HVAC system tend to be one of the most commonly reported after an inspection.
For these units to function as they should, they require regular maintenance such as:
Problems with the HVAC system can cause inadequate ventilation throughout the property which means that there is an increased likelihood of mold and mildew taking hold. Home inspectors will be on the lookout to make sure that the filters are regularly replaced, the ductwork is in good working order, and that all of the indoor housing units are working correctly.
In this list, you'll find common issues relating to the heating and cooling systems in a home inspection report. As before, some are inexpensive to repair up to complete replacement.
Prices reflect national averages and can vary based on the location and severity of the repair
Structural Issues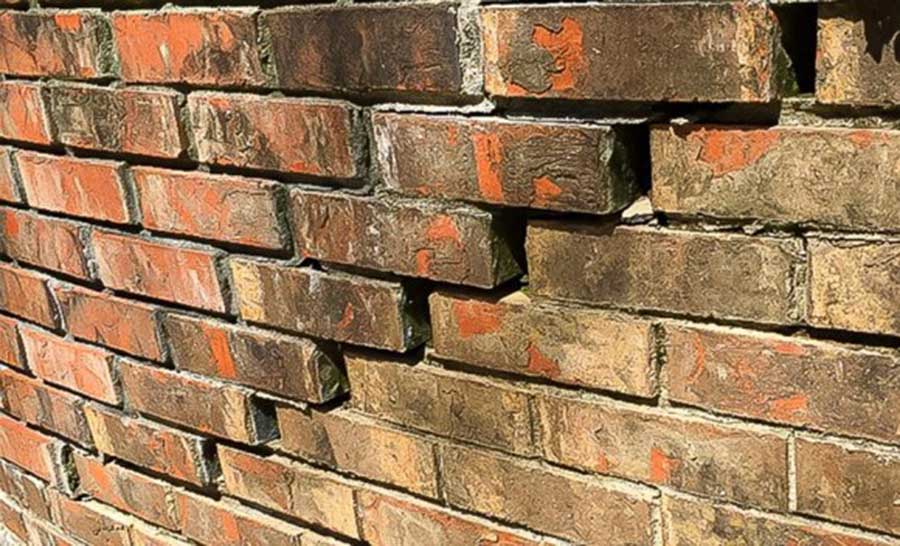 As mentioned earlier, structural issues are some of the most serious and expensive problems you can find on the home inspection report. In most cases, structural issues occur due to the result of one or more of the items in our list being left unattended for a substantial period of time.
When we talk about the structural integrity of the building, we are typically referring to the four main components that make up the building. These are the foundation, walls, floors, and roof. All of these aspects are critical to the home's integrity and the safety of the inhabitants. Let's take a look at some of the most common structural issues that home inspectors report:
Abnormal settlement of the foundations
Large cracks around the property
Uneven flooring
Bowing or bulging walls
Problems with the brickwork and masonry
It's up to the home inspector to assess the severity of these issues, however, if the home inspector feels that it is necessary, they may recommend you to have the home further examined by a licensed structural engineer who will be able to give you a more detailed analysis of the property and its structural integrity.
Structural problems are more common in older homes, however, this does not exclude newer builds from falling in this department. I've personally been on home inspections of houses less than 5 years old that have cracked slabs, erosion, and settlement problems.
In our article, 10 Structural Issues To Look For During Home Inspections we go into more detail concerning structural issues found in home inspections.
The cost breakdowns below are national averages and will vary from house to house. Consider the low side as minor deficiencies and the high side as major deficiencies. However, severe deficiencies may be much more than listed below.
Prices reflect national averages and can vary based on the location and severity of the repair
Exterior Issues
Many potential issues can arise on the exterior of a home. We already have a few of these on our list, such as issues with the roof, and the problems that can arise due to negative grading and insufficient drainage surrounding the property.
However, home inspectors will also be on the lookout for any plants and trees that are encroaching too close to the property. While this may not seem like an issue at first, large trees that are located near to the house can cause significant damage to the foundations due to their long-reaching roots.
According to NACHI, trees should be at least 10 feet away from the house so that they don't present any structural or water damage issues to the property.
In addition to this, inspectors look for damage to external walls, evidence of rot and inadequate caulking on joinery and windows, and the accessibility of entry walkways, patios, and driveways.
The following cost breakdown will look at the common issues that plague the exterior of a home. They are:
Prices reflect national averages and can vary based on the location and severity of the repair
Poor Overall Maintenance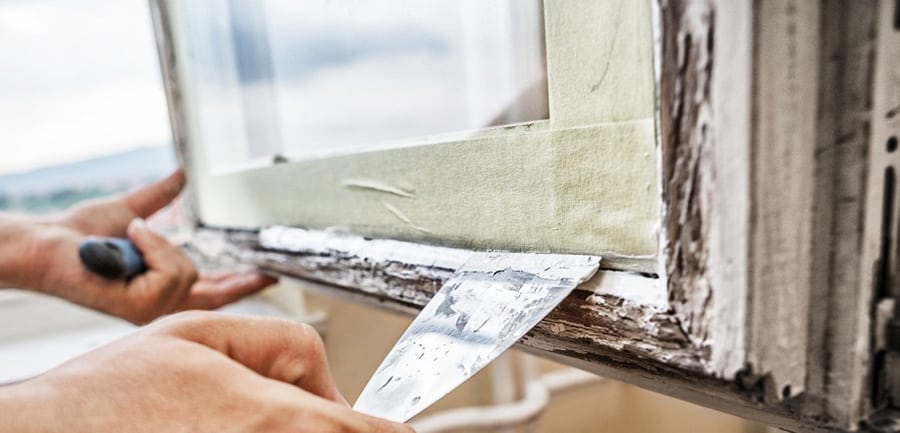 Poor overall maintenance is usually a tell-tale sign that there's been a lack of care given to the home. This is a big indication that there could be some more significant problems lying around the home that have not been dealt with adequately.
It is the home inspectors' job to determine whether poor overall maintenance has led to cosmetic issues or something more serious, such as structural damage.
While cosmetics are not something that home inspectors are required to report on based off the NACHI and ASHI standards of practice, there are some common issues that they will be on the hunt for, such as:
Cracked, peeling, or dirty painted surfaces 
Broken fixtures and fittings
Problems with appliances throughout the house
Evidence of poor DIY plumbing or electrical work
Ill-fitting doors and windows
This kind of general neglect should be a red flag for home buyers. Even if all of these issues are purely cosmetic, fixing them can add up to a sizable chunk in repair fees.
Prices reflect national averages and can vary based on the location and severity of the repair
Pest Problems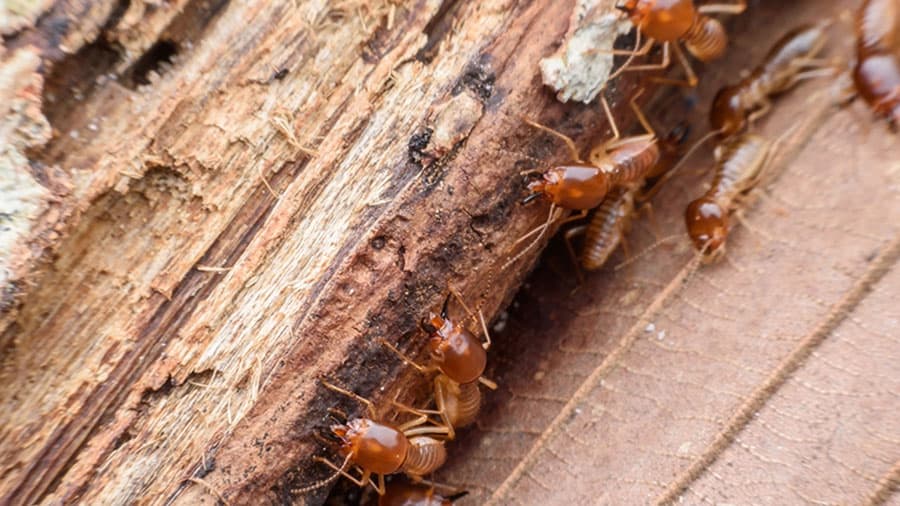 Believe it or not, pest problems account for billions of dollars worth of damage to property each year. According to Orkin.com, termites and other pests account for $30 billion in crop and property damage in the US alone. Most homeowners report an average repair cost of $3000 to repair termite damage in their homes.
Tiny insects, such as termites, can wreak havoc on your home's structural features, chewing their way through key support structures in the house. 
The type of pests a home has to deal with largely depends on the location of the property, so it's worth doing your research if you're looking to buy in a new location.
Yet, it goes without saying that any type of pest would constitute somewhat of a red flag for most homebuyers and is a relatively unpleasant site, especially if you're about to make a significant investment in your future home.
The table below contains average costs for treatments. We encourage homeowners to use a local provider and obtain 3 price quotes. The National averages in the US are:
Prices reflect national averages and can vary based on the location and severity of the repair
Final word
Home inspections are a key element of the home buying process, especially if you're the one who's looking to buy in the arrangement. As you can see from our list, there are plenty of issues that can arise in the home inspectors report, some of them may be obvious to untrained people, while others require an expert to identify.
According to ASHI and NACHI certified inspectors, the vast majority of issues that arise in their reports are in some way linked to a form of water damage, with the most common being problems surrounding improper surface grading and drainage. 
Following closely behind are issues that arise as a result of inadequate electrical wiring. Astonishingly, home inspectors report that between 70 and 80% of the electrical wiring they see have been installed incorrectly.
This is largely down to low-quality DIY work performed by homeowners and unlicensed handymen. As you already know, this is not just a cosmetic issue, but a very serious safety concern as improper electrical wiring is one of the leading causes of electrical fires in homes across the USA.
If you're looking to buy a house, or you just want to make sure your current family home is up to scratch, it's strongly advised that you seek the help of a professional ASHI or NACHI certified inspector to carry out an inspection for you.