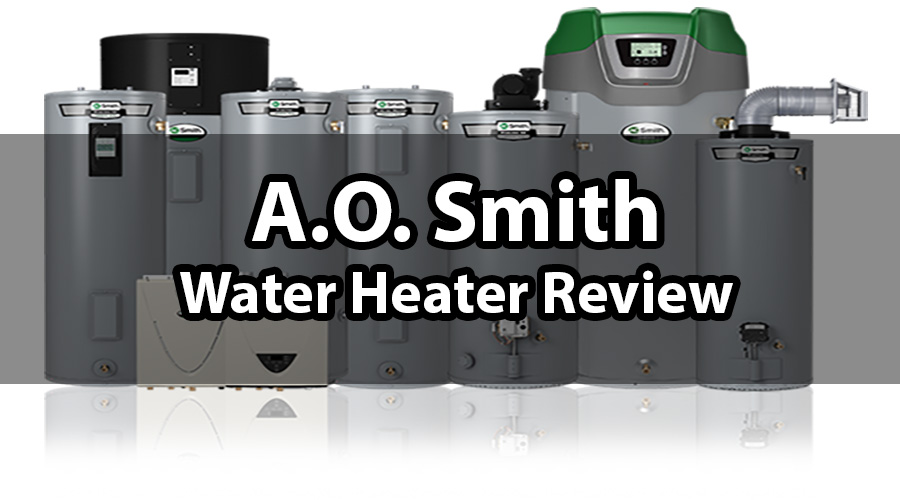 Water Heaters are one of the essential appliances your home can have. It enables us to keep ourselves and loved ones clean and healthy, and it provides us with the luxury of long hot showers. But when it stops working, our world comes to a halt. 
If your water heater is starting to show signs of aging or has stopped working altogether, here is information on A.O. Smith water heaters that will hopefully help guide you in choosing the right water heater for your home.
A.O. Smith is one of the world's oldest leading manufacturers of commercial and residential water heaters. The company has five manufacturing facilities in the USA, but its impact stretches worldwide. The company continues to improve in producing products that are technologically advanced as well as environmentally friendly.  
A Brief History of A.O. Smith Water Heaters
A.O. Smith has a rich American history that, in the beginning, did not include water heaters.
The birth of A.O. Smith began in 1874 when Charles Jeremiah Smith opened a small machine shop in Milwaukee, Wisconsin. This father-son operation got its start producing metal parts for baby carriages and bicycles. Then, in 1889, they set themselves apart from other metal manufacturers. 
C.J. Smith and Sons introduced the concept of using sheet metal to form steel tubing. This innovative concept became an integral part of making bicycle frames. Just six years later, C.J. Smith and Sons became the largest manufacturer of bicycle parts in the USA, eventually becoming the largest in the world.
In 1899 their desire to grow and improve became evident once again. One of Charles Smith's sons, Arthur Oliver, developed the world's first lightweight, pressed steel automobile frame. 
A.O. Smith then became one of the auto industry's leading manufacturers of commercial steel frames, becoming the main supplier for companies such as General Motors and Ford. By 1910 A.O. Smith had become the largest supplier of automobile frames in North America. 
A.O. Smith's continued determination to grow and experiment included the innovative idea of fusing microscopic layers of glass to steel. This layer of glass keeps heat inside the tank, protecting it from the corrosive effects of water. This process revolutionized the water heater industry and greatly benefited the brewery business.
In 1936 this process was patented and eventually became a standard for water heaters.
In 1942 A.O. Smith shifted their focus to become part of the wartime effort. Alongside producing water heaters, they made everything from aircraft propellers and landing gear to bombs. Once the war was over, the company didn't waste any time proving once again why they are the best.
They became a leading manufacturer of water heaters and water tanks. Over time their products evolved into longer-lasting, more energy-efficient water heaters with state-of-the-art safety features. 
A.O. Smith continues to lead and innovate with its line of hybrid and energy-efficient products.
How Durable Are A.O. Smith Water Heaters
A.O. Smith set the standard back in 1939 for producing reliable, long-lasting water heaters that also have your safety and the environment in mind. 
Here are a few of the features built into all A.O. Smith tank water heaters.
Glass-Lined Tanks – Fusing glass into the metal tank provides an extra layer of protection to the steel tank. This layer keeps heat inside the tank, protecting it from the corrosive effects of water. In 2004 the company introduced its patented Blue Diamond™ glass coating on its Conservationist® residential water heaters. This patented coating provides twice the corrosive protection compared to other brands. 
Product Preservers™ Powered Anode System – Anode rods take a beating from the corrosive effects of water mixing with metal. In the most basic of terms, instead of your tank rusting, the anode rod will rust. A.O. Smith redesigned their anode system to use adaptive technology that eliminates the need to check and replace the original style anode rods. The new anode system control module fits any standard 120-volt wall outlet and comes with a LED fault light and audible alarm.
Energy Cut Off Switch– All A.O. Smith water heaters come equipped with a high-temperature cut-off switch. Should the water in the tank rise above the set temperature, it will automatically shut off.
Temperature & Pressure Relief Valve– Water naturally expands during the heating process, creating pressure. This safety valve opens if the internal pressure or temperature exceeds the preset limit.
Voltex® Hybrid Electric Heat Pump (80 Gallon) – This innovative design heats the water by using heat from the environment, not the heating elements. This technology alone reduces heating costs by up to 73%.
Dual Heating Elements– These elements provide a quick recovery time when hot water is in high demand.
How Long Do A.O. Smith Water Heaters Last?
A.O. Smith water heaters last 10 to 15 years. While each A.O. Smith water heater comes with a standard 6-to-10-year warranty, regular inspections and maintenance from qualified professionals can extend the life span of your water heater upwards of 20 years. 
Here are a few symptoms to be on the lookout for to help you gauge your water heater's health – and ultimately the lifespan.
Age of Water Heater: Is your water heater ten years old, or perhaps even older? Not sure?
Appearance of the Water Heater: Are there signs of rust or leaking anywhere outside the tank?
Look, Smell, and Taste of Your Water: Does water from the faucet look rusty? Does it smell or have a metallic taste?
Popping or Gurgling Noises as the Water Heats: Ideally, your water heater works quietly in the corner, never making a sound. But if you start hearing noises of any kind, that is a warning sign your water heater is not feeling well and needs immediate attention.
While it may be tempting to self-diagnose and treat your water heater's symptoms, it is more advantageous to leave that to the professionals, especially if you have a warranty.   
Where Are A.O. Smith Water Heaters Manufactured?
A.O. Smith has five manufacturing facilities in North America: 
Ashland City, Tennessee
Johnson City, Tennessee
McBee, South Carolina
Milwaukee, Wisconsin
Charlotte, North Carolina. 
The Ashland City facility is home to one of the most extensive manufacturing facilities in North America.
The company also has manufacturing facilities in Canada, India, Mexico, Turkey, and the Netherlands, along with sales and distribution centers in more than 60 countries worldwide.
Even though the company has grown to become a global company, it maintains its humble roots in America. The company's division headquarters is in Ashland City, Tennessee and its world headquarters is in Milwaukee, Wisconsin.
Cost of Top A.O. Smith Water Heater Models?
A.O. Smith water heaters range in price from $400 to $5,000, depending on the model you choose. A.O. Smith water heaters are more affordable than some of their competitors because you can now purchase their water heaters at your local Lowe's home improvement store.
There is no shortage of water heaters to choose from, all varying in price:
Tank vs. Tankless
Electric vs. Gas
Propane vs. Oil-fired
Hybrid 
Solar
In today's do-it-yourself age, many like the idea of doing the work themselves to save money. When it comes to water heaters, it's essential to keep in mind there's more to simply swapping out the old with the new. 
Water heaters contain a significant amount of pressure that can build over time if not properly vented or maintained. This build-up of pressure can turn your water heater into a destructive and lethal rocket. You will also be working with natural gas, propane, or electricity and need some soldering skills. 
If you decide it would be safer and smarter monetarily for you to hire a trained professional, A.O. Smith still gives you the option to purchase your water heater from an authorized dealer. Yes, hiring a professional will cost more money than doing it yourself. 
Still, a professional can help you determine what size water heater best suits the needs of your home and should you need new electrical, plumbing, or gas lines. They have the experience and equipment to do the job safely. They are also familiar with local codes. 
Another advantage to having a professional install the water heater is the benefit of their guaranteed work. No appliance is perfect. If your water heater needs service, a local professional plumber will stand behind their work and help with the warranty from A.O. Smith. 
How is the Warranty on A.O. Smith Water Heaters
A.O. Smith has one of the best warranties in the industry, with a standard 6- to-10-year warranty on all water heaters. Some tankless models offer a 15-year warranty. 
A.O. Smith warranties provide an easy-to-read chart that will help you determine the age of your water heater and if the tank and parts are still under warranty. 
As with all warranties, some things will make your warranty invalid. A.O. Smith warranties are standard in what is not covered, but the warranty is easy to understand if you want to check it out for yourself. 
After reading the warranty, if you are still unsure if your tank and parts are covered, you can go to A.O. Smith's website and enter the serial number. You will then click on your water heater and various components to see what coverage is available.  
How A.O. Smith Compares To Similar Brands?
A.O. Smith is one of the leading brands of water heaters in the industry. A.O. Smith has a long history of producing quality products built to last and are energy efficient. One of the popular features of A.O. Smith is they do not have to be purchased solely through an authorized dealer. Their water heaters are more affordable and readily available to every homeowner. 
Below are two well-known companies you can compare with A.O. Smith.
Rheem
Rheem is an American-owned company that offers a wide variety of water heaters found in most big-box retail stores. The company produces water heaters that come with many smart technology features that allow you to monitor the usage and health of your water heater. 
You can even get alerts on your phone if there is a leak or other maintenance issue. Rheem is committed to producing energy-efficient products, helping reduce greenhouse emissions, and using smart technology.
Comparison: AO Smith or Rheem: Which Water Heater Is Better
Bradford White
Bradford White water heaters are made exclusively in the USA but are only available through an authorized dealer. One feature of their water heaters is their exclusive Hydrojet® Total Performance System. 
Essentially this feature helps 'clean' the tank by reducing sediment build-up, making it easier for your water heater to generate hot water, helping to extend your life water heater, and makes it more energy efficient.
While not an exhaustive list of comparisons, it is easy to see why these companies are among the best. Deciding which brand to go with really depends on what you are looking for in a company. 
Do you want a company that has deep roots in American history? 
Do you want a company that is leading the way in environmentally friendly products? 
Do you want a company that manufactures its products in the USA? 
Purchasing a water heater is an investment. So do your research, ask around, and when all else fails, call your local plumber. They are out there every day servicing all brands of water heaters. Their wealth of knowledge will be invaluable in helping you determine which brand of water heater is best for your home.  
Comparison: Bradford White or Rheem Water Heaters: Which Is Better?
Known Recalls for A.O. Smith Water Heaters
A.O. Smith issued a recall in 2018 for their 30-, 40-, and 50-gallon Ultra-Lox NOx gas-fired water heaters. According to Consumer Product Safety Commission and Consumer Reports, the water heater's flame arrestor screen developed tears.
The screen keeps combustible air inside the tank, evenly distributing it to the burner. Because the screen is at the bottom of the water heater, tears in the screen allow explosive vapors to exit the tank, posing a potential fire hazard if the water heater was installed on wood or other combustible floorings. 
A.O. Smith reported six incidents of fires, but there were no reports of injuries.
What Are Common Problems With A.O. Smith Water Heaters
Problems associated with A.O. Smith water heaters range from warranty issues to defective parts. According to the Better Business Bureau, 113 complaints were made in the last three years, and 63 of those complaints closed in the previous 12 months.
A.O. Smith quickly responds to the complaints to resolve issues, even arranging for a service provider to come out and either service or replace the water heater.
While no company is immune to their products having issues from time to time, A.O. Smith continues to establish itself among the top distributors of water heaters. Their history is clear evidence of their desire to continue growing and improving.
Final Thoughts
A.O. Smith certainly has earned its place among the top producers of water heaters. It is not fun shopping for a new water heater, especially if you do not have hot water right now. Hopefully, this article has helped to give you an excellent place to start. 
A.O. Smith water heaters offer:
Quality water heaters built in America
A commitment to improving its products and innovation
Availability in most big-box retail stores
A.O. Smith also has a subsidiary brand known as American. Read our American Water Heater Review (6 Helpful Tips).
Sources:
https://cpsc.gov/Recalls/2019/A-O-Smith-Recalls-Ultra-Low-NOx-Water-Heaters-Due-to-Fire-Hazard#
https://www.consumerreports.org/recalls/ao-smith-recalls-residential-water-heaters-due-to-fire-hazard/
https://www.bbb.org/us/tn/ashland-city/profile/water-heater-manufacturers/a-o-smith-corporation-0573-13261/complaints
HomeInspectionInsider.com is owned and operated by Hubert Miles is a participant in the Amazon Services LLC Associates Program, an affiliate advertising program designed to provide a means for sites to earn advertising fees by advertising and linking to Amazon.com. HomeInspectionInsider.com also participates in affiliate programs with other affiliate sites. Hubert Miles is compensated for referring traffic and business to these companies.