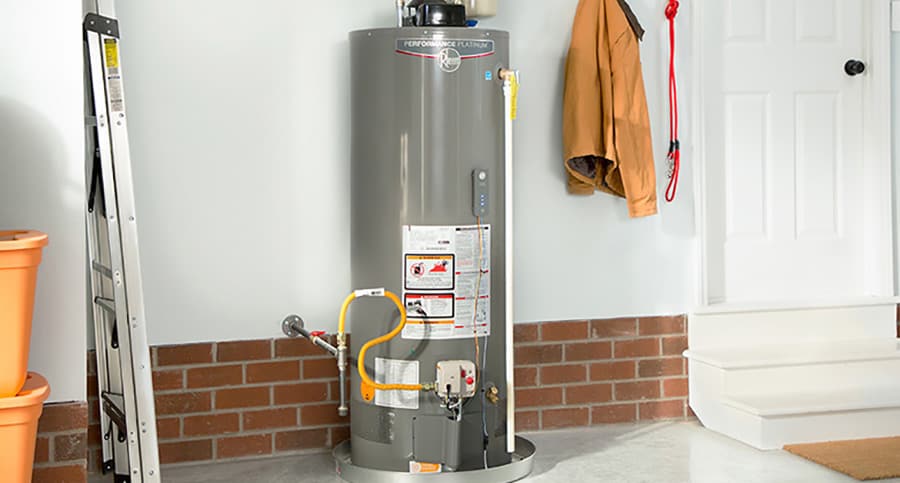 There will come a time that every homeowner will need to replace their water heater. Some will call a plumber; others will choose to replace it themselves. If you plan to install the water heater yourself, you will need to safely transport it from the store to your house to install it. 
You're probably curious as to whether or not the water heater will fit in your car or if you will need to borrow a friend's truck or trailer. 
So will a water heater fit in my car? If you own a mid-sized car or larger, you should be able to safely transport a tankless water heater up to a small 30-gallon water heater. For some larger 40 or 50-gallon water heaters, ideally, you'll need an SUV or a pickup truck.
The water heater needs to sit vertical (if possible) to avoid damage to the glass liner inside the water heater to avoid damage to the glass liner. If you must lay the water heater on its side, make sure the water heater has ample padding, and drive cautiously to reduce the chance of damage.
Keep in mind that most of the time, a car, like a four-door sedan, won't be big enough to fit a water heater at all. These smaller sized cars won't be able to hold a water heater whether it's sitting upright or laying on its side in the backseat or the trunk.
Most of the time, you will need to have a larger vehicle to transport the water heater. This doesn't mean you need a big Ford F-350 to move it, although a truck is an ideal situation for moving water heaters. Even a smaller sized SUV, such as a RAV 4 that can put the backseats down for extra room, can work for smaller water heaters.
This way, let's think of it. If you're considering purchasing a water heater such as the highly notable and popular A.O. Smith Signature 40-Gallon Tall 6-year Limited 4500-Watt Double Element Electric Water Heater, you would need at least 61.25 inches in your trunk. With the Nissan Rogue (seats put down), it will fit fine as the Rogue comes equipped with 68.9 inches of space.
It's important to know the exact dimensions of your preferred water heater before moving or purchasing. Knowing the exact specifications of the water heater and your trunk space, you can decide whether self-hauling is an option.
I looked at several A.O. Smith models and a Rinnai Tankless model at Lowes.com.
A.O.Smith Tall 40 gallon water heater stands 60.5 inches 
A.O.Smith Short 40 gallon water heater stands 49.75 inches
A.O.Smith Lowboy 38 gallon water heater stands 32 inches
A.O.Smith Tall 50 gallon water heater stands 60.75 inches
A.O.Smith Hybrid 50 gallon water heater stands 63 inches
Rinnai tankless water heater stands 26.4 inches
Basically, you will need a little over 5 ft of clearance to transport a 40-gallon tall water heater standing up. Short and Lowboy models are approximately 4'2″ and 2'8″ tall, respectively.
If you find that the water heater can fit inside of your car, you need to take special precautions. Without proper care of your water heater, you can cause damage to the glass lining (leaving a crack that would render it useless), the interior dip tube, or even the anode rod. These elements are necessary for a properly functioning water heater, so ensuring you take precautions to lessen the risk of breakage is ideal.
How Can You Avoid Damage When Moving a Water Heater?
The best method of transporting a water heater is in an upright, vertical position, strapped securely into place. This is because there will be no issues with bumps in the road, causing the glass lining to crack or the anode rod to bend or break. Strapping in a vertical position can be done in a truck or, sometimes, a large-sized SUV.
However, if you're transporting your water heater in a smaller car and have to lay it on its side, make sure you do the following:
Ample padding surrounding your water heater is key. 
Always make sure that there is ample padding surrounding your water heater. You can use blankets, towels, and other thick materials between the floor of your car and the water heater. This will reduce the risk of fragile materials inside the water heater breaking or bending, rendering it useless.
The water heater should never lay on the controls.
Try to make sure that the water heater isn't lying on the controls. It will typically say on the box how it should be laid down horizontally, and following these directions is key to a safe and harm-free haul of a water heater.
Consider removing the anode rod and dip tube.
The anode rod and dip tube are two of the most fragile pieces in a water heater and can bend and break somewhat easily. To avoid the potential risk of bending and breakage, you can remove these two pieces from your water heater before hauling.
A smooth drive will reduce the risk of bending or breaking the water heater.
When it comes to driving, try and avoid potholes, bumps, or other hazardous road conditions that can cause your car to bounce up and down with a lot of force. Doing so can add excess force on the water heater, which may leave you with a broken piece. That being said, try and make sure the roads you're driving on are as smooth as possible.
Handle with care when removing your water heater from the car. 
A lot of accidents occur when someone decides to move their water heater by themselves. Dropping the water heater (they can be cumbersome) and simply not handling it with care can leave you with a broken or bent water heater. A dolly is extremely handy when hauling water heaters from location to location, and always make sure it's padded.
How to Move a Water Heater – Step by Step
We're going to show you a simple step-by-step guide on how you can move your water heater safely- even in your car.
Begin by ensuring that the gas OR electricity is shut off. (This will change depending on whether you have a gas water heater or an electric water heater, so know your product before trying to relocate.)
Drain the water, but always use precaution when doing so- the water will be hot.
If you are working with a gas water heater, at this point, you will need to separate the vent pipe and draft hood, ensuring the pilot light is completely out. You can then disconnect the gas line, capping at the end.
At this point, you can remove the dip tube and anode rod if you want to. It's unnecessary, but if you're worried about them being bent or broken during the move, you can remove them altogether to avoid the potential problem.
Remove from the pipe.
At this point, you can use your dolly and slide the water heater on top, not securing TOO tightly. Make sure that the controls are facing upward. 
Now you can haul the water heater to the car and gently move it into the vehicle. Make sure to take great care when moving the water heater to avoid damage. Have space available in your car, ready to go with plenty of padding.
In Closing
If you're faced with replacing your water heater but don't have to use a special truck or other equipment, you will be happy to know that you can use your own car as long as it is big enough to fit the water heater you're looking to buy.
However, you need to make sure you take ample care when moving the water heater. Ensure there is plenty of padding around the water heater, that you avoid bumps and potholes in the road while moving, and always handle with care when taking out of the car and into the home.