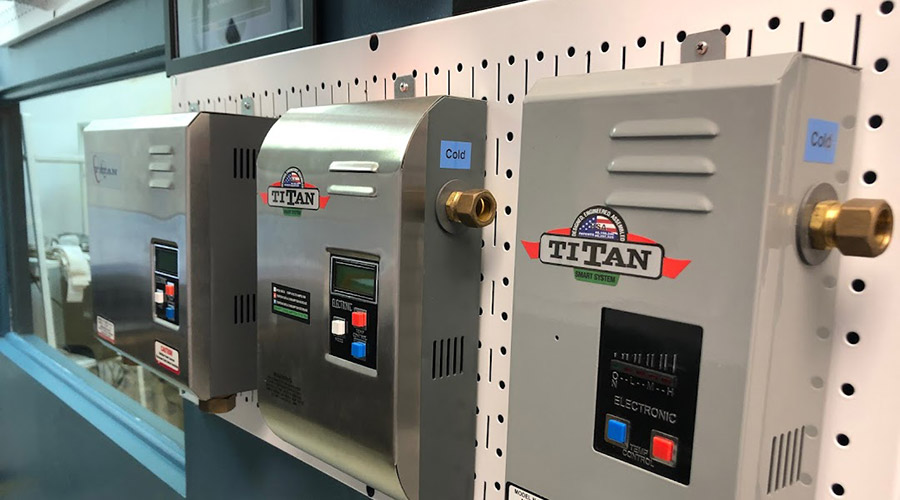 If you're seeking to purchase an energy-efficient and reliable heater, you're in the perfect place. 
Most Titan tankless water heater models are point-of-use. Some are large enough to offer water to an entire condo or apartment. If there are so many models, which is the perfect option for you?
The Titan tankless water heaters offer some of the best products in the industry, offering affordable and efficient water heaters that will meet your needs. They produce a range of point-of-use and whole-house tankless water heaters made in Florida, USA.
In this Titan water heater review, we'll focus on the best available water heaters and the guide to buying the best solution. 
You should be mindful that the hot water output from any electric tankless water heater system can vary. Outputs are presented in gallons per minute. The maximum GPM output is only achievable if the incoming water temperature is warm. If your incoming water temperature is below 70 degrees, the maximum GPM stated output would be greatly reduced. See our article on tankless water heater output at Why Tankless Water Heaters Run Out of Hot Water.
Who Makes Titan Tankless Water Heaters?
Titan tankless water heaters are manufactured by Niagara Industries, a reputable company for producing the best-selling Titan SCR2 model. The company is based in Florida and was established in 1985.
Niagara Industries was the pioneer of electric water heaters and is still among the best producers of tankless electric heaters globally. The company employs unique features such as the PID controller in the Titan heaters to replace the on/off feature. 
The company also uses an air-water deferential analyzing system to restrict dry starts, a common challenge experienced by other tankless water heater brands. 
Where are Titan Tankless Water Heaters Made?
Few companies make water heaters in the United States, including American brands. However, Titan is an exception. 
The company has brought manufacturing jobs to the United States. It has also collaborated with industrial experts, including NASA, to design and develop circuit processing power. It's for this reason that the company offers top-quality products in the industry. 
How Long Do Titan Water Heaters Last?
Titan tankless water heaters have a life expectancy of between 15 to 20 years. However, the exact period depends on the level of maintenance and repair that you make on the heater. More regular maintenance means more lifespan. 
All Niagara Industries tankless water heaters also come with a 10-year limited warranty on the product's casino and 1-year on parts. If anything is damaged within this period, you can quickly get a replacement. 
Are Titan Water Heaters Reliable?
Titan water heaters are among the most reliable products in the industry. Some of the Titan products provide endless hot water on demand. The water heaters are also energy efficient.
Like we have seen above, these heaters are also long-lasting, with an expected life of 15 to 20 years. 
Apart from Titan products being easy to install, they also use an innovative technology that guarantees optimum performance. It includes the PID controller that replaces the on/off technology and brass/copper elements to offer resistance against sediment build-up and hard water. 
New models such as Titan SCR2, a new generation of tankless heaters, are designed with advanced technology, including high-speed electronic integrated circuitry. You can use these heaters for various applications, including commercial and residential use. 
Common Features of Titan Water Heaters
All the Titan products meet the ANSI and UL standards.
The products come with a 1-year warranty on parts and a 10-year warranty on the unit's casing. 
The heaters have a life expectancy of between 15 to 20 years.
They are designed with a simple design that doesn't require complex installations.
Heaters are designed with Dual Nichrome elements for heating.
Titan units have a manual resettable thermostat and dual microtemp sensor for protection.
The heaters boast an energy efficiency of up to 99.5%.
They are designed with a ½-inch standard pipe fitting.
The products require a minimum pressure of 5 psi and a maximum pressure of 150 psi. 
There are two indicators for visual inspection: green for STAND-BY and red for ON. 
Titan-SCR2
This is among the latest tankless and electric water heaters from Titan. The model comes in different sizes, with the N-120 being the most powerful product. It also has the highest flow rate of all the models. 
Titan-SCR2 comes with a microprocessor that monitors the usage and adjusts the power automatically. There is also an optimization feature for the heaters to use less power. 
The Titan-SCR2 is among the most advanced heaters, thanks to the TEMPLOGIC technology. 
Titan SCR4
If you're seeking a product that has a higher temperature rise and larger capacity, the Titan SCR4 is the perfect solution for you. This model can supply you with up to 5 GPM. 
These heaters are available as N-210 and N-180 models. They are also designed and developed with a 12-13 pounds weight. Just like the Titan SCR2, these heaters also offer up to 5 GPM of hot water. 
If you buy a unit from this model, be ready to get 18 and 21 kW. They are therefore ideal for larger houses found in colder regions. You can also use them to heat hard water. 
Titan Tankless Water Heater Models
| Series/Model | Kilowatts | Amps | Max. GPM | Unit Cost |
| --- | --- | --- | --- | --- |
| SCR4 N-270 | 27 | 112 | 6.5 | $495 – $550 |
| SCR4 N-210 | 21 | 88 | 5 | $441 – $490 |
| SCR4 N-180 | 18 | 77 | 4.5 | $405 – $450 |
| SCR3 N-160 | 16 | 66 | 4 | $333 – $370 |
| SCR2 N120s | 12.3 | 56 | 3.5 | $275 – $305 |
| SCR2 N-120 | 11.8 | 54 | 3.5 | $243 – $270 |
| SCR2 N-100 | 10.8 | 49 | 3 | $243 – $270 |
| SCR2 N-85 | 8.5 | 38 | 2.5 | $243 – $270 |
| SCR2 N-75 | 7.5 | 34 | 2 | $243 – $270 |
| SCR2 N-64 | 6.4 | 29 | 1.5 | $243 – $270 |
| SCR2 N-42 | 4.2 | 19 | 1 | $243 – $270 |
| SCR2 N-10 | 3.2 | 29 | 0.5 | $243 – $270 |
*GPM Minimum 40 Degree Temp Rise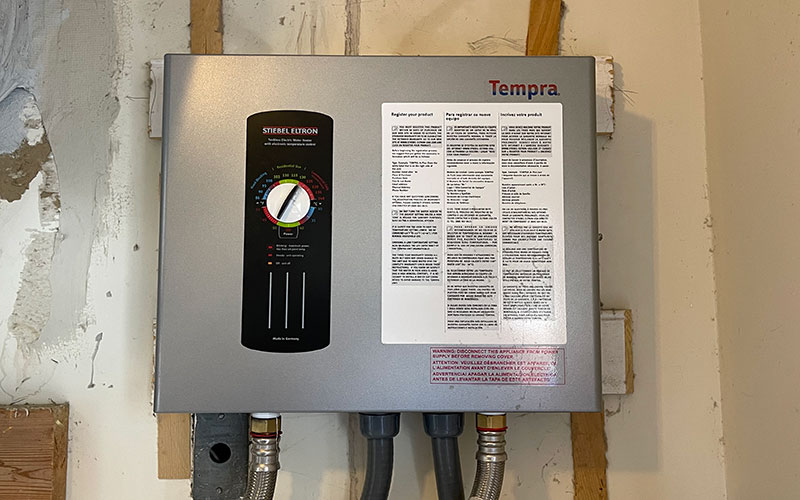 Stiebel-Eltron Tankless Water Heater
| Series/Model | Kilowatts | Amps | Max. GPM | Unit Cost |
| --- | --- | --- | --- | --- |
| Tempra 36 Plus | 36 | 150 | 4.0 | $849 – $1119 |
| Tempra 36 | 36 | 150 | 4.0 | $749 – $1019 |
| Tempra 29 Plus | 28.8 | 120 | 4.0 | $799 – $1019 |
| Tempra 29 | 28.8 | 120 | 4.0 | $699 – $919 |
| Tempra 24 Plus | 24 | 100 | 3.5 | $749 – $1119 |
| Tempra 24 | 24 | 100 | 3.5 | $649 – $839 |
| Tempra 20 Plus | 19.2 | 80 | 3.0 | $699 – $1109 |
| Tempra 20 | 19.2 | 80 | 3.0 | $599 – $795 |
| Tempra 15 Plus | 14.4 | 60 | 2.5 | $649 – $998 |
| Tempra 15 | 14.4 | 60 | 2.5 | $549 – $742 |
| Tempra 12 Plus | 12 | 50 | 2.0 | $539 – $798 |
| Tempra 12 | 12 | 50 | 2.0 | $439 – $545 |
| DHC-E 12 | 12 | 50 | 2.0 | $299 |
| DHC-E 10 | 9.6 | 40 | 1.5 | $289 |
| DHC-E 8 | 7.2 | 30 | 1.0 | $289 |
*GPM Minimum 40 Degree Temp Rise
Point of Use Water Heaters
| Series/Model | Kilowatts | Amps | Max. GPM | Unit Cost |
| --- | --- | --- | --- | --- |
| Mini 6 | 4.7 | 24.7 | 0.5 | $159 – $210 |
| Mini 4 | 3.5 | 15.2 | 0.5 | $159 – $210 |
| Mini 3 | 3.0 | 25 | 0.5 | $159 – $210 |
| SHC 4.0 Gal Mini Tank | – | – | – | $219 – $279 |
| SHC 2.5 Gal Mini Tank | – | – | – | $209 – $250 |
Cost of Top Titan Water Heaters
For their quality, Titan water heaters are among the most affordable products in the industry. These water heaters have a price range of between $205 to $485. For instance, the SCR2-N10 is among the cheapest Titan heaters you'll find, going for between $205-$235. The SCR4 N-270 is among the most expensive products going for between $435-485.
You can also purchase the SCR3 N-160 for between $300 to $360. The prices of Titan heaters vary with the model. The prices also vary from one retailer to another. Titan water heaters are available both in local stores and online. 
Apart from the costs associated with buying a Titan water heater, there are also installation costs to keep in mind. The cost of installing these heaters could range between $400 to $1000. The cheapest installation situation is installing a small tankless heater closer to a sink and then plugging it into your existing power outlet. 
The cost of installation varies with the model's size, with larger heaters attracting a higher cost. Go for a smaller model if you don't have rough money. 
Even though DIY installation is cheaper and possible, we don't recommend it due to the risk of shock, especially when working with 220V lines. It would help to approach a professional plumber or electrician to help you install the heater. 
The best approach to get quality and affordable installations is to request estimates from several local contractors. You can even call the installers, research their history, and meet some in person before settling on one to hire. 
Apart from the model of a water heater, other factors affect the cost of installation and include:
The location of the water: This involves the accessibility of the heaters. If the heater is easily accessible, it'll attract a lower installation cost. 
The cost of permits: This might vary from one state to another. 
There are additional costs, such as insulating costs.
Titan Water Heaters Warranty
Titan extends its warranty to buyers to protect them from any defects in workmanship and material. It involves a 10-year warranty when a buyer completes and signs a warranty registration certificate. The certificate should be emailed within 30-days after the purchase date.
Titan will repair or replace any water heater with defects without charging you anything within 1-year from the purchase date. After the initial 1-year warranty termination, Titan will repair or replace any casing that becomes defective under normal service, use, and installation within 10-years. 
In all the above cases, you must produce a purchaser's receipt for you to get the warranty. Damages to your heater due to an accident, non-authorized repair, neglect, misuse, abuse, and improper installation will void your warranty. 
How Titan Compares To Other Brands
Titan is among the most reputable water heater brands. The company is known for designing and developing energy-efficient water, putting emphasis on advanced technology. 
A major selling point of heaters from the Titan brand is designed and made in the United States. Buying these products means supporting local businesses and enterprises with the quality and efficiency that American developed systems are reputable. 
Even though these water heaters have a strong reputation, certain areas lack behind with the brand at the moment. It also has a high room for growth. 
At the moment, Titan only designs electric water heaters, with the powered heaters missing out. Additionally, the heaters are perfect for smaller households and domestic use since they don't seem interested in the commercial and industrial market. 
Unlike competitors that develop water heaters with modern features such as Wi-Fi connectivity, it isn't something that we have seen with the Titan brand. 
However, this doesn't deny them the ability to develop efficient and reliable water heaters without the need for newer whistles and bells. That aside, Titan is a reputable brand that has gained the attention of thousands of customers.
The company has a professional customer support and produces products that last beyond the standard 10-year warranty. 
Common Titan Water Heater Problems
Titan water heaters experience several challenges that you need to correct for effective performance. Below are some of the Titan heater challenges:
Cold water: Instead of your heater producing hot water, you might get cold water. This could result from electrical power being lost at the heating element. 
Lukewarm water: Sometimes, the water might not be hot enough due to household water consumption and simple adjustments. Here, you must ensure the temperature control knob is set to 120 degrees Fahrenheit. 
Water leaks: This is mainly due to dripping pressure relief valves. 
Water odor: You might also experience a bad odor from your hot water. This could result from low oxygen content and high sulfate concentration. 
See our article on titan tankless water heater problems.
Considerations While Purchasing a Titan Tankless Heater
Finding the perfect Titan tankless heater for your needs isn't an easy thing. There are several factors you must understand while determining the type of water heater you purchase. Let's look at them below:
Cost
One essential thing to consider is your price range. In most cases, the smaller water heaters are cheaper, while the bigger ones are costly. You must determine the amount you're willing to spend. Only go for a product that you can afford. 
Warranty
Different water heaters cover different scenarios. Before purchasing a heater, ensure that you understand how long the warranty is and that everything is covered. A warranty ensures that you get a repair or replacement if you buy a faulty product. 
Console Panels
Most tankless water heaters are designed with buttons for adjusting the temperature that you require. However, some have multiple options and are more technical. Others contain a singular button for adjusting the temperature. It is something that you must consider before you purchase a water heater. 
Size
As we have seen above, heaters are available in different sizes. The smaller heaters are cheaper compared to larger ones. However, if you plan on getting them for larger homes, you should be prepared to get unwanted temperature adjustments. The heater might fail to withhold the power load. 
The heater you select depends on your hot water requirements. 
Frequently Asked Questions (FAQs)
How can you adjust the Titan water heater temperature?
Adjusting temperature in a Titan water heater is no different from adjusting the temperature in an air conditioner. All heaters are designed with a control panel where you can easily set the temperature lower or higher as per your desire. 
There are even some that have an LCD screen to help you adjust the temperature. You can even adjust the temperature of different places in your house. 
How is the Titan water heater customer service? 
The company guarantees you endless hot water in a cost-effective manner. The application engineers, technicians, and staff are always available to assist you through every step. If you have technical queries, you can always contact them through email at Titantech@engineer.com. You can also contact support for installation or other recommendations. 
What is the Titan water heater's warranty?
All Titan heating components come with a warranty of 10-years. The warranty for all the other units is 1-year. However, the 10-year warranty will only apply if you email a registration card to the respective agent within 30 days of purchasing the unit. A product that appears defective during the installation process is replaced or repaired. 
How do you install a Titan heater? 
A Titan water heater will always come with an installation manual. The manual provides instructions on electrical and plumbing installation. Here, you'll also find the warranty of the heater. Always check the manual before installing the heater. However, if you don't have the required skills, you can contact a professional plumber to help you out. 
Conclusion
As we have seen above, buying a Titan water heater is the best solution if you stay in a location with good water availability and seek a long-term investment in a reliable heater. 
Titan models are safer, smaller, and cheaper compared to other conventional heaters on the market. The small size makes it straightforward to install and deliver the heater by yourself. 
With proper maintenance, these heaters can last for 10 years or more. You can also get a warranty of about 10 years. 
The company also has a reliable customer who can assist you with installation and repair. If you don't understand installing these heaters, you must contact a professional plumber to help you out. 
Sources: