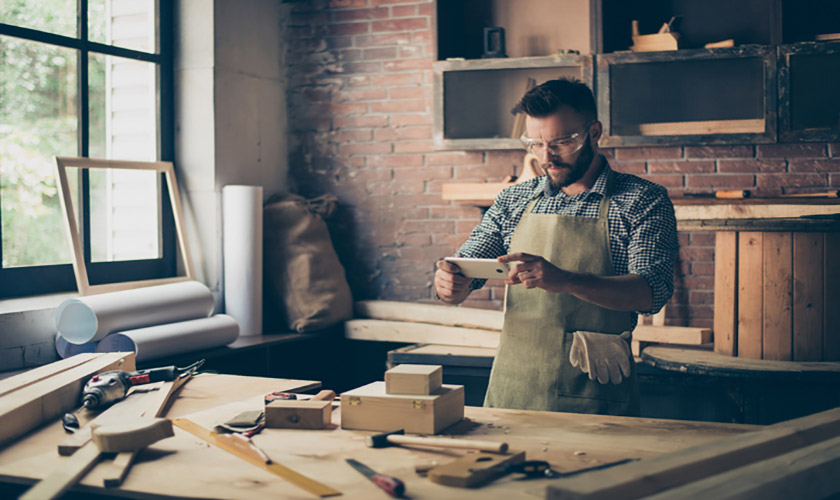 When working in a woodshop (workshop), one of your main concerns is during the winter as the cold air starts to creep into your shop. It may be harder for you to maneuver around and make that gorgeous farmhouse table and chairs everybody wants in their household.
You may be wondering what the best heater for a woodshop would be. This article will cover 10 of the best heaters you can use for your woodshop and why they are the better options.
Best Electric Shop Heaters
Electricity is one of the most convenient ways to provide heat in a workshop. Portable heaters are affordable, nearly 100% effective, and simple to use: plug them in anywhere needed. 
Even fixed baseboard, wall, and unit heaters are less costly and straightforward to mount than equivalent gas-powered heaters. Since electric space heaters do not absorb oxygen or emit toxic combustion gases, they are also relatively safe to use in a woodworking shop. The only exception is fire safety.
The most significant disadvantage of electric heaters is their high operating costs, often those of equivalent gas heaters. There are many forms of electric heaters. Some are much better suited for some applications than others.
Best Electric Ceramic Heater
This electric heater has two relatively quiet high and low settings, rated at 1500 watts and 750 watts, respectively. This heater distributes heated air across the room due to its widespread oscillation.
The heater's 1500-watt ceramic heating unit can be adjusted using the digital monitor. You can choose from various Fahrenheit or Celsius temperatures using a primary digital temperature indicator.
Overheat protection means that the space heater does not overheat if kept for an extended time. The heating stays cool to the touch even after hours of consecutive use due to the cool-touch exterior. This model also provides basic tip-over safety, which automatically turns the device off in the event of an accident.
The Lasko 755320 Ceramic Space Heater has two quiet settings, including high heat and low heat, plus an Auto setting that automatically allows the unit to switch between the two settings as needed. This is a great feature, especially if you use it in a room where you don't want to disturb others while they sleep.
With its widespread oscillation, this heater distributes warm air throughout the room so you can enjoy even temperature comfort throughout your workspace.
The unit features an adjustable thermostat and remote control so you can easily adjust the temperature from across the room. The heater also has a built-in timer that allows you to set it for 1 hour to 8 hours in 1-hour intervals.
Radiant Infrared Heaters
In contrast to convection heaters, which generate heat by heating the air, radiant heaters, also known as infrared heaters, transfer heat directly to surfaces by showering them with infrared rays.
Consider how the sun heats the atmosphere throughout the day. Most radiant heaters are portable plug-in models that generate up to 5100 BTUs through an electric ribbon or a quartz tube element.
Some versions are ceiling-mounted, whereas others operate on 240 volts and can produce more than 10000 BTUs.
The most significant advantage of radiant heaters is that they emit almost instantaneous heat as long as you are within direct sight of the device and no more than a few feet away.
They're ideal for heating a specific area, such as a workbench or sanding station. Radiant heaters are also helpful for offering a fast warmup as you wait for your primary heat sources, such as a wood stove or oil-filled space heater, to heat your workspace.
Best For Small Workshops
This Comfort Zone heater is an excellent option for radiant space heaters in small spaces (200 to 300 square feet). With this Comfort Zone Radiant Quartz Tower Heater, you can create a warm and pleasant environment for work or leisure.
It's possible to save a lot of money on your heating costs by lowering the temperature in your house by just a few degrees and using this heater to warm your working area. The heater has two quartz tubes that heat up fast and give off a pleasant warmth when switched on.
The quartz heater has practical settings and easy controls. It has two distinct heat levels and is fan-assisted to distribute heat evenly throughout your area. You may switch between high and low heat settings simply by turning a knob at the top of the device. You can easily adjust the thermostat by adjusting a second knob near the top of the unit.
This practical radiant heater efficiently and thoroughly warms people and objects in its pathways. The dual quartz tube automatically switches on and generates a warm light when activated.
New safety features include a stay-cool molded handle, metal housing, a tip-over switch, and an overheat security mechanism. Like most others on this list, this heater has the same safety features to ensure comfort when working in your shop.
Best Infrared Heater
The DR-238 is a type of infrared heater used both indoors and outside. It delivers secure, clean, immediate, and odorless carbon infrared heat for optimum comfort during winter sports inside or out. To meet your demands, it comes with three heating output settings of 900W, 1200W, and 1500W.
The DR-238 is sturdy and weatherproof anodized aluminum that will endure years of usage outside. It includes a power cable, wall and ceiling mounting bracket, and remote control. ETL is listed at 120 Volts so that you can plug into a standard 120V outlet.
Convection Heaters
Convection heaters, either portable or built-in, heat the air that passes through them by moving it through electrically heated coils or pipes, ceramic plates, or oil-filled tubes.
Mobile versions are cheap to purchase and use (plug them in anywhere needed) and good at heating small to medium-sized areas due to their large heat distribution.
Devices with built-in fans spread heat quickly, whereas most baseboard, frame, and oil-filled electric heaters take a long to heat.
Convection heaters powered by 110 volts will generate up to 5,100 BTUs. It's safest to run this on a 15-amp circuit with no other devices.
Higher performance 240-volt models can produce up to 17,000 BTUs and are ideal for more extensive workshops. Though simple, these need a 30-amp breaker on a dedicated circuit, similar to those used to power an electric clothes dryer.
Almost all modern electric heaters have built-in safety features such as automated shutoffs that work if the appliance overheats; compact models have tilt sensors to shut the heater off if inadvertently knocked over.
Safest Space Heater - Top Pick
The De'Longhi comes in at a higher price, with an asking price of $179.99, and is available in black or white. This heater has one of the quickest room heat-up times, with 25% more space for air circulation and quiet operation. Not only would you be unaware of its presence, but your room would quickly heat up.
This oil-filled space heater has several safety features, including the required tip-over security, aided by its extra-wide feet. Thermal cutoff for overheating power. It also has an insulated heating system that heats the diathermic oil permanently sealed inside the heater.
This DeLonghi TRD40615E Full Room Radiant Heater provides 1500 watts of heating power to keep you warm and comfortable all winter.
This heater is maintenance-free with a permanently-sealed oil reservoir, and its high-quality steel assembly ensures durability. You can customize your comfort with an adjustable thermostat and three heat settings.
The DeLonghi TRD40615E is an electric radiant heater that can warm up a room quickly and efficiently. It's easy to use, with a convenient digital display, automatic overheat protection, and three heat settings (750 watts, 1500 watts, or 2000 watts).
The TRD40615E heats the entire room evenly, without spot heating like other radiant heaters. It has a low-profile design that won't overwhelm your space. And it features patented thermal slots for maximum airflow and heat output.
Best Mini Split Heat Pumps for Work Shops
Mini split heat pump systems, also known as ductless air conditioners, are outfitted with multifunctional compressors that can deliver warmth and cooler air in the summer.
A split system is powered through 220V electricity and consists of an outside compressor or condenser unit and one or two indoor evaporator units located within the shop.
The central unit circulates a liquid coolant through a condenser coil and compressor before pumping it to the indoor unit through copper tubing. It uses an evaporator coil to transport warmth or coolness to the air. The hot or cooled air is then circulated to the shop by a fan.
The indoor-mounted evaporator device of a split pump is supplied by refrigerant fluid provided from the compressor or condenser device outdoors. It is fitted with a fan that blows warm or cooled air across the room.
Split pumps are ideal for installation in woodworking shops because they emit no fire, have no hot components, and the indoor unit's coils never get hot enough to ignite debris and other flammables.
Although they are more costly to purchase, they are more accessible and less expensive to implement than ductwork-based heating systems.
They are far more powerful and less costly to run than standard electric heaters due to inverter technology that enables their compressors to run at varying speeds, providing only the amount of heating/cooling required.
Best DIY Mini Split - 12K to 36K BTUs
McCool is a leading manufacturer of high-quality DIY HVAC products. The innovative design features the latest technology and is easy to install with the help of our step-by-step installation guide.
Unlike other heaters on this list, the MrCool DIY heat pump can heat your shop in the winter and cool it in the summer. The 3rd generation DIY kit is easy to install. The pre-charged R-410A 25ft quick connect line doesn't require special tools, equipment, or training.
The new Smarthvac app gives you wifi control of your DIY – compatible with Alexa and Google Assistant. You can even control your DIY with your Apple or Android smart device and an internet connection.
With enhanced WIFI, this mini-split heat pump is quick, easy to set up, and can be installed virtually anywhere without specialized tools or expensive equipment.
The 12000BTU unit is 22 SEER and designed to heat and cool up to 500 square feet efficiently and effectively.
For details on DIY heat pump installation, see Installing a Ductless Heat Pumps: A DIY Guide.
Best Gas & Propane Shop Heaters
In most nations, gas is still a more affordable heating fuel. Natural gas is far less costly than liquid propane, although not often used in rural or remote areas. Gas heaters, including electric heaters, come in various styles that vary significantly from one another.
Portable propane heaters are cheap and provide a lot of BTUs for your money. They also consume oxygen and produce noxious combustion gases, such as lethal carbon monoxide, if these heaters are not taken care of properly.
In addition, gas portable heaters use an open flame or hot element to combust sawdust and other flammable materials. Portable propane units are too risky to operate within a locked workshop. There's also the risk of using a propane cylinder inside, which heater manufacturers actively advise against.
Wall and baseboard-mounted versions and industrial-style space heaters suspended from a ceiling or wall frame are examples of built-in gas heaters.
Depending on the manufacturer, these devices have heat outputs ranging from 5,000 BTUs to 125,000 BTUs or higher. There are wall-mounted gas heaters that can produce either convection or radiation heating. 
Those with built-in fans spread heat more efficiently but still collect more fine dust and are often cleaned. Unit heaters use convection to heat and disperse warm air through louvered fans.
Although the upfront cost of built-in gas heaters is similar to comparable electric models, gas models usually cost more to install BTU performance and reliability. These higher overall costs, however, are quickly replaced by lower monthly running costs.
Best Natural Gas Heater
The Mr. Heater F260560 Big Maxx MHU80NG Natural Gas Unit Heater is the perfect way to keep your garage or workshop heated all winter. This unit heater features an 80,000 BTU output, making it ideal for larger spaces up to 2000 square feet. It also comes with a thermostat for easy temperature control and is quiet and safe to use indoors or outdoors.
The unit features electronic ignition and a built-in thermostat regulating temperatures between 60 and 90 degrees Fahrenheit. This unit can be used in large open spaces such as garages, workshops, or warehouses where there is plenty of room for ventilation.
It uses a built-in electric high-velocity fan to pull cool air into the rear of the heater across a heat exchanger, then force the warm air into the surrounding areas. These heaters only require 115v AC power and can be vented vertically or horizontally – please check local codes and restrictions.
This heater features the Durable Spark ignition system, which starts quickly and efficiently every time. The external power supply allows you to plug this unit into any standard household outlet, making installation easier.
With a mounting clearance of only 1 inch, the supplied brackets, and external access to power and thermostat connections – installation is simple and can be mounted close to a ceiling.
Best Natural Gas or Propane Use
The Mr. Heater MHU125NG NG 125K BTU Unit Heater is a forced air heater with a capacity of 125000BTU and heating up to 2000SF. It must be thermally controlled and requires a line voltage and exhaust ducting. A Liquid Propane conversion kit is included so that you can use it with LP gas instead of natural gas.
Best Propane Heater (1500SF)
Mr. Heater 60,000 BTU Propane Forced-air Heater is powerful propane with impressive heat output. This Jobsite-tough and ready to defend against frozen digits. The Propane Heater is built for the worksite and can be connected to your propane tank and switched on. Compared to other brands, you'll get hours of constant, consistent heat for just pennies on the dollar.
With 30,000-60,000 BTU output, it heats up to 1,500 square feet. A propane tank with a capacity of 20 pounds runs for 14 hours on a full tank. The high-temperature limit switch. This heater is 50% quieter than a traditional propane heater, thanks to the QBT technology. Steel construction that is both durable and robust.
The versatile unit has a heavy-duty high output fan. Continuous ignition is utilized. Heavy-duty high output fan. 10′ hose and valve included with CSA Certification.
Best Kerosene Shop Heaters
Best Kerosene Heater (3200SF)
The Dyna-Glo Delux 135,000 BTU Portable Kerosene Forced Air Heater is ideal for outdoor/indoor construction and industrial & commercial uses, making it an excellent choice for portable heating requirements.
It's quick to get up and running, requires no assembly, is fuel efficient, and has a coverage area of up to 3200 square feet. The heater has self-diagnostics, a thermostat, LED display, and cord wrap are among the features included.
With these fuel types, all Dyna-Glo Delux Kerosene Forced Air Heaters are CSA certified for multi-fuel use:
K1 Kerosene (manufacturer recommended for optimal, cleaner burns and product longevity)
Diesel #1 or #2
Fuel Oil #1 or #2
Jet A
JP-8
This heater needs to be used in a well-ventilated area. Provide a fresh air opening of at least three square feet (2,800 sq. cm) for each 100,000 BTU/Hr rating. Provide extra fresh air if more heaters are being used.
Example: A KFA220DGD heater requires one of the following:
a two-car garage door raised six inches (15.24 cm)
a single-car garage door raised nine inches (22.86 cm)
two thirty-inch (76.20 cm) windows raised fifteen inches (38.1 cm)
Best Propane Heater (1000SF)
This Dyna-Glo Indoor Kerosene Convection Heater is a fantastic alternative for supplemental indoor heating. Ideal for use in your house, basement, garage, or cabin. It's also a wonderful choice for emergency and regular zone heating since it doesn't require electricity.
This heater uses only 1-K kerosene. It burns with 99.9% efficiency and provides 8–12 hour run times per each 1.9-gallon tank of fuel. Manual side ignition and a simple one-touch put-out feature are included. The fuel tank is easy to remove and has an easy-to-read fuel gauge.
What are the Best Heaters for Woodshops?
Aside from numb fingers and sore knees, an unheated or under-heated workspace will make you feel slow and cramped or even prevent you from doing any woodworking.
Not just that, but cold weather can cause glues and wood finishes to fail to dry adequately, and freezing temperatures can destroy them. Unheated air can be dry enough to pull moisture from timber, resulting in cracks and severe distortion.
Depending on your circumstances, raising the temperature of your workshop can be as simple as plugging in a space heater, or it may present more challenging situations.
Several heating equipment and systems are suitable for use in a woodworking shop, some of which are compact, and some need installation. The type of fuel used for a shop heater is also significant since keeping a shop warm should not cost an unreasonable amount.
There are also safety issues. Some heaters have open fires or red-hot components. Others don't, which is vital to remember because there's much stuff ready to burn in an ordinary woodshop: wood scraps, sawdust, combustible finishes, and solvents.
Several heating systems and equipment choices include gas furnaces, propane heaters (both built-in and portable), oil-burning boilers and radiators, split heat pumps, portable electric room heaters, radiant heaters, and electric unit heaters.
Heating Your Shop & Managing Humidity
You must maintain the relative humidity of your shop's air to keep it pleasant to work in and prevent moisture issues. Any heater used in your shop lowers the relative humidity of the air.
Heaters, which force the warm air into your shop or garage, can quickly create dryness sufficient to induce wood shrinkage problems like surface checking.
Portable and vent-free gas heaters may raise shop humidity since they produce water as a by-product of combustion. A 30,000 BTU gas heater operating for four hours creates approximately a gallon of water. Although the additional moisture allows the air to carry more heat and keep it from feeling dry, too much humidity can rust tools and cause finishing concerns.
Managing Shop Heat with Insulation
One of the most important aspects of energy cost is how effectively your shop is insulated and sealed. The thicker the insulation in the ceiling, walls, and floor, the fewer BTUs it takes to keep the shop warm.
Insulated windows reduce heat loss. Having adequate weatherstripping around doors and windows can keep cold air out. Upgrading your insulation and sealing may allow you to buy a less powerful heater for the same cost because it requires less energy.
How Many BTUs Do You Need?
Before choosing any heating system, examine how well insulated and airtight your shop is.
The British Thermal Unit (BTU) is a standard unit of heat measurement. It's abbreviated as BTUs/hr. A BTU is the heat required to raise one pound of water by one degree Fahrenheit.
The BTU is the most common measure of heat in the United States. It's used to calculate a shop's heat consumption and compare and evaluate various heating equipment, regardless of what fuel they run on. The greater a heater's BTU output, the larger the area it will heat.
| Climate | Insulation | BTU per Square Foot |
| --- | --- | --- |
| Warm | Good | 30BTU |
| Warm | Fair | 35BTU |
| Cold | Good | 50BTU |
| Cold | Fair | 60BTU |
Final Thoughts
After discussing the many options, you have for heating your workspace in your garage or woodshop. We hope to have guided you in the right direction to help you look for the right heater for your space.
Whether this article has shown you the right heater, or maybe it has led you to the right spot to help you look for heaters you would prefer to use.