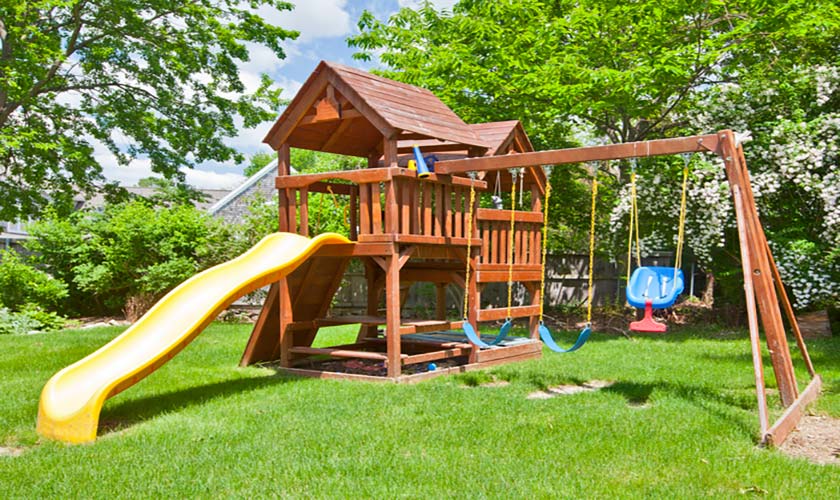 Few things are more enjoyable as a kid than having a great outdoor space to play in. Fenced-in yards, pools, sports areas, and playhouses are great ways to get your kid outdoors and have fun. Playing outside is fun and safe, but it's also a great way to help your kids make memories and exercise without even realizing it. 
If you're serious about getting your kids out of the house to build childhood memories, outdoor wood playhouses and treehouses are one of the best ways to do it. There are tons of fun activities that you can do in an outdoor playhouse that you can't do inside. It's also a great way to get their creative juices flowing with make-believe and pretend play. 
If you like the idea of having an outdoor play area but don't know where to start, you've come to the right place. This article will look at 25 outdoor wood playhouse ideas for kids so that you can build or buy something for any situation. 
Ideas for Outdoor Wood Playhouse for Kids 
Double-Decker Living 
Double-decker kids' playhouses are one of the most popular options for outdoor areas. They're great for kids of all sizes, and you can go many different ways with them. You can choose between building your own or buying a pre-made one. Just make sure the set of stairs to the second level is safe and secure. 
The Dream Play Kitchen
If you have an aspiring chef in the family, having a playhouse with a built-in kitchen is a great idea. You can have an entire playhouse dedicated to the kitchen or incorporate it into a larger structure. 
The Sailboat 
As a kid growing up, there are few ways to better stimulate the mind than pretending to be on a sailboat. Large or small, wooden or plastic, acting like you're on the high seas is a great way to spend your childhood. 
Rock Wall Playground 
Not only is a playhouse with a rock wall great for exercise and building memories, but it's also ideal for hand-eye coordination. Rock wall playgrounds are awesome for young kids, but they're also fun for bigger kids. 
The Modern Design Playhouse 
If you want your playhouse to be a ton of fun and look great in the process, there are lots of plans with detailed instructions for modern playhouses. You can even cap it all off, quite literally, with a metal roof and rain gutters! 
The Jungle-Gym Life 
Jungle-gym playhouses are excellent for youngsters who think they'll be the next American Ninja Warrior. They're also great fun for older kids and having friends and family members over. 
The Farmhouse Playhouse 
The modern farmhouse is similar to the modern playhouse listed above but with a farmhouse twist. This type of adorable playhouse will be a load of fun for your family, and it will also be the envy of the neighborhood. 
Rope-Bridge Playground 
Rope bridges are fairly easy to build, and you can incorporate them into almost any playhouse construction. However, make sure to keep your bridge close to the ground to make sure your toddlers don't hurt themselves. 
The Big Kids Playhome 
If your kids are growing faster than you can keep up with them and want their own sacred space to get away for some privacy, there are plenty of kids' playhouses that are suitable, safe, and fun for older children. You can incorporate everything from a mail slot to a working doorbell! 
Treehouse Playhouse 
A treehouse is the only thing that might be better than an on-the-ground playhouse and is the ultimate in imaginative play. Treehouses are fun to play in, but they're also a ton of fun to plan out and build. A free playhouse plan for treehouses should be readily available if you do a little research online. 
The Outdoor Summer Reading House 
If your son or daughter likes to read books or journal their thoughts, this is an excellent idea. You can customize their reading nook's comfort level and design and turn it into a safe and relaxing space. 
Playhouse from the Shire 
Whether you like Lord of the Rings or not, a shire playhouse is an excellent idea. You can build it using things from the earth lying around your home. This whimsical playhouse will stimulate the mind and get the imagination rolling. 
The Castle Fortress Playhouse 
Whether you want to be the damsel in distress or the brave and noble prince, a castle fortress playhouse is tough to beat. 
The Bedroom Plastic Playhouse 
Although most of the playhouses on this list are made of wood and best suited for outdoor use, why not bring some of the fun inside for a rainy day. A Little Tike or other plastic playhouse is a great bedroom addition for your kids. 
The A-Frame Playhouse 
A-frames are great for adult houses in a tight space, so why wouldn't they be great for playhouses in smaller yards? Regardless of how much space you have, A-frame playhouses are great for kids of all ages. 
The Linkin Log Cabin House 
We've all built Linkin log cabins on a small scale, so take that same concept and amplify it. Log cabin playhouses will have your tots feeling like they're pioneers on Little House on the Prairie. 
The Slide Playhouse 
The only thing better than a simple playhouse is when you add a slide or swing set to it. Slides are one of the oldest and most enjoyable playground fixtures, and you can incorporate one into almost any playhouse design. 
The Unique Playhouse 
A unique playhouse can refer to any type of playhouse outside the ordinary. You can use various building materials, designs, and fun features when building your unique playhouse. 
The Schoolhouse Playhouse 
Whether you retrofit an old, tiny schoolhouse or build your own, the schoolhouse or gothic playhouse is a classic. 
Pirate Ship Playhouse 
The only thing that tops being on a playhouse designed like a ship is when you turn it into a pirate ship. You and your kids will be shouting "Ahoy maties" to any neighbor that walks by and have them wanting to join in with the fun. 
Playhouse From the Wild West 
The wild west was full of all sorts of crazy adventures. From riding on the high plains to fending off attacks to hanging out in the classic western saloons, there's a lot that you can do with a playhouse designed in the style of the wild west. 
Caribbean Island Playhouse 
Adults love vacationing in the Caribbean islands, so why wouldn't your kids as well. You'll have them feeling like they're miles away on an island paradise with a classic tiki hut in the sky with these unique and crafty tiki hut playhouse plans.
Tee Pee Playhouse 
A tee-pee playhouse is the ultimate for easy, DIY kid's playhouses. They can spend their days in the tee-pee or spend a night under the stars. Either way, they'll be talking about your easy but awesome playhouse for days. You can build your playhouse out of fabric from around the house or buy a white or black canvas specifically meant for tents and tee-pees. 
The Indoor Playhouse 
If it's raining outside and your kids can't enjoy your outdoor playhouse, why not have a second one indoors? You can choose between a sleep-n-play indoor house, one of the dozens of plastic models, or build your own little structure complete with chalkboard walls. The possibilities for fun and design are endless! 
Outdoor Garden Playhouse 
For those with a green thumb, you can train your little girls and boys from an early age to respect and cultivate nature. An outdoor garden playhouse will teach your kids how to be responsible, but it will also teach them how important our ecosystem is to live enjoyable lives. You can make the garden the main feature of the playhouse or incorporate planter boxes and flower pots into the design. 
How to Choose the Best Playhouse for Your Kids
While all of the playhouse ideas on this list are great, it's tough to decide which one is best for you. Here's a list of things to consider when deciding which type of playhouse is ideal for your kids. 
Safety 
Safety, above all else, should always be at the forefront of your mind. No matter how cool or fun a playhouse is, you should never put the safety of your children at risk. For this reason, if you're not comfortable building your playhouse, you should purchase a pre-made one. 
Design 
Each of the ideas we discussed in this article links to a different plan or design. Ultimately, if you don't choose a design plan that your kids like, they're not going to play with it, and it will be a waste. If your kid has a wild and adventurous side, they'll probably enjoy a pirate ship more than an outdoor kitchen or garden. 
Materials 
The materials that get used to build the playhouse will largely be what determines how safe it is. You should only use high-quality wood, plastic, or other materials when building or purchasing a safe playhouse. 
DIY 
If you're looking to build memories and learn new skills during the construction process and the playing process, there are tons of DIY playhouses to choose from. Some of the ideas in this article are DIY, but some of them, like ships and climbing walls, are better as pre-made options. 
Features 
Features aren't important to everyone, but the more playing and imaginative options your playhouse has, the more kids it can entertain. However, you don't want to put gimmicks and features above all else and turn your playhouse into an eyesore. Toeing the line between versatile and functional is tricky but important when planning out your playhouse. 
Size 
Depending on where you live, you'll likely have restrictions on how big your playhouse can be. If you're not limited on space, you might have HOA policies to consider, so plan your outdoor playhouse accordingly. 
Budget
As with all things, your budget will also play a role in the type of playhouse you purchase or build. Pirate ships, a luxury playhouse, and larger or intricate structures will likely cost more than basic constructions. You're also likely to spend more money on materials for certain playhouses than others. 
Related Questions 
Can I build my playhouse for my kids? 
Depending on how experienced you are with construction and the type of playhouse you want to build, there's a good chance that you can build your own. Building your playhouse is a great experience, but it also allows you to customize it however you want. 
Would it be better to buy a pre-made playhouse? 
If you're not comfortable with your ability to safely build a playhouse or treehouse, you're better off buying a pre-made one. Safety is the most important thing to keep in mind with playhouses, and you should never put the safety of your kids at risk to save a few bucks or experiment with your construction skills. 
What age is best for a playhouse? 
The great thing about playhouses is that they are suitable for kids of all ages. The older a kid gets, the bigger and more unique your playhouse will have to be. Some playhouse designs and floor plans are better for kids between three and nine, while others are better for kids up to twelve. 
Final Thoughts 
If building an awesome playhouse for your kids isn't at the top of your to-do list, you should put it there. Whether you live or what your goals are as a parent, playhouses, treehouses, and other outdoor structures specifically for kids are one of the best ways to build lasting memories. Better yet, you can build these memories with them! 
When designing the perfect wood or plastic outdoor playhouse, the main thing to keep in mind is to cater it to what your kids enjoy. It doesn't matter how cool or fun you think it is. If your kids don't like the playhouse, it will be useless. You should also remember to use high quality materials whether you build your playhouse or buy a pre-made one. Safety and peace of mind are essential for both you and your children.