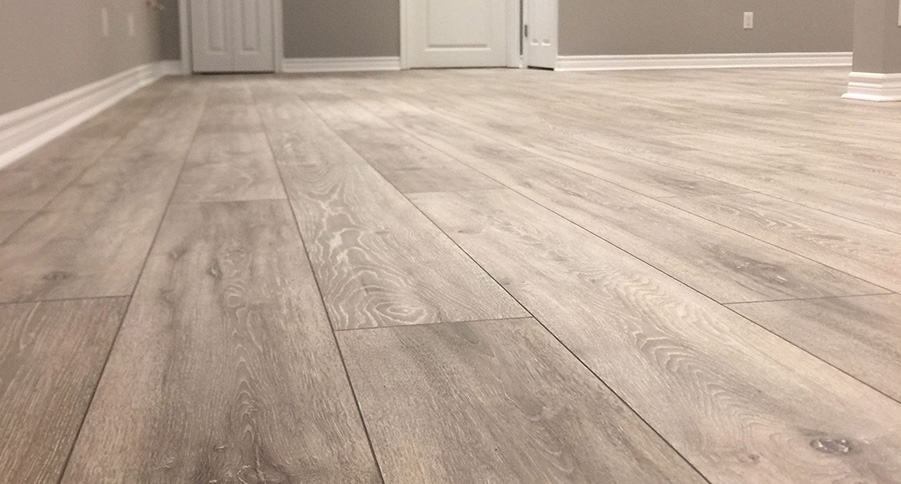 When looking at inexpensive flooring for your own house or as an investor for homes and apartments, you might be searching for specific qualities in flooring. Some of these characteristics might be easy to manage, looking good in the area, any water-resistant qualities the floors may have, and, most importantly, easy to install.
With that in mind, you may have come across LVT (luxury vinyl tile) flooring. What is it, and why would it be worth investing money into them?
LVT flooring stands for luxury vinyl tile. It is essentially a product that gives off a natural tile appearance but provides other benefits that ceramic does not. LVT flooring comes in various shapes, colors, patterns, and many other excellent qualities within.
Do you need a Licensed Contractor? We can help!
Get a free quote from top-rated, screened, and licensed contractors in your area!
There is more than meets the eye when it comes to LVT floors. This article will discuss how luxury vinyl tiles are made and all the practicalities they provide, and the differences between vinyl flooring and ceramic to better understand the two. So without further ado, let's dive in and learn! 
How Is LVT Flooring Made?
Living up to its name, luxury vinyl tile firstly comes with its ability to simulate its natural counterparts, so the first step boils down to looks. Making the floors look real is done using realistic photographic print film followed by a transparent vinyl layer that gives way to many design concepts. Utilizing this visual process, even the most experienced industry has difficulty distinguishing the differences in mere sight alone.
The manufacturing process comes together in roughly four steps:
Sampling large amounts of raw materials like polyvinyl chloride resin (PVC) as well as calcium carbonate.
The next step on this journey would be the "calendering process," in which multiple heated rollers press the compound together into a continuous sheet. After experimenting and checking the sheet's thickness and width, vinyl floors are measured precisely and accurately.
The lamination stage, here using techniques that involve pressure and heat, bonds each layer to the next until they are all completely formed.
The result is 4-6 layers that all contribute to a finished product, which include:

Wear layer: This makes the flooring easy-to-clean and protects the plank from easily getting scratched.
Print layer: Provides specific designs for the flooring.
Stability layer: For better resistance and recovery.
Backing layer: Sound absorbing underlay with a textured grip.
After the finished result, it is then inspected by heating the product, including heating the product and applying the textured design that gives off a signature look. It is then reheated to remove any excess stress between the layers and cooled down. Then they are palletized and taken in for inspection.
Here they are taken to a specially made air controlled room that regulates the same temperature year-round. This step is crucial because it keeps the product in a uniform state during the entire milling process.
A controlled environment gives the technicians ample time to mark functional areas and inspect them before they are loaded onto presses. This offers consumers alternative sizes and finally moves it to milling, which brings things full circle and gets them ready for sale.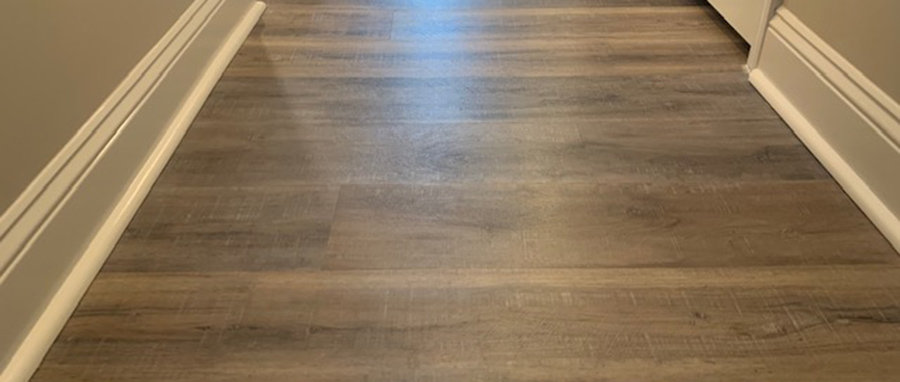 Why Is LVT So Popular?
The luxury vinyl tile was made in the 1970s to implement the realistic look of tile and hardwood. One of the most significant differences between having a natural vs. synthetic floor is the simple fact that it is much less expensive than the real deal. Many homeowners love this fact, hence why they go out and buy LVT flooring.
Not only this but if you have a large family, it is one of the best options to get around your home, because many times, children and animals tend to scratch wood floors, which leads to a lot of unwanted marks.
LVT flooring does not require a lot of maintenance, whereas other floors must be waxed and polished every so often to continue looking new. It also requires just a quick sweep, mop, and wipe up for any messes involved. 
Does LVT Look Cheap?
If you are renovating a home and are on a budget, one of the first things to look at is any flooring price. You soon realize that real wood and stone can add up very fast, and it may not necessarily be something you can afford right now. This is where LVT floors come into place. Vinyl flooring is typically anywhere between $2 to 5 per square foot, which means that you may be unsure if they look cheap or not.
Quite simply put, luxury vinyl tile does not look cheap at all! They look so real that many professionals even mistake them for the real deal at first glance. You can purchase these floors to understand that they will look, as the title says, luxurious.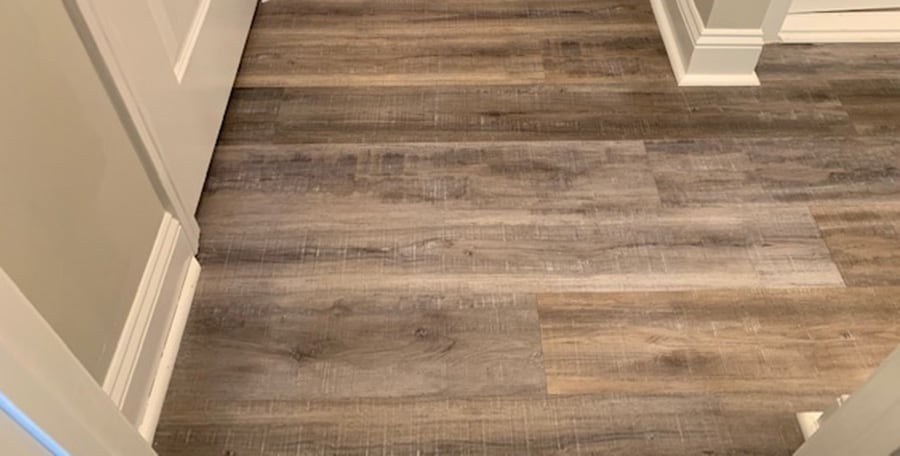 Advantages of LVT Flooring:
Asking if luxury vinyl tile flooring is suitable is an excellent way to know if they will be worth investing in or if they are going to be a waste of money. I have these floors in my own home, and if I were to be brutally honest, these floors have a lot of beautiful qualities given to them, which makes them an excellent addition to the home. LVT floors will not be very disappointing if you decide to go with them.
Overall, as long as you provide the best care possible for LVT floors, the lifespan will last a very long time! Some of the essential qualities LVT floors possess are:
Being resilient to water, residue, and mold: It is challenging for mold to grow on them, although it can grow underneath. However, the water-resistant qualities make this flooring-type excellent. Just make sure you clean up any spills once you realize it, as water can seep through the cracks.
Sound-resistant: As mentioned above, the planks are built with an underlayment, causing the floors themselves to be sound-proof.
Resists scratch: Thanks to the vinyl planks wear layer, it causes the floors to be less prone to blemishes. Make sure to get a thicker wear layer of 20 mil to help keep the ground better intact.
Comfortable: One of the best qualities is that LVT floors are incredibly comfortable. Although they are not carpet, they still feel softer on your feet, giving more pleasant feelings. Keep in mind that if your subfloor is concrete, you may want to purchase an underlayment for better support, but it is not completely necessary.
Durability: A single vinyl plank can hold up to 500 pounds alone, which makes the floors extremely durable and can withstand a lot of hard objects falling on the floor.
Does not stain: With a quick clean up, LVT floors will not tarnish. You do not need to mop the floors often except for 2 to 4 times a month. 
Easy to install: Thanks to its floating floor system, luxury vinyl tile is one of the most comfortable floors to put on your subfloor.
Disadvantages Of LVT Flooring:
Like everything in life, some aspects of luxury vinyl tile we simply do not like. If the pros outweigh the cons, then it will be best to continue purchasing them. Here are some reasons to not want LVT floors:
It can be tough to remove: If you decide to use adhesive, it is difficult to remove when it is time to get rid of them, especially if the glue is a powerful brand. You can rent a power scraper for the day anywhere between $80 to $100 if you have difficulties getting it to come off. However, for floating or click-in-place planks, they are relatively easy to remove.
May be inconsistent quality: Vinyl planks come in anywhere between 2mm to 8mm in thickness. Unfortunately, the thinner the size, the easier it is to ruin, so choose one that is more sturdy, then check the wear layer of 12 to 20 mil.
May cause health issues: Most LVT floors are made from hard plastic, called VOCs, or volatile organic compounds. When first installed, the vinyl floor emits these gasses into the air, leading to air pollution and health issues, especially for people with respiratory problems. 
Non-biodegradable: Going along with the last point, LVT floors are tough to recycle, which can cause a massive issue for our green Earth later on. There are a few places that can recycle vinyl flooring but are hard to come by. Check to see if your region has a local area that you can drop the flooring off.
How Long Does LVT Flooring Last?
Given that luxury vinyl tile is taken care of in the right fashion, the floors can last anywhere between 10 to 20 years. In some cases, LVT floors can last up to 50 years, making the boards more durable than engineered hardwood floors. Now, who wouldn't want that? 
But if the average vinyl flooring lives to be 20 years old, what kind of precautions can you take to make these floors last up to 50 years? Here are many tips and tricks to allow this process to happen to the best of your ability:
Get a higher quality product: Some less expensive companies will make their floors not so durable, as advertised, so be careful about where you choose the floors from and find out the best company to go to. A little more money invested may cost you much less money in the end.
Sweep daily: This allows all of the crumbs and hard objects on the floor to leave, making it much easier to maintain. Not to mention you will not be stepping on a bunch of small crumbs throughout the day, either! 
Mopping: Regular mopping ensures a better lifespan already. Do this 2 to 4 times a month with just regular dish soap and water, or another natural preference, like apple cider vinegar. If you decide to go with another cleaner, make sure to see if it is vinyl floor-friendly.
Regularly check under furniture and the crevices: One of the main reasons LVT floors may get damaged is from a nail falling off of a piece of furniture or a sharp object that is unknown being in the corner. Check under your furniture and cracks to ensure this is not a significant issue.
When moving: On floating floors, pick up furniture; the furniture may move a plank out of place if it is being scooted instead of picked up. Have an older member within your home help out if any furniture needs to be replaced or moved for some reason.
Invest in blinds and curtains: UV rays have been known to fade LVT floors' fine print. To avoid this issue, invest in blinds, move furniture, or put an area rug around areas where the sun hits the most. Make sure the mats have jute, cotton, and woven backings.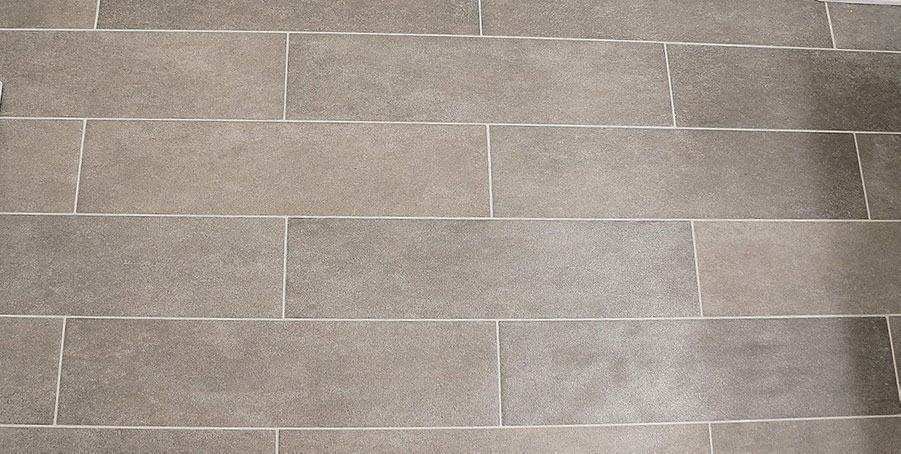 Is LVT Better Than Tile?
Given that tile has a much larger lifespan than LVT floors, it would be the best option long-term. But luxury vinyl tile has come a long way in terms of look, making it very hard to distinguish between the two, making everyone love them all the more. The ceramic cost is far more expensive, with it being $0.5 to $25 per square foot.
Although ceramic lasts between 75 to 100 years, the trends tend to leave quickly, where vinyl floors come into play. LVT boards can easily make a specific design and have upkeep on the trendiness, whereas if you wish to go with ceramic trends, you would need to go with something safe, like white or black coloring. However, vinyl floors can not be customizable as you can create many designs with tile floors. Not only this, but tile tends to take much longer than vinyl because of all the extra steps required.
LVT's excellent quality is that it is much less likely to crack or break, and it is easier to take it out. With ceramic, it can more easily be broken and more challenging to remove, and you would need to be extremely careful if this were the case, as the tiny pieces can get under your skin, and you'll most likely have to deal with it for the next few days after. 
How Many Kinds Of LVT Flooring Are There?
Since LVT boards have so many options, it may be a hard choice. Although floors may be trendy and you know the type of look you want in the home, these floors more specifically boil down to 2 different main types: loose lay and glue down. It would be best if you choose which option suits you more. 
Glue down vinyl floor: Best for families with animals and small children, the adhesive will better keep the tiles locked into place. The bond is applied to the ground first, and then the planks go on top of them. However, if you chose to go this route, know that it is hard to remove.
Self-adhesive planks and tile: These types are great for a quick and easy installation. All you need to do is remove the protective layer of film, put them into the desired position, and press it down. The self-adhesive installation is also very forgiving in terms of fixing mistakes and removal. Removing these is as easy as heating them with a blow dryer and cutting them into smaller pieces that would allow you to mitigate many elbow grease methods required in other ways.
Loose lay: It is very similar in style to the self-adhesive but with even more slack in terms of installation because they use high friction-based unique bottom layers. Because of that, they get a solid grip on the subflooring. Despite that, they are still just as easy to remove using the same cut and pull method as the self-adhesive, but you won't need to heat them. One final perk about the loose lay method would be that there is no leftover residue, which makes clean up before or after jobs easier. 
Interlocking: Utilize unique grooves and tongues along the edges of the planks and tiles that allow them to snap into place. These kinds of planks and tiles make use of the clicking based systems most of us know and love, take note though, if you want to replace a single portion of these kinds of planks or tiles, the entire row will need to come up.
What Is The Difference Between LVT and LVP?
The most significant difference that can be found between the two would primarily be the sizing options and their general desired aesthetic. LVT typically aims to imitate natural stone-based designs, while LVP aims to replicate hardwood texture and looks. LVT is also more often found in kitchens and bathrooms, whereas LVP appears more often in living rooms or bedrooms. 
Final Thought
In conclusion, LVT flooring gives off the appearance of looking like tile but is not the real deal. Vinyl floors are much more affordable and give your home the same look, which most people cannot tell the difference just by looking upfront. All in all, they will make an excellent addition to your home or rental property! 
HomeInspectionInsider.com is owned and operated by Hubert Miles is a participant in the Amazon Services LLC Associates Program, an affiliate advertising program designed to provide a means for sites to earn advertising fees by advertising and linking to Amazon.com. HomeInspectionInsider.com also participates in affiliate programs with other affiliate sites. Hubert Miles is compensated for referring traffic and business to these companies.