One interesting fact about design is that there's no shortage of ideas. The same is true about your concrete patio. You are spoilt for choice on the incredible ideas to make it look better. Some of the ideas are easy DIY, while others might require an expert hand.
There are countless ways to make a dull-appearing patio look better. If you work your magic well, you'll give them a new and exhilarating appearance. You can paint over them, lay a deck or even add curves with pavers. You have numerous inspirational ideas available that you can try out.
Here are some great ways to make a concrete patio look better and more attractive:
Adding walls
Creative painting
Adding rugs
Build a structure over it
Fake stone appearance
Add concrete pavers
Play around with lighting
Stain your concrete patio
Lay decking floor
Change the concrete patio edges
Lay slate tiles
Create a seamless transition
Dress up your patio
Refinish the concrete surface
Before your search any more, let's share the collection of excellent concrete patio ideas with you. Whatever the case, we'll dive into these ideas and help you make your concrete patio look better!
How to Make a Concrete Patio More Attractive
Honestly, concrete is bland and unattractive in its raw form. Even so, one of the reasons people use it is because it's durable. Over time as your patio ages, you may feel the need to remove it and get it hauled away. The removal process will also cost you money.
So instead of removing the concrete patio, you can try out the following to make your patio more attractive: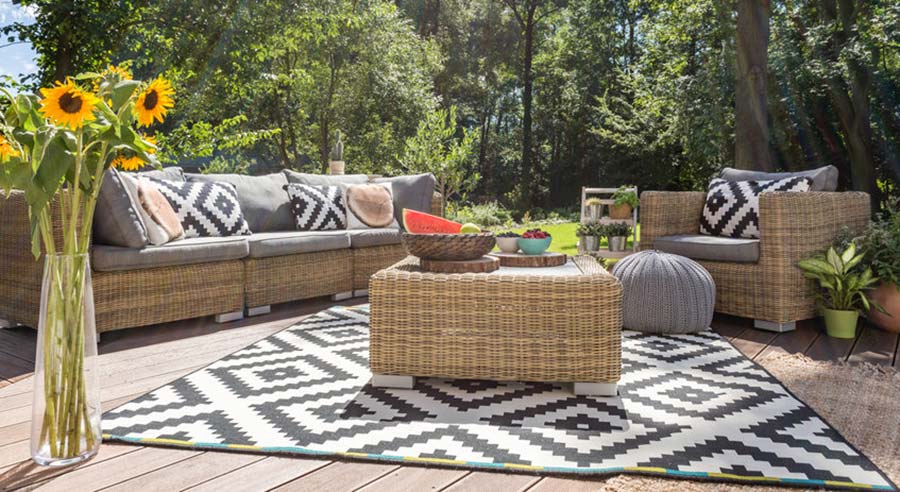 1. Adding Walls
While this is not an out-of-the-box kind of idea, it is excellent. The variety of materials used will add life to your bland concrete. You can add low walls that create a contained outdoor room. For instance, if you choose to create a decorated wall, let's say with veneer, it is more visually appealing.
You can design the walls using other materials as well. Furthermore, you can build a higher wall if the environment allows. For example, if you live on a hilly side, adding a wall fits the design.
To top it off, you can add matching furniture, landscape designs, and flower pots to accentuate the look further.
2. Creative Painting
Painting is easy, but you can get a total concrete makeover if you get creative—painting ideas, including drawing patterns or playing around with gradients. If you engage a professional, they can do wonders with paint.
First, you need to power wash your concrete before painting. For creative patterns, you can get a designer to do stencils. Or you can work with gradients or shades. For example, you can have a pattern created in two different shades of grey.
Other cool ideas include painting diamonds or even circular patterns. Also, you may get creative by using contrasting colors. 
3. Adding Rugs
Now here is an inexpensive way to liven up your concrete patio. Some makeovers can cost an arm and leg, but rugs are affordable compared to other methods. You can add rugs, pillows, and cushions with contrasting colors.
Rugs and pillows look great with some outdoor furniture. You can add some coffee tables while the pillows and cushions sit comfortably on the rugs. This combo is both stylish and adds an inexpensive aesthetic appeal.
4. Build a Structure Over It
There are two ideas you can try out to get mind-boggling results. One idea is to build a gazebo, while the other is to add a pergola. The gazebo is great for outdoor relaxation and comfort.
With each of these two designs, you need to add furniture because this awesomeness needs it. If you add a pergola, the sunlight hits different on the surface. You get to enjoy the coziness they offer.
Moreso, the pergola or any overhead structure helps to enclose the space. Gazebos and pergolas make the outdoor feel more private, thus comforting. All you have to do is check your patio and see which overhead structure is best suited.
An overhead trellis will play around with natural sunlight creating beautiful patterns, and you can add just about anything such as speakers, vines, or even ceiling fans.
A wooden gazebo will work wonders! Just like a pergola, a wooden gazebo doesn't come cheap. They help concentrate the appeal on a single point over your concrete patio. You can place matching furniture in the middle and trellis frames on the sides to add to the highlights.
There are a dozen ideas on the gazebo painting you can try out as well. Similarly, you can select different gazebo designs.
5. Fake Stone Appearance
You may have seen the fake stone look somewhere, even if you do not know how to do it. How was it? Did you like it? If so, you can use it to make your concrete patio look better. One of the ways you can achieve this look is by using a patterned rubber roller.
On the other hand, you can hire a company to do that for you. The patterned rubber roller comes in stone, bricks, or graphic patterns. However, if you wish to purchase one, the cheapest goes for $900.
A roller will help craft stamped walkways and a popping patio. Alternatively, in the place of rubber patterned rollers, you may use concrete stamping. It contains an embossed pattern that you can apply on wet concrete. You place the mat on the wet concrete then apply pressure. Then repeat the process to create the fake stone look.
6. Add Concrete Pavers
You can get varied designed pavers with different colors, shapes, textures, and sizes. The good thing about pavers is that they add depth to your concrete design. The most iconic pavers are the curved ones. Rather than remain with a typical square slab, you can add the curves using pavers.
Butt pavers together to create a continuous surface and avoid plant overgrow. Otherwise, if you decide to leave spaces between them, you can add gravel or pebbles in between them. With distances between them, it means you'll buy fewer pavers.
The other option is to use clay pavers which in the real sense are bricks. You can make a fire brick using the extra bricks. In comparison with natural stones, clay pavers are less expensive.
7. Play Around With Lighting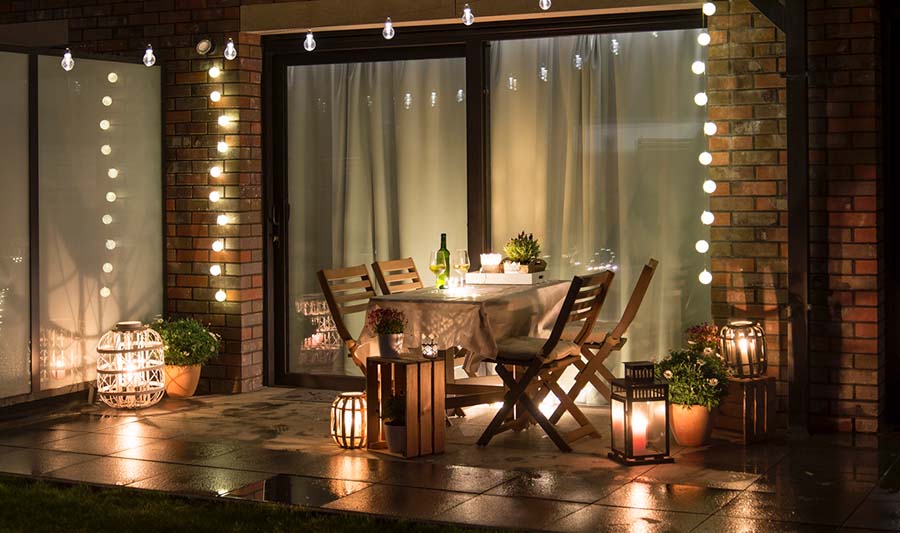 Shades are excellent, especially in the summer. Usually, if you get creative with your design, you can have perfect lighting hitting your concrete patio. Depending on the surrounding, you can be amazed by dappled shades.
The idea is to play around with natural light or downcast outdoor lighting to ensure beautiful shades drop on your patio. Add shades that will blind the natural or artificial lighting to make it more appealing.
If your patio feels gloomy and dark, you can brighten it by adding natural lighting during the day or low glow lights at night.
How to Improve an Old Concrete Patio
Unlike the new concrete patio, where you can play around with different designs, older ones have limitations. However,  there are several designs you can implement on an older concrete patio to make it look better.
Here are some of the creative ideas you can try out.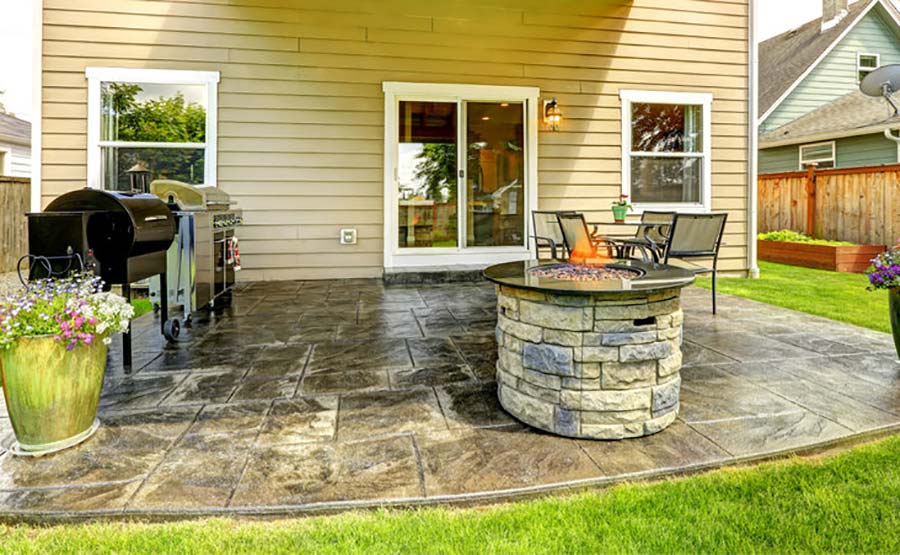 8. Stain Your Concrete Patio
This is the most common way of bringing to life an old concrete patio. Staining gives your old concrete patio a tile appearance. The process is pretty simple; you may use tapes to create grout lines all over the patio then stain the entire surface.
Once you take out the tapes, they will leave your patio looking like tiles. The best thing is to contact a professional to ensure the finish is pristine and in order. However, if you are confident enough, you can dig in and make it an enjoyable DIY.
To avoid degrading the paving, you need to add a sealant because staining weakens the patio surface. Generally, staining chirps into the surface and alters the color and texture. 
As a requirement, you need to clean the patio surface before starting the staining process.
9. Lay Decking Floor
While laying a decking floor is not the cheapest method out there, it improves the appearance of your concrete patio. Most people are surprised when they learn that it's possible to lay a decking floor on concrete.
A decking floor helps to warm up your patio in an exciting way. When it comes to laying decking floors, you can do it yourself or hire a professional company. For fine finishes, you can add fascia boards of contrasting colors on the side of the decking floor.
Decking floor adds a beautiful appeal because of the overall change in appearance while at the same time remaining unique. Laying decking floor is a fantastic way of creating an inviting, comforting and cozy environment in the outdoors.
10. Change The Concrete Patio Edges
Some concrete patios have precast concrete pavers. In most cases, the concrete slabs or pavers come in square form. To improve the appearance and landscape design, you can make yours curvy.
If your concrete slabs are in good shape without major blemishes, cut using a circular saw to redesign the edges. The idea is to reshape the slabs by removing portions in the edges. Then you may add some landscaping designs such as flowering or grass around the new edges.
This will make the design feel like something new, therefore improving your dull concrete patio. In addition, you may tweak the appearance by adding furniture if you have it already. After redesigning, you can even have a party on the patio.
11. Lay Slate Tiles
Laying slate tiles is what I did to our concrete patio. I can confirm that it indeed helped improve the appearance of my concrete patio. Concrete is well adapted as a tile base, meaning it will fit seamlessly. In a sense, this is a complete makeover since laying slate tiles gives a new transformation.
All you have to do is first examine the concrete base to ensure it is primed well for laying the tiles. Check out cracks and broken ends to repair them.

Remember that it's easier to hire a professional tiler to do the job. They'll ensure you get the best finishes. The process of laying tiles is more technical than, let's say, building a high wooden death.
Plus, the measurements on the final tiled patio must not go higher than the recommended rise.
Creative Concrete Patio Ideas
Modern designs call for upgrades or, instead, the usage of creative designs for your home. Nevertheless, your home design could borrow from gothic, roman, or early 20th century designs. Wherever you are, you can get inspiration to brighten your concrete patio.
12. The Seamless Transition
With this type of design, your concrete patio rhymes perfectly with your house flooring design. So there is no break between the two flooring spaces. This type of design is from the 20th century, where you barely notice that you've moved from the indoors to the outdoors.
Because of its appeal, this design always feels current. With a beautiful French or sliding door, you quickly move from the house into the patio with much ease. Both spaces are on the same level and sometimes use similar material.
Moreover, they share colors or closely related colors that you do not know when moving from one to another. Ideally, you can try out this design if you have a one-story home with a wide-open spacious backyard.
13. Dress Up The Concrete Patio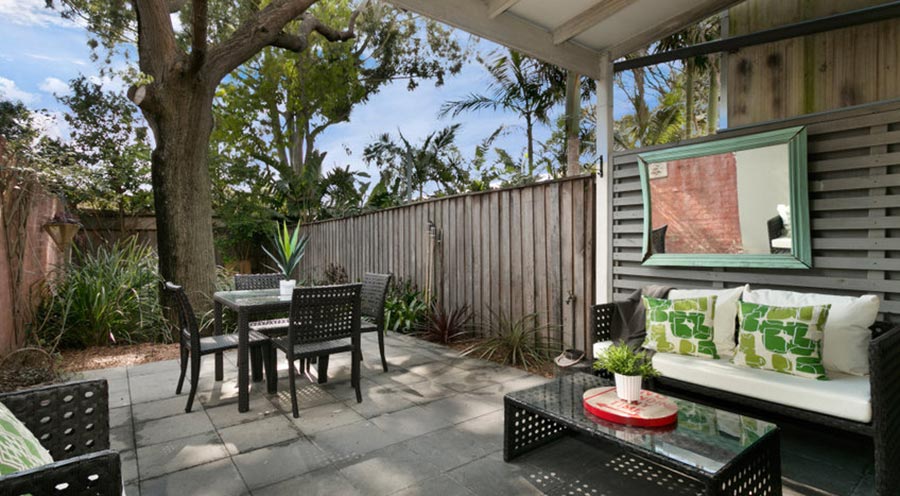 There is no shortage of dressing ideas! One key factor in dressing up your concrete patio is the ambiance. With numerous ideas on how to dress up, you can add the missing spark to your concrete patio.
Play around with the following elements to dress up your concrete patio:
Play around with lighting to add romance and comfort
Fire to add mood and the right atmosphere
Screens to add privacy in the outdoors
Flora and fauna for the pleasant aromas and feeling
Get more inspirational ideas on how to dress up your patio from the internet. For instance, you'll see some of the best ways to play around with various lighting, including candles, chandeliers, etc.
14. Refinish The Surface
Concrete experts can refinish your patio through scoring and paving. And just like staining, these types of concrete cement work well on cured concrete.
You do scoring by cutting about a quarter of an inch into the concrete. In the process, the cuttings will leave patterns that add to the visuals of the entire patio. The most common patterns are diamonds, repetitive lines, and grids.
Paving veneers; for beautification, you can add pavers over an old concrete patio. All you have to check is that the paving height is not dangerous while walking or the drainage. The concrete set the foundation for the pavers. If done incorrectly, some imbalance might affect walkways or stairways.
For safety purposes, remember to select a sealant or stain that creates a nonslip flooring. In that case, you should avoid indoor concrete finishes because they may not augur well with outdoor landscapes. Typically, they become slippery when it rains.
What Can I Cover My Concrete Patio With?
So far, we've seen several ways you can improve your concrete patio appearances—some of the ideas fit in with this topic. For instance, staining is one way you can cover a concrete patio.
 Here is a highlight of some of the materials you may use to cover a concrete patio.
Painting a solid color or pattern is a great way to cover a patio
You can also use a rug to cover the patio
Again, staining is an excellent way to change the appearance of a dull concrete patio
Paving ideas make an excellent concrete patio cover
Laying tiles
Lack decking floor
You can try some of these ideas as fun DIY, or you can hire a professional to do so.
Final Thoughts
There is no shortage of ideas to make a concrete patio look better. Here, we have included 14 excellent ideas you can try out at home. Some of these ideas are inexpensive, while others will require the help of professionals to execute flawlessly.
One more straightforward way of changing the appearance of your concrete is by covering it with a rug. It is easy to execute even without extra help. All you have to do is add some cushions and play around with the colors.
Painting is also easy, especially if you are good at it. Make the painting better by doing various patterns using stencils. Of course, you must be excellent at it to achieve the best results.
That said, it is essential to select a cover-up or makeover solution that suits your overall design perfectly. Even if the cost implications are a consideration, pick a solution that will add to your overall home design. The bottom line is that your concrete patio shouldn't be boring; spice it up with any of these ideas.
Pick one and try executing it or hire a company to do it for you.
Sources
HomeInspectionInsider.com is owned and operated by Hubert Miles is a participant in the Amazon Services LLC Associates Program, an affiliate advertising program designed to provide a means for sites to earn advertising fees by advertising and linking to Amazon.com. HomeInspectionInsider.com also participates in affiliate programs with other affiliate sites. Hubert Miles is compensated for referring traffic and business to these companies.