In this day of age, there are many luxurious items that we have to be grateful for. In some cases, they are relatively affordable, especially when they have been around for some time. 
In the case of sinks, you might find it odd to think about having a touchless kitchen faucet for your home. However, it is more common than we think, especially when you do everything to keep your home clean. So, what are the best touchless kitchen faucets to own?
Keeping that in mind, we will review why they are the best and other common questions you may have. These queries might be about how touchless kitchen sinks are good and how long they last. 
Another essential thing to know is what features to look for in a touchless kitchen sink. If you wonder about these questions, keep reading for more information. 
Our Favorite Touchless Kitchen Faucets
We have selected seven of our favorites from Moen, Kohler, Pfister, Kraus, and Gimili. These are well made, and we feel are well worth the money.
Our Top Pick - Best Overall
KOHLER 22036-VS SIMPLICE
One of the many perks of the KOHLER K-22036–VS is that the touchless faucet has a pull-down spray head, which allows you to control the water with one hand and complete other kitchen tasks in the process. 
Another great perk about the KOHLER is the spray head has three functions:
It contains the boost spray, which allows you to increase the water's flow rate by 30%. 
The ring is excellent for everyday cleaning.
Sweep spray creates a powerful blade that you will be able to clean your dishes with more efficiently and effectively. Some people know this to be the "shower" operation but in faucet form.
Have you ever had a faucet that refuses to go back in place after using the spray head? Well, it is your lucky winner because the head of the tap contains a magnet, pulling it securely back into place. It is formally known as the magnetic docking system. 
On top of that, installing this product should be a breeze as the supply lines are flexible and accessible. It contains 1- or 3-hole installation, including the deck/escutcheon plates. 
You activate the touchless faucet through an LED light indicator that is always ready to be used. 
Plus, you do not need to worry about corrosion or tarnishments because the finish of this sink should last a relatively long time. Their metal construction ensures that the hands-free faucet is durable and reliable. 
Our Top Pick
Moen 7594ESRS Arbor Motionsense
The first faucet we are discussing today is the Moen 7594ESRS. It uses stainless steel but alloy steel, suitable for structural components. This type of steel is highly resistant to resistant to corrosion and durable. 
There are quite a few perks to this design, one being that this faucet has resistance to fingerprints and water spots, making it look cleaner. 
Not only that, but the Moen 7594ESRS model has two sensors, allowing hand movement to trigger water flowing down relatively quickly. 
This device has the "Power Clean" spray, which provides 50% more spray power than most of their pull-down faucets that do not have this technology. Speaking of a pull-down, this faucet has a spray hose for your convenience. 
The 7594ESRS model does not have a manual sink option. Some homeowners have complained about it not working after a while of usage, so keep that in mind beforehand.
Our Top Pick
KOHLER K-72218-B7-VS Sensate
What says luxury and good-looking more than the KOHLER K-72218-B7-VS faucet? Investing in this beauty will not disappoint you, as it adds an excellent design you cannot ignore. 
Although the kitchen sink faucet is a bit more expensive than the other two mentioned above, many owners are pleased with this product. 
One person said that their sink works fine even three years later. However, they had to replace a minor part within the sink, but the quality is still there.
Sometimes, you must wait a few seconds because the motion sensor within a sink takes that long to start on, and you might find it more challenging to get the water on. 
Nevertheless, the KOHLER does not have this issue, as the water turns on 20 milliseconds after you place it underneath. 
On top of that, there is a precise activation window that prevents false activations and has a magnet system for when you place the pull-down spray nozzle. 
You do not need to worry about looking at your sink and constantly seeing splash or smudge marks, as the finish is vibrant stainless. 
Suppose the touchless sink does not work the way you want it to one of these days. If that is the case, this particular faucet works automatically and manually. 
However, that may not even be an issue as the materials are high quality. The materials make the faucet highly durable and do not rust easily. 
Our Top Pick
Pfister Stellen Touchless Pull Down – LG529ESAS
The Pfister LG529ESAS is a unique touchless faucet because it meets quite a requirement. You will be happy to know that this sink does not limit itself to anyone with disabilities, as it is ADA/ANSI A117.1 compliant. 
However, that is not all, as the Pfister touchless faucet complies with NSF/ANSI 372, meaning the filter meets the minimum requirements to reduce specific health-related contaminants, such as lead, asbestos, and other organic compounds. 
Lastly, this faucet complies with the California Energy Commission (CEC) water-efficiency standards, saving billions of gallons of water per year. Overall, it helps conserve water in the average home by 20%. 
Seeing how it meets many different qualifications, it might interest you to know that you can turn the water off and on within three inches of the motion sensor. The sensor also automatically shuts up after 3 minutes of no activity.
Plus, there is a manual move in which you can leave the handle pushed in or use the manual override switch if needed. 
If you wish to have batteries, you must purchase them separately. However, the touchless kitchen faucet comes with a plug-in cord for straightforward access, so many sure you have a plug under your sink first. 
In terms of the material, it is metal with a nickel finish, making it look unique and stylish. You can also use this sink in manual mode, using whatever preference you want. 
The pull-down spray head comes in three modes: spray, stream, and pause. You do not need to hold the button to keep whichever stream you like except with the pause option. 
Our Top Pick
Moen Align Motionsense Touchless – 5923EWSRS
If you wish for a clean and straightforward look, Moen 5923EWSRS does the trick. This timeless beauty is spot resistant as it uses a stainless finish to resist fingerprints and water spots, making it much easier to clean up as time passes.
One of the many features of the Moen is that it comes with a single-sensor touchless activation system, which allows turning the water on very quickly with your hand waved. 
Just like the Moen tap mentioned above, this device has the power clean spray technology that provides 50% more spray power versus many of their pull-down and pullout faucets without it. Doing so gives more of a chance to wash their dishes more efficiently. 
If you have large pots and pans, you do not need to worry about them getting in the way of the faucet as its spout is a high arc, making it more convenient and maneuverable for cleaning and rinsing it off. 
From a design standpoint, this makes a great modern or farmhouse kitchen faucet.
According to a couple of reviews, the 5923EWSRS model also has a relatively easy installation, and many homeowners mention how thoroughly they enjoy it. 
Our Top Pick
Kraus KSF-1610SFS Bolden Touchless
The Bolden Sensor Faucet is an innovative design that allows you to turn the water on and off with the wave of your hand. Not only does it help reduce germ transfer during messy tasks like preparing raw foods but it also increases independence for those who may be struggling with their hands full.
The sensor sits at side faucets, stopping flow after 3 minutes when no longer needed, ensuring minimal waste! With two functions, including an extended range spray head perfect for any kitchen task, this product won't disappoint.
The commercial pull-down design creates a distinctive professional look with its industrial open-coil spout and provides the convenience of having your dishes clean without ever touching them.
This sleek faucet's dimensions are as follows:18 in height; 638 mm reach from the neck to spray head (8 1/4″); 75 mm deep between handles–perfect for smaller sinks! It also features an Eco-Friendly Flow Rate that reduces energy consumption by up to 30%.
With its heavy-duty construction, this faucet is perfect for any home. The lead-free brass water lines and metal body ensure long-lasting performance that will add value to your property!
The dual function allows you to decide between an aerated stream or powerful spray at a moment's notice with just one touch of the handle.
Our premium ceramic cartridge's long-lasting, leak-free performance is guaranteed with an easy-to-clean nozzle design. The high arc spout provides ample room for oversized items such as tall pitchers and swivels 180 degrees, so you can use it in any direction!
The smart handle allows ADA compliance while providing another advantage: It operates at 90-degree forward rotation, making installation much easier than previous models.
Our Top Pick - Most Affordable
GIMILI Matte Black Touchless Kitchen Faucet
The GIMILI Touchless Kitchen Faucet is the most affordable on our list, but it's not short on value.
With motion sensor technology, you can finally enjoy a hands-free experience when caring for your kitchen needs. The water will flow through the sensing system and shut off automatically within 3 minutes if no one is around or touching anything!
This kitchen faucet provides a powerful pre-rinse spray for removing food particles from your pots and pans and an easy switch between the stream or diffuse modes with two settings!
The lead-free, solid brass body prevents family members from harm, and the ceramic cartridge that has passed 500K cycle testing will sweep your worries of tap water leaking away. Reliable quality materials with smooth operation bring you a good life helper!
The kitchen faucet is designed to be easy to install. All the necessary hardware comes with it, and you can complete your project in about 30 minutes without professional help or specialty tools! If installation problems arise during this time, there's an instructional video available for reference purposes if needed.
GIMILI backs its product with Customer Support and a limited 2-year warranty should any issues arise.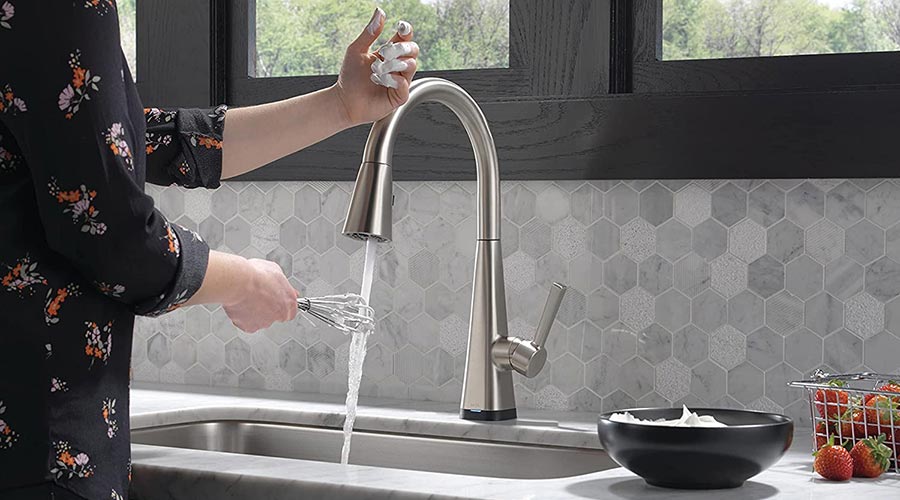 What is a Touchless Kitchen Faucet & the Benefits?
A touchless kitchen faucet is how it sounds: a faucet that allows you to hover your hand over it and not turn it on with your hands.  
Saves Time & Money
Touchless kitchen sinks save you both time and money. For instance, if you are exhausted one day and forget to turn off the faucet for a couple of minutes, you might discover having a touchless sink convenient. 
A Cleaner Option
You might also find touchless kitchen sinks much cleaner, especially if you have young children who just ate a big bowl of spaghetti and need to wash their hands afterward.
Another benefit to having a touchless sink in your kitchen is if you have guests who need to wash your hands. Although your guests might be close family, you still are unsure where their hands have been all day or if they even washed their hands. 
Having the option for someone not to touch the kitchen sink altogether is more convenient and cleaner than if they had to turn it on manually. 
How Do Touchless Kitchen Faucets Operate?
How they operate is unique as well. Four main design parts serve a specific purpose for each part of the faucet. Down below, we go a bit more into detail on the subject:
A spout
Sensor window
Solenoid valve
Power source
1. The Spout
First, we will discuss the spout, which holds all its working compartments. 
There are multiple different types of models that have other materials in them. You will find zinc material if you wish to go with a more affordable or less expensive kind. 
However, a more expensive version is available in copper or brass. If you want more durability, go with chrome-plated or nickel spouts.
2. Sensor Window
The second part of a touchless kitchen sink is your sensor window, which automatically turns the water on. You will find that the sensor has a placement near the base or lip of the spout. 
In many other products, you will find that they contain a motion sensor, which tracks motion in any direction. However, a touchless sink has a presence sensor, which essentially detects the presence of a hand under the spout. 
In doing so, the faucet turns on relatively quickly. Then, the sink automatically turns off if you remove the hand from the trigger sensor. 
Some automatic tap systems are different from one another, but in most cases, they have sensors that contain a tiny infrared light making it to where it sits on an infrared detector. 
The light then bounces back from your skin to the detector, making it automatically turn on itself. 
On the other hand, other models use an ultrasonic field detector, where the movement gets detected, and the sensor goes off. 
3. Solenoid Valve
Some people might not even know what the word "solenoid" is. However, it essentially allows the magnetic pull to become stronger. 
The electromagnet can push or pull depending on the electric polarity, and the faucet sensor typically controls it. 
There is a rubber-like disc in the diaphragm valves that control water flow. Once it receives a signal, the valve that was closed opens up, and the sensor signals that your hands are there. 
Then, the solenoid pulls the valve open, allowing water to flow down. Once your hands are not present, the sensor detects and shuts the valve. 
4. Power Source
As with all things good, you need a power source for almost everything you do, especially in automatic machines or, in this case, sinks. 
In some sinks we might review today, you will notice that they need batteries to operate. 
Some homeowners may not like this idea, so they want to use a low-voltage current from an AC transformer instead.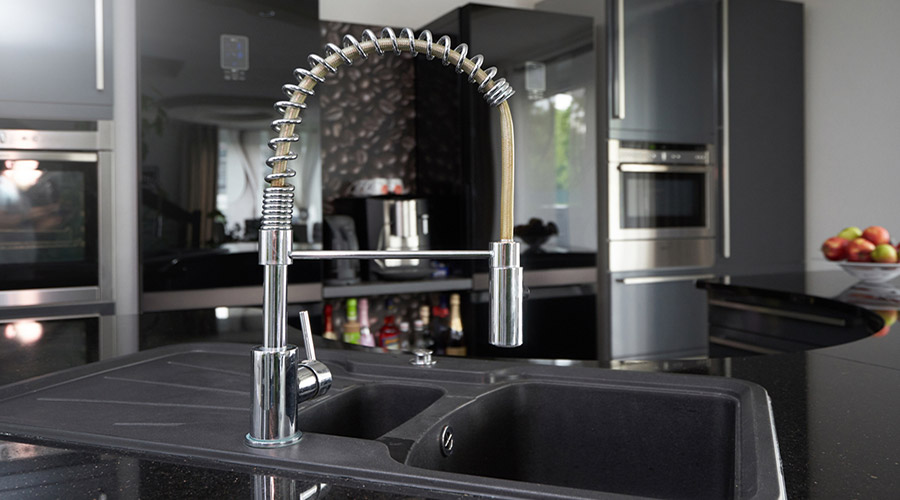 Considerations to Look at Before Getting a Touchless Kitchen Faucet
When purchasing a hands-free faucet, the considerations and features you need to look at are the considerations and features. Let us find out what they are below. 
1. The Power Supply
You might use batteries in some cases, while different models come with an alternating current (AC) transformer. 
It might be ideal if you wish to go with a faucet with an AC transformer, so you do not need to change batteries often. Going through that hassle might not be worth it, especially if you have a large family or are busy. 
However, that would be a cheaper option upfront for those who wish to purchase a faucet with batteries or do not have an electrical outlet.
Remember that although the battery option is more affordable, you will have to continue purchasing batteries.
2. Activation Features & Accuracy
Have you ever been inside a store and could not turn it on after using the restroom? If nobody else is around, you often switch sinks until you find one that works. 
Although this is a relatively common issue, the activation sensor is typically not strong enough, making your life more difficult. 
When it comes to sinks within your home, you want to ensure you use something that turns on relatively quickly instead of constantly moving your hands back and forth, aggravating yourself.
On the other hand, if you notice the sink gets triggered by something that does not concern it, like a slight motion in the room, it will cause an issue further down the road. 
Over time, you might notice the water bill increasing slightly, which is not ideal for your home. It is basically like having a drippy faucet, but instead of constantly dripping, it will turn on when you move around the kitchen. 
Always compare and contrast the different brands and sensor accuracies before purchasing a good brand. 
3. The Type of Finish You Wish to Have
The quality of your materials is critical because you do not want to buy something that will break or chip off a few months later. 
In many cases, you might find matte and stainless steel two excellent options, but you want to find out what matches well with your current kitchen and the style you have. However, let us go over a few options:
Matté Finish
This finish is a great option if you do not wish to see a lot of water stains on your kitchen faucet. Water might be hard to remove with other materials, but matté gives it a clean look. 
On the other hand, matté absorbs light, making your kitchen feel relatively small and dark, so keep that in mind when making your purchase.
Stainless Steel
Secondly, we have our stainless steel option, another popular choice in the appliance world. 
If you do not know already, stainless steel is a cleaning agent which helps get rid of germs relatively quickly and efficiently. 
Stainless steel is durable and does not scratch, corrode or rust easily, so many homeowners love it. 
On the other hand, cleaning and getting the water off your faucet is more challenging. 
Chrome
Chrome has a finish that allows your home to look warm and inviting. It is shinier than stainless steel, but you need to take better care of the material since it is not as hard. On the other hand, it is easy to clean. 
Brushed Nickel
Brushed nickel is exceptionally classic but remains to be a popular finish. It is relatively easy to clean as it does not show any water spots or fingerprints and lasts longer than chrome.
Another thing to note is that your kitchen becomes more pronounced when you pair it with other matching appliances. In that case, having a good quality material such as brushed nickel might be perfect for you. 
Bronze
We are looking at the bronze material for the last one on our list. Bronze allows them to stand out from those with dark-colored walls or wood materials in their kitchen.  
4. Pull Down of Fixed Features
If you have ever lived in a home with a fixed feature, you might want to have the option of a pull-down or spray head system, especially after doing the dishes. 
Regardless, you might be a homeowner who does not wish to have this, so keep that in mind while looking for a hands-free faucet. 
5. Warranty & Cost
What does your budget look like? Do you want to purchase a faucet that comes with a warranty? A touchless kitchen sink costs a bit more than your traditional sink, so you may want to find the one with the best value. 
6. Other Features
Some faucets come with unique features like activating Google Assistant or Alexa. In other cases, you might find other tiny gadgets that make your experience worthwhile.
Advantages of Touchless Kitchen Faucets
As with all good things, there comes a time when you will find the pros and cons of each item, and a touchless tap is no exception. 
Although it is excellent in many areas, there might be some things that are not as appealing for you as the homeowner. Let us go through each one down below:
| Pros | Cons |
| --- | --- |
| 1. It keeps the germs out. | 1. It is more expensive upfront. |
| 2. There are fewer messes to clean up. | 2. You have to control the temperature manually. |
| 3. You conserve more water. | 3. There are a lot of mechanical parts. |
| 4. It is incredibly convenient. | 4. Some are battery-power operated. |
1. Keeping the Germs Out
As mentioned above, a touchless kitchen tap is excellent at keeping the germs out. You do not need to worry about touching the sink to wash your hands after making homemade pie with your children. Having the ability to be cleanlier, especially within your home, is always an excellent thing. 
2. Fewer Messes to Clean Up
Going with what was said above, you do not have to clean up nearly as many messes, especially if you get a finish that suits you well. It is always frustrating to constantly clean your fixture, but already having it be relatively spotless even after doing what you need to is one of the best feelings you can have. 
3. You Are Conserving More Water
One of the many things we emphasize in this world is conserving water. Less water in your home means your water bill goes down, and who does not want that? Plus, you consume less energy, which is helpful for the environment. In doing so, it reduces greenhouse gas pollution. 
4. It is Convenient
If your hands are dirty, you do not have to worry about turning on the faucet to ensure it gets clean. You place your hands underneath and let the water do its thing. 
Disadvantages of Touchless Kitchen Faucets
Despite all their amazing advantages, there are some disadvantages to consider.
1. It is More Expensive Upfront
Although you save money by water conservation, it comes with a price. A regular faucet is more affordable, so homeowners go with this option. However, although a touchless kitchen tap is more expensive, you might find you enjoy it much more than a standard sink. 
2. You Need to Adjust Temperature Control
The point of a touchless faucet is that you do not need to use your hands. However, the water temperature does get adjusted manually, so if you wish to have it on cold for a nice glass of water, using your hands is the only way. 
3. Touchless Kitchen Faucets Have More to Them
We mean by this that a touchless kitchen faucet has more mechanical parts because of what they are. They could be more problematic, or you might have to replace parts repeatedly. 
4. Some Operate on Battery Power
You will find a faucet that operates on battery power in some cases. It might become mundane to change the batteries, even every couple of years constantly.
However, most automatic faucets come with a power line. So, you might undermine this. Just be careful and look at the description of each one.
Frequently Asked Questions
Here we have frequently asked questions that a lot of homeowners have. Read on to see if your question is answered below.
Are Touchless Kitchen Faucets Any Good?
Nothing is better than having something do something for you without you having to do something specific. So, in this case, is the more accessible, the better?
A touchless kitchen faucet is ideal if you are not making much of a mess. It gets stuff done because you do not need to go through the hassle of turning off and on the sink.
If you think about it this way, when you are doing the dishes and have wet hands, you need to manually turn it off, making it a watery mess to clean up. 
On the other hand, touchless kitchen sinks are not perfect. Some faucets may have sensitive motion sensors, making it where it might turn on each time you put something in the sink or do a minute movement. 
Having the automatic faucet constantly turns into frustration on your part. In this case, you might want to have a manual faucet or find an automatic faucet that does not do this.
How Long Do Touchless Kitchen Faucets Last?
Kitchen and bathroom faucets can last between 15 to 20 years, depending on how well you take care of them and other factors.
However, if you want to know the battery length of a touchless kitchen faucet, you can look anywhere between 6 months to 2 years. 
The size of how long the batteries last depend significantly on the quality and battery itself (lithium vs. alkaline.)
Do Touchless Faucets Work?
Touchless faucets work exceptionally well. Over time, you are conserving water by the tap automatically turning off once your hand leaves the sensor. 
You do not have to spend those extra few seconds of water usage manually turning the tap off with your hands.
Is a Touch or Touchless Kitchen Faucet Better?
You have been around sinks that contain a handle all of your life, but touch and touchless systems are relatively new compared to the good ol' handle. 
Let us start with the difference between the two before we speak on which is better or not. The faucets are pretty similar, but one requires you to touch the sink to turn the water on, while the other only need your hand to be in the way of its sensor to come on.
A touchless and touch kitchen faucet has its benefits, but it all depends entirely on what you prefer within your kitchen. 
Both faucets are hygienic, convenient, and conserve water, depending on whether you wish to touch your sink. 
Are Touchless Faucets More Hygienic?
No matter what you do, there will always be germs. Germs are even more present at faucets than they are anywhere else. Seeing as the average family goes to their taps roughly 200 times a day, a touchless version is more hygienic than manually using it. 
You are not constantly touching anything to spread germs throughout your home afterward. Plus, once you are finished washing your hands, you can leave the sink and be done with it. 
Do Touchless Faucets Turn Off Automatically?
Yes, touchless faucets automatically turn off. It is relatively easy for anyone to use, even young children. 
Once you finish washing the dishes, having a glass of water or doing the dishes, you can leave with the confidence that it automatically turns off for you. 
Can a Touchless Faucet Work Manually?
Most of the time, you can efficiently work a hands-free faucet manually. However, not all taps have this feature. 
As seen in one of our reviews, you cannot turn it off manually. So, if this is something you wish to have, we strongly advise you to go with a tap with both features. 
Are Hands-free Faucets Worth the Money?
Because you are not spreading germs from one place to the following, hands-free faucets are worth the money. 
Final Thoughts
To put everything in finalization, there are many great options that we have said directly above. However, it is truly your choice and what preferences you wish to have that does the trick. 
Think about how the faucet matches your kitchen and what convenience it brings you personally, and go from there.
We hope we have allowed you to make an excellent and informed choice for your needs.