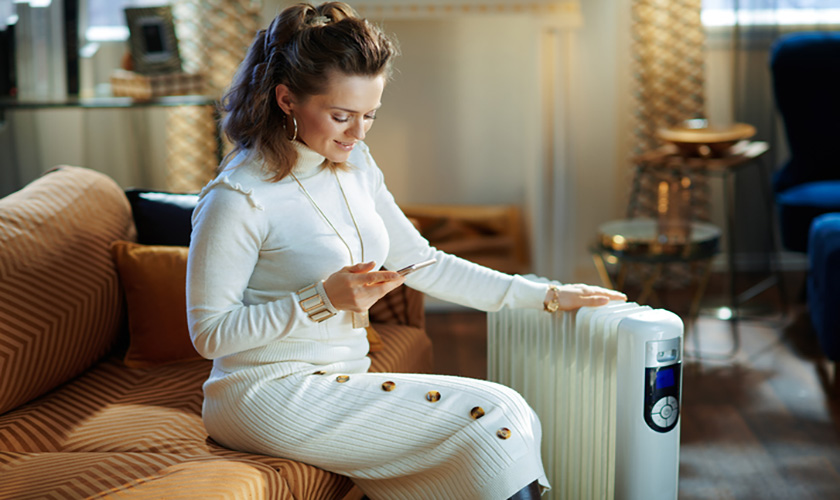 Nothing quite like sitting next to a warm heater and feeling warm and cozy at home. If you're like me, you want the safest space heater, especially if you have kids or pets.
There are many aspects to consider when choosing the right portable heater for your needs. Depending on how detailed an evaluation one wants to conduct, you could write pages about different heaters' good and not-so-good aspects.
However, we can narrow this list to a few critical points for the everyday user. The main aspects to consider are price, performance, safety, and design. 
In this article, we are focusing on safety. We have collected the safest portable heaters, so you don't have to worry about setting your house, or maybe your office, on fire!
Our Pick for Safest Space Heaters
Safer options for heating your home are always a top priority, and owning the safest space heater is one popular way to do that. But with so many on the market, it can be tough to choose the right one. Not to worry – we've got you covered!
Today we're going to look at some of the safest space heaters on the market. Whether you're looking for a space heater in a bedroom, nursery, or any room, large or small, we've got you covered!
Safest Space Heater - Best Overall
De'Longhi Full Room Radiant Heater
The DeLonghi TRD40615E Radiant Heater provides 1500 watts of heating power. This heater is maintenance-free with a permanently-sealed oil reservoir, and its high-quality steel assembly ensures durability. You can customize your comfort with an adjustable thermostat and 3 heat settings.
Buy Now on Amazon
Buy Now on Sylvane
We earn a commission if you purchase at no additional cost to you.
09/29/2022 11:06 am GMT
De'Longhi is a company you can trust. With more than a century of experience, the company has gained a lot of experience dealing with household appliances. They have a near-perfect track record, so you won't have to worry about technical difficulties or electric safety. 
This device is an inexpensive and simpler alternative to the other oil-filled radiators and convection heaters on this list, but that doesn't mean it isn't suitable for everyday use in any home or isn't high-quality. 
Oil heaters allow you to turn it on for an hour or two to get the room up to excellent heat (depending on your requirements), then turn it off and still have a nice warm room for a while without using any more energy. 
This is a modern version of a traditional oil heater since you can adjust using three modes (low, medium, high) and a separate ECO mode, reducing those energy bills! It also has a timer function and remote control for easy use.
Like most safe, modern heaters, it has tip and overheats protection functions, so you don't have to worry about malfunctions or accidents when using this device. Just watch out not to knock it over if it falls on a pet or a child since; otherwise, it is perfectly safe to use. 
Safest Space Heater - Top Pick
De'Longhi Convection Panel Heater
The De'Longhi SlimStyle heater quickly warms up your coldest rooms with its slim design and convenient wall mountable option. It is ideal for supplementary or spot heating in the bedroom, living room, office, or anywhere in the home. You can customize your heating needs with an adjustable thermostat and three heat settings. The heater has a safety thermal cut-off, so it doesn't overheat, an internal tip-over switch in case the unit becomes unstable, and power/caution indicator lights.
Buy Now on Amazon
Buy Now on Sylvane
We earn a commission if you purchase at no additional cost to you.
09/29/2022 12:14 pm GMT
De'Longhi, a well-known electronics and small appliance company from Italy, is a name you can trust. As soon as you see any home appliance with the De'Longhi logo, you know you are in for a treat.
The company was founded in 1902, giving them a lot of time to improve their technology and gain experience. This quality is also true regarding the De'Longhi Convection Panel Heater. It is a typical mobile radiator, but it looks much more stylish than most and works amazingly. 
This portable heater is the next level of a portable radiator. It is electric and can either be installed on a wall or moved anywhere close enough to a power source to work. It has three exhaust vents for quick and efficient heating, one on the top and two on the sides.
Even though it can have a high internal temperature, the wall will still be cold to the touch due to the insulation and high-quality material on the exterior, which doesn't absorb heat. 
Another safety bonus is that there are no external moving parts, nor is it hot to the touch on the outside. Moreover, it also has a tipping sensor, which will shut off the whole device as soon as it senses that the device has tipped over for any reason.
Like the other heaters on the list, it has an anti-overheating feature, making it impossible for the device to reach an internal temperature above a given limit, preventing any possible catastrophes. 
Safest Space Heater - Top Pick
Vornado VH10 Vortex Heater with Adjustable Thermostat
The Vornado VH10 is a high-performance heater that maintains a balanced room temperature using Vortex Action airflow. With two heat settings and low/high power consumption options, the VH10 can easily pay for itself in energy savings. The exterior remains cool to the touch, making it safe for use around children and pets.
Buy Now on Amazon
Buy Now on Walmart
We earn a commission if you purchase at no additional cost to you.
09/29/2022 11:43 am GMT
We have mentioned the Vornado company on our lists before, and we probably will even more since it is one of the best heater-producing companies. The Vornado VH10 is one of their most popular products and is also an Amazon's Choice portable heater, and there are a couple of reasons for that. 
The Vornado VH10 promises even heat a small- to medium-sized room without any trouble. Even when working at maximum performance, it won't overheat, making it a safe device.
Additional safety measures make it even safer, like shutting off the system when overheating and the other usual safety settings (tipping sensor and cold external shell). 
Even though most of these appliances' safety features are nearly the same (if not entirely), the one thing this one differs in is that it has visibly operating fans. This can lead to malfunction or injury with a traditional fan heater, but the Vornado VH10 has a casing that makes it impossible for even the smallest hands to fit into the fan. 
Safest Space Heater for Baby Room or Nursery
When you start to think about adding a space heater to your nursery or baby room, you first want to make sure you are choosing the safest option. Heaters with options like automatic shut-off if they get too hot can be a lifesaver if you're not in the room with your child.
Others have built-in timers that turn off the heater after a certain amount of time, so you don't have to worry about it running all night long. If you're looking for a space heater specifically designed for nurseries and baby rooms, look at this list of safest space heaters for bedrooms!
Safest Space Heater for Nursery
Vornadobaby Tempa Nursery Heater, White
Tempa Nursery Heater is designed with safety as the top priority. The sleek, cool-to-the-touch design with concealed cord management and tamper-resistant controls make it a safe choice for any nursery.
With a stable base and extra safety features, Tempa is perfect for any parent looking for peace of mind.
Buy Now on Amazon
Buy Now on Walmart
We earn a commission if you purchase at no additional cost to you.
09/29/2022 11:40 am GMT

Tempa Nursery Heater is the perfect addition to any nursery or baby room. With gentle yet effective vortex heat circulation, Tempa can be placed anywhere in the room and still keep your baby comfortable.
With two fan settings – "continuous" provides air constant circulation, while "auto" only runs the fan when actively warming the room – Tempa is perfect for any nursery.
Tempa Nursery Heater is a safe and essential product for any nursery. Its cool-to-the-touch design and concealed cord management make it a worry-free choice for parents. The tamper-resistant controls keep children from turning it on without parents' knowledge, and the extra stable base prevents it from tipping over.
With a 5-year Happy Parent guarantee, every customer can be assured of a satisfactory product experience.
Safest Space Heater for Asthma & Allergies
Choosing the safest space heater for asthma and allergies can be a challenge. There are so many different types of heaters on the market, each claiming to be the best for people with breathing problems.
Best Overall for Asthma & Allergies
Dyson HP01 Pure Hot + Cool, HEPA Air Purifier, Space Heater and Fan
The Dyson Pure Hot Cool is a purifier, heater, and fan. It automatically detects airborne particles and gases, then diagnoses and reports them in real-time. The Dyson technology helps create a cleaner, healthier home scientifically proven to capture small particles.
The Dyson HP01 Pure Hot + Cool is certified asthma and allergy friendly. It's also been awarded the Quiet Mark accreditation, making it perfect for use at night.
Buy Now on Amazon
Buy Now on Sylvane
We earn a commission if you purchase at no additional cost to you.
09/29/2022 11:29 am GMT
On our list, another premium Dyson product is the bigger sibling of the previously mentioned Dyson AM09, with an extra feature: it is also an air purifier! Though also on the expensive side, we decided to include this product because of its safe use and the improved air quality it can create in your home!
The HP01 has four functions: heating, cooling, fan, and air filter. The HP01 is a complex system close to a full-blown air conditioner.
There are two fan settings (focused, personal stream, and a wide-angle mode for heating or cooling a room) and several fan speed settings, which create various settings you can choose to customize your experience.
The HEPA filters are perfect if you want to purify the air in your house or perhaps in your toddler's/baby's room since they filter out 99% of all pollen, dust, and many bacteria. Aside from heating and cooling, a purifying setting focuses on filtering the air. 
Aside from all these cool and useful features, it also has all the safety characteristics you would expect from a portable heater of this quality and price, like the tipping sensor, the anti-overheating system, the cold exterior, and the lack of fans.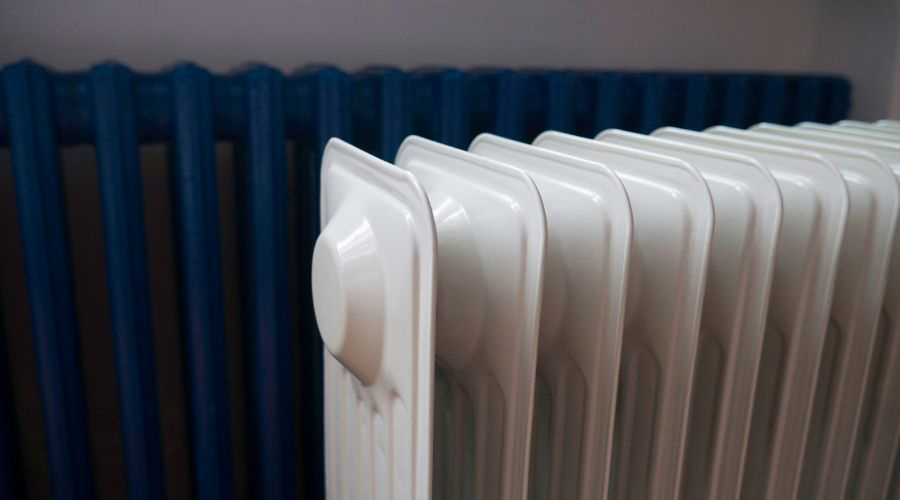 Safest Oil Filled Space Heater
Oil-filled space heaters are a great way to keep your home warm and cozy during the winter. However, selecting the right size heater for your needs is important to ensure safety. This guide will help you select your home's safest oil-filled space heater.
Safest Oil-Filled Space Heater - Top Pick
Pelonis Oil-Filled Radiator Heater with Programmable Thermostat
Pelonis oil-filled radiators are perfect for medium to large-sized rooms and come with a range of safety features to keep you and your loved ones safe. With an automatic overheat protection system, these heaters are perfect for use by elderly people or children.
Buy Now on Amazon
We earn a commission if you purchase at no additional cost to you.
09/29/2022 12:11 pm GMT
The Pelonis is our first recommendation for your overnight comfort. The Pelonis comes in various colors to fit aesthetically in your home.
This heater comes with multiple heating settings that provide quick and efficient heating throughout the room; it is in three different heating modes (High, Low, and Eco).
This heating system can set your desired temperature from 65-85 Fahrenheit for a maximum affected area of 164 square feet. 
This oil radiator, designed for medium to large rooms, can provide maximum and consistent warmth without using a fan or other distracting noises that can disrupt sleep, work, conversation, or studies.
This heater may keep your skin from drying overnight if it doesn't have fan-forced hot air circulation.
The Pelonis has many safety features, including an excellent 10-hour timer with remote control, so you do not have to leave your cozy bed or couch.
It also comes with built-in overheat protection and a tip-over safety switch if any accidents or malfunctions happen to the machine. 
Pelonis space heaters are easy to move from room to room thanks to four swivel caster wheels and a sturdy carrying handle. The heater's cord rewind at the bottom is meant for ease of use and storage.
The Pelonis comes with a manufacturer warranty to reassure you that the company will replace your heater free of charge if any malfunctions happen within the first year of purchase.
Safest Space Heater - Top Pick
KopBeau 1500W Oil Filled Radiator Electric Heater with Digital Thermostat
KopBeau's Oil Filled Radiator Electric Heater with Digital is perfect for quickly warming up any room in your house. With 1500W of heating power, three power settings, and ECO mode, you can find the perfect temperature for you. The digital display makes it easy to see the current temperature and set your desired temperature.
Buy Now on Amazon
We earn a commission if you purchase at no additional cost to you.
09/29/2022 11:48 am GMT
Oil-filled radiators are some of the most traditional space-heating devices because they are efficient and can quickly heat medium-sized rooms and even smaller flats.
The KopBeau Oil Filled Radiator is an excellent option if you want a safe oil radiator that is also modern and can fit in any household without looking like it doesn't belong. 
One of the main benefits of oil heaters and radiators compared to fan heaters, for example, is that they usually stay warm and radiate heat long after you turn them off and, thus, aren't using any more power.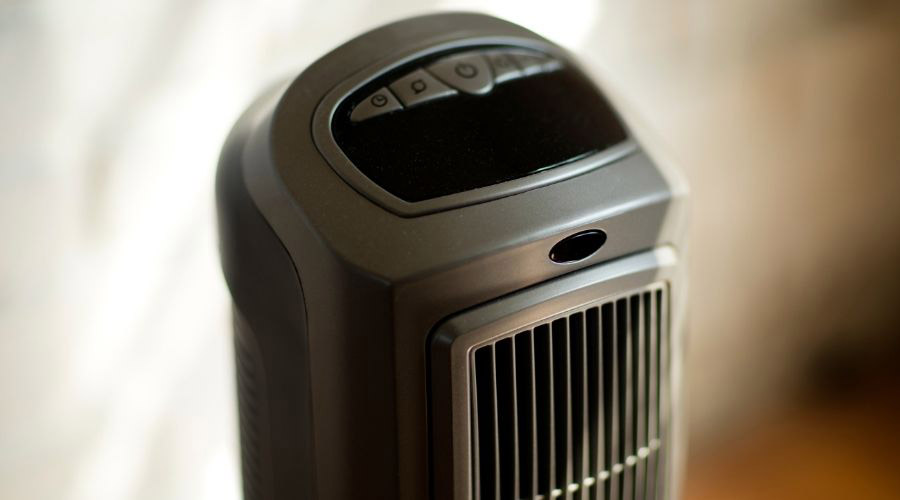 Safest Electric Ceramic Space Heater
If you are in the market for a new space heater, you may wonder if an electric ceramic space heater is the safest option. Electric ceramic space heaters are generally considered safer than other space heaters.
Safest Electric Ceramic Space Heater - Top Pick
Lasko 755320 Ceramic Space Tower Heater
This ceramic space heater delivers 1500 watts of power with 2 settings for fast and effective heating. The Auto setting allows the unit to automatically switch between the two settings as needed. The unit features an adjustable thermostat and remote control to adjust the temperature. The heater has a built-in timer from 1 hour to 8 hours.
Buy Now on Amazon
Buy Now on Walmart
We earn a commission if you purchase at no additional cost to you.
09/29/2022 11:14 am GMT
The Lasko electric space heater has two quiet settings:
High and low heat
An auto setting
Which, overall, makes it suitable for warming up a room in your house or office.
This heater distributes warm air across the room, thanks to its extensive oscillation. The heater's 1500-watt ceramic heating element can be adjusted using the digital display.
You can choose from a wide range of Fahrenheit or Celsius temperatures using an easy-to-read digital temperature indicator. 
The Lasko also appears with both remote control and a built-in timer, allowing you to adjust the heater's temperature, timer, and oscillation speed without moving out of your comfy spot.
Overheat protection guarantees that the space heater does not overheat even when left on for an extended period.
The heating stays cool to the touch even after operating for hours, thanks to a cool-touch exterior. This model also sports the usual tip-over protection to shut off the unit if an accident happens automatically.
Safest Space Heater - Top Pick
Vornado OSCTH1 Oscillating Tower Heater
This heater has you covered with whole room heat circulation or 80 degrees of direct-path oscillating heat. The sleek touch controls and easy-read display make it easy to use, while the sweeping contour lines add a touch of style. It covers approximately 144SF or a standard bedroom.
Buy Now on Amazon
Buy Now on Walmart
We earn a commission if you purchase at no additional cost to you.
09/29/2022 12:04 pm GMT
Vornado is a big name in the portable-heater and fan industry because they have produced a line of reliable heaters, fans, coolers, and similar devices for a long time.
One of their more fancy and fun devices is also one of the safest ones, and it is the Vornado OSCTH1. Check it out for a relatively affordable choice that will look cool, perform well, and be safe!
It looks like the Evolution Tower of Moscow or the Turning Torso of Malmö, like a mini turning tower. This design doesn't only look cool, but it also serves an efficient function: due to its turning shape, this heater can oscillate at an 80-degree angle, hence its name. 
On the safety issue, there are no questions left unanswered. The heater has plastic on the exterior, which doesn't heat up, so no burns or anything similar can be expected when touching the Vornado OSCTH1.
Aside from the burn-free exterior, it also has tipping-sensor technology, which turns it off as soon as it falls on any side. Safety features are essential with this device, with a high probability that some fans would blow air directly towards the floor and quickly overheat. 
Even though the machine will turn itself off when tipping, it also has an overheating sensor and turns itself off if it exceeds the given limit.
Safest Small Space Heater
Finding the right small space heater without breaking the bank can be tricky. These small space heaters are safe, stylish, and highly effective.
Safest Small Space Heater - Top Pick
Honeywell UberHeat Ceramic Personal Heater
Honeywell's UberHeat Ceramic Personal Heater is a 1500-watt, adjustable thermostat and tip-over switch personal heater.
The UberHeat features overheat protection, cool touch housing, and an overheat safety shut-off. It also features an easy carry handle for portability from room to room or office to cubicle!
Honeywell's UberHeat is the perfect personal heater for any home or office space.
Buy Now on Amazon
We earn a commission if you purchase at no additional cost to you.
09/29/2022 11:58 am GMT
This Honeywell model also offers a choice of black or white for colors. The UberHeat Ceramic Heater provides intense 1500-watt heat in a compact, modern design.
Because the Low setting uses less electricity to run, it is more energy-efficient and a better alternative for energy conservation. Its small size makes it perfect for use on tables and floor placement. 
This little guy also boasts the standard safety features, including an adjustable thermostat, a tip-over protection switch, cool-touch housing, and an overheat protection switch.
This Honeywell heater will help you save money while delivering calming warmth by turning down your entire home thermostat a few degrees and heating just the room you are in.
Many portable heaters on the market work properly, efficiently, and safely; however, due to similar designs, many get lost in the product lines. The Vornado VHEAT Vintage Metal Heater has no such problems.
Its unique vintage design makes it stand out from the "crowd," so if you are interested in a product that also provides some quirky and stylish aesthetics, as well as the function itself, this heater is for you!
The safety features of this device are similar to any other Vornado product. Although the unit has fans, there is little risk of injured children or pets. It also has tipping sensors and an automatic shut-off system for overheating, so it is equipped with the necessary technology and design to provide a safe service.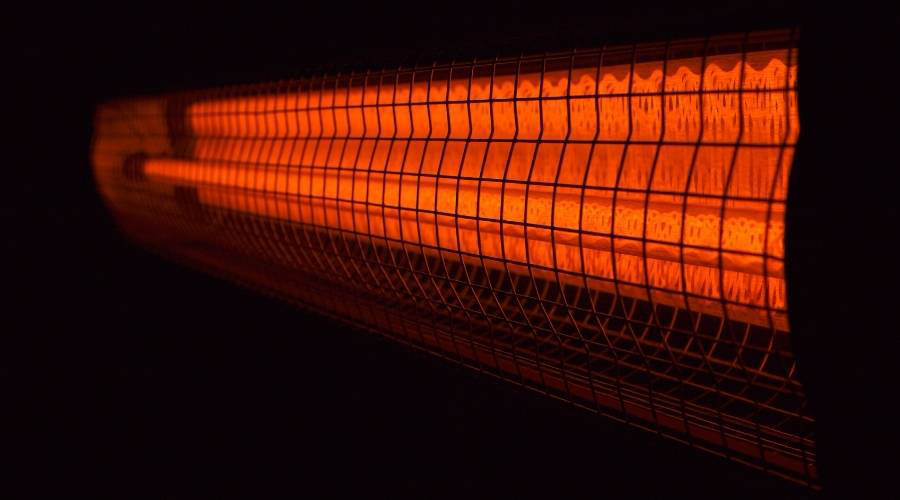 Safest Infrared Space Heater
Infrared space heaters are some of the safest on the market. They're perfect for any room in your home with no open flames and automatic shut-off features. Plus, they're economical and easy to operate. Check out our selection today!
Safest Infrared Space Heater - Top Pick
Comfort Zone Fan-Assisted Tower Radiant Quartz Heater
The Comfort Zone Fan-Assisted Tower Radiant Quartz Heater has a dual quartz tube that produces instant heat and a fan-assisted design to warm the surrounding area. The remote control allows you to adjust the temperature across the room.
Two top-mounted control knobs allow you to switch between high and low-temperature settings. The overheat protection automatically shuts off the unit.
Buy Now on Amazon
Buy Now on Walmart
We earn a commission if you purchase at no additional cost to you.
09/29/2022 11:14 am GMT
This functional radiant heater warms people and objects in front of it quickly and thoroughly. When in use, the dual quartz tubes turn on immediately and emit a warm glow.
Improved safety features include a stay-cool molded handle, metal housing, a tip-over switch, and an overheat protection system.
Like most other units on this list, this heater provides many of the same safety features to guarantee your warmth throughout the night.
Some other nifty features this model comes with include a top-mounted control center where the knobs allow you to quickly and easily adjust the thermostat to change between the high and low settings. Also, with the fan-assisted heat, your room will get warm in no time with this heater.
Safest Space Heater - Top Pick
Dr Infrared Heater DR-978 Infrared Space Heater
The Dr Infrared Heater is a unique hybrid heating system that quickly and evenly heats your room to a comfortable temperature.
UL- and Canada-certified, it's safe around children and pets and features an Energy saving ECO Mode. With high- and low-wattage settings, the Dr Infrared Heater is perfect for any space.
Buy Now on Amazon
Buy Now on Sylvane
We earn a commission if you purchase at no additional cost to you.
09/29/2022 11:48 am GMT
This Dr. Infrared Heater provides a unique hybrid dual heating system, including a PTC (Positive Temperature Coefficient) and infrared radiation, which provides a much higher heat output. 
The Dr. comes with all the standard safety features this article has listed above. Including:
Tip-over protection
Overheat protection
An auto-off timer when the unit is on for over 12 hours.
This product also comes UL and cUl certified, guaranteeing this product's safety features.
The thermostat regulates the heater and automatically cycles on and off to maintain 50 to 86 degrees Fahrenheit.
While also provides three settings of High, Low, and ECO. Overall, it is an excellent choice when choosing a heater for your household. Not to mention very stylish! 
Can You Leave Space Heaters on Overnight?
Regarding space heater safety, it is generally recommended not to leave on heaters for long periods, especially when not supervised. However, some heaters like oil-filled, electric ceramic, and infrared space heaters are the safest space heaters for overnight heating and comfortability options.
To begin, double-check that your space heater is in good working order. Take note of any dings, dents, or other flaws in your electrical cords. Depending on the type of space heater, they may result in an electric shock, a fire, or a carbon monoxide gas leak.
Avoid putting combustible materials near space heaters. Keep a 3-foot radius around your space heater or more. Stacks of papers, plants, blankets, and bedding should be out of the unit's range.
Keep space heaters away from the bedside. Place a space heater away from your bed, no matter how much you want to curl up in the warmth.
Purchase space heaters that have both overheat and tip-over protection. These safety features should help alleviate some anxiety associated with using a space heater.

A tip-over or tilt-over switch ensures that the unit shuts off automatically if it is tipped over. Overheat protection detects and shuts off the unit when the temperature reaches dangerous levels.
Connect your space heater to the outlet directly. Using an extension cord is not recommended when dealing with an electric heater.

The extension's chances of overheating, causing electrical shock injuries, or causing fires are high and should be avoided. If you need to use an extension cord, ensure it's graded and sized correctly for your space heater.
Smoke and carbon monoxide detectors should be installed on every floor of your house. To avoid carbon monoxide poisoning, place these alarms outside of sleeping areas and inside each bedroom. Check to see if they're in good working order regularly.
We have extensive research to ensure you get the safest space heater possible. It is also important to note that we have not put these heaters in any particular order.
Safest Space Heaters FAQs
What is the Safest Type of Space Heater?
The safest space heaters are oil-filled, electric ceramic, and infrared space heaters. They are safe for heating and comfort because they do not produce poisonous gases like carbon monoxide.
What is the Safest Heater to Leave on Overnight?
The safest space heater to leave on overnight is an electric oil-filled radiator heater. These heaters stay cool to the touch and have tilt-over protection, which shuts off the heater if it tips over.
Are Space Heaters Safe Overnight?
While we do not recommend leaving any space heater on overnight or unattended, electric radiator heaters are the safest space heaters to run overnight because they do not emit toxic, odorless carbon monoxide gases.
Are Space Heaters a Fire Hazard?
Any space heater has some fire risk. However, electric oil-filled radiator heaters are considered the safest. Propane and natural gas heaters are not considered safe to use overnight as they can emit carbon monoxide. Electric heaters' main fire risk occurs if there is damage to the plug, power cord, or wall outlet.
Final Thoughts
With all of the safest space heater products listed in this article, we hope that one of them is just the type of heater you were looking for. If not, we hope to at least point you in the right direction when it comes to choosing the perfect heater for you and your family.