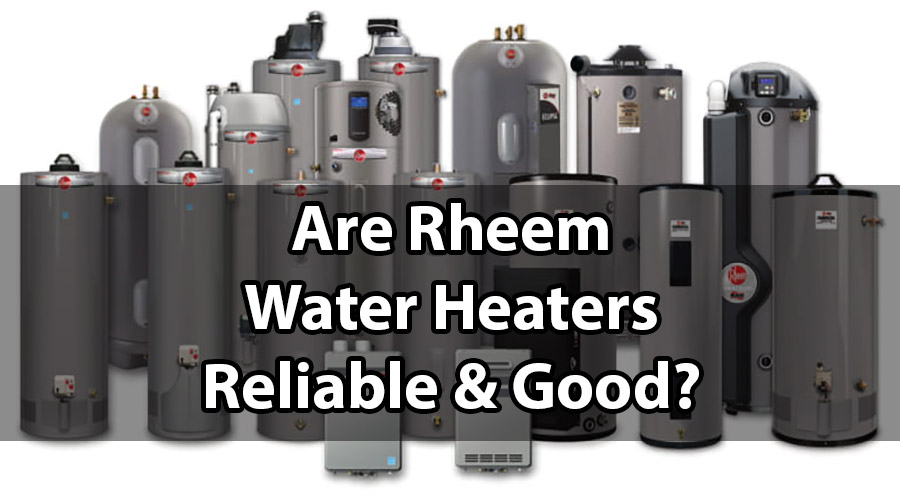 When a water heater breaks and a replacement is needed, most people grab the first one they see on sale. Considering how often we rely on our hot-water heater and the consequences of having one fail unexpectedly, the need for additional research becomes obvious.
One of the top choices for hot-water heaters is Rheem. With 4 to 5-star ratings in Amazon for almost every water heater model they manufacture, Rheem is no doubt one of the industry's best.

You can buy them at any Home Depot or buy them through a network of independent contractors. Those contractors are familiar with the brand and its capabilities.
Having a quality hot-water heater in your home or place of business provides you with more than hot water. It provides you with peace of mind, knowing that your choice of water heater will work for you for many years to come.
Is Rheem Water Heater A Good Brand?
Rheem provides good quality water heaters at an affordable price point. They are especially suited for home use, offering reliability and durability for units that rank at the top of their class. Options include electric, tankless, gas, and others.
There are also numerous models available to cover any need or price range. A top-tier Rheem water heater for residential use includes an 80 gallon, hybrid high-efficiency 'smart tank.' It is suitable for large families in homes where continuous hot water is a must. The price point for a high-end Rheem water heater is around $2,200.
On the low end, there are still quality water heaters available from Rheem. For example, a Rheem 40-gallon performance water heater provides plenty of hot water for smaller homes and apartments. The price is affordable considering the quality of the product and the name behind it. The price for a lower-end Rheem water heater is around $380.
Are Rheem Electric Hot Water Heaters Good?
One of the most popular choices in the Rheem water heater family is an electric hot water heater. You have the option of either a tank or tankless unit, but in either case, Rheem is a quality brand that consistently puts out a reliable product.
Generally speaking, you are getting one of the higher quality water heaters for mid-range use with Rheem. There are water heaters that may provide more options. Those extra options will likely be unnecessary or underutilized by most families.
The expected lifespan for a typical water heater is 8 – 12 years, although you are probably pushing your luck if you try to stretch things too far. Rheem water heaters should last at least that long, provided you maintain the unit properly.
Most families will only look at a few factors when it comes to a water heater; does it make water hot, and does it produce enough hot water. Rheem water heaters are well known for their ability to provide consistent hot water. If you choose a unit that is large and strong enough for your family's needs, then you will be happy with the choice.
A Brief History Of Rheem Water Heaters
You would have to look back to 1925 to see the start of Rheem Manufacturing. As is the case with many businesses, they had a humble beginning when founded by the Rheem brothers, Richard and Donald.

They got their start with a partner in Emeryville, California. That company, Pacific Galvanizing, was eventually purchased by the brothers. By 1930, The Rheem Manufacturing Company was in business.
Rheem Manufacturing continued to acquire other companies over the next few years and became an international company when they opened a plant in Sydney, Australia, in 1936. At first, they were building steel shipping containers, but they added water heaters to their line of products in 1939.
During WWII, Rheem focused much of its efforts on manufacturing aircraft parts and building ships. After the war, they again went back to manufacturing water tanks, including making a glass lining to their water heater tank in 1954. 
During the next few decades, they continued to expand their business and product line. Today, they are the largest North American manufacturer of water heaters. They also continue making many other products, including spa and pool heating, air conditioning, and commercial refrigeration units.
How Reliable Are Rheem Water Heaters?
Although we may look at many factors when choosing a water heater, reliability is one of the first things to consider. Rheem water heaters are well known for their performance and reliability. They also stand up to scrutiny when compared with other water heaters.
One way to determine the reliability of any product is to look at reviews from verified customers. There are a few ways to find those reviews for Rheem water heaters. One option is to look at the specific model you plan on purchasing on the Home Depot website. They offer a 5-star rating system and comments from customers. You can find additional comments on the Consumeraffairs.com website.
As is the case with any reviews posted online, you are more likely to see a negative review than a positive review. Customers tend to be motivated to leave a review when they have a negative experience. By looking at all of the reviews, you get a better top-down view of what to expect.
Another way to verify the reliability of a Rheem water heater is to speak with a local contractor. There is a network of contractors who are qualified to recommend and install water heaters from Rheem. They have the experience to give you a good overview of what to expect when you have a Rheem water heater installed in your home.
How Long Will A Rheem Water Heater Last?
You can expect your Rheem water heater to last anywhere from 8 – 12 years or longer if the water heater gets routine maintenance and there aren't any extenuating circumstances.

The lifespan of any water heater is going to vary depending on multiple factors.
Some people also choose to replace their water heater early. If the unit reaches the end of its lifespan, you can be left taking cold showers until you get a new water heater. Even worse, the water heater could develop a leak, leading to further damage or perhaps a buildup of mold in some cases.
As you will see, there is a limited warranty available on all Rheem water heaters, so you may want to consider replacing the unit when it has expired.  At the very least, speak to a contractor to see when the water heater needs replaced. They can watch for deals that may help you save money on that necessary work.
Where Are Rheem Water Heaters Manufactured?
Rheem Manufacturing has its headquarters is in Atlanta, GA, but their water heating products division is in Montgomery, AL. Rheem is an international organization that offers many products, from commercial refrigeration to water heaters.
You will find other Rheem Manufacturing locations elsewhere in the United States. They are also located internationally in New Zealand, Singapore, Australia, Brazil, Argentina, Mexico, Canada, South America, and the Middle East.
Some of the locations specific to the manufacturing of Rheem water heaters include Western Australia, China, Mexico, and Montgomery, Alabama.
Cost Of Top Rheem Water Heaters Models
There are many Rheem water heaters available. Therefore, consider your needs and the needs of your household before choosing the one you will use. When you look at the top water heater models, you see clearly what they make available.
1. Performance 40-Gallon 36,000 BTU Natural Gas Tank Water Heater
It is currently being sold for $489 at Home Depot, although, as is the case with most Rheem water heaters, there are bulk prices available.
2. Performance 40-Gallon 4500 W Element Model
Perhaps you want an electric tank water heater instead of using natural gas. The Performance 40 gallon 4500 W element model is the most popular unit available. It costs $379 at Home Depot.
3. Rheem Performance Platinum 9.5 GPM Natural Gas Model
The Rheem Performance Platinum 9.5 GPM Natural Gas Model is their top-selling tankless water heater. It is a high-efficiency unit that heats water on demand and can provide continuous hot water for up to four showers at one time.
The natural gas model is $1349.
4. Performance 36 kW Self-modulating Model
If you prefer an electric tankless water heater, the Performance 36 kW self-modulating model is a bestseller. It cost $560 and is capable of producing 7 gallons per minute.
5. Performance Platinum 50-Gallon Model
Another option to consider is a hybrid high-efficiency electric water heater, also sometimes referred to as a heat pump water heater. The Performance Platinum 50 Gallon model is the most popular unit sold at $1529. It includes Smart technology, which allows you to connect to your mobile device and monitor/control the water heater while you are away.
How Is The Warranty On Rheem Water Heaters
Rheem water heaters offer a warranty on their products similar to what other brands offer. In most cases, the warranty covers parts for anywhere from one year up to 12 years. There is often a limited amount of time that covers labor costs for repairs.
Often, the water heater warranty will be enough to protect the item for a few years. Once it expires, you will have to cover the cost of parts and repair for any issues. It is a good idea to verify the warranty before you make your purchase. Be sure to register the product to validate the warranty.
How Rheem Compares To Similar Brands?
Water heaters fall under many different brand names. Seeing a side-by-side comparison of some of your choices is an excellent way to see how Rheem water heaters stack up against the competition. Although this is not an exhaustive list, it does show you some of the popular choices of Rheem water heaters and other brands that offer similar benefits.
| 40 Gallon Electric | Rheem | A.O. Smith | GE |
| --- | --- | --- | --- |
| Model # | XE40T10H45U0 | E6-40R45DV | GE40T10BAM |
| Type | Electric | Electric | Electric |
| Size | 40 Gallon | 40 Gallon | 40 Gallon |
| Watt | 4500 | 4500 | 5500 |
| Price | $429 | $389 | $549 |
| 40 Gallon Gas | Rheem | A.O. Smith | Sure Comfort |
| --- | --- | --- | --- |
| Model # | XG40T06EC36U1 | G6-T4035NVR | SCG40T03ST34U1 |
| Type | Gas | Gas | Gas |
| Size | 40 Gallon | 40 Gallon | 40 Gallon |
| BTU | 36000 | 35000 | 34000 |
| Price | $489 | $509 | $459 |
| Tankless Gas | Rheem | A.O. Smith | Rinnai |
| --- | --- | --- | --- |
| Model # | Gas | #GT15-310C-I | #V75IP |
| Type | 8.4 GPM | 8 GPM | 7.5 GPM |
| BTU | 180000 | 190000 | 180000 |
| Price | $924 | $819 | $872 |
See our full detailed brand reviews below:
Known Recalls For Rheem
A few voluntary recalls exist for Rheem water heaters. These include both electric and indoor tankless water heaters.
Rheem Branded Performance Platinum: These electric water heaters were found exclusively at Home Depot between January 2014 and April 2016. A voluntary recall on 40, 50, and 80-gallon tanks is due to a possible fire risk.
199,900 BTU Indoor Tankless Water Heaters: Indoor power vent units (199,900 BTU) are also being voluntarily recalled in cooperation with the U.S. Consumer Products Safety Commission (CPSC). This recall applies to units manufactured from May 2004 through December 2006.
What Are The Common Problems With Rheem Water Heaters 
Most of the common problems with Rheem water heaters are found in other brands as well. These issues can often be overcome or avoided by selecting a unit adequate for the job and through routine maintenance.
Here are some common water heater problems:
Gas Leak
Pilot Light Going Out
Leaking Tank
Condensation
Dripping
Build-up of Sediment
Corrosion
Noise
Bulging
Inadequate Hot Water
Rotten Egg Odor
For Rheem tankless water heater error codes, see our post: Troubleshooting Tankless Water Heater Error Codes: Rheem
Final Thoughts
Selecting the correct water heater is an important consideration. A new water heater can be installed when your current water heater has failed or if it no longer provides the hot water you need.
Rheem water heaters are well known for their quality and dependability. They also have the backing of being a Home Depot brand and are available through a network of contractors. Rheem offers a quality mid-range product for residential and commercial use with many options available.
When choosing a water heater for your home and family, Rheem steps up to the plate and offers the options you need. Many people have been living with and enjoying their Rheem water heater for years. If you make the right choices or consult with a contractor before installing the water heater, you will have hot water in abundance for many years as well.
Sources:
Consumer Affairs: Rheem Water Heaters
HomeInspectionInsider.com is owned and operated by Hubert Miles is a participant in the Amazon Services LLC Associates Program, an affiliate advertising program designed to provide a means for sites to earn advertising fees by advertising and linking to Amazon.com. HomeInspectionInsider.com also participates in affiliate programs with other affiliate sites. Hubert Miles is compensated for referring traffic and business to these companies.