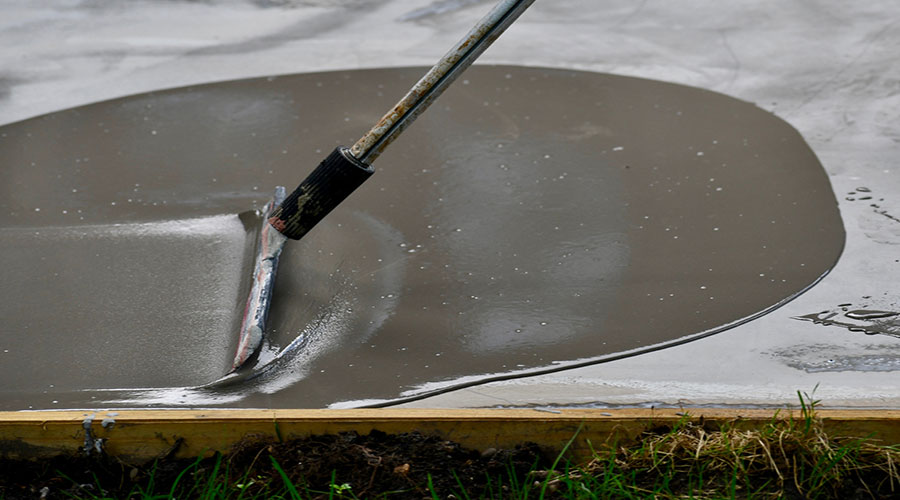 Many homeowners struggle with what to do about their old concrete patio. As concrete ages, it becomes dull and dingy. Cleaning concrete is an option, but what about resurfacing? Resurfaced concrete opens a world of possibilities to become a space you want to spend time on. 
I have successfully resurfaced our home's concrete patio, and here are a few things I learned about it:
A concrete patio is resurfaced for two reasons: the surface s damaged through wear and tear, and the owner needs an upgrade to a better-looking color and design. When it comes to resurfacing concrete, there are many patterns available with different styles of concrete resurfacing.
Many people often interchange the words cement and concrete. Cement is the dry portland mix that is mixed with water to make concrete. Unlike a patio laced either with bricks or stones, a concrete patio, either new or old, offers an endless range of possibilities that will brighten and refresh your deck any day.
How Do I Cover An Old Concrete Patio?
Do concrete slabs get damaged? Yes, they do.
Because most patios are not roofed, the floor becomes susceptible to damage caused by harsh weather conditions, which gradually evolve into subtle cracks and sometimes a sense of ruggedness and discoloration.
Well, if the concrete slab of your patio is damaged in any way, then you could choose to repair the damage or to repair the damage and resurface the whole floor.
But if your patio is not cracked, but you want to repaint, add or change color and style, then resurfacing or covering it is the way to go.
To cover an old patio, here are 3 common concrete resurfacing types:
1. Spray Concrete Resurfacing
The concrete resurfacing overlay is sprayed on the target using a hopper gun instead of pouring concrete on the intended surface. 
Aside from giving the surface an anti-slippery effect, it produces one of the best topical finishes. With a hopper gun, you can achieve diverse colors delightful to the eye.
2. Stained Concrete Resurfacing
This is a clever chemical reaction achieved by pouring any given acid on a lime-based concrete floor. Unlike in mixing color into the concrete mix or topical painting, stained concrete resurfacing penetrates deep into the fabric of the cement floor and does not peel off.
They are highly versatile and eco-friendly, plus they ooze out the finishing effect of granite and marble. 
3. Stamped Concrete Overlay
Stamped concrete overlay is one of the most popular and widely used types of concrete patio resurfacing techniques. It comes with an endless range of possible ideas embossed on engraved on an otherwise standard overlay to convey a classic look.
This creative technique allows your concrete patio to mimic other expensive, classy construction materials such as slate, stone, and bricks. It also incorporates color and different designs.
Pros & Cons of a Concrete Overlay
Here are some of the benefits and downsides of concrete overlay:
| Advantages  | Disadvantages  |
| --- | --- |
| Easy to maintain  | Hard on the feet and knees |
| Long-lasting, not susceptible to moisture damage | Difficult to correct mistakes |
| Eco-friendly | Amplifies sound  |
| Economical | Cold to the touch due to heat conductivity  |
| Several styles  | Environmentally unfriendly if not using the existing slab |
Is It Expensive To Resurface Concrete?
Concrete resurfacing is an inexpensive, practical, and enticing patio restoration alternative.
Many other construction materials are generally expensive; these include wood, brick, and stone, but not concrete.
The average cost to resurface 100 square feet of concrete is $400. Less expensive projects can run as little as $300, while more expensive ones are about $500. The price per square foot can range between $3 and $5.
We are talking in terms of product availability, the price of the product on the counter, durability of the product, and the amount you will be charged for installation in case you choose to have a professional do the renovation project for you.
But if you are psyched up, you could pull out a fine resurfacing job by yourself if you choose to, but of course, with the help of an extra hand. It will not only give you a pleasant experience but will also help you cut down on expenses.
Concrete, a mix of sand, gravel, and water and cement resurfacing products, are readily available, making them more affordable. Concrete will give you a value of between 10-20 years, depending on maintenance when properly mixed and properly applied.
Nothing is expensive when you badly desire it.
How Much Does It Cost To Resurface A Concrete Patio?
A new pour patio can cost anywhere from $3 – $15, or more, per sq. ft., depending on the size and detail of the design that is being installed—resurfacing costs between $3 and $10 per sq. ft., making it a budget-friendly way to get the look and feel of a new patio.
How big is your patio? It is a fundamental question.
The next question is, are you adding or changing color? Will you redesign the pattern on the floor? Give your concrete patio a sense of style and uniqueness, maybe?
Even though the cost of resurfacing varies on the detail and size of your surface, it is a more cost-effective option than removing the existing concrete and pouring a new slab. 
How many bags of cement or cement-based resurfacers do you need? What is the thickness you aspire to do to attain? One inch of concrete thickness is usually okay and enough to achieve a good finish?
The good thing with resurfacing is that you are applying a thin coat of overlay, so you will require no more than two or three bags of cement to complete the job.
One bag of cement on a typical day covers 10 square feet. Going by this, calculate the number of square feet your outdoor space is, and it will give you the number of bags you will require.
It will help you not buy cement in excess and not buy less than what you require. 
On average and depending on different manufacturing companies, one bag of cement-based resurfacing products goes for $140. 
So if a bag can surface 10 square feet of concrete floor and your patio measures 50 square feet, your cost of material will be $700.
If you are adding color, 1 square foot consumes $4 worth of concrete paint. How much of it will your patio require? Your cost for material will rise. 
Then there are different natural designs a concrete patio floor can replicate e.g.
Marble stone
Slate
Stone
Bricks etc.
Labor per square foot costs between $3-$20. Whichever the case, concrete patio resurfacing is possible and inexpensive as compared to other construction materials.
How Do You Resurface A Concrete Patio?
Resurfacing a concrete patio is not a daunting task, as you might imagine. Installing a fresh concrete slab is more accessible than installing any other building materials, and so is concrete resurfacing.
In the past, when a concrete patio or driveway started to show severe signs of aging, using a jackhammer or bringing in a bulldozer were the only repair options. Today there are more practical alternatives.
Concrete resurfacing takes multiple steps, and there's some prep work that needs doing before the surface makeover can begin. You should first determine if the concrete is suitable for resurfacing. 
Here is what you need then followed by a step by step procedure on how to apply an overlay of concrete on a patio:
Cement-based resurfacer
A 5-liter gallon bucket for mixing the products
Water for mixing overlay
A paddle mixer for mixing up the contents of water and cement resurfacer
Two pairs of hand trowels
A squeegee for applying the mixture on the floor
A soft-bristled broom for the finishing touch
Eye protection
Gloves
Gum-boots
Step 1
Prepare the old patio floor for the new renovations at hand by cleaning out any dirt, stains, and debris from cracked spaces to ensure that the new overlay will hold well onto the old concrete.
If possible, wash but not with detergents and allow the water to drain but do not allow it to dry. It is always best to apply an overlay when the surface is wet.
Step 2
Repair all cracks by filling them up. This ensures that the problem underneath is adequately fixed, not extending the damage to the new coating.
You can either allow the repairs to breathe before resurfacing or dive straight into resurfacing. Allowing the repairs to breathe will also enable you to take a short break as the task ahead will be rigorous.
Step 3
Mix the cement base with water. When ready to begin, pour 3½ liters of water into the five-liter gallon bucket, tear up the cement resurfacer packet, and pour a quarter or half of it into the five buckets. Roll up your sleeves and begin to mix the two products using the paddle mixer.
As you mix, keep on adding more water into the paste. Mix until you achieve a paste that does not have lumps. If the paste is too thin, add more resurfacer and add more water if too thick.
The thicker, the better it allows for a broader depth of between ¼" and 1″.
The point here is to achieve a paste that is easy to pour and comfortable to spread. Note that cement-based resurfacers dry out pretty quickly, so you must mix the product in stages according to how much you can pour and spread at a go.
It is crucial to have someone else with you who will be mixing a new coat as you spread the other so that the edge the coat you are working on reaches does not dry out before the fresh coat is ready.
Coats should follow each other simultaneously without delay.
Step 4
Pour the resurfacing mix generously on the old concrete floor, working on a wide enough strip and long enough but comfortable enough for you to kneel and stretch when using a trowel or stand and pull when using a squeegee.
Make sure to be fast enough in your actions so that you will have ample time to work without the product threatening to dry out on you.
Step 5
Apply the resurfacing mix evenly. Here, you will have either decided if you are using a trowel or a squeegee. With a squeegee, start pulling the mix evenly towards you as you retreat little by little. Keep pouring more mix bucket upon bucket onto the unapplied concrete surface as you retreat until you finish the whole patio.
With a trowel, pour the concrete resurface mix on the floor. Kneeling, hold one scoop with your left hand following the edge of your working area to make a fine, straight edge as you follow up, applying the mix along the three edges with your right hand.
You work from one side to the other as you retreat on your back.
This process does not allow for rest until the entire process is finished. So ensure that you are in good shape or better still allow a professional to deal with it as you watch from the side.
Step 6
Every time a bucket of overlay is complete, apply a broom finish on top of the overlay using the soft-bristled broom by giving it one sweep (nice and smooth) going the same direction you used to apply the mix. 
One sweep ensures uniformity and evenness throughout the resurfaced concrete surface.
Note: as much as cement-based resurfacing products dry out quickly, still allow the newly done space-time to dry out completely before stepping on it to avoid any unprecedented damages.
Final Thoughts
As discussed earlier, you can resurface a cement patio if the floor is damaged through wear and tear. The owner needs to upgrade a better-looking concrete floor in terms of color, design, and pattern available with different styles of concrete resurfacing.
Because the patio for many homes is open, even the most robust concrete floors will damage with time, stain, or get eroded by water, especially during heavy rains and snowy days. 
To help boost the durability of your concrete thereof, introduce a waterproof sealant to the concrete resurfacing mix when mixing the concrete so that you will embed it in the fabric of the concrete floor. 
When it comes to cost, the average cost to resurface 100 square feet of concrete is $400. Less expensive projects can run as little as $300, while more expensive ones are about $500. The price per square foot can range between $3 and $5.
HomeInspectionInsider.com is owned and operated by Hubert Miles is a participant in the Amazon Services LLC Associates Program, an affiliate advertising program designed to provide a means for sites to earn advertising fees by advertising and linking to Amazon.com. HomeInspectionInsider.com also participates in affiliate programs with other affiliate sites. Hubert Miles is compensated for referring traffic and business to these companies.