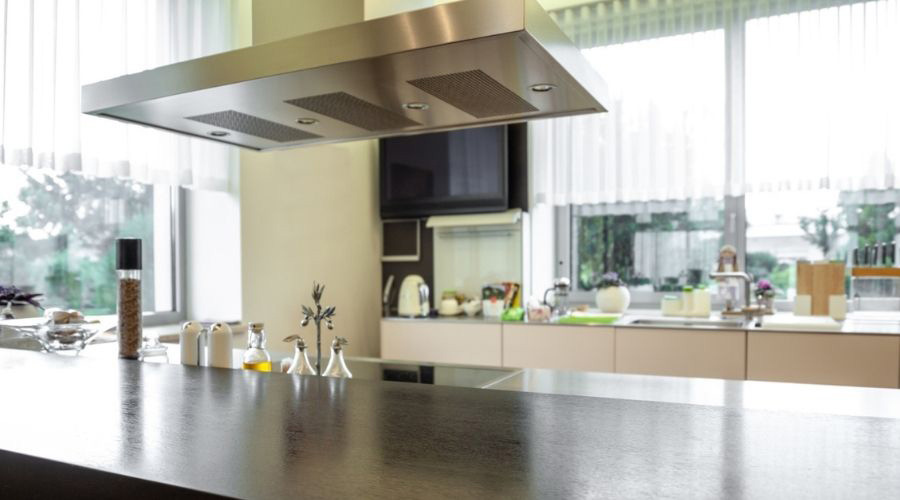 You are renovating an old home into your dream house, and you decide you want your kitchen stove to be on your island instead of nearby the wall. Then, you realize you have not picked out a range hood for your kitchen and need to find the best kind. 
Look no further because we have divvied up an excellent selection for you to choose from! Here is a quick list below:
AKDY Island Mount Range Hood
ZLINE 30″ Convertible Vent Island Mount Range Hood
EKON NAIS01-36″
Cosmo 668ICS750 30 in.
IKTCH 36
Cosmo COS-63ISS90
Empava 36″ Ducted Exhaust Kitchen Vent
Keeping that in mind, we will discuss multiple specks to look at in a range hood to help you gauge what exactly you are looking for. 
We will also answer many frequently asked questions that might spike your interest below. If you continue reading, we are confident that you'll find the answers you are looking for! 
What Are the Best Island Range Hoods?
1. AKDY Island Mount Range Hood
If you wish to have the ultimate hood for a professional-looking kitchen, look no further than the AKDY Island Mount Range Hood. At $499, you are getting a steal for what this range hood offers you.
This beauty has a black stainless steel finish that looks sleek yet minimal design, making it fit perfectly into your kitchen. This ADKY model has a 36-inch hood available if you have a larger stovetop. 
Do you strongly dislike it when your kitchen has odors and steam stagnant everywhere? Well, the AKDY 30-inch gets rid of all of that. 
Next in line is how powerful the AKDY island range hood is. It comes with a 194-watt motor that quickly sucks smoke and steam from cooking. It also comes with a 3-speed level which you can choose which air intensity you want to have. 
For example, if you are meal prepping, you might want to use the higher suction. On the other hand, if you cook a 20-minute meal, using the lower suction might do the trick. 
Have you ever heard of a range hood that comes with two filters? As the AKDY island hood comes with two dishwasher-safe filters, now you have. 
You can easily remove any unwanted grease or smoke stains. The double filter feature helps create better airflow and efficient ventilation throughout your kitchen. 
Lastly, although the AKDY island range hood has much power, the fan is still extremely quiet as the noise level is under 60dB. Plus, the LED lights ensure you can see what you are cooking instead of squinting and see if your chicken is white or still needs time.
2. ZLINE 30″ GL14i-30
The next best island range hood is the ZLINE 30″ GL14i-30, which you can convert into a vent or ventless option. So, if you do not want to deal with your range hood going into a duct, there is no need to worry. 
On the other hand, it comes at a bit of an investment of $799. However, there are so many perks to this sleek and modern design! 
You can choose which airflow you want to have with four options: 120, 240, 320, and 400 CFM, so whether you are a heavy-duty or light cooker, there is an option for you. You can easily use these airflow options by touching the controls on the front of the hood.
A major bonus to having this high of CFM is the quietness it makes. The  GL14i-30 model can move a lot of air away from your cooking while maintaining a quiet noise at 52dB. 
On top of these fantastic qualities, the ZLINE GL14i-30 comes with a 3-year warranty starting at the date you originally purchased it. If there are any malfunctioning defects, the company provides replacement parts free of charge, as stated in their description. 
3. EKON NAIS01-36″
The next up on our list is the EKON NAIS01-36″. If you wish to have a modern design, this should be your go-to because it has 430 stainless steel and curved tempered glass. 
Although the EKON is $619, it comes with some of the best features possible. This company honestly thought about its customers when making the product! 
The EKON island mount hood comes with remote control, so you can quickly turn off the fan if you do not feel like getting up after dinner. 
Plus, it allows you to relax and enjoy dinner more with your family. However, if you do not want this option, there is a 15-minute timer for even more convenience.
Speaking of fans, you should know that the maximum airflow comes at 900 CFM, explicitly designed for heavy-duty cooking. 
It has a more powerful fan than most of its competitors, bringing it way up the charts. Plus, you do not need to worry about having excess smoke and odors in your kitchen.
You will be happy to learn that the noise is relatively low at 65dB at high speed. Overall, this range hood is energy-efficient, and it does not stop there.
You can quickly turn the brightness of the 4 LED lights up or down according to your preference. 
For example, if you need to see if your food is completed, having more light makes sense. On the other hand, keeping the lights dimmer would be best if you have sensory issues.
If you want to have an easy-to-clean filter, then EKON's stainless steel baffle filter does the trick, as it is cost-effective and low maintenance. You have to put it in the dishwasher to clean it. 
Lastly, the NAIS01-36″ model has excellent customer service with 10-years of technical support on motors and 5-year technical support on switch control and LED lamps. 
You can reach their customer service with any questions you might have about the product, making it worthwhile to have help in the future.
4. Cosmo 668ICS750 30 in.
With the Cosmo 668ICS750, you cannot go wrong, as it is highly affordable at $382. 
Overall, if you want a beautiful yet cutting-edge design, this range hood does the trick while doing its job at taking the odors out and keeping your kitchen looking bright and clean. 
Nothing says having good quality airflow better than this island range hood. It has 380 CFM, and the max noise is 65dB, making it extremely quiet yet effective. 
The Cosmo range hood can change into a ductless option with an available carbon filter kit (purchase part # CFK1-TM.)
Another cool feature is the range hood's high-quality stainless steel filters. Having the ability to put it in the dishwasher for safe and effective cleaning is fantastic. 
There is no need to replace the filters constantly, making it hassle-free and saving money in the long run!  
You will be pleased to know that the Cosmo 668ICS750 comes with energy-efficient 2-watt LED lights that are long-lasting and provide high lumen lighting for better visibility during the evening. 
Lastly, the Cosmo customer support team is proudly based in the USA and comes with a 3-year limited warranty for parts. 
5. IKTCH IKIS02-36 36 inch
The IKTCH IKIS02-36 36-inch is one of the best options for your household, especially if you wish to have all motion-sensor devices within your home. 
Because of this magnificent feature, you can guarantee you'll be doing a lot less wiping of that particular surface, keeping it clean from potential dirty hands.
You can choose from 3 size options: 30-inch, 36-inch, or 42-inch, making it to where if you have a larger stovetop, it might be ideal to go with the larger one. 
The IKTCH range hood has a four-speed sensing and touch control switch panel. Also, it is pretty easy to forget to turn a fan off, so using their 1 to 15-minute adjustable timer and remote control works in your favor and allows you to "fire and forget," as the saying goes.
Plus, if you wish to have something fashionable and modern, this is the range hood for you. With the stainless steel washable baffle filters, you will save money and time while keeping the range hood looking sleek.
In terms of the airflow, you'll be happy to know this range hood comes in 900 CFM and provides dual motors, balancing the fan. 
The noise level is less than 65dB at high speeds, making being in the kitchen pleasant. Overall, this $639 IKTCH model removes smoke and odors from the air with ease.
If you need help with an issue, give Cosmo a call, as they have excellent customer service support. 
Lastly, you can easily see what you are doing with four 3-watt LED lights, providing brightness and energy efficiency.
6. Cosmo COS-63ISS75
Cosmo is such an excellent brand that this is the second island range hood we will review. If you wish to have efficient airflow, then having the Cosmo COS-63ISS75 will do the trick for you. 
You cannot go wrong with the amount of airflow you get at 380 CFM and the maximum noise level at 65dB.
Currently, this beauty is listed at $368, so grab it while you still can. 
The COS-63ISS75 model provides a ducted and ductless option for additional purchase in part (# CFK1-TM.)
You can cook with your mind at ease as the Cosmo brightens up the area with its energy-efficient 2-watt LED lights while protecting your health and making the kitchen environment safe for your household. 
With their filtration system, the permanent filters can be thrown into the dishwasher and are highly durable. You do not need to worry about constantly replacing the filters in the future either.
Lastly, this model offers a 3-year limited parts warranty, and their customer service is proudly based in the USA.
7. Empava 36″ Ducted Exhaust Kitchen Vent
Coming up on our last and final island range hood, you have the Empava that is 36-inches long. This modern beauty has an 18-gauge stainless steel finish with tempered glass, making it durable and rust-resistant.
If you want a range hood that does not require buttons, then having the Empava will do the trick, as the touch-sensitive panel reacts when you touch it lightly.
The Empava island range hood features 400 CFM airflow with a 3-speed fan and provides an entirely sealed aluminum motor. In doing so, this device catches smoke and excess odors away from your kitchen.
However, despite a bit of a higher CFM, the noise level is relatively low at 65dB, making it a comfortable environment. For $577, that is an excellent deal! 
Although these are not all the features and specks, you will have a much easier time cleaning the filters with its stainless steel reusable baffle filters that are dishwasher safe. 
This beauty is also ETL certified and comes with a 3-year US-based manufacturer warranty, leaving your mind at ease with having the support system for quite a bit of time. 
Lastly, you cannot forget their energy-efficient four 2.0-watt LED high lumen lights that are provided directly below the range hood, making it easy to see while you cook or need visibility during the evening. 
What Should I Look for in a Range Hood?
When finding a range hood, there are many things to look at, such as the type of filters you wish to have, lighting, or even how loud you want it to be. 
Although these details are minor, something as small as this might make a significant difference within your living environment. 
1. CFM
CFM is important because it measures the total airflow through the vent hood or other systems like an air purifier. 
If you have a higher CFM, then the airflow moves more. However, the less air input you will have with a lower CFM.
There are also a few things to consider when purchasing a range hood with a high or low CFM. 
These instances include how often you cook, how large your stovetop is, and if the stovetop is gas or electric.
For example, purchasing a range hood with a higher CFM is wise if you cook a lot, especially fried food. However, if you are not a heavy-duty cooker, you will not need much airflow.
2. Type of Filters
A filter is essential with a range hood for those who do not know. It catches all of that grease and random tiny food pieces that go up to your hood. 
There are a couple of filters to consider when choosing your range hood. 
In some cases, a ventilation hood comes with a replaceable charcoal filter, and other times, you can get a range hood that can quickly go straight into the dishwasher. 
In this case, it makes you have a much easier cleaning system. So, let us go over the few options you need to consider. 
Charcoal Filters 
If you have a ductless range hood, choosing a charcoal filter is an excellent option for you. You can use these filters most of the time to convert a ducted range hood to a ductless range hood. 
Charcoal filters are made from a carbon-based material, and you will need to replace them every few months due to constantly catching out grease, smoke, and steam. 
If you cook every day or do not have a lot of heavy-duty cooking, then charcoal filters will work great for you. However, we enter our next type, the baffle filter for those who cook more often than not.
Baffle Filters
Baffle filters are typically made from stainless steel, meaning they are effortless to clean and manage with a bit of soap and water. 
These filters grab a lot of greases, smoke, and steam from within your home and lead it outside. They are the perfect option for a heavy-duty cooker. 
Baffle filters have little groves, making it extremely easy to catch dripping grease, so they will not fall back into your food, making it more sanitary. 
In most cases, they are dishwasher safe, so you can efficiently run them through the dishwasher if you do not feel like scrubbing anything down if it gets to be too much. 
Battle filter material is durable, so you do not need to replace them as often as charcoal filters.
3. What Lighting Fits Your Needs
What do you have if you do not have good LED lights with your range hood? Having an excellent lighting system is essential because you need to see what you cook.
For example, if the range hood you have currently only uses one light that is just enough to see, you might want a better option for the range hood you choose. 
In that case, find one with at least two good lights that come with the hood.
Another feature you might want to consider is a night-light option. If you despise walking around with absolutely no light on, find a range hood that comes with a night light. Plus, it will help you see that one baby or dog toy that randomly gets in the kitchen from time to time. 
4. Sound
One good thing you need to ask yourself is how loud you wish your ventilation hood to be. Do you want it to sound like a normal conversation or something where you cannot even hear yourself think? 
If you have ever been in a bathroom or kitchen where the fan sounds like a lawnmower, you know what we are talking about. 
However, one thing to be aware of is the higher the CFM you have, the lower the range hood will be because of the air output. 
So you essentially have to ask yourself if you want a quieter and less powerful hood or one that is a bit louder and more powerful? For those who like white noise, this should be a no-brainer. 
Another indicator of how loud your island range hood would be is the location of the blower. Typically, there are three types of blowers available:
External: Which you can find on the outside of the roof.
Inline: Where you can find inside the ductwork.
Local blower: Where the fan is inside the hood. 
If you have a stovetop that requires more CFM but less noise, go with the external and inline blowers located away from your range hood. In return, it is a much quieter option. 
5. The Budget You Have in Mind
When choosing anything you will use for a relatively long time, what is your budget?
If you purchase a range hood for $50 and it winds up breaking on you within a few months to a year, then the saying that you get what you paid for comes to mind.
However, for those who wish to find a range hood that will last them for years to come, find one that will not break so quickly and has good-quality materials instead of something made from heat-resistant plastic. 
Truthfully, it all boils down to if you wish to spend a little extra money now and not have to worry about an additional purchase and re-installation later.
6. Warranties
Some island range hoods come with a warranty that can help you if something ever goes wrong in that limited period. You will only get a 1-year contract in some cases while others come with a 5-year warranty. 
However, some homeowners may not want to make that extra investment, so it depends on your budget and if you genuinely want it. 
7. Ducted vs. Ductless Range Hood
Finally, the last thing for you to consider is if you wish to have a ducted or ductless range hood. 
Ductless Range Hood
If you want to go with a ductless option, they are less hassle to put together. 
You would not have to deal with venting it, and you essentially put it into place and be done with it. A ductless range hood recycles the poor air through the filter and brings out better air quality.
The main downfall with this is that you'll have to change the filter every so often to ensure the air quality within your home remains clean. 
Vented Range Hood
Although a vented hood requires more work from the get-go, it is ideal for those who do a lot of heavy-duty cooking. It works by pushing the poor air up in the vent and putting it outside, leaving you with fresh, clean air. 
You also do not have to deal with replacing the air filters. As mentioned above, vented range hoods come with baffle filters that you can clean with soap and water or place in the dishwasher. 
With that being said, it is best to find out what works for you and your lifestyle needs before deciding on a ducted or ductless island range hood. 
Frequently Asked Questions
1. Is it Better to Have a Stove or Sink in a Kitchen Island?
Suppose you like entertaining many guests, and your kitchen island faces the living room area. 
You will want to have the stove on the island while you cook instead of facing the other direction where you cannot see anyone. Once your guests leave, it does not matter how the kitchen sink faces. 
Another indicator is if you have children who spend most of their time in the living room. 
Having a toddler who requires a lot of attention can drain you, so being able to see what they are doing while you make dinner is essential. 
Lastly, a kitchen island is the centerpiece of your home. If you have a sink there, then much clutter builds up, and it looks unsightly, so always put a stove on the island if this is what you wish to do. 
2. How Much Does it Cost to Install an Island Range Hood?
If you were to get a professional to install your island range hood, the average cost would be roughly $300 to $500. It takes about 1.5 to 3 hours for smaller models and 3 to 4 hours for larger models. 
However, you can install the island range hood yourself if you wish to save money and go that route, but make sure to have someone else help you.
Conclusion
There are many excellent island range hoods listed above, and we are more than confident that we have provided enough information to help you find the perfect one for you!