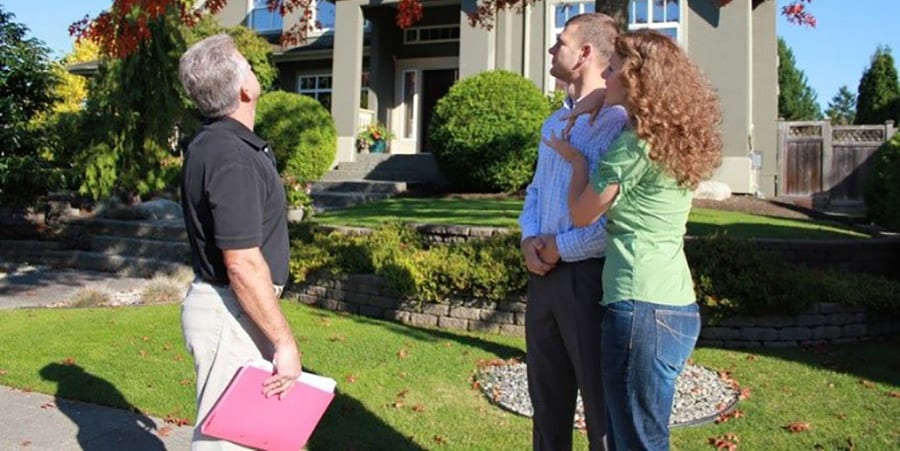 According to the American Society of Home Inspectors (ASHI), nearly 84% of all home buyers will hire a home inspector as part of their home purchase. As a home inspector by trade for 17 years, I get asked all the time whether the buyer or seller should pay for the home inspection fee. Let's explore this question in more detail.
Who pays the home inspection fee? In a typical real estate purchase transaction, the home buyer pays the home inspection fee. The home inspection fee can average between $350-$500. Once the seller accepts the purchase offer, the home buyer has a contingency period to have the home inspected as part of the buyer's due diligence.
Do you need a Licensed Contractor? We can help!
Get a free quote from top-rated, screened, and licensed contractors in your area!
How Much is the Home Inspection Fee?
According to HomeAdvisor, the typical home inspection fee in 2020 ranges from $278 – $391. However, this number is very vague and should be examined deeper.
From my 17 years of experience and conversations with countless veteran home inspectors, most home inspectors do not participate in the HomeAdvisor lead program due to poor conversion rates.
The vast majority of home inspectors that do participate in the HomeAdvisor lead program are inexperienced home inspectors who do not possess a market share in their area and need the leads to generate activity. This usually results to lower home inspection fees, and thus a lower average home inspection fee.
I polled over 100 veteran home inspectors across the United States and concluded that the following home inspection fees are a more accurate average representation:
Square Footage (SF)
Basement/
Crawl Space
Concrete Slab
0-1500 SF
$375
$325
1501-2000 SF
$425
$375
2001-2500 SF
$475
$425
2501-3000 SF
$525
$475
These home inspection fees represent an average rounded to the nearest $5 numeral of home inspectors in business for 2 or more years.
Most homes in the US will fall under 2000 heated square feet. Based on this data, the average home inspection fee approximately $375 for homes under 2000 square feet.
Home inspection fees will vary by location and in some markets can be as much as $50-$100 higher than average. Home inspection fees also do not include ancillary inspection fees such as radon testing, mold testing, swimming pools, termite inspections, etc.
Beware of home inspectors offering $199 home inspections. Most of these are scams or provide a very limited home inspection that often doesn't meet the NACHI Standards of Practice.
Always ask your home inspector for a copy of their state license and association credentials (not all states have home inspector licensing), business references, and check online reviews such as Google My Business.
What Happens After the Buyer's Offer is Accepted
We all know that no two real estate transactions are alike. There are situations where a seller will offer to pay for the home inspection fee as part of the negotiations to secure the sale of the home.
To determine who covers the home inspection fee, we need to look deeper into the real estate purchase transaction to examine some of the factors that influence the negotiations. Let's explore some scenarios that affect the real estate transaction.
In most cases, the buyer's offer is made contingent on a home inspection. This contingency period allows ten days (in most states) to have the home inspected to verify there are no significant material defects that were not disclosed up front.
The home buyer hires the home inspector, and thus it's generally the buyer's responsible for paying for the home inspector's fee. The home inspection fee is usually paid up front either before or on the day of the home inspection.
The home inspector's job is to examine the following areas of the home:
Structure including foundation, attic, crawl space, or basement.
Roof including roof coverings, gutters, eaves, and chimneys
Exterior including site grading, vegetation, siding, doors, and windows
Interior including walls, flooring, doors, and other finished surfaces
Electrical including wiring, lights, meter box, panel boxes, outlets and switches
Plumbing including supply and waste piping, water heater, and plumbing fixtures
HVAC systems including heating and air conditioning units and ductwork
Hazards including the presence of potential health and safety concerns
The goal of the home inspection is to verify that the home is free of structural material defects and that the home's systems are in good working order and no health or safety issues.
The typical home inspection fee is $325, but this fee can vary widely depending on the home's age, square footage, and foundation type. A 1500 square foot house on a slab foundation less than ten years old may cost $300 whereas a 4000 square foot house on a crawl space that is 50 years old may cost $550.
Other factors that can affect the home inspection fee include if the property has detached structures, pools, well systems, or septic systems. Other services, such as radon or mold testing, also affect the home inspection fee.
Is the Home Inspection Fee Included in the Closing Costs?
The expenses and fees associated with buying a home are referred to as closing costs. These are fees charged by the lender or other third parties for services rendered. The buyer or seller generally pay the home inspection fee up front because it is not a lender requirement unless the appraiser notes structural damage. Home inspections are a part of the home buyer's due diligence.
This doesn't mean they are never included in the closing costs. Sometimes, depending on the type of financing, lenders will allow buyers to roll all fees together and pay a lump sum down at closing. An excellent example of this is with a VA or FHA loan.
This list outlines some of the typical costs and when they are due.
Mortgage application fees or loan origination fees – These are the fees that the lender charges to underwrite the loan. These fees are generally paid at closing or financed into the note.
CL100 Report, also known as the Wood Destroying Insect Inspection fee – Lenders require a CL100 or wood destroying insect inspection report to verify the home is free of wood destroying insects. This inspection fee is mandatory and is generally paid from the seller's proceeds at closing.
Fees for a survey, title search, and recording fees – These fees are paid by either the seller or buyer and at closing.
Brokerage commission – This is the commission paid to the real estate brokers handling the sales transaction. There is generally a buyer's agent and a seller's agent who split the commission.
Property insurance – Paid to the insurance company to write the insurance policy for the property. This fee is paid for by the home buyer.
Property taxes – This is the property taxes paid to the city or county the property is located. This amount is typically prorated and has to be calculated before closing.
Lender Buy Down Points -This is a lender fee charged to reduce the interest rate through the life of the loan. One point is equal to one percent of the loan amount.
Knowing Your Economic Housing Market Conditions
In a stable real estate market, the home inventory available for sale, and the number of possible qualified home buyers are relatively equal. In this market environment, negotiations rule the real estate deal. When a buyer finds a house, they love and submit an offer to purchase, the real estate agent will make the offer "contingent on the home inspection" allowing them time to hire a home inspector and get the home inspected.
However, during certain economic market conditions, sellers and buyers can negotiate the home price as well as other items like inspection fees, appraisal fees, and closing costs. We need to examine these economic conditions and how they influence who has to pay for the home inspection fee.
Buying a Home in a Seller's Market
In a seller's market, the demand for houses exceeds supply. This means that more buyers are seeking to purchase a home than there are available homes for sale in the market place. This is often termed a "hot" market with many homes selling in less than 30 days and some cases less than a week. This often leads to a seller receiving multiple offers from qualified buyers interested in a single house, resulting in bidding wars where a home buyer will pay thousands of dollars over list price for the house.
A seller, in this scenario, holds all of the leverage and often gives up very little in negotiations. In some instances, a home buyer will even offer to waive their right to a home inspection if they fear the house may sell to another buyer and can lead to the buyer accepting the home "as is" indicated on the seller's disclosure.
The danger of accepting the home "as is" is that the buyer assumes the house and any potential problems the home may have. If there are hidden defects, the buyer was not aware of; the buyer has no recourse to go back to the seller and ask for repairs.
Selling a Home in a Buyer's Market
In a buyer's market, the demand for qualified buyers exceeds the supply of housing inventory. There are more houses in the market available for sale then there are possible qualified buyers to purchase them, which can lead to sellers offering homes at deep discounts if a qualified buyer is interested in their home.
Buyers hold a significant advantage during negotiations. A seller who needs to sell their home quickly will often time offer to cover all of the buyers closing costs, including inspection fees to secure the sale and keep from losing a qualified buyer.
When a seller offers to pay the home inspection fee, they assume many risks. If the buyer's home inspector discovers a significant defect during the inspection, the seller would need to cover the cost of the inspection fee and the value of the repair or risk losing the qualified buyer.
Related Questions
Can you negotiate repairs after the home inspection? After a completed home inspection, your real estate agent will sit down with you to review the inspection report and draft a repair addendum to help you negotiate home inspection repairs. In most states, some items revealed inside the inspection report that was not on the property disclosure may be negotiated or repaired. You should seek counsel from a licensed real estate broker because this can vary state to state. Cosmetic items are not necessary repairs.
Can a buyer walk away after a home inspection? For a buyer to walk away after the home inspection and receive their escrow money refunded to them, the home inspector would've needed to identify a material defect in the home that the seller is unwilling to repair. If the buyer walks away without allowing the seller to correct the repair, the buyer risks forfeiting part or all of the escrow money deposit. This depends a lot on how the home inspection contingency is drafted.
Do sellers have to fix everything on the home inspection report? In most states, if a home inspection report reveals a material defect not listed in the property disclosure, repair may be required. These repairs include items such as structural damage, wood rot, a leaky roof, plumbing leaks, electrical defects, and mechanical defects. If a buyer may sign an "as is" purchase offer, the home inspection findings are mainly for the buyer's information only.
HomeInspectionInsider.com is owned and operated by Hubert Miles is a participant in the Amazon Services LLC Associates Program, an affiliate advertising program designed to provide a means for sites to earn advertising fees by advertising and linking to Amazon.com. HomeInspectionInsider.com also participates in affiliate programs with other affiliate sites. Hubert Miles is compensated for referring traffic and business to these companies.
Recent Content