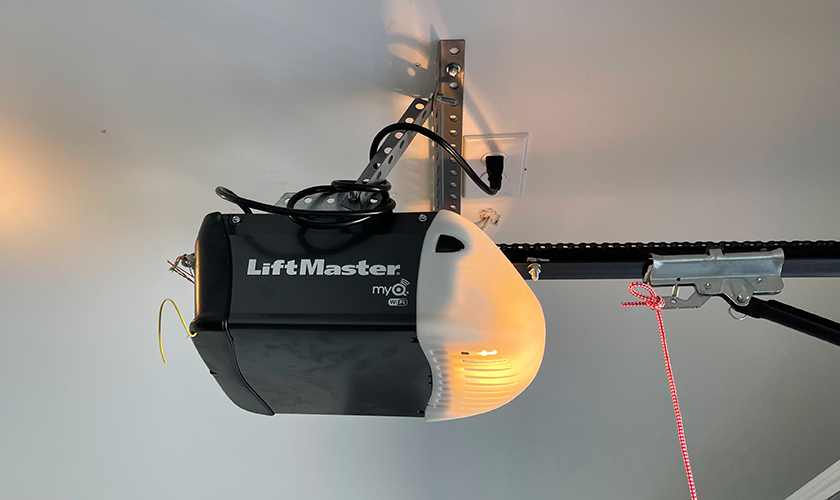 For years, the options for residential garage door openers have been limited. Because of these limited options, homeowners gave little thought to the type of garage door opener they owned. Homeowners now have more options than ever before when shopping for a new garage door opener. Let's look at some of the best garage door openers.
When choosing an automatic garage door opener, you will also need to decide on the opening speed and horsepower. The opening speed is the amount of time it takes for the garage door to open fully. The horsepower is the strength of the motor. A higher horsepower (1.0 HP motor or better) will be able to easily lift a heavier garage door.
Here are the different types of garage door openers:
Chain drive openers – are the most popular choice and use a metal chain to move the garage door.
Belt drive openers – are quieter than chain driven models but more expensive.
Screw drive openers – have a lifting device that moves along a threaded steel rod.
Wall Mount openers – aka jackshaft garage door openers that are great for garages with low ceilings.
Direct drive openers – have a garage door opener that is one piece and mounts directly to the garage ceiling.
Some models have smart features like wifi, classifying them as smart garage openers.
Over my years as a home inspector, I've operated thousands of garage doors and have seen each type in operation. We see more chain drive models than all the other models combined, which is largely because of their affordability.
Overall, the most popular are chain and belt drive openers. They are more affordable and now have improved DC power for quiet operation even when lifting heavy garage doors.
Below are some of the best options available on the market today. Take your time to read through and find the best garage opening solution for your specific needs.
Since the emergence of automated garage door openers, people have had three types to choose from chain-drive models, belt-drive models, and screw-driven models.
However, innovation has struck this industry, bringing about new door opener types like direct-drive models and jackshaft openers. With advancements in technology, models in all five classes have wifi and smartphone control options and can be considered smart garage door openers.
Chain Drive Garage Door Opener
Chain drive garage door openers are the first and oldest type of garage door opener. Chain-drive models use a metal chain that is driven by an alternate current (AC) motor. The chain pushes or pulls a trolley that connects to the garage door via a metal bar known as a J-arm.
The chain-driven model is perfect for industrial buildings, detached home garages, or any place where noise and vibration won't be an issue. These models feature a simplistic wall control unit with open/close buttons and, maybe, a light switch if the unit has lighting.
However, chain-drive models have stepped up their models with quieter DC motors and soft start and stop technology for quieter performance than AC models.
If you presently have an old jerky chain-drive model, you can upgrade to a smoother operating DC-powered chain-drive model.
Our Best in Class Pick: Chain Drive Openers
Genie 2033-LED Chain Glide Connect with LED lighting smart garage door opener – has a super quiet 1/2 HP DC motor. The precision machined motor and gearbox are maintenance-free and backed by a 10-Year Limited Warranty on the Motor and Gearbox, 5 Years on the Chain, and 1 Year on Parts & Accessories.
This garage door opener features LED lights and Aladdin Connect Wifi Smart Garage System allowing you to control your garage door with your smartphone from anywhere, all for under $190.00. You can purchase the ChainDrive 550 model for about $165.00.
Belt Drive Garage Door Opener
Belt drive garage door openers are similar to the chain drive openers in terms of the whole trolley and J-arm functionality. The significant difference is that, instead of a chain, a belt drive system to lift the garage door. The belt material varies from brand to brand. They are usually made of polyurethane, fiberglass, or a type of steel-reinforced rubber.
A belt drive opener is about $45 higher in price on average compared to chain drive openers. However, the belt drive models are slightly quieter than the chain drive models because of the smooth belt operation.
Our Best in Class Pick: Belt-Drive Openers
Chamberlain is a leading garage door opener manufacturer based in North America that is known for its high quality and dependability.
Chamberlain B1381T Smart Garage Door Opener – Look at your garage in a new light with corner-to-corner lighting and smart garage opener features 3, 100-lumen LED lights to illuminate your entire space. MyQ Connect enables you to open and close your garage door from anywhere via the myQ App.
The powerful 1.25 HPS motor offers the greatest lifting force in the industry for effortless lifting and dependable performance. If the electricity goes out, you can keep your garage door operating with the battery backup.
The steel-reinforced belt drive and constructed with high-grade materials for years of reliability and quiet, smooth performance—ideal for connected garages. Compatible with a 7-foot garage door. An extension kit is available for larger 8 and 10 foot doors.
The main drawback is the pieced rail assembly which is not as strong and requires for more maintenance than a one-piece rail assembly. Many professional contractors and installer may opt to switch out the pieced rail assembly with a one-piece assembly.
The opener is also not compatible with the LiftMaster deadbolt locking system.
Other than that, the Chamberlain opener is a good option offering a history of reliable performance and top-notch customer service.
Genie StealthDrive Connect Model 7155-TKV Smartphone-Controlled Ultra-Quiet Strong Belt Drive Garage Door Opener – Theis belt-drive garage door opener features a strong and super-quiet 1-1/4 HPC DC Motor with a steel-reinforced belt drive. It features built-in Aladdin Connect technology that allows you to operate your garage door from anywhere with your smartphone.
This garage door opener features a limited lifetime motor warranty, a 1-year warranty on accessories, a limited lifetime belt warranty, and a 5-year parts warranty for under $200.00.
Screw Drive Garage Door Opener
Screw drive garage door openers are the third of the traditional garage door openers. In this model, the trolley is sat atop a rotating steel rod. The bottom of the trolley and the top of the rod are threaded so they can interlock. A motor rotates the rod to either lift or lower the door.
These are a great pick because, on average, they open faster than the chain or belt models. Another advantage is that they have fewer moving parts than most other door openers, which, according to manufacturers, reduces the likelihood of mechanical failure.
Some manufacturers are discontining screw drive openers, so the future may be bleek.
For example, LiftMaster stopped manufacturing screw drive openers with the immovation of DC motors and belt drive models. The screw drive openers were more controlled and smooth when opening, but they needed lithium lubrication every winter. Most homeowners don't bother with their garage door openers until they stop working.
Our Best in Class Pick: Screw Drive Openers
MachForce 2 HPC Premium Garage Door Opener Exclusive Screw Drive- Aladdin Connect Smart Home w/ Alexa & Google Assistant – has a super quiet 2 HPC DC motor for the ultimate combination of speed and power. This makes this model twice as fast as a chain or belt drive model.
This garage door opener features LED lights (bulbs sold separately) and Aladdin Connect Wifi Smart Garage System allowing you to control your garage door with your smartphone from anywhere. The MachForce is backed by a limited lifetime warranty on drive components. This model runs just under $250.00.
Wall Mount Garage Door Opener
Next comes the jackshaft opener. The unique thing about these is that they are mounted on the wall next to the garage door. They run on a 24-volt DC motor. One thing to note is that the jackshaft opener only works on garage doors that use torsion spring systems. 
The motor drives several cables and pulleys to turn the torsion bar and open the door. To close, the motor loosens the tension on the cable. Unlike the types mentioned above, the jackshaft opener saves ceiling space thanks to where it is placed. Another advantage of these door openers is how quiet they are. This makes them perfect for garage doors that are close to living spaces or bedrooms.
Jackshafts are not without drawbacks, though. The main problem is that they are expensive, especially when compared to most other garage door openers.
Our Best in Class Pick: Wall Mount Openers
Chamberlain Smart Garage Door Opener – Wall Mounted with Battery Backup – The wall mount design frees up ceiling space for extra storage, light fixtures, ceiling fans and more.
The opener operates smoothly and quietly, virtually eliminating noise and vibration into living spaces. You can monitor and control your garage from anywhere with built-in Wi-Fi and the myQ App.
The Automatic Garage Door Lock deadbolts your garage door every time it closes, providing extra security. And if there's a power outage, the opener has backup battery power to keep the garage door operating.
LIFTMASTER 8500W 2-893MAX remotes JACKSHAFT GARAGE DOOR OPENER MYQ ENABLED WIFI AND BATTERY INSTALLED – this jackshaft garage door features a space-saving wall mounting design beside the garage door that does not require an overhead garage door track. It has an ultra-quiet, durable, and powerful p3 motor.
Built-in Wi-Fi allows controlling the garage door easily from anywhere with your smartphone. It has a battery backup system to provide uninterrupted operation even when the power goes out. It also has a bright 1,500 lumens myQ remote LED light built-in. For added security, the Automatic Garage Door Lock will deadbolt the garage door after it closes.
Jackshaft garage doors are pricey but they come with a lifetime warranty on the motor, a 5 year warranty on parts, and a 1 year warranty on the battery and remote control. This model with Wi-Fi and smart home capabilities costs just under $570. However, models without Wi-Fi are available starting at around $400.00.
Direct Drive Garage Door Opener
Direct drive openers are the next type of garage door opener we'll be taking a look at. These uber-quiet openers are designed and manufactured in Germany, and classic Deutsche efficiency flexes its muscles yet again.
Direct-drive openers are unbelievably quiet, and many people in the industry laud them as the quietest of all garage door openers because the motor is the only moving part. In these units, the motor itself moves along an overhead metal rail to either open or close the door, attached to the motor via a J-arm.
Our Best in Class Pick: Direct Drive Openers
SOMMER Durable and Secure Direct Drive Garage Door Opener – This German-made direct-drive garage door opener is extremely quiet and strong, and nearly vibration-free. It has a 3/4 to 1-1/4 HP DC-powered motor that features a lifetime warranty and includes a full installation kit to fit both 7 ft. and 8 ft. doors.
It also features Secure Rolling Code Technology and is compatible with Home Link. While Wi-Fi operation is not included, it can be added through aftermarket smart home controllers. The opener now features LED technology.
The Sommer Direct-Drive garage door opener can be purchased for around $270.00
Speaking of garage doors, we've put together an article on garage door maintenance.
Smart Garage Door Openers
We've been writing about Wi-Fi Enabled garage door openers throughout this article thus far. It is important to note that this is not a separate classification, as all types of garage door openers can also be smart door openers. 
Smart openers are great because you have remote access. Thanks to the built-in cameras, you can usually monitor the system (and your garage) from anywhere with an internet connection. If you have a smart home hub, Alexa, Google Assist, etc., you can get your smart garage doors to link to it. This allows you to open or close your garage with other devices on your home network.
That said, we'd be remiss if we didn't mention one standout in the smart garage door market.
Our Best in Class Pick: Smart Garage Openers
The Sentry – BU400 – WiFi Garage Door Opener, Smart Home Garage Opener – this smart home garage opener is a chain-drive opener with a smooth and reliable 3/4 HP DC motor. The opener is designed for 7 ft high doors but can accommodate 8 ft to 10 ft doors with an extension kit.
These garage door openers are designed with safety and security in mind. From your smartphone, you can control all aspects of the garage door opener including the 3000 lumens motion-activated LED security lighting. It's also easy to set up and includes step-by-step instructions, manuals, video tutorials, and telephone tech support.
One drawback versus some of the other models we have featured is that the motor is slightly smaller. However, it's still powerful and features a lifetime warranty on the motor and chain, a 5-year warranty on parts, and a 2-year warranty on accessories making this model a bargain at just under $235.00.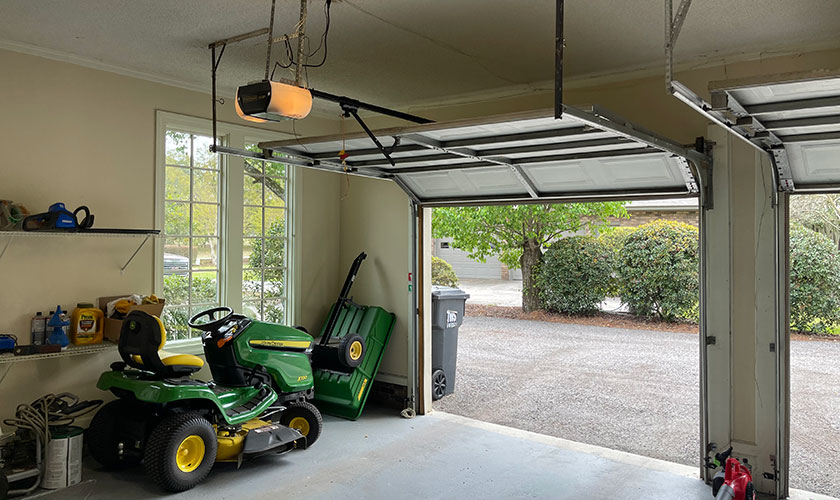 Frequently Asked Questions
How Much Does a Garage Door Opener Cost?
Prices for garage door openers can range from $100 to $600 not including labor costs. A simple chain drive opener can cost as little as $100 to $175. Whereas, for a wall mount opener you'll pay $400 to $600 of more plus labor.
More expensive models tend to be more durable and have a wide range of accessories. When choosing a garage door opener, it's important to consider your budget and needs.
Which Type of Garage Door Opener is Best?
There is no one-size-fits-all answer to this question. The best garage door opener for you will depend on your budget and needs. For example, chain drive openers are the most popular but belt drive openers are quieter. If you have a small garage, a wall mount opener might be a good option for you.
Ultimately, the best garage door opener is the one that works when you need it too. Some important features to consider is the motor's horsepower, quiet operation, wireless keypad or smartphone control, and battery back-up in the event of a power failure (now required in California).
Which is Better Belt or Chain Drive Garage Door Opener?
Belt garage door openers are more expensive than chain garage door openers, but they're also quieter smoother. If noise is a concern for you, a belt garage door opener might be the best option.
How Much Does it Cost to Install a Garage Door Remote?
Most manufacturers provide two garage door remotes with new garage door openers sold today. Additional remotes can be purchased from the manufacturer if needed. If you need to replace your garage door remote, it can range from $15 to $50, with the average cost about $25.
Garage door openers cost anything from $218 to $511, with the national average at $356. You may operate and close your garage door from the safety of your automobile using a remote control button. Garage door openers are convenient, but they also provide security, protection, and peace of mind.
Is it Hard to Replace a Garage Door Opener?
Installing a garage door opener can take four to six hours for a professional and six to eight hours for a DIY project. Garage door opener installation is a difficult task that necessitates an understanding of garage door opener components and how they function together.
Some electrical knowledge is also required for garage door opener installation, particularly if a power source does not already exist. We recommend that you have a friend to help as lifting and installing the rail and opener can be cumbersome.
How Long Does it Take a Professional to Install a Garage Door Opener?
Installing a new opener will take around four to six hours, depending on the complexity of the task and whether the contractor has a helper present. The installation of a garage door opener is a time-consuming procedure that necessitates knowledge of garage door opener components and how they function together. Garage door opener installation also necessitates some electrical expertise.
If the professional contractor has to install an electrical outlet to plug the opener into, additional time may be needed. Installing a wall mount push button will also take about an hour or more. Installing the auto-reverse motion sensors will also take about an hour to complete.
How Long Will a Garage Door Opener Last?
A garage door opener should last about 15 years. Because a garage door opener is a complex piece of equipment, parts will wear down and need to be replaced over time. Garage door openers are also prone to deterioration from the elements and weather. If you maintain your garage door, springs, and rails will help your garage door opener last longer.