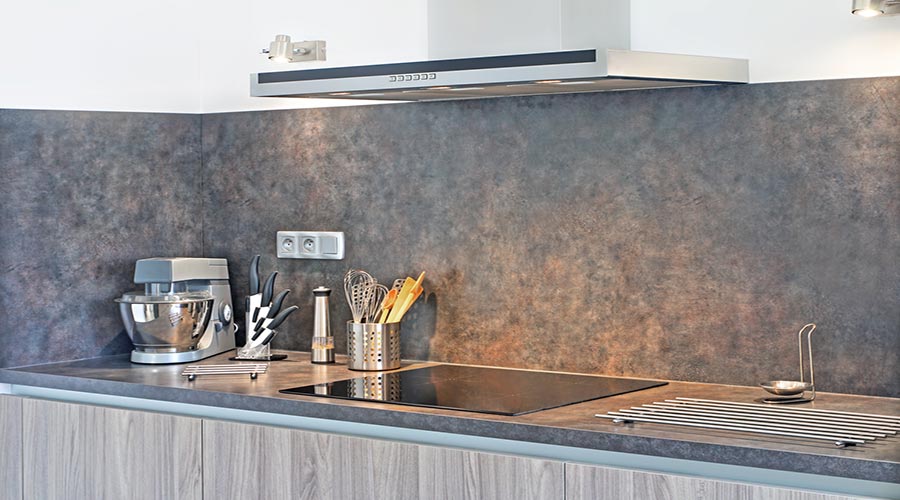 Whether you don't have room for a ducted system or don't like the look of one, ductless range hoods are on the rise. These range hoods are easier to maintain, install, and operate similarly to vented range hoods. However, purchasing the right range hood for your needs is important, especially if you opt for a recirculating hood. 
When choosing the best ductless range hood for your home or business, there are several factors to consider. It's also important to remember that the best range hood for someone else might not be the best one for you. 
If you're worried about how to choose the best ductless range hood, you've come to the right place. In this article, we'll break down how to make your choice, list the top range hoods on the market, and help you determine whether or not a ventless range hood is right for you. Let's get cooking! 
How We Evaluated Ductless Range Hoods
My home inspection business tests hundreds of range hoods each month. For this article, we tested and reviewed 20+ range hood brands, vetted over 25,673 customer reviews, and data from trustworthy services like Consumer Reports. 
In selecting our top picks, we consider brand quality, durability, CFM ratings, sone ratings, features, and pricing. When selecting products to test and recommend, we choose products with at least a 4 out of 5-star rating and at least 100 customer reviews. We also sifted products by those with at least 75% of reviews that have a four or five-star rating. 
How Does a Ductless Range Hood Work? 
The two basic types of range hoods are ductless ones and vented ones. Ducted range hoods draw polluted air and odors from inside your home and through a vent pipe to the outside. Polluted air includes smoke, smog, grease, fat, and other particles generated in the kitchen that contaminate the air. These are best at improving indoor air quality.
Rather than carrying the air inside your home to the outside, recirculating range hoods purify the air through a different method. They have a carbon or charcoal filter that traps and removes contaminants from the air as it passes through the filter. This range hood has a fan that sucks air through the filter, which purifies it before the clean air gets "recirculated" back into the kitchen. 
Because a duct-free range hood cleans the air and recirculates it back into your home, some say it isn't as effective as vented range hoods. However, critics of ducted model hoods say removing conditioned air inside your home is inefficient. With avid lovers and haters on both sides of the aisle, it's tough to know which recirculating hood is right your you. 
How to Choose the Right Type of Range Hood
Contrary to what critics say, ductless range hoods do indeed work. They operate the same way your furnace and HVAC system does, passing air through a purifying filter before redistributing it into your home. However, ductless models aren't as effective at removing contaminants as ducted range hoods. 
To help you make your range hood decision, let's look at how to choose between a vented hood and a recirculating one. We'll also look at what type of ventless range hood is right for you. 
Efficiency and Eco Friendly 
In terms of efficiency and eco-friendliness, there's no doubt that recirculating or ventless range hoods are the winner. Because vented range hoods are taking conditioned air inside your home and carrying it outside, your HVAC system will have to work overtime to keep up. Remember that the air your hood removes, or filters is contaminated and dirty. 
Ventless range hoods don't require much electrical power to operate, making them very efficient. The carbon and charcoal filters are durable and reusable for up to three or four months, or even longer if you don't cook often. 
Versatile and Mobile 
Because recirculating range hoods don't have any pipes or attachments connected to them, they can be anywhere in your kitchen. This makes them much more mobile and versatile than vented range hoods. Vented hoods have a pipe or duct connected to the back or top that needs to run outside your home. 
Because of this extra accessory, vented range hoods typically take up more space than ventless ones. You will also have to position your vented range hood against a wall so that your vent pipe has somewhere to go and doesn't stick out like a sore thumb. 
The Amount of Cooking You Do
Another important consideration is the amount of cooking and baking you do. A ductless unit will suffice if you only cook occasionally, such as several times a week or month. Even if you cook often, you can get by with one if you maintain it and change the filter frequently. 
The Type of Cooking You Do
Just as the amount of cooking you do plays a role, the type of cooking you do also plays a role. The more grease, fat, smoke, and nastiness you produce, the more likely you'll need a vented range hood. However, as we said before, as long as you maintain and clean your hood and change out your filter, you can do almost anything with a recirculating range hood. 
Asian dishes, bacon, fajitas, and other dishes that use a lot of oil and produce a ton of smoke are the most damaging to a recirculating range hood. They may sometimes have trouble keeping up unless you invest in a quality one. 
The Type of Stove You Have
One of the biggest fears is whether or not their ventless range hood will work with a gas stove. Whether natural or propane, gas produces carbon monoxide and is deadly in large doses. However, if you're cautious and enlist a few other preventative measures, you can certainly operate a gas stove with a recirculating range hood. 
It's important to note that the filters in ventless range hoods cannot remove carbon monoxide. As a result, you would do well to open a kitchen window or have another form of ventilation to get carbon monoxide out of your house. 
Our Favorite Ductless Range Hoods 
If you're satisfied that a ductless range hood is right for you, let's dive into the top options. We'll look at the best recirculating range hoods for every occasion and situation that can accommodate your kitchen needs. 
Under Cabinet Ductless Range Hoods
Broan-NuTone BCSQ130SS Three-Speed Glacier Under-Cabinet Range Hood with LED Lights
We like the Broan-NuTone BCSQ130SS Three-Speed Glacier ductless range hood 30 inch as our top pick. It's an ideal size for most stoves and easy on the wallet.
The system has a MAX 375 CFM rating and a quiet 5.5 sones sound level. Most ductless hoods have a 6.5 or greater sone level on a maximum setting.
This vent has a rating of 97.4% for quickly removing smoke and cooking odors from the air, so if you don't mind some noise, this stainless steel model is for you. It comes with a 3-speed push button for easy adjustments.
The dual-sided, one-piece filter is dishwasher safe so that you can have an easy cleanup. Additionally, the function of the filter isn't compromised by placing it in the dishwasher.
If you're a fan of LED illumination, the stove will be right up your alley. It lights up your kitchen area with this function, which is great. You may simply use it by pressing a button to save time and effort.
The Broan-NuTone can be installed in four ways to make sure it fits your home:
3.25″ x 10″ vertical or horizontal ducting with a damper.
7″ round vertical ducting (with the damper sold separately.)
Non-ducted with the air recirculation (with the filter sold separately.)
CIARRA Ductless Range Hood 30-inch Under Cabinet Hood Vent
At only 3.94 inches tall, this range hood is slim and fits under cabinets well. It doesn't take up a lot of space, so it's good for small kitchens or apartments.
This vent hood is easy to use. It has a mechanical push button for convenient control. You can quickly control the suction power, lights, and three fan speeds by pushing a button. The hood is quiet and operates at a sound level of 6.5 Sones or less when set at the highest speed.
There are three speeds for this kitchen ventilation fan. Low-speed is best for air ventilation with barely any noise. Medium-speed is good for your everyday cooking purpose. High speed is great for stir-fry or cooking with lots of smoke and grease.
Our vent hood is energy efficient and cost-saving. It has LED lights that last more than 20000 hours. The light will help you see better when you are cooking.
This range hood has superior filtration. The mesh filters trap cooking grease and oil easily, preventing smells and odors from spreading in your kitchen. The slim range hood with 5-layer aluminum mesh filters can filter the grease from cooking. This will help keep your kitchen ventilated and efficient.
The kitchen exhaust hood can be converted to ductless mode. This requires the optional purchase of the carbon filter kit.
CIARRA ductless range hoods come with a 2-year limited warranty against any defects.
This very thin, elegant hood looks fantastic over the cooktop. The system is powered by a three-prong grounded plug, which may be removed and terminated to Romex as needed.
LEDs are also great for illumination; they're bright and vibrant, yet they make it more difficult to change if there's an issue, if you want to go a bit brighter or dimmer, or alter the temperature of the light. The three fan speeds are excellent, and the switch is far simple to operate.
Installation is easy for a DIYer. The 30″ hood fit perfectly, and we had an outlet in the cabinet where it connected, making installation a lot easier.
Cosmo 5MU30 Ductless Range Hood – Best for Small Spaces 
If you live in a condo, apartment, or house with a smaller kitchen, you'll need a ductless vent hood to accommodate your living situation. The Cosmo 5MU30 ductless range hood fits the bill. This range hood is a convertible range hood that you can use as a vented or ventless one. 
Despite its small size, the Cosmo 5MU30 has three fan speeds to choose from and will take care of nearly all your cooking messes. It's also on the cheaper side of things in comparison to similar ductless range hoods on the market. Cosmo is one of the leading names in ductless range hoods, and this model is no exception. 
Pros 
Despite its small size, it has excellent lighting and three fan speeds to take care of most contaminants 
Extremely easy to install and convert to a vented range hood if necessary 
One of the more quiet range hoods on the market 
Considered by many to be the best range hood for small spaces 
Cons
Because it's a convertible range hood, the carbon filter gets sold separately. 
While it's great for small spaces, this range hood will have difficulty keeping up in larger kitchens. 
The carbon filter is sold separately. You can purchase it below.
This filter is not included and needs to be purchased separately. The Cosmo replaceable charcoal filters are not universal. Verify you are ordering the correct filter before you place your order. Replace every six months or more frequently, depending on use. 
Kitchenexus Under Cabinet Black Vent Hood with LED Lighting and Hybrid Stainless Steel Filters
Kitchenexus was created in 2006 by a seasoned range hood maker and aim to provide our clients with beautiful and high-quality convertible range hoods. Their range hoods meet the ETL standard of excellence through rigorous quality control.
Without disturbing your family, eliminate unpleasant scents from your kitchen. The T-16A 30-in. under cabinet stainless steel range hood is outfitted with strong fans and a three-speed push button control panel for removing unwanted scents. With an easy-controlled button panel for full access to all settings, you'll have maximum suction with 300 CFM airflow at your fingertips.
Two front-mounted high-lumen LEDs provide increased visibility. Two hybrid stainless steel baffle filters are supplied to capture grease and oils from entering your kitchen, which is dishwasher safe. The ultra-slim design allows for a wider working area, fitting easily into an old cabinet. The premium brushed stainless steel complements current appliances seamlessly for a contemporary high-end appearance.
The Kitchenexus under the cabinet hood has a 30-inch length, a 14-inch top plate, and a 5.1-inch height. It protrudes out of the 12-inch cabinet to cover a greater suction area.
Select the top outlet or rear outlet for the built-in power cord port. You may adapt the cable to your specific requirements. The three venting choices for a range hood are as follows: back rectangle vent, top rectangle vent, and ductless installation.
The hood's slim design is complemented by durable stainless steel with a modern touch screen control. It's the ideal option for replacing 30-inch under cabinet hoods.
The high-performance design is ultra-quiet, with a sleek technological touch panel for complete access to all settings. With year-round energy savings, high-lumen LEDs ensure excellent visibility.
The ductless range hood's new Hybrid baffle filters are made of high-quality stainless steel baffle and mesh to efficiently trap grease and food odors while keeping the air clean; the stainless steel filters are simple to swap out and maintain, as well as being dishwasher-safe and long-lasting.
The product is excellent and easy to install, especially for the price.
The lights are very bright and useful when baking, but I wish they had two settings or could be dimmed for use as a nightlight. The exhaust fan performs effectively, although it is noisy like most hood fans.
Broan 413004 30 Inch Under Cabinet Range Hood
Broan is one of the most popular names in the world of range hoods. They produce many high-quality and affordable vented and ventless options. Users love the Broan 413004 Under Cabinet Range Hood for its great lighting features and because it's extremely quiet.
Lighting, in particular, is one of the most important and underrated features with range hoods. Because of where most exhaust hoods are installed, they illuminate the cooking area well. 
This model from Broan is a convertible range hood, meaning that you can use it as either a vented hood or an unvented one. It produces up to 220 CFMs, more than enough for most kitchens. It also comes in stainless steel, perfect for matching the rest of your appliances. 
Pros 
Excellent airflow mixed with silent fan operation 
You can install it as a vented or unvented hood 
Excellent lighting 
Broan has a reputation for being very dependable and for having excellent warranties. 
Lightweight and easy to install 
Very affordable at right around $100
Cons
While it's great for most cooking, big kitchens with large cooking appliances might need something more heavy-duty
Wall Mount Ductless Range Hoods
Winflo W103C30 – One of the Best Overall 
The Winflo W103C30 could easily be at the top of the best recirculating range hoods list. It has everything that most renters and homeowners look for in a ventless hood, including a sleek and elegant design. This range hood almost looks more like a decoration than an actual kitchen appliance, adding to its popularity. 
Winflo is a company that puts quality and customer satisfaction above all else, which means they use excellent materials when developing their range hoods. They're effortless to install and can be done by those who don't want to pay an electrician or HVAC technician. It's also a convertible range hood, which means you can change it to a vented hood if you desire. 
Pros 
It has an output of 400 CFMs, which is plenty for most small to medium-sized kitchens that see moderate to large amounts of cooking 
It offers excellent LED lighting attachments to aid in cooking and cleanup 
Combines an affordable price with high-quality materials 
One of the sleekest and most elegant designs for wall mounted ductless range hoods
Cons
Because it's a convertible range hood, the carbon filters get sold separately 
It's great for small to medium kitchens but not powerful enough to handle larger kitchens
Cosmo 63175 Ductless Range Hood – Best Wall Mounted Option 
When you need a range hood installed on your wall rather than under a cabinet, the Cosmo 63175 is hard to compete with. This range hood is another excellent convertible option that you can switch from vented to ventless if necessary. It's perfect for nearly all residential kitchens ranging from medium to large. 
As you might have noticed, Cosmo is an excellent brand when considering a ductless or ducted range hood. They have a reputation for excellence and strive to live up to that reputation with each product. This product, in particular, is one of their best and most versatile convertibles hoods, thanks to its sleek design and sharp look. 
It comes with a 760 CFM dual motor and excellent lighting options. It is the perfect combination of sleek, stainless steel design and practicality and usefulness. 
Pros 
760 CFM motor is large enough to accommodate most residential kitchens and types of cooking 
Despite its size and heavy motor, this model is surprisingly quiet during operation 
Very easy to clean, maintain, and install 
Sleek modern design for a modern kitchen
Cons
It tends to create some vibrations when it's operating at lower speeds
Because it's convertible, the carbon filter gets sold separately
The carbon filters are sold separately. You can purchase it below
This filter is not included and needs to be purchased separately. Cosmo charcoal filters are not universal. Verify you are ordering the correct filter before you place your order. Replace every six months or more frequently, depending on use. 
Island Ductless Range Hoods
Cosmo 668ICS Island Mounted Range Hood – Best Ductless Island Range Hood
Whether you need an island range hood or like the look of one, the Cosmo 668ICS is one of the best in the business. Island range hoods are becoming popular for their sleek look and the desire for island cooktops or ranges. Cabinets and other appliances often occupy a kitchen's perimeter, leading to the prevalence of island ranges. 
This island-mounted range hood from Cosmo is one of the sleekest and best-looking ductless island range hoods. The Cosmo 668ICS is available as a ducted hood or ductless installation, and you can convert from one to the other if necessary. It can eliminate many odors, steam, smoke, and nasty contaminants that pollute your kitchen air. 
This island range hood is hard to beat in terms of practicality, lighting, efficiency, and design. Chaulk up another point for Cosmo and their successful line of ductless units! 
Pros 
It has enough CFMs and airflow for most residential kitchens 
One of the sleekest designs out of all island range hoods 
It has a three-speed motor that works efficiently to keep your kitchen clean. 
Includes top-notch lighting features to illuminate your kitchen 
It comes in multiple options to accommodate larger kitchens. 
Cons
While it works efficiently and effectively, this model has a reputation for being somewhat noisy. 
Because it is a convertible range hood, the carbon filter gets sold separately.
The carbon filters are sold separately. You can purchase it below.
This filter is not included and needs to be purchased separately. Cosmo charcoal carbon filters are not universal. Verify you are ordering the correct filter before you place your order. Replace every six months or more frequently, depending on use. 
Our Favorite Ductless Range Hood
Our top pick for ductless range hood is the Broan-NuTone BCSQ130SS Three-Speed Glacier Under-Cabinet Range Hood with LED Lights. This affordable ductless hood offers up to 375 CFM and a 5.5 sone rating on the highest fan setting. The hood has a modern stainless steel design and dishwasher-safe filters.
Our runner-up CIARRA Ductless Range Hood 30-inch Under Cabinet Hood Vent offers 200 CFM, comparable to most ductless hoods but in a modern slim design with a 6.5 maximum noise level at the highest speed. The filters are dishwasher-safe.
The COSMO COS-5MU30 30-inch Under Cabinet Range Hood is a ductless hood vent offering 250 CFM and a low 56-decibel noise level in a very affordable yet stylish range hood. This hood has dishwasher-safe stainless steel mesh filters but needs replaceable carbon filters for ductless conversion.
Buying Guide to Choose the Right Recirculating Range Hood
Filters 
The activated charcoal filters in your recirculating range hood are as important as the range hood itself. After all, you're simply transferring dirty air from one place to another without the proper filters.
These filters aren't cleanable; you should replace them every three or four months, depending on how much cooking you do. However, charcoal filters can last upwards of a year if you don't get much use out of your range. 
On the other hand, you should regularly wash the metal baffles below the carbon filter. Most modern range hoods have dishwasher-safe baffles, which make for easy cleanup. 
CFMs 
CFM refers to cubic feet per minute or how much air the fan on your recirculating range hood can move in a minute. The higher the CFMs, the more powerful and effective the fan is at removing contaminants. You should choose a fan with the right amount of power based on the size of your kitchen and the amount of cooking you do. 
Size 
The size of the physical range hood also plays a massive role in the selection process. If you have a smaller kitchen with limited space, you don't want to make the mistake of purchasing a massive range hood. It will look like an eyesore in the enclosed area and make your kitchen feel cramped. Instead, you should opt for a range hood that's powerful enough to serve your purposes while being small enough to blend into your kitchen. 
Noise Level 
Range hood loudness is measured in sone level rather than the decibel levels. Most recirculating hoods have powerful fans that can be noisy if you're not careful. If noise levels are a big factor, you will do well to spend a little extra and purchase a range hood with a lower sone rating for a quieter fan. 
A sone rating of 6.5 or less on the high setting is considered acceptable. As a comparison, 6.5 sones is about 56 decibels.
Lighting 
Lighting is also a big factor when choosing your recirculating range hood. Most modern range hoods have LED lighting that's both radiant and efficient. Lighting is extremely important if you have an older kitchen without good interior lighting. It's also very useful for preparing your dishes and cleaning up after yourself. 
Budget
Finally, budget is often the most important factor when choosing a recirculating range hood. You want to spend enough money to get a quality product, but not so much money that you can't afford the upkeep and maintenance.
If you're purchasing a new range hood, there's also a good chance that you want to make other improvements to your home. Don't spend your entire home improvement budget on a single item such as a range hood.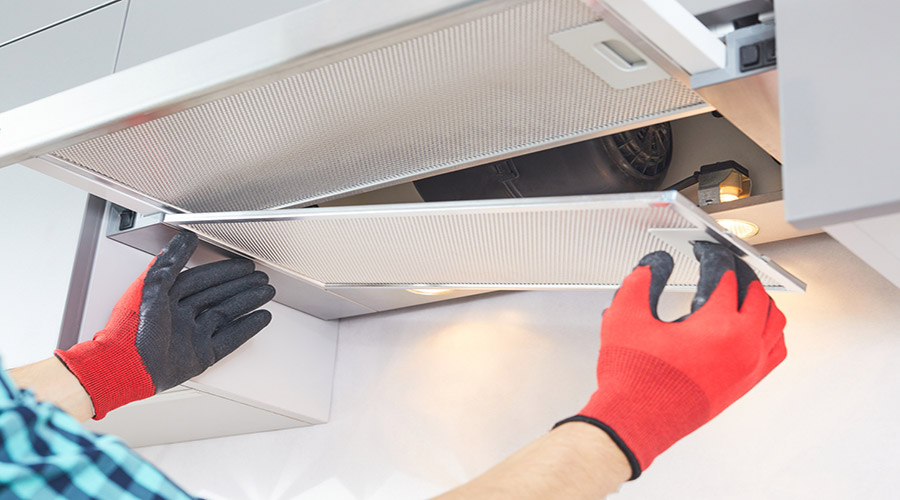 Maintaining Your Range Hood 
Maintenance and upkeep are never fun for household appliances, but they're essential. Maintenance is critical for recirculating range hoods. Apart from replacing your activated charcoal filter every three or six months (depending on the model), you should take care of the rest of your range hood. 
Here are some tips and tricks to keep your recirculating range hood healthy and operational. 
Use glass cleaner or acetone when wiping down your range hood.
Wipe down the exterior surface of the hood and the top of your stove.
If necessary, add Soft Scrub to your towel for pesky stains.
Remove your stainless steel filters or baffles and wipe them down. These baffles are dishwasher-safe, so check with your specific model.
Remove the fan blower from the vent hood. Clean and inspect it for any damage.
Remove and replace the carbon filter underneath the fan every three months or as needed.
You should perform this maintenance every time you need to change your filters. However, you should wipe down the exterior of your range hood and keep your kitchen clean regularly. 
Frequently Asked Questions 
Why Trust Home Inspection Insider
Home Inspection Insider has a team of experts who provide top-notch reviews and advice on anything related to your home, including kitchen or bathroom fixtures. Hubert Miles is a Certified Master Inspector with over 20 years of experience testing home-related products.
Final Thoughts 
As you can see, recirculating range hoods certainly have their place worldwide. Because of their efficiency, ease of use, and installation are becoming increasingly popular. As long as you choose the right range hood size and style and properly maintain it, there's no reason why you can't operate safely and smoothly in your home with a ductless range hood.