When you start a home building project or househunting, the front area makes a big impression. Often, this front area includes a driveway. But did you know that a driveway can increase a home's value? Still, improving your home's visual appeal and raising its value comes at a cost. 
Concrete and asphalt are superb options to consider for your driveway. 
In recent years, asphalt driveways are approaching a near even to concrete in upfront costs. Asphalt costs $8 to $20 per square foot, while concrete costs $6 to $15 square foot, depending on the strength of the installation. Concrete proves to be a higher value long-term option since it lasts up to 40 years or more with proper maintenance. 
Let's crunch the numbers on which costs less between asphalt or concrete driveway. 
| | Asphalt Cost Per Square Foot | Concrete Cost Per Square Foot |
| --- | --- | --- |
| Material | $2 to $5 | $3 to $5 |
| Gravel/Grading | $1 to $2 | $1 to $2 |
| Labor | $5 to $13 | $2 to $8 |
| Total: | $8 to $20 | $6 to $15 |
Prices are estimates and will vary by location. Prices exclude specialty designs and finishes.
Should You Get a Concrete or Asphalt Driveway?
Step outside and look at your home from an outsider's point of view. The driveway hardly stands out. Yet, it will stick out like a sore thumb if it is in bad condition. Middle-income residential areas tend to have concrete or asphalt driveways. 
This is because of two reasons. 
A concrete or asphalt driveway is a clean, smooth space for you or your guests to park. However, with their polished finished look and relatively long lifespans, concrete and asphalt driveways take some damage, especially if you have high traffic in and out of the home. 
Also, it would help if you had bargaining leverage when you want to put your home on the real estate market. A concrete or asphalt driveway is a great add-on when you're negotiating for better terms with incoming tenants. 
Some areas have requirements for all the houses in the area. A driveway for each home is a way to control the aesthetic appeal of the area. To comply with the regulations, you need one of these two options.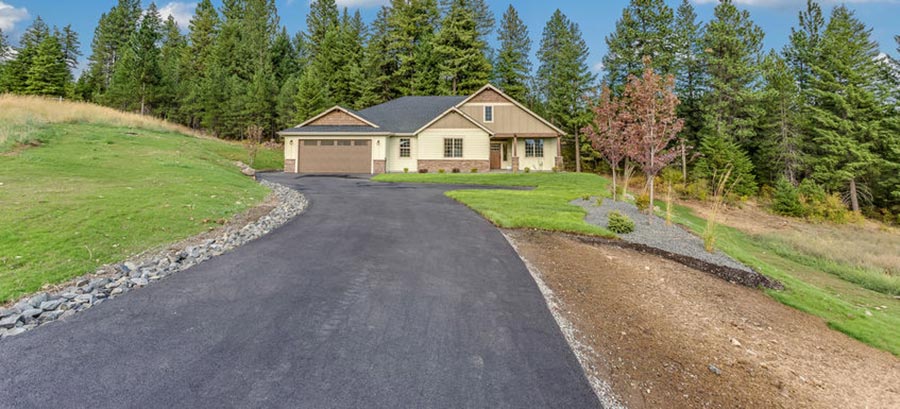 What's the Cost of a New Asphalt Driveway?
Asphalt is an easy choice for homeowners. It's neutral, and it lends a clean, sophisticated look to an average home. 
Asphalt Paving
Cost Per Square Foot
Homeadvisor.com
Cost Per Square Foot
Fixr.com
Asphalt Material
$2 to $5
$1 to $5
Gravel Base
$0.50 to $1
$2
Installation
$5 to $7
$4 to $13
Total:
$7 to $13
$7 to $15
Prices are estimates and will vary by location. Prices exclude specialty designs and finishes.
The average cost of a new 600sf asphalt driveway is between $2900 – $6600. The US national average cost for an asphalt driveway is $4758, depending on location and other metrics such as labor. 
However, in areas where the cost is super affordable, the average price falls to about $1500 compared to as high as $11000 in high-end locations. 
Let's assume you're building a new house or installing a new driveway. You choose asphalt as your choice driveway material. You're looking at about $7- $13 per square foot for a new asphalt driveway. 
A single-car driveway is about 9-12 feet wide. A 2-car driveway measures approximately 20-24 feet wide. Therefore, you will need about 600 square feet for a spacious driveway, whether you intend on parking one car or two. A 600 square foot asphalt driveway will cost at least $4000 in material alone. 
Here, we're talking about the following material:
The granular base of gravel, sand, crushed rock ($0.50-$1 per square foot of gravel for the base)
Tar
Asphalt material
$4200 gives you a comfortable range, so you can have a budget for add-ons. 
It would help if you bought asphalt by the ton, as that is the standard set by most asphalt dealers. One ton of asphalt covers 40-80 square feet:
2 inches thick: 80 square feet per ton – Standard for walking paths, golf carts, etc.
4 inches thick: 40 square feet per ton – Recommended for cars and trucks.
6 inches thick: 20 square feet per ton – Recommended for heavier vehicles like RVs.
To have a 1200 square foot driveway laid, you'll need 15 tons of asphalt at between $100-$200 per ton. Note that the $100-$200 range is for hot mix asphalt that is the best for new installation. Cold mix asphalt is okay for renovation and costs significantly less at $10-$50 a bag and is largely used to fill pot-holes and other minor repairs. 
The average driveway will require 7.5 to 15 tons of asphalt material.
In the past, asphalt driveways were pretty much cut and dry in design. There wasn't much room for added appeal. All you had to go with was a black surface. But, of course, that kept prices at a steady rate. 
If you have a deteriorated concrete driveway, you can consider an asphalt overlay for about $3 to $7 per square foot. However, this application will need more routine inspection and maintenance because underlying concrete can damage the top layer asphalt.
Currently, you can have improved finishing. Improved finishing on asphalt includes 
Decorative stamping 
Tinting using colored rocks and recycled glass
Special paint sealer for different colors 
From the original cost, you're looking at an additional cost for the new material and expertise to install the post-installation features. Let's give it a rough estimate of +$15 a square foot, depending on the professional labor and your location. 
Renovation of an Asphalt Driveway
Asphalt driveways develop cracks after a while, especially if you live in cold climates. So you're looking at resurfacing and resealing every three to five years. Also, you need to reseal with a new sealant coat six months after the new installation. 
How does that affect your costs? 
It costs $3-$7 per square foot to resurface an asphalt driveway. So working with our 600 square foot average, you will need between $1800-$2400. Still, the national average is about $3000. 
Asphalt is bound to develop cracks at some point during its supposed 15-20 year stint. It'll cost you $0.50 to $3.00 per linear foot to repair cracks in your asphalt driveway. However, this is assuming the asphalt driveway has no potholes. 
Repair costs can shoot up to $12 per linear foot, excluding service fees. Service fees are likely to run your tab up by more than $250 per square foot.
However, with potholes that need filling, keep your billfold ready to shell out between $100-$400 depending on the damage and repair approach. Pothole patching is calculated per pothole at about $25 to $40 per hole. Add to this between 100-$250 for the labor and machinery. 
Finally, you'll need a sealer for the finishing touch. The sealer will cost you between $18-$32 for a 10-gallon pail covering 600 square feet.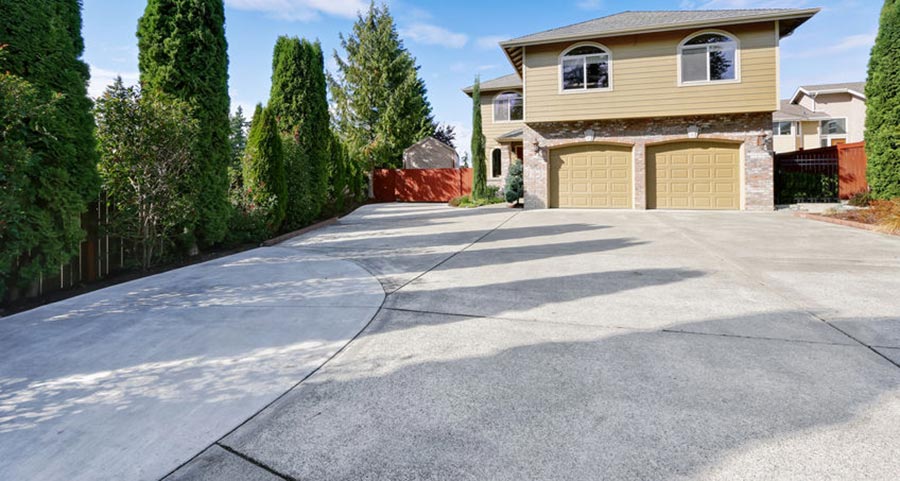 What's the Cost of A New Concrete Driveway?
Concrete Paving
Cost Per Square Foot
Homeadvisor.com
Cost Per Square Foot
Fixr.com
Poured Concrete
$3 to $4
$3 to $5
Grading/Prep
$1 to $2
$1 to $2
Installation
$2 to $3
$4 to $8
Total:
$6 to $9
$8 to $15
Prices are estimates and will vary by location. Prices exclude specialty designs and finishes.
Some neighborhoods require homeowners to install only concrete driveways. Concrete driveways are made from sand, water, cement, and aggregates that strengthen the mix. You have plenty of customization options compared to asphalt. 
On average, a new concrete driveway costs anything between $1800 to $6000. 
However, you can opt for DIY, where you'll spend only on the material. For example, material for a new concrete driveway can cost you up to $3 to $4 per square foot or $1800 to $2400 for a 600 square foot driveway. 
Concrete driveways can be prized in 3 categories: basic, midrange, and high end. The pricing depends heavily on location and material. The basic category covers a border, mono-color scheme, and standard texture finish costing between $8-$12 per square foot. 
Midrange concrete driveways cost up to $18 per square foot, with more options for paving, stamping, coloring, and even staining. If you want to dazzle, expect a $20 per square foot starting range for a creatively designed and executed concrete driveway. 
| Service/material | Cost |
| --- | --- |
| Permit | Up to $200 depending on the state |
| Labor | $4-$15 per square foot |
| Stamping the driveway | $2.50-$4 per square foot |
| Pigment | Up to $2 per square foot |
The standard concrete driveway is about 4 inches. However, if you intend to have heavier cars on your driveway, such as an RV, you are looking at an increase in inches to between 5 and 7 inches. An increase per inch costs about 20% more.
Let's break down the numbers behind installing a concrete driveway.
From excavation, you will spend up to $5 to clear the area per square foot of the site. Here, you can go DIY. Grading and prepping the site makes the site more suitable for sub-base and drainage-friendly, which ups your bill by about $8 per square foot if you are on relatively flat land. 
Rebar reinforcement depends on the thickness and the steel grade used. You do not want to skimp on rebar. It'll save you maintenance costs in the future when you would be dealing with cracks. $1.40 to $3 per square foot is a fair price to pay for added durability. 
Now, you may also need to note that these prices are for a typical rectangular driveway. A circular concrete driveway can cost up to $20 per square foot or at least 15% of a rectangular concrete driveway cost. A circular driveway must be at least 15 feet wide.
You might still need to hire a professional to install add-on features like curbside drainage and decorative finishing. For example, colored stains and patterns can drive your costs upwards of $15 per square foot. 
If you add borders to your driveway, you'll be adding between $13-$30 per square foot. To finish your driveway, you can opt for exposed aggregate or pebbles. Here, your costs are in the $1-$3 per square foot region. To REALLY finish it off and improve the home's appeal even more, you'll need sealant. 
Sealing costs 75c per square foot. Sealing is supposed to make your driveway last longer. Still, it doesn't mean the driveway won't take some damage. After a while, you will need to renovate your driveway. If you live in cold regions, set aside a repair budget as the cold weather is not particularly friendly to concrete. 
Renovation of A Concrete Driveway
Renovating a concrete driveway involves removing the initial driveway. There are several instances where renovation and repair will need DIY, or you'll need a professional. 
| Damage | Course of action | DIY/Professional | Cost |
| --- | --- | --- | --- |
| Minor cracks and holes a ¼"  wide or less | Filling | DIY | $0.37 in material |
| Large cracks over  ¼"  wide | Resurface | DIY or Professional | Material + $30 per hour for labor |
| Spalling | Patching | Professional | $4-$7 per square foot or up to $85 per hour |
| Scaling | Concrete curing | Professional  | Up to $5 per square foot |
| Discoloration | Recoloration | Professional | 32c per square foot |
| Sinking | Mudjacking/Slabjacking | Professional  | Depending on size, $300-$2500 for the entire driveway |
| Structural damage | Full replacement | Professional | Up to $24 per square foot |
Let's assume you have a 600 square foot driveway. Demolition and debris clearance will cost you $1-$3 per square foot. Depending on your location, costs can go up to $5 just for removal and clearance. 
You won't have to demolish the entire driveway, though. If it is damaged to a certain extent, the repairs will only cover up to where the damage ends and maybe a small area around it for uniformity. Over time, the appearance may look a bit off, so you might want to set aside some funds for a total overhaul if you want a new concrete driveway refurnishing. 
Remember the rebar that you included in your initial installation? Well, you might want to evaluate whether you want rebar or mesh. Rebar also comes at a greater cost than mesh during repairs. 
Extra Features on Asphalt and Concrete Driveways
A basic driveway is okay. Still, some homeowners want to raise the resale value even higher. And the driveway is a great place to make a lasting impression with extras. These extras are not just for boosting your home's value. They also help to lengthen the driveway's durability. 
Heating
Snow and cold weather affects asphalt and concrete driveways. Installing a heating system under the driveway costs about $28 per square foot. Costs can be as low as $12, though. In addition to spending anything between $9000 to $16000 on heating, you will also incur between $120-$600 in operating costs. 
Heating systems cost less for concrete than asphalt, with concrete capable of going to $8000. 
Drainage
Water retention under the driveway causes pressure build-up and causes warping and cracking later. A drainage system is designed to slope away into the main street. A proper drainage system reduces your post-installation maintenance cost over time. 
A new drainage costs between $1000-$4000. Using porous asphalt gives your driveway better drainage capability, all at the cost of between $8 to $15 per square foot. It could save you some expenses in grading and leveling too. 
Factors to Consider When Comparing Costs of Asphalt and Concrete Driveway
Material availability: Concrete and asphalt are easy to find. It gives the contractor an easier time to source materials and find well-equipped professionals to handle these materials. It costs you less time and money working with readily available material. 
The scale of work: The rates covered here estimates for a 2-car driveway. Project size is a key factor in cost estimation for your driveway project. 
Water retention of the surrounding: The driveway doubles up as a water clearance area for rainwater run-off. When you factor in the cost of drainage in the pre-planning stage, you avoid the added cost of re-installing an otherwise undamaged driveway.
Extra properties: Decorative extras such as side greenery, lighting, and heating come at a cost. If you plan on installing additions, you can have a plan drawn out during pre-planning to have a future reference point for cost estimates and materials. 
How Do I Get the Best Rates to Install Concrete or Asphalt Driveway?
The best time to get a home improvement contractor for a driveway is during the fall. Winter and summer are on temperature extremes. That means your existing driveway may have more extensive damage, prompting higher rates or aggressive pricing for driveway installation. 
How Can I Improve the Lifespan of a Newly Installed Driveway?
Load affects how long your driveway lasts. You can install a gate that limits access to your driveway. Installing a gate costs you about $7000. 
Contact a professional contractor for a quote to handle your project to completion. The contractor advises you on what's better between concrete and asphalt and advises you based on your budget and long-term goals. 
HomeInspectionInsider.com is owned and operated by Hubert Miles is a participant in the Amazon Services LLC Associates Program, an affiliate advertising program designed to provide a means for sites to earn advertising fees by advertising and linking to Amazon.com. HomeInspectionInsider.com also participates in affiliate programs with other affiliate sites. Hubert Miles is compensated for referring traffic and business to these companies.