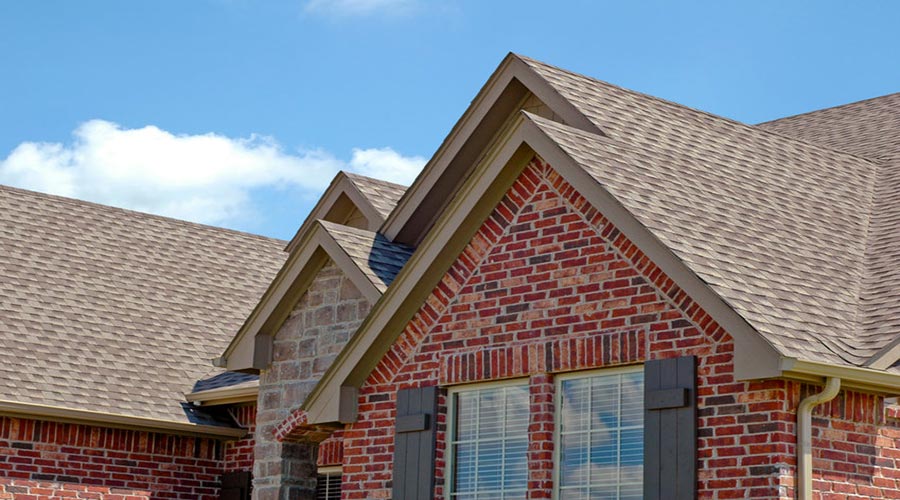 Have you ever thought about your roof color and how it affects your home's overall look and value? Roof color may not be high on your checklist when you build. Yet, roof color isn't just about aesthetics. It plays a crucial role in interior comfort and resale value, too. 
When choosing the best roof color for your brick house, go for a color that complements the brick's color pigments. Today, houses are taking a different approach to brick colors. Most homes have a red brick exterior. Red bricks go well with black, gray, dark brown, and red roofs. However, each of these roof colors has an accompanying reason. 
In this article, I will help you choose the best color for your brick house. We will also look at how roof angles, brick color pigments, and sun intensity influences your color choices for the roof.
How To Choose Roof Color For A Brick House
One of the primary reasons why people choose specific roof colors is temperature regulation. Sure, the house has air conditioning. Still, working with roof color is meeting a problem halfway. 
Other than temperature regulation, you should consider the following factors when choosing the roof color for your brick house:
Style of House Can Impact Choices
Every era in history has had various house styles. Roofs are a defining characteristic in each of these house styles. As such, some roof colors feature heavily in different house styles. Houses with that old-world look and charm look incredible with earth tone roof colors. Newer house designs give you the range to be bold with roof colors such as green to go with your brick house. 
Complementing Your Bricks Dominate Color
Most modern houses don't just have a monochrome color scheme for the bricks. Homeowners use other colors with the brick. The cast color is the dominant color. If you have a red brick house, you can pair it with white, beige, or gray bricks. However, the roof color has to complement the dominant roof color. 
Weather Conditions Where Your Home is Located
Your geographical location plays a crucial part in your roof color. Every region has its weather pattern. Some areas experience exceptionally hotter or colder days than others. If you live in a predominantly hot area, go with gray or brighter colors that absorb less heat than black. Darker roof colors are common in cold regions for their heat retention. 
It's not just about the weather, though. The aesthetic of the area also determines the roof color. Homes built in lush green regions look good if they blend with the area's natural look. Dry regions have earthy brown environments. As such, you can go for earth tone colors for the roof. 
Roofing and Housing Trends Where You Live
Most areas with clustered housing have a general look when you look at their roof color choices. Ask yourself whether you want to blend into the community around you or you want your roof to be a standout. 
While roof color is a personal choice, you should also consider the chance of your home going on the resale market. Most potential buyers might not be as bold as you if you pick out a roof color that's considered 'excessive.' 
What Roof Color Goes Best With Red Bricks?
To determine what color roof goes best with brick, consider the brick color. Seeing as most homes have red brick, here is are 5 of the best roof colors for a red brick home:
1. Gray
Gray is a versatile color in a fair-weather region. In terms of aesthetics, it's nearly impossible to go wrong with a red brick gray roof combo. The color is not too bright. It is also not so dark that it takes up a lot of heat during the hot months. 
It works well to stay neutral in an area where there's a uniform roof color. Even if you choose to go with gray, where most roofs are black, you won't stand out too much. Gray is an excellent match for its low profile look and excellent blending power with the red brick. 
And if you decide to change the brick color or add a stone finish, it would still work. 
2. Black
Black is an easy roof color choice in a brick house. It can blend with any brick color. Black is preferred for its excellent heat absorption, especially in a home where you struggle to keep the interior warm. 
In terms of aesthetics, black has variations. Owens Corning, a roofing company, marked a variation of black, Black Sable, as 2019's roof color. Black Sable is a color scheme with black as the primary color and patches of gray, brown, and tan. 
Black would work with red brick even if you added white undertones on the house's exterior. 
3. Tan/Brown
Brown roofs and red brick are a match made in color heaven. Brown, being a shade of red, blends with red brick to give a house some old-world charm. Modern architecture and design don't invalidate this color combination. Tan and brown are neutral tones that will go well with modern builds. 
To make the brown roof stand in a roof brick house, you can have white trim. The white trim makes the brown stand out even bolder. You can also use white on windows and doors. 
4. Green
A green roof on a red brick house screams modern and bold. Green may be a sidestep to traditional roofing, but it has an earthy look that looks terrific, especially in a lush setting. Green roofs look great, whether they are metal or shingles. 
Green roofs come in a variation of shades. Match darker shades of green with warmer shades of red brick for deep contrast. Likewise, go for lighter shades of green like mint for dark red brick to get a detailed look. One of the best things about green is that you can use it with steep slope roofs. Even with white or grey trim on the house, a green roof will make your red brick house stand out and look classy. 
5. Blue
Yes, a blue roof works with red brick. The colors sit opposite each other on a color wheel. The contrast that comes with the combination is something to behold. Blue is great for adding some color to the house, but you want something different from gray. 
A blue roof is visible from far, making it an excellent color for a small home or an expansive farmhouse out in the country. 
Best Roof Colors For A Blue Brick Home
Blue might not be as common as red as the main exterior color of a brick home. Still, it is a beautiful color and gives a house a presence. Blue brick houses often have white trim on windows and doors. It's common to see blue as the main color cast with gray bricks on the siding.
The best roof colors for a blue brick house are:
Black
Black is a versatile roof color. Since blue bricks aren't too dark, a black roof works to give it a low-profile yet sophisticated modern touch. You can use a black roof for a blue brick house in an area where you are looking to tap the full benefits of the sun's heat. 
Gray
Gray is the best roof color for a blue brick house. Gray works for several reasons. 
It works with many shades of blue. You can have blue shingles with gray accents.
Gray doesn't look or feel out of place when you pair it with white trim. 
Gray and blue complement each other no matter the shade of blue that the house has. 
Look for twilight gray to match a blue exterior. Twilight gray is a smidgen of blue and blends well with blue. 
Green
A blue brick house with a green roof is something you'd expect to see featured in a magazine spread. It has a calm tone about it, especially in a lush area that blends with nature. A dark shade of green can go well with a blue brick home. The color combination is a breathtaking break from conventional home colors. 
Other Roof Colors For Different Brick Houses
Pink Brick And Gray Roof
Gray roofs are a classic because of their neutrality in any color setting. Although pink is not a popular paint color for a house exterior, it is a standout color. The pink and gray combination works so well since the dark tone of the roof brings out the brightness of the rest of the house. It makes the house look grand even from a distance. 
Natural Earth-colored Brick
Natural earth brick has a brown and golden touch to it. It is popular among older houses. However, there's interest in homeowners wanting that traditional charm to their houses. The best roof color for natural earth-colored brick is black. Earth tone brick can make a house look compact and smaller than it is. Black makes the house look bigger. The combination of these colors gives your house a classic look that balances modern appeal and old-school charm. 
White Brick
A white brick house is a statement on its own. Before you think of a roof, a white brick house will stick out. And that's a good thing because white brick gives you the freedom to experiment with plenty of colors for the roof. 
You can use brown, gray, black, shades of green, blue, or go for an all-white look. 
Two of the top choices for a white brick house are gray and blue. Grey and blue are lighter alternatives for a black roof. Black may be too conventional for you. A gray or blue roof on a white brick house reduces the bright intensity of the house. 
If you want your house to really pop, go for a tan or copper-colored roof. Tan and copper are in that sweet spot between intense and earthy. They complement the white while making the house look stunning. 
Gray Brick
While a gray roof may work with plenty of colors, the best roof color has to be a dark shade of gray, black, dark blue, or green. The darkness of these colors brings a pleasant contrast that ties in the gray nicely. Gray works well if the house has white accents. The overall look ends up looking like a well-balanced monochrome. 

To easily decide on what colors to mix and match for your brick house, follow this table guide:
| Brick Color | Matching Roof Color |
| --- | --- |
| Red | gray, black, brown, green, blue |
| Blue | black, gray, green |
| Pink | gray |
| Natural-Earth | black |
| White | gray, blue, tan, copper |
| Gray | dark gray, black, dark, blue, green |
What Color Roof Is Most Popular?
Most people go for solid colors for their houses. Because of that, they choose roof colors that easily blend in with the house color. The most popular roof colors are black, brown, gray, and red. These colors are popular because you could paint the house and transform the main look but retain the roof color. 
It might also be because these are quickly available. You are likely to find these colors whether you are using shingles or metal roofs. You'll even find clay roofs in these colors. 
Also, they have shades that give the roof a patterned look. 
What Is The Best Metal Roof Color For A Brick House?
Choosing a metal roof for your brick house is both an energy-conscious decision and an aesthetic decision.

Since metal is a great heat conductor, you'd be better off picking a neutral color that doesn't lie on the extreme end of color choices. As such, gray is the best metal roof color for a brick house.

One, gray doesn't absorb or reflect too much of the light hitting the roof. You can maintain your interior energy costs with a functional HVAC system. If you live in a fair-weather location, gray is a great color choice for a roof.
Aesthetically, you don't have to overthink changing your roof color if you repaint your house. It works with most brick exteriors. And the best thing about a gray roof is, it will blend well with white accents on windows, roof siding, and doors. 
Alternatively, you can go for a blue roof. In an area where you're not too concerned about hot weather or cold weather, blue is a beautiful color for a metal roof. Blue metal roofs will reflect some light and maintain some of the sun's heat for a balanced interior temperature. 
Opt for slate blue as an alternative to the more pale gray option. 
Why Is Roof Color Important For A House?
Roof color affects more than just the home's aesthetic appeal. Your roof is the first contact with the sun's energy. Therefore, your HVAC system is directly affected by your choice is roof color. This is why you should put serious thought into your roof color.
It affects the value of your house.
When your house is on the market, most prospective buyers will determine its price at first glance. Since the roof is such a huge feature, it affects how buyers see it. Black roofs, for example, make houses look bigger. The immediate thought in a prospective buyer's mind is that the house is spacious. 
Roof color affects your exterior choices.
Before you go for bold statement colors for your roof, think about whether you'll want to change the exterior. The exterior includes changes such as the siding and accents of the house. Most homes have white accents. This works with almost any roof color. However, if you want to implement drastic changes such as repainting the entire house, think about your roof too. 
A new roof can cost you up to $14000. You need to firmly decide what color you want. The roof you get should be a long-term decision to justify the price. With prices as high as $30,000 for a roof replacement, you need to pick a versatile color to avoid too many color backflips. 
Is A Dark Or Light Roof Better?
The shade of your roof is a direct influence on your energy costs. The answer here depends on where you live. 
Overall, darker shades are better than lighter shades when picking out roof colors. They're easier to strike a balance and maintain energy costs over time. 
Dark shades reflect less light and heat. Places with longer summers or hotter climates need a lighter, more reflective roof to keep the house from turning into an oven. 
During cold weather, a dark roof is an asset when the sun's out. It takes in more heat, allowing the interior temperature to increase and keep you warmer. However, heavy snowfall nulls the significance of a dark roof. The white snow will reflect the sun's rays. 
Still, a dark roof might be an asset during winter. If it absorbs some heat even briefly, it can help melt away the snow. 
In Closing
Roof color is not just a random decision. It adds to the appeal of a house. There are plenty of options to explore now that modern architecture follows form more than functionality. If you are stuck on what to pick, have a roofing contractor advise you on the right colors to choose for the best aesthetics and energy costs. 
Sources:
Best Roof Colors – HomeAdvisor
How to Choose a Roof Color For a Brick House