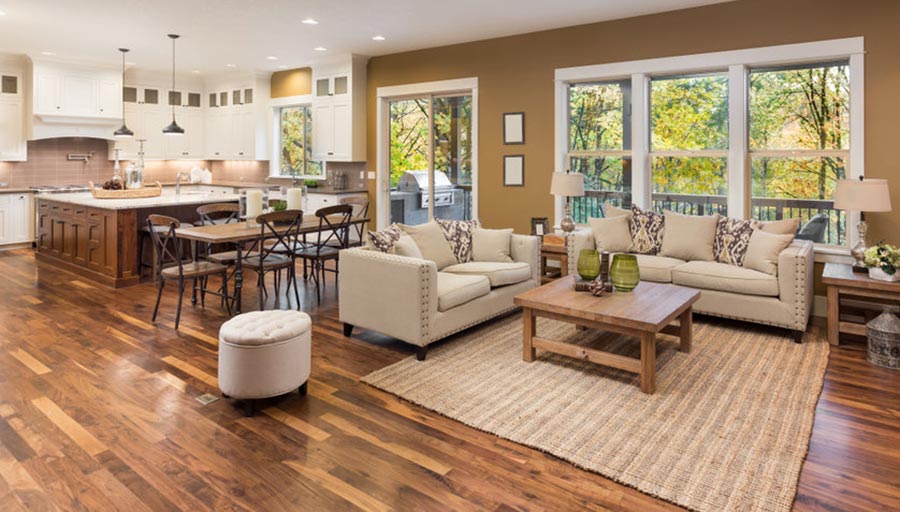 Concrete floors may be durable and easy to maintain, but they can also be unattractive, hard, and quite cold. So, you may want other flooring options to cover or modify your concrete surfaces. However, some floor covering options are expensive, and you may not be able to afford them.
Below are cheap options you can use to cover or modify your concrete floors:
Concrete paint
Concrete stain
Carpet or area rugs
Tiles
Linoleum
Bamboo flooring
Cork flooring
Depending on the material you choose, it will cost you anywhere from $3 to $22 per square foot to install flooring. However, even when affordability is a priority, the concrete floor covering will depend on several factors. This article discusses the types of affordable flooring and the significant factors that will influence your choices.
Factors That Affect Flooring Choices
Several factors affect flooring choices. These are some of them:
The Amount Of Work Required
How much work you need to do to cover your concrete floors will determine your choice of cheap materials. If the area you need to cover is large or some parts are damaged and need repair first, then expect to spend a lot of time protecting or hiding your concrete floors. You may also end up paying more than you anticipated.
Maintenance Requirements And Purpose
It would be wise to think about how you intend to use your floor. Is it in the outdoors, where it will be exposed to the elements? Do you want to use it as your gym space? Will it be in a high-traffic area where it will undergo lots of wear and tear? Will the floor be exposed to heat constantly?
Some flooring materials can withstand the elements and lots of wear and tear. Others can't. For that reason, you must seriously consider the primary use of the flooring surface you intend to use. If it is difficult to maintain the floor option you desire, consider an alternative
When selecting a flooring option, your design preferences will come into play. Whether you modify or completely cover your concrete floor surfaces depends on what feeling you want to achieve in your space. You can change not just the materials but also the colors of the floor coverings to effect a change in the ambiance of your room.
8 Cheap Options For Covering Concrete Floors
The level of affordability varies from one floor covering option to another. Below are some cheap options you can consider to hide or modify your flooring surfaces.
1. Concrete Paint
Painting a concrete surface is an inexpensive way to cover it if you are bored with its original look. However, if this is the only option you want to consider, your floor surface must be even and clean. If that is not the case, you have to take extra steps to make it smoother and cleaner so you can apply the paint evenly on the surface of your floor. There's also priming to consider.
You have several options concerning concrete paint. Acrylic latex paints are water-based and easy to use. So, you can paint using this option without expert help. However, it's not very durable. You will need to reapply the paint every two or three years.
Epoxy paints are another alternative. They consist of a resin and a hardener you must mix before application. These paints are famous for their glossy and colorful effects. They are also long-lasting.
In addition, epoxy paints are resistant to high impact, water, and stains. Therefore, they are excellent for high-traffic areas or spaces with lots of heavy-duty machinery, such as garage floors. However, they cost more and are harder to apply. And you have to wait for about seven days for epoxy paints to cure.
It will cost you anywhere from $2 to $4 to paint your floors with regular concrete paint. However, if you opt for the epoxy paint treatment, expect to pay $10 to $15 per square foot. And doing the project on your own always saves more money, though that may be tricky with epoxy paints.
2. Concrete Stain
If you don't want to put in a lot of work hiding the imperfections on your concrete floor surfaces, you may want to think about staining them, especially if they are even and sound.
The process can be done using water-based or acid stains. The latter usually reacts chemically with the concrete surface to create a marbling effect. However, water-based stains have low volatile organic compounds (VOCs) and, thus, are safer to apply.
Concrete stains can create a translucent and unique pattern on your floors. In addition, they can mimic different effects, such as a marble effect. And because concrete is porous, the stain will seep beneath the surface and, thus, not fade, chip, or peel away. If an expert does the job, they can create even more intricate patterns using various techniques.
The condition of your floor surfaces will influence the cost of staining them. For example, new concrete surfaces, with no spills or sealers, will cost less to stain than old concrete surfaces. If you opt to stain your floors, expect to pay an average of $8.50 per square foot.
However, you could lower that cost to as low as $2.50 if you take measures like staining the concrete yourself and buying cheaper materials. But the price could rise to as high as $15 per square foot if you hire a premium service provider to create complex designs.
3. Carpet Or Area Rugs
If you hate your concrete floors, you can carpet them. Wall-to-wall carpeting can cover the entire floor. Alternatively, you can use area rugs to cover the sections you don't want to see or step on.
One significant benefit of carpets is they add warmth to any space they are in. They are also soft to walk on. In addition, they come in various sizes, colors, and designs, which enable you to select something that suits your design theme. And if your concrete floor is damaged, carpets are an excellent way to hide the visible imperfections.
However, carpets are not a good option for allergy-prone people since they harbor allergens like dust mites. Also, it would help if you kept them clean regularly, which makes them high maintenance.
In high-traffic areas or spaces where you store heavy equipment, carpets are a terrible idea because they don't withstand wear and tear very well. It's also a bad idea to use them in kitchens or bathrooms with a lot of heat or moisture. They can burn or become moldy.
Carpets are pretty affordable. For area rugs, you can find area rugs that cost as low as $1 to $5 per square foot on the lower side, while the more expensive versions may cost upwards of $8 per square foot.
On the other hand, wall-to-wall carpeting will cost you anywhere from $3 to $7 per square foot on average. And when you factor in labor, expect to pay an additional $1 to $2 per square foot for installation services. However, that still comes to less than $10 per square foot for installation.
4. Tiles
While marble tiles are some of the most expensive floor covering options, some tiling options are pretty cheap. These include laminate and peel-and-stick vinyl tiles. Other affordable options include interlocking tiles.
Peel-And-Stick Vinyl Tiles
You can apply peel-and-stick vinyl tiles onto a flat and even concrete surface for about $1 to $5 per square foot. Also, come in various patterns and colors, which enable you to find something that suits your design preferences. And they are easy to install and remove.
Vinyl tiles are an excellent short-term flooring solution until you can settle on a more permanent one. However, these tiles can last from five to 25 years if they are well maintained. But if you use them on uneven floors, the bumps or holes will show through the tiles. Thus, you must ensure the surface has been prepared well.
Laminate Tiles
Laminate floor tiles are another inexpensive tiling option. Both the materials and labor will cost you an average of $3 to $8 per square foot. The flooring option is easy to install, which means you could save some more money by doing the work yourself.
In addition, laminate flooring can be durable. It varies in terms of its abrasion criteria (AC). Those with a higher rating can withstand a lot of wear and tear. So, you can use them in high-traffic areas or spaces in which heavy-duty equipment will be in use.
However, laminate tiles are not very water-resistant, so you must clean them carefully for them to last long. Furthermore, you cannot refinish these tiles when they get worn out. That's because their look is based on the image layer of the flooring.
Interlocking Foam & Rubber Tiles
Interlocking foam tiles are also an option you should consider if you want to cover your concrete floors. You can install them without professional help by tapping them into place. And they tend to resist high impact and spills quite well, thus protecting the concrete layer underneath.
Most interlocking tiles come in two forms: rubber and foam tiles. The latter is usually cheaper and softer to land on, thus making it an excellent option for gym and martial arts spaces. However, though more expensive, rubber interlocking tiles can withstand weighty objects, making them a perfect choice for commercial areas where heavy-duty equipment is stored and used. And usually, both kinds of tiles can be textured to increase grip and prevent slipping.
If you want to cover your concrete floors with interlocking tiles, you could get foam tiles for as low as $0.75 to $1.65 per square foot. On the other hand, rubber tiles will cost you $3 to $8 per square foot.
5. Linoleum
Linoleum offers you another great option for covering your concrete surfaces. The flooring option consists of a felt or canvas backing upon which a mixture of gums, resins, linseed oil, and other things has been applied.
One of the best things about linoleum is its longevity. It can last 25 to 40 years with proper care. The flooring option is also bio-degradable, which makes it eco-friendly. In addition, it tends to keep its look while hiding scratches, and it is low maintenance.
However, linoleum can get dented and torn by sharp objects. And when it is exposed to sunlight, it may begin to yellow or darken. Also, it is not resistant to water, making it a poor choice for covering concrete floors in wet areas, such as the bathroom. Another issue is how slippery linoleum surfaces can be when they have undergone a fresh waxing.
If you would like to install linoleum over your concrete floors, you should budget $5 to $7 per square foot for the product that comes in the form of sheets.
6. Bamboo Flooring
If you are looking for a more sustainable wood flooring option to go over your concrete surface, bamboo flooring is an excellent choice. And it comes in various forms.
The engineered bamboo flooring is made by gluing bamboo layers onto a medium-density fiberboard (MDF) or plywood core.
Stranded bamboo is made from bamboo stalks compressed together to form sheets and then cut into multi-colored planks. In addition, you can use horizontal bamboo flooring. It consists of bamboo strips glued together to form planks.
You can install bamboo flooring for anywhere from $5 to $15 per square foot. Not only is it eco-friendly, but it is also easy to maintain while providing a hardwood effect for a lower price. Also, premium versions can be as durable as regular hardwood floors. The flooring option is quite stylish and can be refinished as well.
7. Cork Flooring
Cork flooring is worth considering, especially if you want to warm up your concrete floor surfaces. The sustainable floor covering comes from the cork of the cork oak floor.
You can buy cork flooring that suits your design tastes because it comes in various colors, shapes, and patterns. And not only does it have heat insulation properties, but it also has sound-resistance, insect-resistance, and some heat-resistance qualities. In addition, it provides a cushioning effect to your feet and is anti-allergen. It is also very durable.
However, cork has low moisture resistance abilities, which makes it prone to warping or swelling when exposed to moisture over time. Also, it fades due to prolonged exposure to sunlight.
Cork is more expensive than carpet and vinyl. But you can still install this floor cover for $4 to $8 per square foot.
8. Concrete Overlays
Concrete overlays refer to concrete-based products that help to restore and improve the existing concrete surfaces. These products can fix damaged concrete surfaces and make them look new.
Some overlays give a polished look, while others create a textured look. You can also choose overlays that create a plain or colored look. The effect you make depends on the technique that you use on the concrete overlay.
Self-Leveling Overlays
Self-leveling overlays, such as self-leveling concrete, are one of the most common types of concrete overlays. The viscous cement product is usually used to fix uneven concrete floors. And once it's installed, you can leave it as it is or decorate it using polish, color, stains, or different textures.
Exclusive of labor, self-leveling concrete will cost you $1.80 to $5 per square foot. You can save money by applying it yourself.
Stampable Overlays
Stamped concrete overlays are used to create a texture effect on the existing concrete surface. It is highly durable when installed properly and can update your floor. However, your existing flooring must be in good shape for it to be resurfaced.
Expect to pay anywhere from $3 to $10 per square foot for a stamped concrete overlay. You will pay less if you do the work yourself.
Micro-toppings
Concrete micro-toppings are a thin layer of concrete overlays that can add patterns, colors, and textures to your concrete floor. It is durable, low maintenance, and easy to apply. And you can achieve a continuous glossy look if you like.
However, because the layer is thin, you still have to deal with the cold and hard nature of the concrete surface underneath. So, that's something to think about.
Micro-toppings can cost as low as $0.45 per square foot, which is very cheap.
Final Thoughts
The cover you choose for your concrete floor will ultimately depend on its condition, your design preferences, and the extent to which you want to save money. You have plenty of affordable options from which to choose. So, find what works for your needs and install it over your concrete floors.
HomeInspectionInsider.com is owned and operated by Hubert Miles is a participant in the Amazon Services LLC Associates Program, an affiliate advertising program designed to provide a means for sites to earn advertising fees by advertising and linking to Amazon.com. HomeInspectionInsider.com also participates in affiliate programs with other affiliate sites. Hubert Miles is compensated for referring traffic and business to these companies.