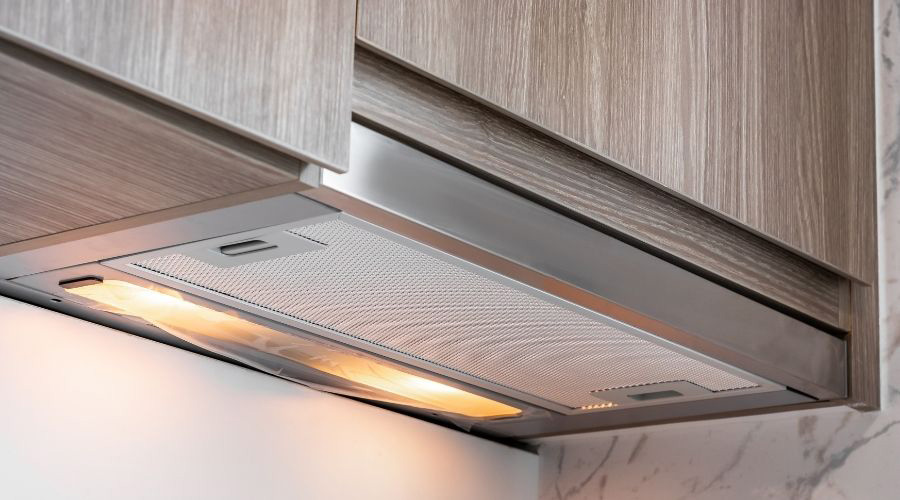 Don't you hate it when airborne grease and moisture get in the way of your cooking? It is not fun when you have nothing to suck the nasties out of your home, especially over the stove in itself! The good news for you is that under cabinet range hoods can help with these issues! 
It leads to the question of the best under cabinet range hoods and the benefits each brings? Here are the best ones listed down below.
Broan-NuTone BCSQ130SS
Broan-NuTone 413004
Hauslane | Chef Series 30-inch PS18
Cosmo COS-QS75 30-inch
IKTCH 30 Inch
FOTILE Pixie Air UQS3001 30-inch 800 CFMs
KOBE RAX2130SQB-1 Brillia 30-inch Low-Profile
Pacific Trusteam 30-inch
In this article, we delve into what all of the benefits are and what cons come with every brand. 
Before purchasing a specific one, we will also discuss other things, such as its features. This article is your comprehensive guide to getting the best range hood for you possible!
What is an Under Cabinet Range Hood?
You might already know what an under cabinet range hood is, but it might be a good idea to go over what it entails once more briefly. 
An under cabinet range hood is what the name indicates, meaning you place the hood directly beneath a cabinet. 
It helps eliminate excess smells, steam, heat, and smoke from constantly cooking within the home or preparing food. 
Definitions to Know Beforehand
When reading about kitchen hoods, you will find quite a few words that you may or may not recognize. 
Before going any further, it is essential to know this information to keep you adequately informed about your decision. 
1. Sones Rating
You already know or can guess what sones rating is for those who know anything about sound. Sones rating tells how loud or quiet the sound of your fan is. 
Suppose you have a range hood with a sones rating of 4. In that case, you can expect it to sound how a regular television has.
However, the best kind you can have for range hoods is a sones rating of 3 or below with roughly 250 CFM or more, bringing us to our following definition.
Read more on Sone Rating for Range Hoods.
2. Cubic Feet Per Minute (CFM)
Cubic feet per minute measures airflow. More specifically, the volume that displays the air compressors' output rate. It gets measured in cubic feet of air per minute, hence the name. 
You need to meet a minimum of 250 CFM for a range hood. On the other hand, if you have a commercial kitchen or do a lot of cooking within your home, you need at least 350 CFM. 
CFM ratings can be as high as 1000. However, most under cabinet models are 500CFM or less.
With that amount of power, it can pull a lot of strong odors and enough steam from your kitchen. 
Read more on CFM Rating for Range Hoods.
Best Under Cabinet Range Hoods Under $200
Broan-NuTone BCSQ130SS
For the budget-conscious, we like the Broan-NuTone BCSQ130SS Three-Speed Glacier under cabinet range hood. The Broan-NuTone is 30 inches long. 
Seeing as how most stoves are that size anyways, it fits nicely right underneath your cabinet. The BCSQ130SS model is highly affordable to those on a budget.
Not only that, but the Broan-NuTone provides an excellent solution to ventilate your kitchen needs with overhead light and an exhaust fan.  
It ventilates relatively well, so this range hood will improve air quality. The system provides a 5.5 sones rating and has a MAX 375 CFM. 
These ratings allow the vent to remove 97.4% of smoke and cooking odors from the air much quicker, so this stainless steel model is for you if you do not mind a little noise. 
You won't lack fan speed. It comes with a 3-speed push-button for whatever adjustment you think you'll need.
Have you ever heard of a dishwasher-safe filter? Well, now you have since you can pop the dual-sided one piece into the dishwasher for easy cleaning. Placing the filter in the dishwasher does not affect the maximum grease capture. 
The stove comes with one for those who love LED lighting, which makes your cooking area more lit up by having this feature. You can easily control it with a push of a button for easy usage. 
The last thing we want to talk about with the Broan-NuTone is that you can convert the installation in four ways to provide a universal way of installing the product:
3.25″ x 10″ vertical or horizontal ducting with a damper.
7″ round vertical ducting (with the damper sold separately.)
Non-ducted with the air recirculation (with the filter sold separately.)
Broan-NuTone 413004
Moving along to another Broan-NuTone product, the 30-inch 413004 ductless range hood is another excellent and affordable choice. 
You can select what colors to have depending on what style you want, which are as follows:
Stainless steel
White
Biscuit
Black
Bisque
The model comes with a replaceable charcoal filter that can easily be replaced when acquired grease becomes too much. In return, this leaves your kitchen remaining fresh and clean. 
The range hood is high quality with a stainless steel insert that improves lighting over the stove and ventilation. 
The Broan-NuTone comes with a ductless filtration system that removes odors and smoke from the vicinity of your home. 
The incandescent lights accept up to a 75-watt bulb with a protective lens that distributes the light evenly throughout the area. You will need to purchase the light bulb of your choice, however.
The separate rocker switches control both lighting and a fan with two relatively easy speeds to use, so it is versatile.
Lastly, the installation process of the range hood has two options: by being installed with a power cord kit (HCK44 sold separately) or as hardwired. The minimum height of the above cooktop is 18 inches.
The overall size of this particular under cabinet range hood is 30-inch width x 17.5-inch depth x 6-inch height.
Best Under Cabinet Range Hoods Under $500
Hauslane | Chef Series 30″ PS18
Next up, we are discussing the Hauslane Chef Series 30″ PS18. This particular model is a tad bit more expensive than the other two but might be worth the purchase after knowing the perks of it all.
Not only is this stainless steel range hood stylish and sleek, but it comes with some excellent features, like digital push-button controls and baffle filters. It is a perfect option to remodel your kitchen or upgrade appliances overall. 
The Hauslane also comes in black and white, which are excellent for those who want a simple look or something modern.
On top of looking good in your kitchen, the features beat other appliances, such as having a powerful suction and providing 3-way venting.
First, the suction is good if you cook heavily, making the odors sucked out much more quickly than any standard range hood. It prevents harmful chemicals from entering your home as you cook, especially since the ventilation is customizable to your liking. 
Second, you can vent it in three ways, saving money to keep it fit your current ductwork. Here are the options below:
Vertical 6″ round duct.
Vertical 3 1/4″ x 10″ rectangular duct.
Horizontal 3 1/4″ x 10″.
To put the icing on the cake, you can customize the settings however you wish. You can choose six fan speeds to set for suction and noise levels to delay the shutoff, making it relatively easy to use. 
Plus, it provides a 2700K warm glow of lighting which you can swap out to whatever lighting theme your kitchen has. 
The stainless steel baffle filter is dishwasher-safe, so you can easily clean it instead of scrubbing for what seems like hours on end. 
Cosmo COS-QS75 30 inch
This particular range hood is the Cosmo COS-QS75 30 inch. As the name suggests, it is 30 inches long and is yet another stylish yet functional option to compliment your kitchen's needs. 
The Cosmo COS-QS75 comes with efficient airflow at 500 CFM and has a four-speed blower option with twin centrifugal motors. You can quickly ventilate your kitchen without having loud noise. 
The filters are effortless to clean as it is another stainless steel dishwasher-safe filter. 
However, you have the option to purchase a carbon filter kit for using its ductless design, which is purchased separately, with the part number being #CFK5.
It is a relatively affordable price option that makes cleaning up messes much more accessible and keeps your health intact. Plus, the experience while you cook is much better too.  
Have you ever heard of a range hood that comes with wireless remote control? Well, now you have, as a remote comes with the hood. 
The Cosmo range hood is energy-efficient, with 1.5-watt LEDs, which last much longer than regular light bulbs. 
Plus, it provides much brighter and high-lumen lighting for better visibility during the evening. If you have a kitchen with little to no windows, this would be an excellent option for you. 
On our final note, the customer support team is based in the USA with a 3-year limited warranty for parts. The dimensions of this particular model are 29.5″ width x 22″ depth x 10″ height. 
The electrical requirements to the Cosmo are 120V/60Hz with a three-prong plug. The duct requirements are for the top vented 7.5″ round.
IKTCH 36 Inch
Here, we are looking at the IKTCH 36 Inch Under Cabinet Range Hood, which provides a CFM rating of 900, and allows maximum airflow to be provided. 
This little range hood is more potent than a lot of its competitors, leading it to enable you to heavy-duty cook. Since the filter is powerful, it removes a lot of smoke at once and keeps the odors from getting too smelly. 
The noise level goes to a max of 60 dB on a high fan speed. That is an average sound of a restaurant or office. The motor comes at high performance with four different levels, creating a quiet ventilation system for your kitchen. 
The design in itself is very modern and stunning and keeps it very functional with a lot of features, including the following:
Sensing and touch control switch panel.
Digital screen.
Full stainless body.
The two-piece LED lamps to allow you to adjust the intensity of what illumination you wish to have for your cooking needs.
The stainless steel baffle filters are relatively easy to clean as you can place them in the dishwasher and be finished with them. These filters make it to saving money in the long run and provide low maintenance. 
Overall, this under cabinet range hood provides your kitchen with a modern and restaurant-like feel. 
Best Under Cabinet Range Hoods Under $1000
FOTILE Pixie Air UQS3001 30" 800 CFMs with LED Lights
FOTILE Pixie Air UQS3001 30″ Stainless Steel Under Cabinet Range Hood is a powerful and quiet range hood perfect for your kitchen.
With signature WhisPower aerodynamic technologies, it can boost the suction power up to 800 CFMs with less energy consumed, covering 6 square feet or a 4-6 burner cooktop with ease. The maximum static pressure can reach 350 psi, and the noise level is as low as 37 dB.
The Pixie Air Range Hood also features an air management system that automatically detects harmful organic gasses or noxious fumes and vents them out of the house.
The 600 LUX LED lights to create a soft and bright light that will help you see your cooking area better and make your food look nicer.
The food-grade stainless steel appliance resists grease, stains, and rust. The detachable capture shield can be removed and cleaned in the dishwasher.
FOTILE features an unprecedented FIVE-YEAR LIMITED WARRANTY on their range hoods – including a full two-year warranty on parts and labor, as well as a three-year limited guarantee on all components of FOTILE Range Hood goods.
This under cabinet hood is ducted and works with ducting available at your local hardware store. As of September 2021, a ductless kit is available for an additional charge from the manufacturer for $115.
Are you looking for a more modern touch/motion-activated model? The UQG3002 model is available for about $300 more.
KOBE RAX2130SQB-1 Brillia 30-inch Under Cabinet Range Hood
Are you looking for a powerful and efficient range hood? Look no further than the KOBE RAX2130SQB-1 Brillia 30-inch under cabinet range hood. With three speeds and 750 CFMs of power, this range hood can handle anything you throw at it – but it's still quiet at just 1.0 sone on QuietMode.
Plus, the dishwasher-safe baffle filters make cleanup a breeze. Made from commercial grade stainless steel, this range hood is built to last and features a sleek, seamless design.
Thanks to its thin body profile, it's also suitable for taller cabinets. It is also available in 36-inch and 42-inch options to fit wider cabinets and ranges. There's also an available stainless steel backsplash.
The Kobe is not ductless and must be vented to the exterior. The motor installs inside the cabinet to accommodate the thin hood design so that some alternations may be needed. These conditions should be expected with a low-profile hood.
The hood is loader than other models on our list. However, it's due to the powerful 750CFM motor.
Feature summary includes:
Includes a strong blower with 750 CFM at maximum setting
Utilizes baffle filters that are dishwasher-safe and efficient in removing grease and oil.
LED lights that consume less energy and cast more light
With the aid of mounting brackets, it is simple to set up.
Pacific Trusteam 30″, 900+ CFM, Ultra Quiet Performance Hood
The Pacific Trusteam 30″ Under Cabinet Hood is the industry-leading suction power. This is thanks to its unique whisper-quiet motor and larger fan blades. Additionally, the high-capacity housing design provides unprecedented ventilation.
The Trusteam is a powerful range hood that is the most powerful in the United States. It has a 900+ CFM rating due to powerful exhaust fans. That means it can handle high-fume, oil-based cooking which is common with Chinese, Indian, Southeast Asian, and other popular cuisines.
Pacific builds the industry's quietest motor. "Extremely silent" is the 6th-speed setting. The Trusteam range hood operates at barely perceptible volumes, even high speeds. The noise level for Trusteam ranges from 40 to 66.6 decibels.
This filter-less design prevents grease build-up and reduces fire hazards. The advanced centrifugal blower funnels smoke outside while depositing grease in the leak-proof residue cup.
The delayed shutoff option allows you to postpone the end of cooking for a few minutes, allowing any remaining steam, smoke, and cooking scents to dissipate before it automatically shuts off.
The Pacific Trusteam must be vented. All Pacific range hoods require a 6″ venting duct. The Pacific Trusteam requires a 7″ venting duct because of the increased CFM rating.
The Pacific Trusteam under the cabinet range hood does not offer a recirculating ductless kit. There is a 36-inch model for about $60 more.
Ductless Under Cabinet Range Hood Buying Guide
We know shopping for kitchen exhaust hoods can be tricky. So, here is a list of 6 things (and 3 features) we feel will help you make a more informed purchase decision.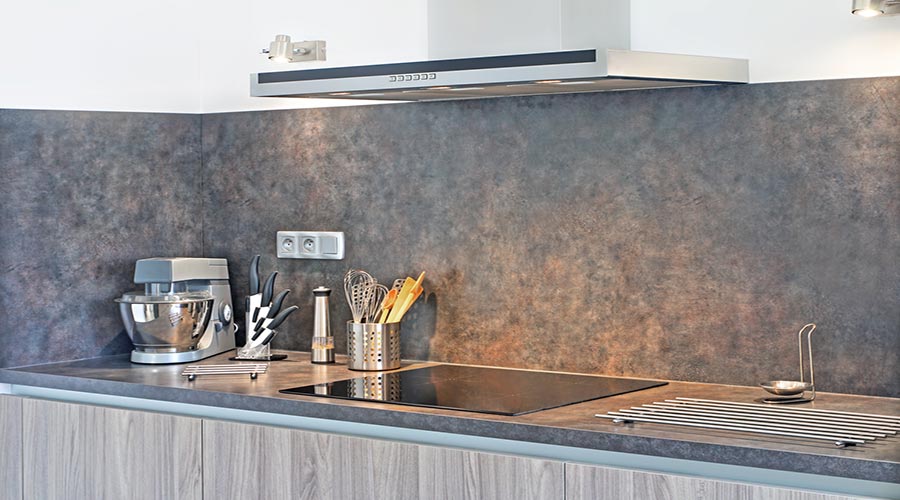 1. Vented vs. Duct-free
As you know, we have provided multiple options that can go either way, but what is the best one to decide and why?
We strongly recommend having a vented range hood, as a ductless hood takes the smoke and spreads it throughout the house. However, some people may not have that option, such as those who live in apartments.
Although it is more complicated to install, it might be worth doing as venting the hood outside helps with your overall health and fumes in the air. 
2. Keeping it Stylish & Practical
Most everything is about style these days, especially within your household. 
However, if it is stylish with no use for it, there should not be any reason for it to be in your home unless you use it solely for decoration. 
Many range hoods have become very stylish and practical over the years, so make sure you get one that fits your style and needs. 
3. Range Hoods vs. OTR Microwaves
OTR Microwaves
You might consider placing a microwave above your stove instead of a range hood. However, range hood vents are much better than a microwave overall, even if you got the best OTR microwave possible. 
On top of that, many people select OTR microwaves to save space, but they are not the same thing. Yet, placing an OTR microwave might be ideal if you have a smaller kitchen.
If you opt to get an OTR microwave, all you'll be getting is a microwave with lighting and ventilation, which does not vent very well like a range hood. 
Plus, air quality is much lower and can cause respiratory issues like triggering asthma and irritating your throat, nose, and eyes.
Another issue is not getting the same surface level as a ranger hood would offer, and it can take up a lot of cabinet space.
Ranger Hoods
A ranger hood's design allows the fumes, smoke, and odors to get sucked up and let out of your home. In doing so, it keeps your house from smelling bad. Not to mention the hood in itself grabs grease too. 
There are many styles and types of range hoods to choose from, and it allows you to choose what performance you wish to have. 
The main con of a range hood is that it is not a microwave. Plus, it is necessary to have one if you cook on gas cooktops or stoves. 
On the other hand, if a microwave needs repairs, you will not need to worry about it. 
4. Install it Properly
You will want to install the under cabinet range hood properly, so make sure you install it according to the manufacturer's instructions. 
In most cases, this means that you need to install the range hood roughly 18 to 30 inches above the stove or burner. If the hood is lower, the steam will not escape on both sides. 
Ensure that if you vent outdoors, use a small smooth, solid metal ducting that fits the area. 
To keep the bends at maximum airflow, keep the ducts short. You will also want to add a roof cap outside and wash the filter every one to three months. 
5. Do Not Downsize
Sometimes, more minor is much better, mainly when you are getting rid of many unnecessary things within your home. In this case, bigger is better. 
The hood should be as wide as the stove you cook on. Make sure to avoid downdraft vent hoods, as they are not the best. 
6. CFM is Not All You Need to Look for
As we have already gone over, CMF is necessary but not everything you need to look for. If you have more airflow, it does not mean capturing and removing smoke from the vicinity. However, the higher the CFM you have, the louder it is and the higher power consumption you'll use. 
Hood Features You Should Consider
There are quite a few features you might want to consider before solidifying your purchase with a range hood. However, many of the ones mentioned above already have these features. 
1. Number of Fan Speeds
Some manufacturers offer four to six fan speeds. Yet, only two would suffice unless you genuinely wish to have more of this feature. 
These two settings should be very high when you cook and a relatively lower set that you should use when you eat and after cooking. Overall, you should not need more than a three-fan setting.
2. Airflow
As we mentioned earlier, airflow is a pretty important factor, but not all that matters. However, the more airflow you have, means more ventilation is much quicker. 
Many models with moderate airflow work just like those with twice the amount of airflow. 
3. Exhaust Timer
Don't you hate having to get up from what you are currently doing to turn off the hood of your stove? In that case, look for a model cabinet hood with a timer or a remote control where you can quickly turn it off by clicking a button. 
Frequently Asked Questions
1. How Much Should I Spend on a Range Hood?
Asking how much you should spend on a range hood is up to you and what your budget requires. Under cabinet hoods can go between $30 to $3,000+ depending on what size, materials, and brand you choose.
For example, if you wish to get an average oversized cabinet hood, expect to pay roughly $200 to $1,000. However, a higher-end under cabinet hood would cost $1,000 to $3,000. 
2. Are Under Cabinet Range Hoods Good?
They are suitable for your health and get rid of excess odors and toxic fumes within the air, so yes, they are perfect for you. 
Not only that, but these cabinet hoods are great if you have cabinets on top of your stove.
In most cases, under cabinet hoods do not require ductwork to happen, so many homeowners opt to get it solely for this purpose. However, many still might require ductwork as well. 
3. How Many Inches Above Stove Should an Under Cabinet Range Hood Be?
In most cases, installing an under cabinet range hood should be between 20″ to 24″ from the cooking surface to the bottom of the hood. 
However, if you have a gas stove, make sure the hood is roughly between 24″ to 30″ unless specified differently.
Always make sure to check your manufacturer's guide before starting. 
Final Thoughts
To get the best under cabinet range hood for our last and final words, remember to look at its features, the sones rating, CFM, and other perks.
In some cases, those perks might be a remote control to turn the fan off, an automatic timer, or featuring LED lighting.
We hope this guide was helpful for you to choose what the best cabinet hood was!