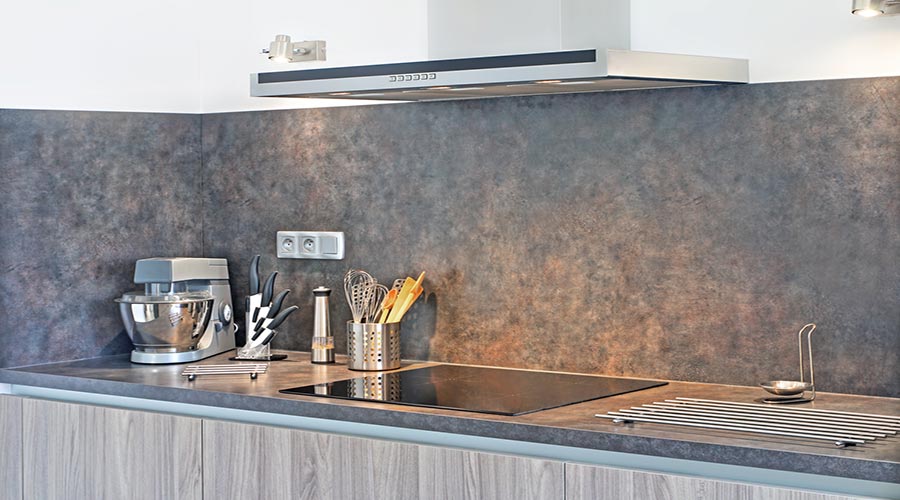 Whether you don't have room for a vented range hood or simply don't like the look of one, recirculating range hoods are on the rise. Recirculating range hoods are easier to maintain, install, and operate similarly to vented range hoods. However, it's important to purchase the right range hood for your needs, especially if you opt for a recirculating one. 
When choosing the best recirculating range hood for your home or business, there are several factors to consider. It's also important to remember that the best range hood for someone else might not be the best one for you. 
If you're worried about how to choose the best recirculating range hood, you've come to the right place. In this article, we'll break down how to make your choice, list the top range hoods on the market, and help you determine whether or not a recirculating range hood is right for you. Let's get cooking! 
How do Recirculating Range Hoods Work? 
The two basic types of range hoods are recirculating ones and vented ones. Vented range hoods carry polluted air from inside your home and suck it through a vent pipe to the outside. Polluted air includes smoke, smog, grease, fat, and other particles generated in the kitchen that contaminate the air. 
Rather than carrying the air inside your home to the outside, recirculating range hoods purify the air through a different method. Recirculating range hoods have a carbon or charcoal filter that traps and removes contaminants from the air as it passes through the filter. This range hood has a fan that sucks air through the filter, which purifies it before the air gets "recirculated" back into the kitchen. 
Because a recirculating range hood is cleaning the air and putting that same air back into your home, some say that it isn't as effective as vented range hoods. However, critics of vented range hoods say that removing conditioned air from inside your home is inefficient. With avid lovers and haters on both sides of the aisle, it's tough to know which recirculating hood is right your you. 
How to Choose the Right Type of Range Hood
Contrary to what critics say, recirculating range hoods do indeed work. They operate the same way your furnace and HVAC system does, by passing air through a purifying filter before redistributing it into your home. However, recirculating range hoods aren't as effective at removing certain contaminants as vented range hoods are. 
To help you make your range hood decision, let's look at how to choose between a vented hood and a recirculating one. We'll also look at what type of recirculating range hood is right for you. 
Efficiency and Eco Friendly 
In terms of efficiency and eco-friendliness, there's no doubt that recirculating or ventless range hoods are the winner. Because vented range hoods are taking conditioned air inside your home and carrying it outside, your HVAC system will have to work overtime to keep up. Remember that the air your hood is taking outside is contaminated and dirty, which is bad for the environment. 
Ventless range hoods don't require a ton of electrical power to operate, making them very efficient. The carbon and charcoal filters are durable and reusable for up to three or four months, or even longer if you don't cook often. 
Versatile and Mobile 
Because recirculating range hoods don't have any pipes or attachments connected to them, they can be anywhere in your kitchen. This makes them much more mobile and versatile than vented range hoods. Vented hoods have a pipe or duct connected to the back or top of them that needs to run outside your home. 
Because of this extra accessory, vented range hoods typically take up more space than ventless ones. You will also have to position your vented range hood against a wall so that your vent pipe has somewhere to go and doesn't stick out like a sore thumb. 
The Amount of Cooking You Do
Another important consideration to keep in mind is the amount of cooking and baking that you do. A recirculating hood will suffice if you only cook occasionally, such as several times a week or month. Even if you cook often, you can get by with a recirculating hood as long as you maintain it and change out the filter often. 
The Type of Cooking You Do
Just as the amount of cooking you do plays a role, the type of cooking you do also plays a role. The more grease, fat, smoke, and nastiness that you produce, the more likely you'll need a vented range hood. However, as we said before, as long as you maintain and clean your hood and change out your filter, you can do almost anything with a recirculating range hood. 
Asian dishes, bacon, fajitas, and other dishes that use a lot of oil and produce a ton of smoke are the most damaging to a recirculating range hood. They may have trouble keeping up at times unless you invest in a quality one. 
The Type of Stove You Have
One of the biggest fears people have is whether or not their ventless range hood will work with a gas stove. Whether natural or propane, gas produces carbon monoxide and is deadly in large doses. However, if you're cautious and enlist a few other preventative measures, you can certainly operate a gas stove with a recirculating range hood. 
It's important to note, however, that the filters in ventless range hoods cannot remove carbon monoxide. As a result, you would do well to open a kitchen window or have another form of ventilation to get carbon monoxide out of your house. 
Best Recirculating Range Hoods 
If you're satisfied that a recirculating range hood is right for you, let's dive into the top options. We'll look at the best recirculating range hoods for every occasion and situation that can accommodate your kitchen needs. 
Broan 413004 30 Inch Under Cabinet Range Hood – Best Budget Option
Broan is one of the most popular names in the world of range hoods. They produce many high-quality and affordable vented and ventless options. Users love the Broan 413004 Under Cabinet Range Hood for its great lighting features and because it's extremely quiet.
Lighting, in particular, is one of the most important and underrated features with range hoods. Because of where most hoods get located, the areas underneath them don't have access to much kitchen light. Therefore, having a range hood that provides ample lighting is extremely important. 
This model from Broan is a convertible range hood, meaning that you can use it as either a vented hood or an unvented one. It produces up to 220 CFMs, more than enough for most kitchens. It also comes in stainless steel, perfect for matching the rest of your appliances. 
Pros 
Excellent airflow mixed with silent fan operation 
You can install it as a vented or unvented hood 
Excellent lighting 
Broan has a reputation of being very dependable and for having excellent warranties. 
Lightweight and easy to install 
Very affordable at right around $100. 
Cons
While it's great for most cooking, big kitchens with large cooking appliances might need something more heavy-duty. 
Fotile JQG7505 Range Hood – Best for Heavy Cooking 
The Fotile JQG7505 Range Hood is considered by many to be the top ductless range hood on the market. This is especially true if you do tons of cooking and need a ventless hood that's a little more heavy-duty. It's the perfect ductless range for times when you really should have a vented hood but don't have the space or desire for one. 
This Fotile range hood is more expensive than other types of ductless range hoods, but it's also one of the best on the market. This range hood can handle almost anything, no matter what type of cooking or baking you're doing. Despite its large size, the Fotile is surprisingly quiet and easy to install. If you're not convinced about how great this Fotile range hood is, just look at the list of pros and cons below! 
Pros 
You can switch between four different fan speeds. 
Has not one but two centrifugal motors 
The design of the body is sleek and stainless steel to match your kitchen appliances. 
Offers a time delay function 
Has the ability to detect fumes and toxic gases 
Infrared connectivity technology 
The air vent will automatically open when it detects the need for airflow. 
Extremely quiet and easy to install despite how large and powerful it is 
You can install it anywhere in your kitchen since it doesn't need an exit vent. 
Compatible with wall-mount or under-cabinet setup and installation
Cons
The only real con of this range hood is the extensive price tag, making it one of the most expensive ductless range hoods. 
Cosmo 5MU30 Ductless Range Hood – Best for Small Spaces 
If you live in a condo, apartment, or have a smaller kitchen, you'll need a ductless range hood to accommodate your living situation. The Cosmo 5MU30 ductless range hood fits the bill. This range hood is a convertible range hood meaning that you can use it as a vented or ventless one. 
Despite its small size, the Cosmo 5MU30 has three fan speeds to choose from and will take care of nearly all your cooking messes. It's also on the cheaper side of things in comparison to similar ductless range hoods on the market. Cosmo is one of the leading names in ductless range hoods, and this model is no exception. 
Pros 
Despite its small size, it has excellent lighting and three fan speeds to take care of most contaminants 
Extremely easy to install and convert to a vented range hood if necessary 
One of the more quiet range hoods on the market 
Considered by many to be the best range hood for small spaces 
Cons
Because it's a convertible range hood, the carbon filter gets sold separately. 
While it's great for small spaces, this range hood will have a hard time keeping up in larger kitchens. 
Winflo W103C30 – One of the Best Overall 
The Winflo W103C30 could easily take its place at the top of the best recirculating range hoods list. It has everything that most renters and homeowners look for in a ventless hood, including a sleek and elegant design. This range hood almost looks more like a decoration than an actual kitchen appliance, which has added to its popularity. 
Winflo is a company that puts quality and customer satisfaction above all else, which means they use excellent materials when developing their range hoods. They're extremely easy to install and can be done by those who don't want to pay an electrician or HVAC technician. It's also a convertible range hood, which means you can change it to a vented hood if you desire. 
Pros 
It has an output of 400 CFMs, which is plenty for most small to medium-sized kitchens that see moderate to large amounts of cooking. 
Offers excellent LED lighting attachments to aid in cooking and cleanup. 
Combines an affordable price with high-quality materials 
One of the sleekest and most elegant designs for recirculating range hoods 
Cons
Because it's a convertible range hood, the carbon filters get sold separately. 
It's great for small to medium kitchens but not powerful enough to handle larger kitchens.
Cosmo 63175 Ductless Range Hood – Best Wall Mounted Option 
When you need a range hood installed on your wall rather than under a cabinet, the Cosmo 63175 is hard to compete with. This range hood is another excellent convertible option that you can switch from vented to ventless if necessary. It's perfect for nearly all residential kitchens ranging from medium to large. 
As you might have noticed, Cosmo is an excellent brand when considering ductless or ducted range hoods. They have a reputation for excellence and strive to live up to that reputation with each product. This product, in particular, is one of their best and most versatile thanks to its sleek design and sharp look. 
It comes with a 760 CFM dual motor and excellent lighting options. It is the perfect combination of sleek, stainless steel design and practicality and usefulness. 
Pros 
760 CFM motor is large enough to accommodate most residential kitchens and types of cooking 
Despite its size and heavy motor, this model is surprisingly quiet during operation 
Very easy to clean, maintain, and install 
One of the sleekest and most modern designs of any range hood 
Cons
It tends to create some vibrations when it's operating at lower speeds. 
Because it's convertible, the carbon filter gets sold separately. 
Cosmo 668ICS Island Mounted Range Hood – Best Ductless Island Range Hood
Whether you need an island range hood or like the look of one, the Cosmo 668ICS is one of the best in the business. Island range hoods are becoming extremely popular because of their sleek look and because homeowners like the idea of an oven in the center of their kitchen. Cabinets and other appliances often take up the perimeter of a kitchen, leading to the prevalence of island ranges. 
This island-mounted range hood from Cosmo is one of the sleekest and best-looking ductless island range hoods. The Cosmo 668ICS is available as a ducted or ductless installation, and you can convert from one to the other if necessary. It's capable of getting rid of many odors, steam, smoke, and nasty contaminants that pollute your kitchen air. 
This island range hood is hard to beat in terms of practicality, lighting, efficiency, and design. Chaulk up another point for Cosmo and their successful line of ductless range hoods! 
Pros 
Has enough CFMs and airflow for most residential kitchens 
One of the sleekest designs out of all island range hoods 
It has a three-speed motor that works efficiently to keep your kitchen clean. 
Includes top-notch lighting features to illuminate your kitchen 
It comes in multiple options to accommodate larger kitchens. 
Cons
While it works efficiently and effectively, this model has a reputation of being somewhat noisy. 
Because it is a convertible range hood, the carbon filter gets sold separately.
Buying Guide to Choose the Right Recirculating Range Hood
Filters 
The charcoal-carbon filters in your recirculating range hood are as important as the range hood itself. After all, you're simply transferring dirty air from one place to another without the right filters. These filters aren't cleanable, and you should replace them every three or four months, depending on how much cooking you do. However, charcoal filters can last upwards of a year if you don't get much use out of your range. 
On the other hand, you should regularly wash the metal baffles below the carbon filter. Most modern range hoods have dishwasher-safe baffles, which make for easy cleanup. 
CFMs 
CFM refers to how much air the fan on your recirculating range hood can move around. The higher the CFMs, the more powerful and effective the fan is at sucking up contaminants. You should choose a fan with the right amount of power based on the size of your kitchen and the amount of cooking you do. 
Size 
The size of the physical range hood itself also plays a massive role in the selection process. If you have a smaller kitchen with limited space, you don't want to make the mistake of purchasing a massive range hood. It will look like an eyesore in the enclosed area and make your kitchen feel cramped. Instead, you should opt for a range hood that's powerful enough to serve your purposes while being small enough to blend into your kitchen. 
Noise Level 
Most recirculating range hoods have powerful fans that can tend to be noisy if you're not careful. If noise is a big factor, you will do well to spend a little extra and purchase a range hood with a quieter fan. 
Lighting 
Lighting is also a big factor when choosing your recirculating range hood. Most modern range hoods have LED lighting that's both radiant and efficient. Lighting is extremely important if you have an older kitchen without good interior lighting. It's also very useful for preparing your dishes and cleaning up after yourself. 
Budget
Finally, budget is often the most important factor when choosing a recirculating range hood. You want to spend enough money to get a quality product, but not so much money that you can't afford the upkeep and maintenance. If you're purchasing a new range hood, there's also a good chance that you want to make other improvements to your home. Don't spend your entire home improvement budget on a single item such as a range hood. 
Maintaining Your Recirculating Range Hood 
Maintenance and upkeep are never fun for household appliances, but they're extremely important. Maintenance is especially important for recirculating range hoods. Apart from replacing your charcoal-carbon filters every three or four months, you should take care of the rest of your range hood. 
Here are some tips and tricks to keep your recirculating range hood healthy and operational. 
Use glass cleaner or acetone when wiping down your range hood. 
Wipe down the exterior surface of the hood and the top of your stove. 
If necessary, add Soft Scrub to the towel you're using for pesky stains. 
Make sure to remove your stainless steel filters or baffles and wipe them down. Some of these baffles are dishwasher safe, so make sure to check with your specific model. 
Remove the fan blower from the vent hood. Clean and inspect it for any damage. 
Remove and replace the carbon filter underneath the fan every three months or as needed. 
You should perform this maintenance every time you need to change your filters. However, you should wipe down the exterior of your range hood and keep your kitchen clean regularly. 
Frequently Asked Questions 
Do recirculating range hoods actually work? 
As long as you have a recirculating range hood that's the right size and you properly maintain it, recirculating range hoods can do most things that vented range hoods can. 
Can ductless range hoods be used with a gas stove? 
You can use a ductless range hood with your stove, keeping in mind that they won't eliminate carbon monoxide. You should have another source of ventilation, such as a fan or window, to take carbon monoxide outside your home. 
Which filters are the best for ductless range hoods? 
Ductless range hoods should always have charcoal-carbon filters. 
Final Thoughts 
As you can see, recirculating range hoods certainly have their place in the world. Because of their efficiency, ease of use, and installation are becoming increasingly popular. As long as you choose the right range hood size and style and properly maintain it, there's no reason why you can't operate safely and smoothly in your home with a recirculating range hood.