In a world where evolving your kitchen appliances and keeping things tailored to a modern look, someone might begin to find themselves scraping the bottom of the barrel to pursue cleaning the air and promoting a more professional environment. 
While you might think running with a dehumidifier or other air filtration method might do the job, you would be fighting for a valuable spot in your kitchen. In that case, bulky items probably won't work for most people.
For that exact circumstance, ductless range hoods take the stage, so what are the best ones?
FOTILE JQG7505 30″
Cosmo COS-5MU30 30"
Proline Range Hoods 30″
Broan-NuTone 413004
CIARRA Ductless Range Hood 30″
Empava 30″ Under Cabinet Range Hood (Ductless Supported)
Empava 30″ Wall Mount Range Hood (Ductless Supported)
Before we go over our best options for ductless hoods, let's briefly chat about what a ductless range hood is, then explore the plethora of benefits you gain by selecting one!
What is a Ductless Range Hood?
A ductless range hood is a type of filtration unit that rests over your range top. It actively combats the unique scents and various other particles created when cooking. 
It runs the scents through multiple filters and finally recycles the air back into your kitchen, mitigating most smells and creating a new cooking experience. Overall, it makes the environment more welcoming by the same token.
There are several different types of range hoods innately to fit a variety of kitchen design styles, such as island and wall-mounted chimney and under-cabinet options. As you might have guessed by the name, ductless kitchen hoods fit a need where ducted ventilation is not available. 
The ductless references the fact that the range hood does not vent the particles it gathers outside between the two but the ducted remove them from your home entirely.
While some people might be hard-pressed to understand why someone would want to go with a ductless range hood over a version that removes the particles entirely, the most common answers boil down to costs and size limitations on the kitchen itself.
Installing the ductwork required to facilitate utilizing a ducted range hood is time-consuming. Still, it can be pretty expensive, depending on how much modification needs to be done in your home to accommodate it. 
Most people would be better off siding with a ductless range hood unless they had to get the particles out of their kitchen.
What Are the Best Ductless Range Hoods?
Now that we understand what a ductless range hood is and how one can help take your cooking experience to the next level, you probably have one question burning in your mind. 
The question is, "what is the absolute best ductless range hood I can buy" which probably follows suit with "best ductless range hood for the cost."
Well, worry not fair reader, because we will be going over the best ductless range hoods on the market and going over some of their most significant pros and cons and how they might mesh even more seamlessly into your kitchen. 
Before we go too deep into the topic, it's worth noting that most of these ductless models will have specific size requirements that may be outside your kitchen's scope. 
In the event of this, you can usually shop around the same range hood brand name and find a product that will meet your needs without completely resizing your kitchen or going too far out of your way to make it fit. Ductless hood common sizes include 30-inch and 36-inches.
1. FOTILE JQG7505 30″
The first entry on the list comes in the sleek and stylish design stylings of the FOTILE JQG7505. 
This model arrives with a jet black finish and features some incredible slant vent technology that will help reduce the number of odors that can accumulate in your kitchen. 
The FOTILE also does so in a perfect area of up to 6 sq. ft, which is more than enough room in most cases.
When you typically shop around for a ductless range hood, one of the biggest concerns you can have about your unit is its basic functionality and how noisy it gets while it is in use.
Thankfully, the JQG7505 utilizes some potent dual DC motors, making it more efficient at dissipating ambient odors and does so without breaking up any conversations going on in the background.
Another feather in the JQG7505's cap comes in the form of you being able to control it without touching it directly. It utilizes motion-activated infrared connectivity, so you can operate this range hood with a simple hand to turn it off or on without touching the surface.
That feature is handy because when you are cooking, your hands might be dirty, or the vent may have a thin layer of grease or food residue on it, eliminating germ exposure or cross-contamination potential. 
Most ductless range units have sharp edges and corners that could cut your fingers if you attempt to turn them on without looking. Hence, the motion control feature serves as both a safety feature and a quality of life functionality!
Keeping in step with even more positives about this model, let's talk fan speed.
Your average unit has one or two-speed settings. Still, the JQG7505 has four unique rate-setting to accommodate almost any situation. A specialized stir fry mode is included to give you an even greater variety of control in your cooking experience.
Finally, the JQG7505 uses a dual centrifugal motor and impeller that helps filter out any pesky grease and residual food odors that will crop up. 
It removes up to 98% of those ambient odors immediately, so you can feel free to make your favorite heavily scented dishes without having your entire home smell of it for days.
While it is fantastic at what it does, it does so at a rather pricey expense, the unit itself rings it at $1,399 as of writing this article, so it is quite an investment.
Another downside to this product would be that it is not an easy installation. Truthfully, you will want a recommended professional to do the building for you because it includes a warranty behind it and will save you the possibility of breaking or damaging your unit during the installation.
2. Cosmo COS-5MU30 30 inch
Next up, we have the Cosmo COS-5MU30, and for all intents and purposes, it is a fantastic unit for the cost. 
The design is a very modern take on things and comes in a sleek stainless steel finish that is sure to complement almost any kitchen decor style, and because of its slim build, you will be saving quite a bit of room in most cases.
Thanks to its relatively simple stainless steel design, the unit itself cost less than $130, which is phenomenal for everything. From a ductless range standpoint, you really can't beat the performance to investment rates that it provides.
The COS-5MU30 also has hands-free technology taking a firm stance on keeping things sanitary in your kitchen by removing any personal interaction from its day-to-day use. As you might guess, this will also mean significantly less time cleaning it.
Despite being relatively small, the COS-5MU30 can generate a lot of filtration power for its frame. 
Utilizing a 3-speed motor system, you expect it to handle almost any cooking style you've got brewing with relative ease, but it might be doing so at the cost of running loudly.
In terms of natural filtration, it gets the job done by using a multi-layered filtration system made from aluminum mesh. It captures and locks in oil, grease, and most smells that would otherwise become rather annoying over time.
Another fantastic benefit this unit features is the innate 3-year warranty on most of the parts in the ductless unit itself, which can come in handy if installation gets a little shifty, but otherwise another nice perk.
However, you get what you pay for as the range hood can be quieter than other models. However, most standards consider it loud, ringing in at 59 dB on the highest setting. It might be rather difficult to talk directly next to it and annoying running in the background.
Amazon and product manuals don't list a CFM rating, but according to one Amazon customer who contacted the manufacturer, the rating is about 200 CFM. This rating is relatively low (compared to the Proline 600CFM or the Empava 400 CFM, for example) for the 59-decibel noise level.
Another issue comes into play in its boasted "ductless convertible duct" aspect. While you can run it as a ductless range hood alternative, it doesn't accomplish nearly the same amount of odor or filtration you would come to expect for it to have the name of ductless.
By default, this unit is more centralized around utilizing the duct for almost every aspect of its functionality. While it "can" work as a ductless unit, you might not want to go with this unit specifically if you wanted an entirely ductless option as you might be costing yourself in the long run.
3. Proline Range Hoods 30″
Changing things up a bit from the other entries in the list, we will be going over the wall mount range hood, and who better to introduce this kind of hood than the Proline range hood. 
This hood has a very fresh look sporting a glass design that can take things to the next level from an aesthetics standpoint and view items in raw performance. You can expect extreme satisfaction thanks to its 600 CFM output.
Unlike most ductless exhaust hoods, this one uses a one-time interaction system that allows you to turn it on and forget about it, thanks to an auto-off system. 
This feature is also programmable depending on your needs, featuring a time set of anywhere from one to fifteen minutes, allowing you to make the most of your time.
Another great perk that comes with the Proline is its ability to function as ducted and ductless without sacrificing an extreme amount of functionality for the change-up. 
In most cases, when you deal with a ductless-convertible setup, you would have to invest in an additional product that isn't included in the initial purchase, but the Proline allows you to go ductless out of the box.
You can expect things to go even more smoothly than most competitive brands when it comes time to clean your aluminum mesh filters, thanks to Proline's innovative honeycomb mesh baffle filter. This specific filter is dishwasher safe, which makes cleaning a breeze!
Between the sleek design and polished interactions, you can see why a brilliant unit might be priced at about $540. 
According to most of the reviews, the product itself typically experiences very little on the side of hiccups and out-of-the-box issues.
However, the Proline suffers from the same issue that any ductless range hood will suffer from recirculation. 
Because the unit is ductless, it will be removing most of the odors from the air and redistributing it back into your kitchen, which is dramatically different from removing it entirely.
Aside from your common duct issues, the Proline is relatively pricey and can be louder than you'd expect for such an investment. 
Seeing as it is a wall mount range, it will require even more room on your wall to allow it to install correctly, so if you are hurting for space, you probably won't be able to make use of this option in the first place.
While the glass on this particular range hood lends quite a bit to it aesthetically, you will get just as much trouble out of it. The glass will gradually build up with grime, dust, grease, and numerous other visual impairments that can show up over time. Because it is glass, it will be blatantly apparent. 
You can expect a lot more cleaning and wiping to keep that fresh modern look that is initially advertised. Overall, it truly balances out personal preference. 
4. Broan-NuTone 413004
Dipping our toes in the more expensive products can be fun, but keeping investments within a reasonable budget can allow you to put the money you invested in the product elsewhere. 
The Broan-NuTone gives you that financial freedom with quite a bit of flexibility.
A fantastic base design with an affordable price can be hard to find in the world of kitchen appliances. 
Still, the Broan-NuTone makes that specific order a reality, costing only $105 for their 1.0 style or $135 for the 2.0 style. 
You will be getting your odors under control for pennies on the dollar compared to some competition on this list.
The Nu-Tone features your expected standard ductless options. However, it also features unique incandescent lighting solutions that help you clean up and brighten your cooking area to gain a new perspective on your cooking experience. 
The lamp itself can handle up to a 75-watt bulb. Still, you will need to procure the bulb yourself, as it is not included in the purchase itself. However, with the amount you save on the cost of the product, the bulb investment is simply a drop in the hat.
The NuTone's filtration system utilizes a charcoal-based filter that can be replaced quickly and will keep things streamlined from a maintenance perspective. 
It can also be because you are using charcoal as the primary form of filtering. Your kitchen will never have the lingering odors you might expect from competitors of the same cost area.
Installing the NuTone can be tricky, but it is also one of the easier installs on this list. Assuming you've got just a bit of experience under your belt, you should be able to get this installed with little to no issue, especially considering the unit itself is lightweight, coming in at only 10 pounds out of the box.
Honestly, the NuTone doesn't have a lot to list under cons. In most cases, you'd expect a cheap product to perform cheaply. 
Still, the NuTone breaks that standard with flying colors. One of the major gripes that continually crop up on the reviews for the product is finding a replacement filter or, more specifically, the model number on that filter.
To make things a bit more streamlined, the model number on that filter is S97007696. According to more digging into the subject, you can purchase that same filter on Amazon, keeping things even more simplistic. 
While on the subject of being nitpicky, the installation as always is a chore, but getting the wiring through one of the ports in the back of the unit may prove exceptionally difficult for a single person, so having a friend lend you a hand may be the best solution to that issue.
I am touching base briefly on the difference between the 1.0 and 2.0 versions. The 2.0 comes with a one-year warranty, whereas the 1.0 option did not include a warranty option. Aside from that, there are no other discernable differences between the two.
5. CIARRA Ductless Range Hood 30″
We've delved pretty deep into most ductless range hoods on the market. Still, the CIARRA brings something relatively compact with its patented ultra-slim design. 
This little beauty still fits that 30″ under cabinet hood space, just like all the other options listed so far, but the CIARRA is just under 4 inches tall!
That means heigh-based setups will make this one almost a no-brainer, but what brings things together for this neat little package is that it still filters out just as much oil, grease, and other odors while still appearing almost unnoticeable. 
You should note that you will need to purchase a CACF006 carbon filter kit to use it in ductless mode. However, the CIARRA is not only small, but it's affordable.
Costing just $158.99 on Amazon and including a two-year warranty, it will make a great addition to most kitchens looking to free up some room and not break the bank for the effort. 
In terms of style, the CIARRA features a stainless steel finish, so it won't be an eyesore and can fit in with almost any modern kitchen aesthetic.
Because of how small the CIARRA is, you can expect it to be just a little bit less efficient at removing odors than some of its larger counterparts, but not by much. 
Another thing to expect would be a somewhat odd installation method, partially due to some portions of the manual being somewhat inconsistent, at least according to some of the reviews on the product itself.
If you were looking for precisely 30″, you might have an issue on that end. The product itself is marketed at 30″, but it is truthfully at about 29.76″.
If you need it to be a perfectly snug fit, you may reconsider getting this model specifically. 
Other concerns listed are having trouble replacing the carbon filter. The filters can be difficult to install as they often install at an awkward angle overhead.
6. Empava 30″ Under Cabinet Range Hood (Ductless Supported)
If you're looking for a modern, stainless steel range hood with stainless steel filters, then the Empava 30 inch, 400 CFM Ducted Under Cabinet Range Hood EMPV-30RH07.
This range hood installs under a cabinet and has a ducting system that helps to ventilate your kitchen. While this is a ducted hood, ductless installation is supported.
The Empava features durable 18-gauge steel construction with a handcrafted brushed stain finish making it resistant to corrosion and scratches. Wipe clean with a dab of acetone or a mild degreaser.
With a powerful motor capable of 400 CFM airflow and 3-speeds, this spacious 30-inch hood can move and filter large volumes of air, even for heavy cooking enthusiasts.
Empava is known for producing quality, ultra-quiet range hoods. At the highest speed, the hood operates at 65 decibels or less for a low noise level at maximum speed.
The unit has a touch-sensitive front panel and is also equipped with two bright LED lights to illuminate your cooking area.
Empava offers a 3-year warranty to buy with confidence for under $350.
7. Empava 30″ Wall Mounted Range Hood (Ductless Supported)
If you're looking for a modern, stainless steel and glass range hood with stainless steel baffle filters, then the Empava 30 inch, 400 CFM Ducted Wall Mounted Range Hood EMPV-30RH06.
With a sleek stainless steel chimney with a curved glass cover, this is the perfect range hood to be hung on the wall where no overhead cabinets exist. A ducting system assists in ventilation. Ductless installation is supported, although this is a ducted hood.
The Empava is built from 18-gauge steel with a handcrafted brushed stain finish that protects it from corrosion and scratches. Clean it with a little bit of acetone or a mild degreaser for simple maintenance.
Even for heavy cooking fans, this kitchen hood can move and filter a large amount of air thanks to its 400 CFM airflow and 3-speed fan. The hood's loudest speed is 65 decibels or lower, making it an ultra-quiet range hood.
This is a simple-to-use food thermometer with a touch-sensitive front panel for illumination and two bright LED lights to light your cooking area.
Empava comes with a 3-year warranty so that you can shop with confidence.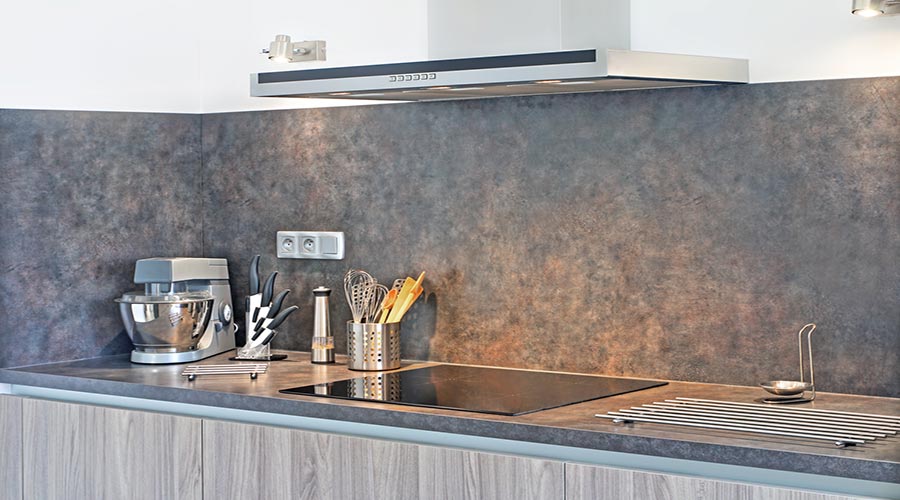 What to Consider When Purchasing a Ductless Range Hood
Now that we've got some quality options with quite a few different price ranges at our disposal, a few things might have become apparent when looking at each product individually. 
Still, to address ductless exhaust hoods, you may want to be advised they do not entirely remove odors from the kitchen.
Regardless of how efficient the hood is, there will always remain some residual smell, and more to the point you cannot evade this without going ductless, as the air will return, but filtered if you need the scents gone, your only option will be to go with a ducted unit.
1. Filters
On the one hand, we have the replaceable carbon filter required of almost all ductless units that filter the grease, oil, and odors.
These replaceable charcoal filters will gradually get too filthy to continue using and eventually need to be replaced. 
The quality of filtration will get so poor that you are hardly noticing a reduction in the scents in the first place, which is troublesome. Still, nothing a bit of elbow grease wouldn't fix.
The other side of this coin would be that not all units are built the same, and some will require even more effort to clean because the base vent grills cannot be placed into a dishwasher for a lazy alternative to cleaning, which means less time for you to do other things in the long run.
2. CFM Rating
You will find units with a cubic feet per minute (CFM) rating on most conventional ductless range units. It is a numeric representation of how much air the range hood can filter per minute. More precisely, it breaks down its effectiveness at filtering the air. 
Assuming you are cooking for your entire family or are someone who does a lot of cooking, you wouldn't want to settle for anything less than 350 CFM because you would still have quite a few lingering odors, especially when cooking multiple things at a time.
In most cases, to find out a product's CFM, you need only look at the description of its benefits. However, the CFM may not be advertised on every ductless vent hood. 
If the CFM isn't listed, it's probably because the unit itself might not be topping the charts in that area despite the price for the respective range hood.
3. Sound
Noise pollution is most definitely something to be wary of in almost every situation applicable. How noisy the fan's blower speed is in your ductless range can be is no different. 
Your typical range hood won't make more than 40dB of noise on its highest speed settings (fan speeds), but not all range hood brands have the same noise levels.
It's worth noting that anything above roughly 60 dB will be constrictive to normal conversation and deemed annoying if you are trying to talk around it.
Generally, with affordably priced hoods under $200, you sacrifice quiet operation as most are considered noisy to operate.
Fortunately, most blower fans only hit 60 decibels or higher on the highest setting.
4. Lighting
While not explicitly advertised in most cases, almost every ductless range hood on the market these days comes with some manner of lighting system built-in, with either incandescent bulbs or LEDs.
It offers you varying levels of visibility depending on the kind of lightbulb it takes and the wattage supported by your unit.
As with any light source, you can have every other type of light bulb under the sun, hypothetically speaking. 
Still, you will want to use something that looks natural and won't become a burden on your eyes while in use or create odd distortions of light when viewed from afar.
5. Budget
Stretching your dollar as far as it can go will allow you to get the most out of life, but the most out of your investments and ductless vent hoods can take this slippery slope into places you may not have even considered possible.
Your more basic ductless options will teeter around the $100 to $200 price range, but do not allow that cheap entry point to fool you. 
As you can see with the first option listed, you can spend over $1,000 depending on just how much power, style, and lighting you want out of these units. 
An average person wouldn't need something so luxurious as the most cutting-edge unit on the market. Still, the precision is typically justified on the more expensive units because they are built more sturdy and offer a more diverse range of cleaning and maintenance options.
6. Recirculating Range Hood
While shopping around for which range hood will fit your needs the best, you may see the keyword "recirculating," which might seem like a different kind of range hood entirely but don't be confused. It's just another way of saying ductless.
The reason for that is the carbon filter we spoke of earlier because the air itself is being run through a filter, then being redistributed throughout the room. 
It is considered "recirculated" air, whereas a ducted unit would be removing the air entirely.
7. Ducted vs. Ductless Range Hood 
Transitioning from the topic above, the primary difference between a ducted range hood and a ductless one boils down to two significant standpoints. 
Do you need the air, odor, and scents to be completely removed from your kitchen regardless of the expensive or time required to make it happen? 
Suppose the answer to the question above was yes. In that case, you will need a ducted range hood because it will take any odors and scents acquired through your range hood and funnel it outside utilizing the ducted system attached to it. If that doesn't matter, you can effectively use a ductless unit.
Secondly, do you have the room and budget required to make a ducted system work in your home? 
If you are pressed for space or don't want to run ductwork leading outside your home, then a ductless range hood will fulfill all your needs because you won't need to do much aside from the initial installation to get things running.
How Does a Ductless Range Hood Work?
A ductless range hood gathers the grease, scents, oils, and anything else created while cooking and runs them through charcoal carbon filters. 
It cleans the air and redistributes it without those prior scents attached, creating a healthier, cleaner-smelling environment to cook in.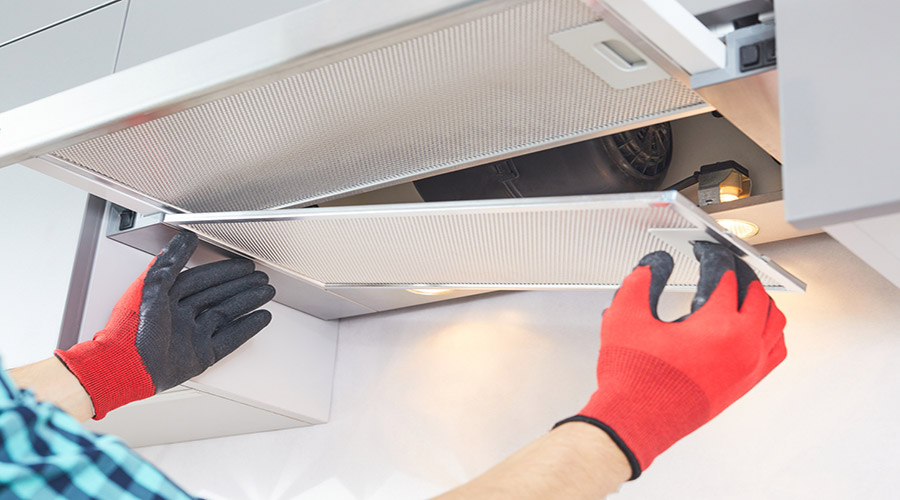 Tips for Cleaning Your Ductless Range Hood
The tips here can vary significantly depending on what kind of range hood you have, especially the material it's made out of. Some ductless range hoods feature glass paneling of some sort. 
You will want to use a cleaning product to safely handle that material.
When looking at the common variety stainless steel range hood types, your typical go-to is a baking soda and vinegar mix. 
This mixture allows you to break down the grease that can build up on your hood and quickly work any residual caked-on particles.
Frequently Asked Questions
Do Ductless Range Hoods Work?
Yes, but they do not entirely remove the air, only clean it and recycle it back into the room. Ductless hoods draw in cooking odors and polluted air across a charcoal filter before recirculating it back into the kitchen.
Can I Replace a Ducted Range Hood With Ductless?
That depends on the size of the kitchen and whether or not your range supports convertible range hood options.
Are Ductless Range Hoods to Code?
Yes, they are code-approved over residential electric cooking surfaces. The installation height requirement is 20 to 24 inches over the stove. There isn't a code on CFM requirements in an area in a residential setting. You won't be able to use a recirculating vent hood over a gas cooking appliance.
Do Ductless Range Hoods Remove Smoke?
It won't remove smoke and other exhaust because it's not venting outside. It draws smoke, steam, and cooking odors to a charcoal filter that cleans the air and recycles it back into the kitchen.
Are Recirculating Hoods Practical?
Absolutely. Nearly all new homes built today feature recirculating under cabinet hoods with an electric cooking surface. A recirculating ductless hood at 500CFM or less is sufficient for residential electric cooking surfaces.
You'll need a ducted hood if you're using a gas cooking surface or if your goal is to be completely scent-free. So, keep this in mind if you ever intend to transition from electric to gas cooking.
Are Ductless Range Hoods Good?
Yes, especially the cheaper models, considering the investment's quality of life over time. More expensive models are perfect for modern kitchens where venting to the exterior is challenging.
Can a Ductless Range Hood Be Used with a Gas Stove?
No, in almost every case, the ductless range hood will not be strong enough to remove the exhaust created by the cooktop.
How Often Should Range Hood Filters Be Replaced?
This heavily depends on how often you cook and the size of the meals, but the general rule of thumb is anywhere between one to three months depending. Most ductless hoods have aluminum mesh filters, and stainless steel baffles are dishwasher safe.
Charcoal carbon filters should be replaced (not cleaned) every six months for routine use or every three months for heavy cooking use.
What is the Difference Between a Charcoal Filter & a Grease Filter?
A charcoal filter primarily catches the odors created while cooking, whereas the grease filter is designed to detect grease and prevent it from building up.
Final Thoughts
Ductless range hoods are a fantastic solution to a kitchen littered with the various odors that can arise while cooking. 
Still, you should be okay with simply having the air recycled and put back into the room. If that is unacceptable, you need to go with a ducted range unit to provide the solution you are looking for.