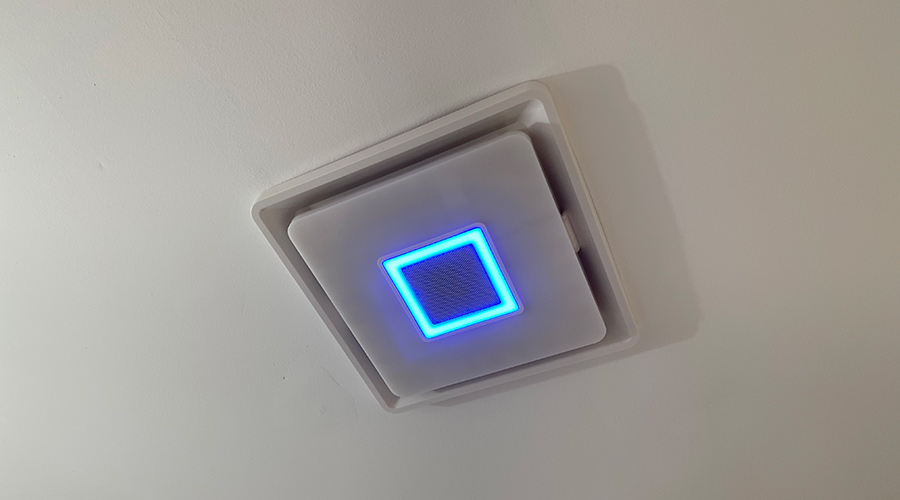 Bathroom exhaust fans are an excellent feature while showering because they remove the excess moisture from your home to the outdoors. 
However, some households might not have good ventilation in their restrooms or might not even have a fan, so you search far and wide for the best bathroom exhaust fan possible within your home. 
So, what are the best, you might ask? Here is a quick and easy list of the best bathroom exhaust fans. 
Seeing how you have the best exhaust fans at your fingertips, you will need more specific information and why they are so important. 
If you keep reading, you will find that there is one that will satisfy your needs and wants! 
Why Are Bathroom Fans Important?
Firstly, you might not realize that bathroom fans are critical for quite a few reasons, but the most important thing you should know is that it draws out the moisture from within the room itself. This information is incredibly accurate if you do not have a window in your bathroom. 
It is essential to draw moisture out to prevent mold and mildew build-up. Plus, the paint inside the bathroom is less likely to peel off the walls or ceiling. 
Another reason why a bathroom fan is essential is that it helps control and eliminates bathroom odor from the house itself. 
However, some people may not quite understand when to turn it off. In that case, we highly recommend you turn the fan on before you get into the shower and for 10 – 20 minutes afterward. 
We do not recommend keeping it on longer than that because it should be left on just enough to remove the moisture from within your home. 
Different Types of Bathroom Fans
There are multiple different types of bathroom exhaust fans that you should consider. Since we will recommend all three of them today, it is crucial to know beforehand to decide which one is right for you. 
1. Ceiling Bathroom Fans
First off, our most popular one goes directly on the ceiling. As you may already know from science class long ago, heat rises, and since the humid air becomes hot, it is wise to place the bathroom fan on the ceiling itself.
They work by pulling the warm and damp air into the vent and through the roof. It is pretty self-explanatory if you think about it. However, if you cannot access the ductwork through the ceiling, you can vent it out by the wall. 
Of course, if you choose this option, you need to understand what pros and cons go along with it. 
Pros
Lots of options to choose from since it is a popular option.
It saves wall space, especially if you have a small bathroom or want to add a little decoration.
Ideal if you wish to have optimal ventilation.
Installation is much easier than other bathroom exhaust fans.
Since ventilation fans drip occasionally, the walls get spared from the constant dripping. 
Cons
If there is an issue, a ceiling fan will be more challenging to access. 
Leaking through the roof might cause moisture damage.
Animal interference from the roof vent or the duct roof inside the attic might be an issue. Check to make sure there is no damage from animals every so often.
2. Wall Bathroom Fans
Next, we have the wall ventilation fans, the second most popular option. You will often find that wall fans can convert into a ceiling-mount fan, providing many choices. 
However, if there is no ceiling insert option, you will typically want to use a wall-mounted fan. 
Also, a wall-mount option is best if you wish to have an easy installation that still provides excellent performance. 
Keep the fan away from the shower or tub to prevent water from dripping on your drywall. 
Here are some advantages and disadvantages of a wall-mounted fan:
Pros
Repairs are much easier since you do not have access to the roof or attic where the issues might occur. 
You can vent a wall-mounted bathroom vent through the wall, making it to where there is no need for ducting. 
Cons
There is a greater risk of back-drafting.
It becomes more invasive because you are venting through a wall. 
3. Inline Bathroom Fans
Lastly, we have an inline or remote-mounted bathroom fan option. These bathroom fans are installed in the attic space inline with the ductwork, making them the quieter choice. You can use them in laundry rooms, kitchens, and bathrooms.
Because of the ductwork, they are entirely different from the other two mentioned above. However, that does not mean inline exhaust fans do not have issues. Let us go over them below. 
Pros
You can use one fan to exhaust more than one area simultaneously. 
 Since they are inside the ductwork, they are much quieter than the other two options above.
Cons
Their installation process is more complex than the other two mentioned above.
They are ineffective if the ductwork becomes too complicated with many blends or you have limited space.
If you have a drop in power, it will not function as correctly as a fan behind the bathroom vent.
Our Picks for Best Bathroom Fans
Now that we have gone over the importance of bathroom vent fans let us go over the best bathroom exhaust fans. We have done a vast amount of research to find these, so let us get started!
Ceiling-mount Bathroom Fans
Panasonic FV-0511VFL1
The Panasonic WhisperFit Ventilation Fan is the first option on our list, and for a good reason too! It's one of the quietest bathroom exhaust fans available. This quiet bathroom exhaust fan is ENERGY STAR certified, so although you might be spending a little money upfront, it will save you a ton in the long run. 
You do not often get to choose which airflow comes out of your bathroom fan, as it is only one option. 
However, you can select which airflow you want with the Panasonic exhaust fan. The different options are 50, 80, or 110 CFM, and you can turn it on with a switch. 
Also, having some extra lighting would be fantastic, just what this model offers. The only catch about this portion is that you need to wire it separately, which might turn away buyers. 
However, if this is something you do not mind or can live without, then let's continue to the other perks of this beauty. 
The FV-0511VFL1 comes with an ECM motor with SmartFlow technology to ensure the CFM output has excellent optimization.
In terms of the installation process, they advertise that it is relatively easy, although some buyers mention the ductwork can get tricky. 
On the other hand, the device is compliant with the following:
ASHRAE 62.2
LEED
IAP
California Title 24
KAZE APPLIANCE SEP120L2
The KAZE APPLIANCE SEP120L2 may very well be our list's quietest bathroom exhaust fan, with sound levels of 0.3 sones at 120 CFM. 
This bathroom fan is suitable for a bathroom up to 120 square feet. This ample square footage lets you have the bathroom of your dreams if you don't have it already. 
The fan also comes with warm 3000K LED lights, leaving it to where it does not feel cold once you walk inside the room. 
You will feel warm and cozy, and it is perfect for when you need to use the bathroom at night or want to take a quick shower without all the harsh lighting. 
On the other hand, many customers have complained they did not eliminate the lighting enough. So, if you wish to have a fan with a light with more brightness, then this may not be the one for you. 
The company is also highly confident in their product that they provide a 3-year warranty, so you can tell they are reliable in what they do. 
You can install the bathroom ventilation system in three ways:
Mounted between trusses.
Mounted to I-joists & joists.
Mounted with additional mounting holes.
Lastly, this device has a removable 6-inch metal duct with a back-draft prevention damper and a 4-inch duct reducer. 
One downfall you might not like is that the fan is relatively large, so you will need to cut a hole in the ceiling according to what it says. 
If you ever wish to change the fan because of a defect or upgrade later, it might be frustrating to work with the drywall afterward.
BV Ultra-Quiet 90 CFM
The next bathroom exhaust fan we are discussing today is the BV Ultra-Quiet with only 90 CFM and 0.8 sones, making it a great choice for a quiet bathroom fan to replace an old fan.
However, some buyers mention it is not as quiet as they say, while others note it is hushed, so remember that before proceeding. 
One of the first perks you might notice about this beauty is that it comes with a one-year warranty which includes technical support service. Register the model number and other information on their website if you go with this product. 
However, there are another two options available regarding a protection plan by Asurion. 
You can choose a 4-year or 3-year plan. You can file a claim easily online or through the phone. Both of these options are under $10. 
The BV has an ENERGY STAR certification, having it to where it pays off within a few years. For $79.99, it is budget-friendly and will pay off on its own time with all the energy you will be saving! 
One thing to mention is that many customers thought it was a bit hard to install, but it is an overall great purchase.
The last bit we will discuss is that the BV can ventilate an area up to 90 square feet, leaving it to where there is plenty of space. The BV is also UL approves and is HVI 2100-certified. 
Broan-NuTone ChromaComfort Ventilation Fan
The quiet, energy-efficient exhaust fan operates with 110 CFM and 1. 5 Sones to help control noise and indoor air quality in your bathroom! It's powerful enough for bathrooms up to 105 sq ft.
You can create your personal color experience with 24 selectable colors or over 16 million choices on the free smartphone app. The powerful ventilation reduces fogged mirrors at 110 CFM, so you'll always see clearly and enjoy comfortable surroundings.
With Bluetooth technology, you can control the fan from anywhere. You also have an option for wireless wall controls or through our app! UL Listed, so it will work over tubs and showers (requires a GFCI circuit). The GFCI protects you from electric shock if the fan gets wet over bathtubs or water vapor from hot showers.
Bathroom Exhaust Fan with Heater
Panasonic WhisperWarm Bathroom Fan with Heater
Panasonic's newest addition to their bathroom fan line, the FV-0511VH1 WhisperWarm DC Bathroom Fan with Heater, is perfect for any bathroom space that needs an efficient and cost-effective way of providing ventilation as well as heating.
Pairing this powerful fan motor up against SmartFlow technology which senses how fast air is moving and helps save energy costs while ensuring comfort during those cold winter months!
The fan's Pick A Flow system allows it to be customized for any need, ranging from 50 – 80 – 110 CFMs according to the CFM that best suits the type or bathroom size.
With its Flex – Z Fast Bracket, you can install this unit room side without climbing into the attic!
Bathroom Exhaust Fan with Humidity Sensor
Delta BreezSignature 80CFM Exhaust Bath Fan with Humidity Sensor
With the Delta Electronics VFB25ACH Breez 80 CFM Humidity Sensor Exhaust Fan, you can enjoy a comfortable bathroom no matter what time of year. This brushless heavy-duty motor with a built-in soft start function will help keep your towels from getting damp and keeps mildew growth at bay while preventing damage to vents or other surfaces nearby during heavy showers!
It can operate in two modes – by humidity sensor or full speed. A pair of blue and amber LED lights indicate which mode is active; when it's on, the unit's brushless motor automatically adjusts fan speeds based on moisture levels, so you never have to turn them up before showering manually (or down after).
The fan's default settings include a 60% humidity threshold. The unit will start when the level reaches this minimum and remain on as long it stays above, at least for some time. After that point, you can manually turn off or let future events do so automatically, depending upon your preferences.
The quiet energy-star certified fan is an excellent choice for bathroom spaces. With an airflow rate of 80 CFM and running less than 0.3 sone level, this ceiling mount breeze will keep your family comfortable while reducing utility bills in the home!
The new fan DC brushless motor technology provides consistent performance. With an efficient design and life expectancy of 70k hours (about eight years), these fans will run continuously without interruption while offering better safety features, like automatic thermal shutoffs when overheated.
The unit is durable and easy to install with a clean look. It features galvanized steel construction for long-lasting durability and comes equipped with a good exhaust fan, a 4-inch duct adapter, and a built-in back-draft damper.
Low Profile Bathroom Exhaust Fans
BROAN NuTone Roomside Ventilation LED Light with Trim Kit
The BROAN NuTone AER110LTK is a quiet, energy-efficient bathroom exhaust fan with led light with 110 CFM and 1.5 Sones to help control air quality in rooms up to 105 sq ft., such as bathrooms or living spaces.
The LED Light with Trim Kit is an easy installation that anyone can do. The sturdy, four-point mounting directly onto the joist provides the simplest installations on the market today! Plus, it has a dimmable integrated led module that controls the brightness of your room in seconds.
The 3-year warranty is a great way to ensure your satisfaction.
Panasonic FV-0510VS1 WhisperValue
Moving right along to the wall-mount exhaust fans, we have our first runner, the Panasonic FV-0510VS1 WhisperValue. The design is slim, as its housing depth is 3-3/8 inches.
You can install this device for a wall-mount and ceiling-mount, so whatever fits your style is the one you can use. 
Although the fan is relatively quiet, it has a powerful ventilation system, making it where it sucks the excess moisture out of your bathroom in a flash of an eye. Plus, you can choose a fan speed from 50, 80, or 100 CFM. 
Although the ventilation powerfully removes moisture and pollution, you do not need to feel like you are wasting energy with Panasonic's ENERGY STAR rating.
As with many Panasonic fans, many customers are pleased with their purchase! 
NuTone LPN80
The last wall-mount bathroom vent on our list is the Nutone LPN80. You may have already seen some of our latest posts about range hoods for your kitchen that NuTone sells, but it does not stop there, as they sell bathroom fans too. 
This particular fan is versatile and helps eliminate many odors, including tobacco smoke and cooking odors, from what they advertise. 
You can place it in a room up to 75 square feet, making your house smell clean and fresh. Although the fan is a wall mount, it can be placed on the ceiling if desired. 
Its high quality makes it energy-efficient, economically, and environmentally friendly to be within your home. 
You can install the exhaust fan easily as the fan is relatively narrow. Lastly, the sones rates at 1.0 with 80 CFM with a 4″ duct or 70 CFM with a 3″ vent.
Inline Bathroom Fans
Panasonic FV-30NFL1 
On our final two ventilation fans for your bathroom, the first one we are delving into is the Panasonic FV-30NFL1. This model is highly efficient with how well the air quality is at 340 CFM. However, you can purchase a lower CFM of 120 and 240 at a lower price.
The bathroom exhaust fan by Panasonic removes odors from the air, making it a much cleaner environment to enter daily.
You have the option of installing this beauty in five different positions. It helps that the suspension brackets, truss, and joints are included in this mixture.
The Panasonic features an enclosed condenser motor with a large blower that sucks out the moisture at a much quieter pace.
You can balance the airflow in multiple units, making it a multifunctional fan.
Considerations Before Choosing the Right One
Energy Efficiency
One of the biggest things we have been trying to accomplish in recent years is energy efficiency. Finding a bathroom vent with an ENERGY STAR rating or something similar is wise. 
Doing so will save you a lot of money in the long run, mainly if you use it properly when you shower and 20 minutes after finishing taking one. 
Noise Level
Have you ever been inside a bathroom with an extremely loud bathroom fan? It is unpleasant, and you do not want to experience it if you have not done it yet. You want to get a low noise level or a lower Sone rating to avoid the issue altogether. 
For example, if the sones rating is 4.0 or higher, you are working with the understanding that you cannot even hear yourself think. However, it is serene and peaceful, with a Sone rating of 1.0 or lower. 
Effective Area
Suppose you have a relatively large bathroom of 100 square feet but only get a ventilation fan covering 70 square feet. 
In that case, the bathroom exhaust fan will not work as you want it to. Plus, it might be overworking to ensure all the moisture left the bathroom. 
If that is the case, you will need a bathroom fan that effectively fits your needs.
Frequently Asked Questions
1. How Many CFM Do I Need for My Bathroom?
CFM stands for Cubic Feet per Minute and measures how much air movement happens every minute. To calculate the CFM you need, multiply the room's cubic footage by 0.13.
For example: Length x Width x Height = Cubic Square Feet

Cubic Square Feet x 0.13 = CFM Rating
For smaller bathrooms, like 8′ x 5′ with 8′ ceilings, you'd have:
8 ft x 5 ft x 8 ft = 320 ft3

320 x 0.13 = 41.6 CFM
We recommend rounding up (or down) and getting a bathroom exhaust fan with at least a 40 CFM rating. Most bathroom fans have a minimum CFM rating of 50.
For a large 14′ x 10′ primary bathroom with 10′ ceilings, you'd have 1400ft3. You'll need 182CFM and require a bathroom exhaust fan with at least a 180CFM rating, or purchase two smaller fans. Most large bathrooms in new construction homes have two bathroom exhaust fans.
2. Where is the Best Place for a Bathroom Exhaust Fan?
It would help place the bathroom fan directly above the bathtub or shower in most cases. That is because your bathtub creates the most moisture over everything else, making it harder to get rid of water.
However, suppose you choose a ventilation system that has to go on the wall. If you do not want water to drip down the wall and continuously clean it up, put the fan on the wall furthest from the shower. 
3. Do Bathroom Exhaust Fans Work?
To put it shortly, yes, bathroom exhaust fans work exceptionally well. They remove excess moisture and prevent mold, mildew, and other odors from occurring. 
4. Is Plastic or Metal Exhaust Fans Better?
Considering how metal exhaust fans rust, plastic will be a better option. Plus, plastic blades are much quieter than metal. 
On the other hand, if you wish for a greener alternative, choose metal as it has a much better recycling rate than plastic in the USA. 
5. Do Bathroom Exhaust Fans Need to Be Vented Outside?
It would be best if you vented bathroom exhaust fans outside. 
However, having a ductless fan might suffice if you have no other option or space to vent it on the exterior of your home. They have a charcoal filter, removing moist air and odors from the air. 
6. How Much Does it Cost to Have Someone Install a Bathroom Fan?
Installing a bathroom fan might be easy for some, but if you are like me and take hours on a project that is supposed to take 30 minutes, you might think it is wise to pay a professional to install a bathroom fan instead.
If that is the case for you, installing a new device would be roughly $100 to $800, depending on a few factors. 
These things could be ductwork to installing humidity sensors, increasing the price. Ask around for quotes and check to see if the company has reliable sources before continuing. 
Conclusion
We have many great options above, but it all boils down to personal preference and what suits your needs. There are many factors to consider, but we hope you have made the best choice possible!