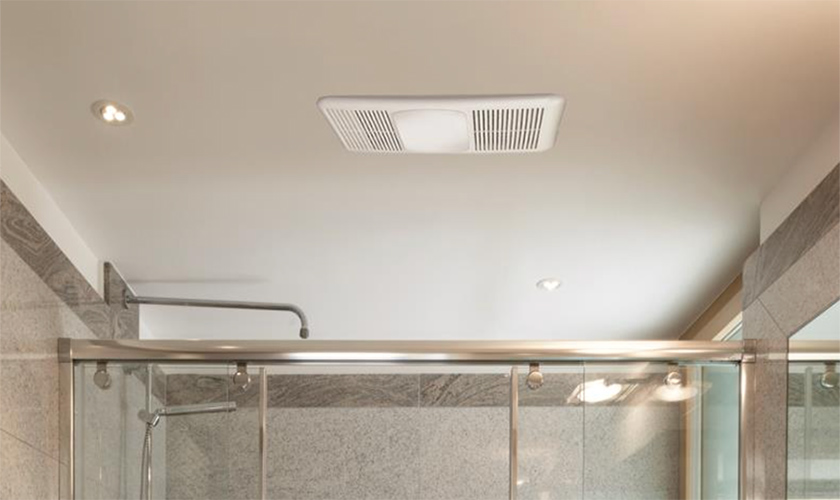 A new bathroom exhaust fan with heater is a great addition to any bathroom without heat. However, there are some things to consider before you make a purchase.
We tested and reviewed a bunch of bathroom exhaust fans with heaters in bathrooms, both large and small. Here are our top picks for the best bathroom vent fan with heater.
Best Bathroom Exhaust Fans with Light/Heater
Below are our top picks for the best bathroom exhaust fan with heaters.
Best Overall
Panasonic WhisperWarm Bathroom Fan with Light and Heater
This high-performance fan/heater combination features Pick-A-Flow technology, which automates the selection process and guarantees optimum CFM output.
The larger 1600-watt heating element allows for install easy, code-compliant systems while providing high ventilation output and space heating comfort for occupants.
Buy Now on Amazon
We earn a commission if you purchase at no additional cost to you.
11/10/2022 02:04 pm GMT
Panasonic WhisperWarm Bathroom Fan with Light and Heater
The ECM motor with SmartFlow technology is paired with a precision spot ventilation fan/heater to create optimum comfort. The high-performance built-in 1600W heater quickly warms you up for maximum comfort.
The WhisperWarm is one of the quietest bathroom exhaust fans with a heater. It is UL listed, and HVI certified. The fan has 50-80-110 CFM of required airflow. The Flex-Z Fast bracket lets you install the pendant light quickly in just a few minutes.
My favorite features of this dishwasher are the night light, the exhaust vent's timer, and the fact that it is quieter than our old exhaust fan. It also operates more efficiently and looks nicer.
This versatile bathroom exhaust fan with light and heat has 0.7 sones at 50 CFM, 1.0 sones at 80 CFM, and 1.5 sones at 110 CFM, so it has a low noise level. The light is very bright and dims nicely. However, because this device includes a heater, it needs a dedicated 20A 120V circuit. We recommend professional installation for this unit because it has a heater and needs a dedicated circuit.
Top Pick
Broan-NuTone 9093WH Exhaust Fan with Heater/Light Combo
This 1500-Watt heating element and 70-CFM ventilation fan in this bathroom heater provides the best performance for bathrooms that are up to 100 square feet.
This heater is also very quiet with a sound level of only 3.5 Sones. The bright 100-Watt incandescent lighting provides clean, even light in the room.
Buy Now on Amazon
We earn a commission if you purchase at no additional cost to you.
11/10/2022 08:14 am GMT
Broan-NuTone 9093WH Exhaust Fan with Heater/Light Combo
The Broan-NuTone 9093WH Heater with Fan/Lighting combination is a powerful heating and ventilation system that you can turn on with the touch of a switch. Nowadays, homes are built much more efficiently than they used to be. Having proper bathroom ventilation throughout the house is now more critical than ever. NuTone ventilation fans provide the best solutions for removing contaminants from the indoors.
The exhaust fan with heater and light combo is powerful enough to heat rooms to 100 sq. ft. It has housing dimensions of 13-1/4 x 13-1/4 x 7-1/2 inches.
The wall switch included with this product is a four-function switch, meaning you can use it to control all product functions right out of the box.
The product is easy to install or replace if you are a DIY'er. The product includes all the pieces you need.
The 1500W heating element and 70 CFM bathroom exhaust fan work together to provide optimum performance at 3.5, so you can get a touch of heat when you need it without disturbing other people in the house.
Bright 100-Watt lightbulbs provide clean, even light for a pleasant atmosphere and enough light to focus on the details. The 7-Watt nightlight offers a soft glow to help you see in the bathtub during nighttime visits. The white enamel grille matches any décor, no matter how many times you change the paint color!
Best Bathroom Fans with Heater (No Light)
Top Pick - Runner Up
Panasonic WhisperWarm Bathroom Fan with Heater
The new and improved Panasonic WhisperWarm is a high-performance fan/heater solution! It has an ECM motor with Pick A Flow technology for selecting from three different speed settings 50-80-110 CFM.
It also includes a 1600w heating element which makes installations easy despite its compact size.
Buy Now on Amazon
We earn a commission if you purchase at no additional cost to you.
11/10/2022 04:14 pm GMT
Panasonic WhisperWarm Bathroom Fan with Heater
The Panasonic WhisperWarm DC FV-0511VH1 is a new and improved fan/heater. Several new features will deliver improved air quality and instant warmth. The ECM motor is powerful and intelligent. It is combined with Pick-A-Flow technology to make it easy for you to choose the right CFM bath fan output.
A 1600-watt heating element makes it easy to install your heater and meet all the codes. The precision spot ventilation fan with a heater is a powerful fan with a heater. The built-in 1600W positive temperature coefficient heater will warm the room quickly for ultimate comfort.
Pick-A-Flow and SmartFlow work together to ensure enough airflow in your home. The WhisperWarm DC fan is certified to ensure the air is clean and has a heater. The Flex-Z Fast bracket makes installing the fan on the wall easy.
Best Budget Pick
Delta Electronics (Americas) Ltd. RAD80 Delta BreezRadiance Series 80 CFM Fan with Heater
This fan operates quietly at 1.5 Sones. It is precision engineered with a DC brushless motor for extended reliability.
Galvanized steel construction resists corrosion and is equipped with a metal duct adapter. If the fan impeller becomes obstructed, it will stop automatically for safe, worry-free operation.
The world's largest DC brushless fan manufacturer offers quality, performance, and peace of mind reliability.
Bathroom Exhaust Fan with Infrared Heat
Best Infrared Pick
Aero Pure A716B W Quiet Bathroom Fan with Heat and Light
No one likes to step out of a warm shower or tub into a chilly bathroom! But turning up the heat to warm up the bathroom is not energy efficient. You can take the chill out of your bathroom by adding some insulation to the walls and ceiling and ensuring that your windows are well-sealed.
Aero Pure's fan with heat and light will warm you up when you step out of the shower. It also clears the bathroom of excess moisture quietly. The extra wide heat lamps keep your bathroom warmer with fewer cold spots.
All Aero Pure Very Quiet Fans have mounting brackets for easy installation. They are made with rustproof steel housing, a back draft damper, easy maintenance grilles, a multi-function switch, and a full four-year warranty.
The fans include 2 or 4 anti-blast infrared heat lamps and a 60W incandescent bulb. The fan, light, and heater can be wired separately. The Amazon listing states it needs a 10-amp breaker, but this is incorrect. Building codes require a 20-amp breaker. It connects to a 4″ duct for ventilation.
What is a Bathroom Exhaust Fan With Heater?
A bathroom exhaust fan with heater is a combination device that dehumidifies and heats your bathroom (the usual function). Nothing is more aggravating than a cold toilet seat cover in the winter!
Heating Element Or Infrared Heat Lamp
Metallic heating elements and heat lamps are the most popular heaters for bathroom fans.
Infrared Heat Lamp
The most popular heater is the basic heating element, which includes a little fan that circulates the heat throughout your bathroom. It should take only a few minutes to warm up your bathroom with this type of heater. This fan is separate from the main vent fan, which sends moist air outside.
Infrared heat lamps don't require air movement to heat your bathroom; instead, they use infrared radiation to warm the items in it.
Exhaust fan heater elements range from 1000 to 1500 watts. Infrared heat lamps are usually in the 200-300 watt range. Due to the high wattage, a separate electrical circuit is frequently required for installation.
Benefits of a Bathroom Fan Heater
Bathroom vent fans are versatile and can be used to improve your home's energy efficiency while keeping your bathroom warm. The heater will also assist the exhaust fan in removing excessive moisture even more quickly.
There's nothing quite like stepping into a warm bathroom floor on a cold and wet day. Imagine walking into your bathroom to find a wonderfully heated tile floor and toilet seat cover ready for you to begin the day.
Save Energy And Time
Having your bathroom exhaust fan heater may help you save money on heating since you won't have to adjust your main thermostat to warm up the bathroom. It doesn't make much sense to heat the entire house merely because the restroom is chilly!
If you're forgetful like me, connecting the fan heater combo to a bathroom heater fan timer is also a good idea to automatically shut off the heater fan after use.
Moisture Removal & Heat
A bathroom fan is a crucial component of your bathroom. Let's look at some benefits of installing a bathroom ceiling fan with a heater.
A bathroom fan with heat can provide the needed warmth in older homes in cold weather
Using a fan and heater combo can prevent mold and mildew growth
Improve indoor air quality by removing moisture from the bathroom
Prevent drywall damage and paint deterioration
Avoid rusting your door and vanity hardware
How to Find the Best Bathroom Fan With Heater?
There are a few things to keep in mind when buying a bathroom exhaust fan heater for your bathroom.
Which is Better: Heating Element or Heat Lamp?
Heating elements are beneficial because they offer more even heat. Heat lamps are less uniform and unreliable than heat lamps. Furthermore, since a fan is already present, a heating element dissipates heat much more efficiently than a heat lamp.
The advantage of a heat lamp is that it warms up the bathroom's surfaces more quickly than a heating element.
Heater Watts
The wattage of the heating element will determine how fast your bathroom heats up. The majority of elements are in the 1000 to 1500 watt range. We don't suggest buying a fan with a heating element under 1000 watts. If it contains a heat lamp,
CFM Rating
This is, without a doubt, the most crucial consideration. You must first know the size of your bathroom before buying the correct sized fan. An overly noisy fan can create pressure issues and increase your energy bill, while an undersized one will be noisier than necessary.
An underpowered ventilation fan will not be able to perform its function fully, but it will be incredibly quiet (and largely ineffective). A general rule of thumb says you need 1 CFM per square foot of bathroom floor space. However, this is only an estimate and is not as accurate for high ceilings.
Bathroom fans typically have a minimum CFM rating of 50.
Energy Star Certifications
The energy your vent fan uses determines how much your electricity bills will be and how long the device will last—purchasing a unit that doesn't consume a lot of energy benefits the environment and saves you money.
Fan Motor Quality
If the bathroom fan consumes less energy, it indicates that the motor runs at cooler temperatures (higher-quality motor) and is more likely to endure. Electronically Commutated Motor (ECM) is the best type of bath fan motor.
ECM motors use electronics to alter the speed of the motor requiring less power to operate.
Thermal shut-off safety features are now built into most modern bath fan motors to help prevent fire danger due to a clogged fan.
Sone Rating aka Fan Loudness
Most bathroom vent fans are very loud. Manufacturers list the sound rating in Sones and not Decibels.
A fan rating of 1.5 to 3.5 sones or less is considered quiet.
A fan rating of 1.0 to 1.5 sones or less is very quiet.
A fan rating less than 1.0 sones is generally considered the quietest fan available.
Frequently Asked Questions
Do bathroom fan heaters use a lot of electricity?
Some bathroom fan heaters are more energy-efficient than others. Generally, bathroom fan heaters use about 1000 to 1500 watts. A 1000-watt fan heater that runs 20 minutes daily (one 20-minute shower) at $0.13 per kilowatt-hour costs about $2.60 per use. Most people will not need to use one daily.
Our top pick above has a 1600-watt heat and, under the same conditions, would cost about $4.16 per 20-minute usage, according to the electricity bill calculator.
How much do bathroom exhaust fan heaters cost?
The cost of a bathroom exhaust fan with light or heaters varies depending on your chosen model. Depending on the features, costs can vary from $50 to $500. The models we featured here cost $90 to $390. We only featured highly-rated units with a minimum of 70CFM and a 3.5 sone rating or less.
Who can install a bathroom fan heater?
We recommend an electrician install your bathroom fan/heater combo unit to ensure it is on a dedicated circuit and is installed correctly. Following the manufacturer's instructions, a skilled DIYer can install the fan/heater where an existing dedicated circuit exists.
However, some municipalities may require an electrical permit when installing a new wire and breaker. For most people, hiring an electrician is best.
Does the bathroom exhaust fan with the heater need its own circuit?
The bathroom exhaust fan heater combo must be on a 20-amp dedicated circuit. Heating lamps, wall heaters, and other built-in heating equipment require dedicated circuits.
How long can you leave a bathroom heater on?
We recommend (and other experts agree) that you should only run your bathroom fan for about 20 minutes during and after a bath or shower. Leaving it on for too long can cause serious problems and become a fire hazard. We recommend installing a bathroom heater fan timer to shut the heater off after 20 minutes.
Are bathroom fan heaters safe?
Bathroom fan heaters are safe to use, provided they are:
1. on a dedicated 20-amp circuit
2. not installed directly over a bathtub or shower
3. you keep your fan clean, removing the dust that could spark a fire
4. don't run the heater for more than 20 minutes
Can bathroom exhaust fans cause fires?
Bathroom exhaust fans can cause fires if they are not installed correctly or if they are not maintained. If your exhaust fan is making strange noises or seems to be working harder than usual, it could be a sign of a problem. You should have your exhaust fan checked by a qualified technician to ensure it is safe.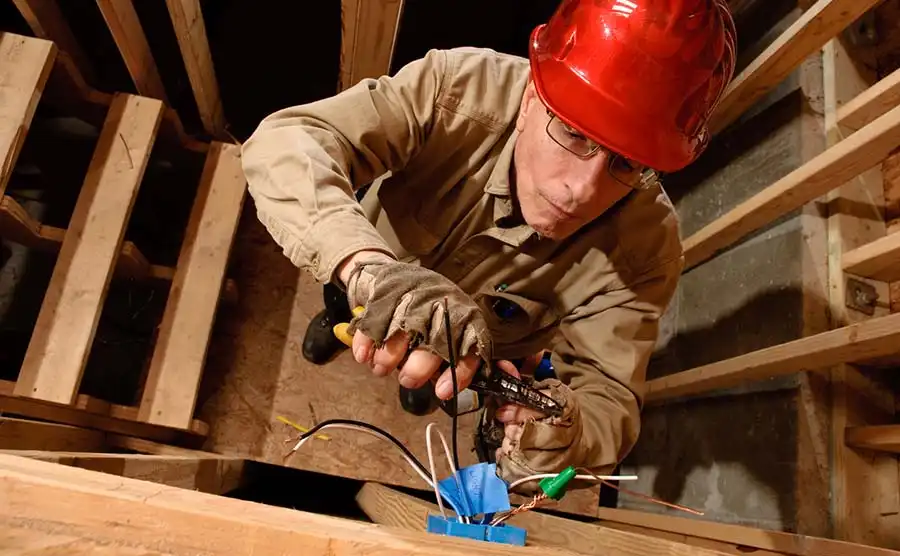 Do You Need an Electrician?
Get FREE quotes from licensed electricians in your area today. Whether you need an outlet or ceiling fan installed or a new electrical panel or wiring, We Can Help! All electricians are screened, licensed, and insured.
Get a FREE Quote Today
We have an affiliate partnership with Networx