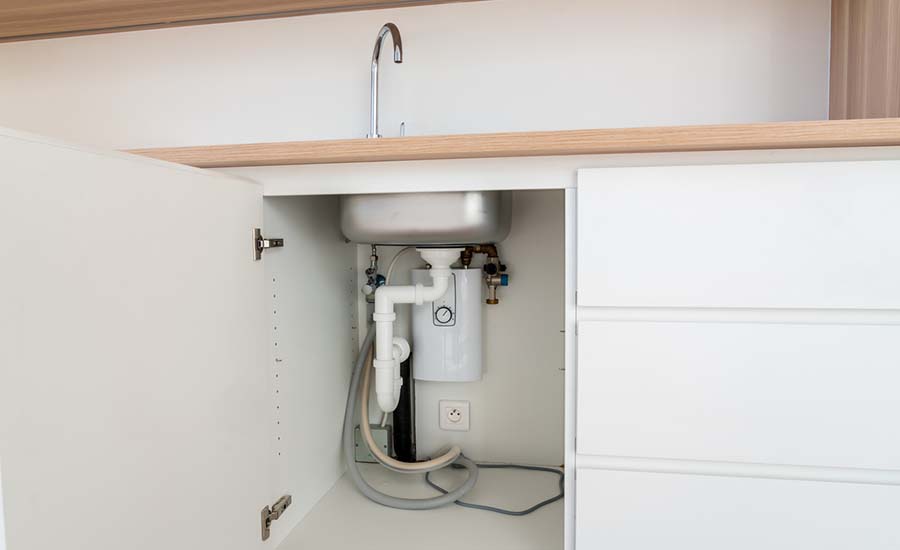 An under sink water heater is a good solution for your home's hot water needs. An under sink water heater such as Bosch Tronic 3000 is a small electric product created for instant hot water delivery in condo, cottage, RV, garage, home, office, and at the point of service. But are those benefits enough to claim under sink water heaters are worth it?
Under sink water heaters are worth it due to their compact design and energy efficiency. An under sink heater works effectively as a single unit, or you can install one as a buffer in line with an existing tankless heater. Both system setups deliver hot water to the faucet or appliance quickly.
That's not all there is to know about under sink water heaters.
Are Under Sink Water Heaters Any Good?
Under sink water heaters are good and can be a great addition to your holiday vehicle or home. Apart from being very powerful, they are energy efficient and compact in design. The heaters also provide on-demand hot water, thus saving you energy, water, and time.

However, you should take the time to select a water heater that is perfect for your needs. 
Below are factors to consider while selecting an under sink water heater:
Type
This involves choosing between either a tankless water heater or one that has a tank. The tankless water heaters come at a higher cost, although they provide hot water instantly. Furthermore, they also cover a little space. 
A tank water heater is perfect in situations where you would like to access hot water in various corners of your home. The tank will store hot water, and you can access it anytime you need it. 
Flow Rate
If you're seeking a constant flow of hot water, the under sink water heater must come with a high GPH (GPM). The GPH (gallons per hour) or GPM (gallons per minute) represents the amount of hot water the product can supply. 
Energy Rating
Even though you might enjoy instant hot water, the cost of electricity might be a challenge. The heater's energy rating represents its capacity to consume less energy. The lower the energy rating, the higher the energy used to heat a large amount of water. 
Dimensions
Since space is limited in most cases, you should ensure that you make good use of it. For instance, an under sink water heater containing a tank will take more space. 
Tankless heaters are more compact and can be installed unnoticed in tight spaces. Before you buy a water heater, measure your available space. 
Heating Capacity
If you want your water heater to have effective performance, you must balance demand with capacity. Here, it would help if you thought of the amount of hot water you need at a time. Also, consider when the heater will heat water once the available stock is over. 
After you have used hot water, it's immediately replaced with cold water in most cases. However, it might take just a few minutes to heat cold water. If you're expecting a higher hot water demand, buy a heater that can supply the water quickly. 
Voltage
When selecting a water heater, ensure that the electrical outlets in your unit can handle your water demand. Most water heaters function well with a 120V supply. If the heater requires 240V, you might be forced to adapt your power supply. To know more, check the model's electrical requirements. 
Safety Features
It's great to have additional features on your under sink water heater. For instance, the features include a pressure relief valve, modulation, or thermostat. 
A thermostat makes it easier for you to control the water temperature. Modulation enables the adjustment of the heat output in response to the water's flow rate. A pressure valve prevents any damages resulting from excessive water pressure. 
Installation and Maintenance
Whether you would like to call a professional plumber to help you out or you're a handyman who can do everything by themselves, check the installation requirements keenly to understand the whole process. Some products only require you to plug them into the power outlet to function. 
However, others might require plumbing or electrical work to operate effectively. When it comes to maintenance, ensure you can use your heater correctly and repair it when necessary to prolong its life. 
Warranty
There are so many risks that may arise after installing an under-sink water heater. Having a reliable warranty in place is likely to put your mind at ease. 
However, warranty terms vary from one manufacturer to the other. A longer warranty period indicates durability. Some models are sold with a lifelong warranty.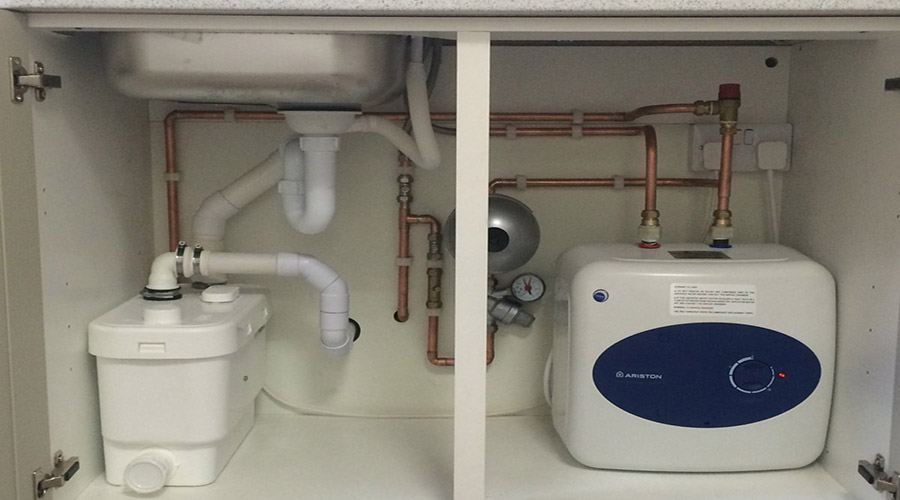 How Does an Under Sink Heater Work?
Under sink water heaters are designed to provide hot water instantly from the faucet. These heaters are designed with three parts: the dispenser or valve, a heating tank, and an inline filter. 
The inline filter is linked to your cold water supply line to extract impurities for the water supply to remain fresh. The water moves to the heating unit from the filter. Here, there are two chambers which include one unit for heating and holding hot water and another for storing the cold water supply. 
When you open your tap, the water heater will deliver instant hot water and at the same time draw filtered cold water from the cold water holding chamber. Water is therefore heated, and the process repeats itself continuously. 
The whole process takes a short period to complete, and you'll get on-demand hot water. 
Types Of Under Sink Water Heaters
There are two types of these water heaters available in the industry. 
Storage or Tank Water Heaters
The storage or tank water heaters heat a certain amount of water and then store it for use later. In most cases, the heater is designed with 2.5 to 7 gallons of tank capacity. They are the best solution, especially if you don't need instant water. 
The benefit of these heaters is that they are easy to install. You can also plug them into any standard electrical power supply. 
Instant Or Tankless Water Heaters
For the tankless or instant water heaters, there is no storage of water. The heaters will heat water instantly as it flows through the system. As long as there is a water flow, you'll access instant hot water. 
The heaters are also energy efficient since they aren't always working to keep the water hot. Your water heater will only function when it detects water flowing through it. 
However, the tankless water heater requires more setup than the storage tank models. For the water heater to function correctly, you should connect and hook up the wiring directly to a dedicated circuit in your electrical panel. 
After installation, you'll always have access to hot water when you want it. 
Benefits Of Under Sink Water Heaters
Compact Size
Most under sink water heaters are designed with a compact size, thus not requiring much space. Their compactness means you can install them anywhere—including in the kitchen, under your sink, and on the wall. 
Easy Installation
If you have any background knowledge in plumbing or electrical setup, you can easily install any under sink water heater. Most heaters come with instruction manuals to guide you through the installation process. 
The installation process will also take you less time than you expected.
Energy Efficient
There is no argument that under-sink water heaters are designed more energy efficient than traditional water heaters. These heaters can help you reduce your home's energy consumption since they require little power to heat the water. 
They only work when you need instant hot water meaning that you can save a lot of energy. 
Fast Heating Process
This is by far one of the main advantages of any tankless water heater. These water heaters have a proven reputation for heating water more quickly than other heaters. 
You'll get hot water instantly and as soon as you open the tap. 
Uninterrupted Supply Of Hot Water
If there is one thing you'll like about under sink water heaters, it's the fact that they'll provide hot water constantly for multi-purposes such as bathtubs, kitchen sinks, and showers. 
With these heaters, you can have hot water at any time. 
The Best Under Sink Water Heaters
There are so many under-sink water heaters that you can select from. Most of these heaters are eco-friendly, energy-efficient, and compact in design.

Let's consider the top under sink water heaters in the industry:
Bosch Electric Mini-Tank Water Heater
If you have low hot water demand, the Bosch electric water heater happens to be the best option for you. 
The water heater is designed with premium glass-lined material. It's also energy-efficient, thanks to the thick layer of CFC-free foam. 
It's also designed with a compact size, making it fit under the sink perfectly. The heater also has a sleek design that makes it blend in with the most decor. You'll find a thermostat on the product where you can select your perfect temperature. 
Many users love this heater since it's perfect for smaller uses. It comes with a 2.5-gallon, 4-gallon, or 7-gallon water tank to store enough water for smaller applications.
The heater also provides instant hot water as soon as you want it. For instance, after you open the faucet, you'll get hot water in less than a minute. 
The heater works perfectly with a 120V power supply line. It's designed with a recovery rate of 6.8 GPH. It functions well within a temperature range of 65 to 145 degrees Fahrenheit. The product weighs about 17.4 pounds. 
With a thermal efficiency of 98%, you'll always have plenty of hot water on hand. Plus, the glass-lined material ensures a long service life.
This model has a 120v plug 36-inch power cord, so you'll need to be able to connect it to a nearby standard outlet or have an outlet installed.
EcoSmart ECO 11 Tankless Water Heater
EcoSmart ECO 11 Electric Tankless Water Heater is the best as far as the energy efficiency of an under sink water heater is concerned. You should go for it if you intend to save energy. 
For instance, you can save money on energy and water bills by over 50%. According to EcoSmart, this heater has an energy factor of 0.98 and an energy efficiency of 99.8%. It's also the best option for eco-conscious consumers. 
The water heater is also designed with self-modulating technology. This technology regulates the output energy, thus ensuring optimal performance in the long run. 
The heater is generally compact, meaning that you can install it in any space. It measures 11.5 by 8 inches. The heater is also lightweight, with a weight of 6.5 pounds.
You'll also find a digital screen and thermostat where you can observe and set the temperature. The thermostat and screen are easier to use. 
The heater works with a 240V power supply and functions at a recovery rate of 2 GPM. It also operates within a temperature range of 80 to 140 degrees Fahrenheit. 
Thanks to its lifetime warranty, many consumers have fallen in love with this heater. However, the warranty won't cover incidental damages. 
The challenge to this heater is that it isn't perfect for higher water demands. It won't work well as a stand-alone water heater in colder regions but is the ideal complimentary water heater for a whole-house electric tankless water heater system. 
Thermoflow UT10 Under Sink Water Heater
If you stay in a colder area, the Thermoflow UT10 Under Sink Water Heater is the best solution. The model is designed with a frost protection mode which will start immediately if the temperature drops too low. Still, don't place it where the freezing is likely to occur.
This heater is also designed with an energy-saving mode. The tank is lined with an EPS foaming heat system and stainless steel. Foam assists in heating water quicking eliminating long waiting periods. 
The heater also comes with a thermostat function that allows it to save even more energy. What the function does is that it automatically stops heating water when the unit reaches your set temperature.
It's developed with a tank capacity of 2.6 gallons and a recovery rate of 2.6 GPM. The heater weighs 14 pounds and can operate at a power of 120 V. The unit is 18-inches tall by 12.2-inches wide and 11-inches deep.
However, this heater might be challenging to install (more complex than the Bosch) and its size may not work under some sink vanities.
How To Get Instant Hot Water Under The Sink?
Have you ever wondered how to access instant water under the sink? It's boring sometimes to wait for long to get hot water from your tap.

Below are three ways through which you can get instant hot water: 
1. Hot Water Recirculation Pump
Using a hot water recirculation pump is one instant way of getting hot water anywhere in your house, including under the sink. How does the recirculation pump work? 
When you turn off your hot water tap, the hot water in the pipes will eventually cool down. The next time you open the faucet, the cooled water will drain until you get a fresh hot water supply. The process takes minutes and can waste time, water, and heat energy. 
A booster or recirculation pump enables the hot water that cools in the pipe to be sent back to your heater for rapid heating. When you turn on your tap this time, you'll get instant hot water. 
A recirculation pump can reduce the hot water wait by 60% to 80%. Modern electronic recirculation pumps can be activated with remote control, motion detector, or push button. 
2. Point-of-Use Tankless Water Heaters
If you want instant water, a point-of-use tankless water heater is another option. This type of water heater can fit in a closet or sink cabinet. 
The heaters are intended to work only with one shower or sink. The point-of-use tankless units are also less expensive compared to the whole-house models. 
3. Structured Plumbing
Structured plumbing is another effective way of getting instant hot water under your sink. Here, the water heater is located at the center of your home rather than in the basement or garage. You just switch on your hot water pump when you want to access hot water. 
A one-inch hot water line runs through your home in structured plumbing, within 10 feet from the sink. The water line is connected to the faucet using a pipe measuring ⅜-inch diameter. 
When you activate the pump, a more extensive mainline translates into a shorter waiting period for hot water. 
Regardless of the instant hot water option that you select, you might save up to 11,000 to 16,000 gallons of water per year. By speeding up hot water delivery, you might experience a reduction in utility bills. 
Conclusion
As we have seen, an under sink water heater is designed to supply hot water in a condo, cottage, RV, garage, home, office, and at the point of service. These heaters are reputable for their energy efficiency, eco-friendliness, and compact design. 
They also come with a friendly warranty to help you operate them risk-free. However, before buying an Under Sink water heater, consider different factors such as flow rate, heating capacity, safety features, dimension, energy rating, etc. 
You can install the water heater by yourself to save cost since the installation process is relatively straightforward. You'll also get an installation manual when you buy the heater. When you find the installation complex, involve a professional electrician or plumber. 
Sources