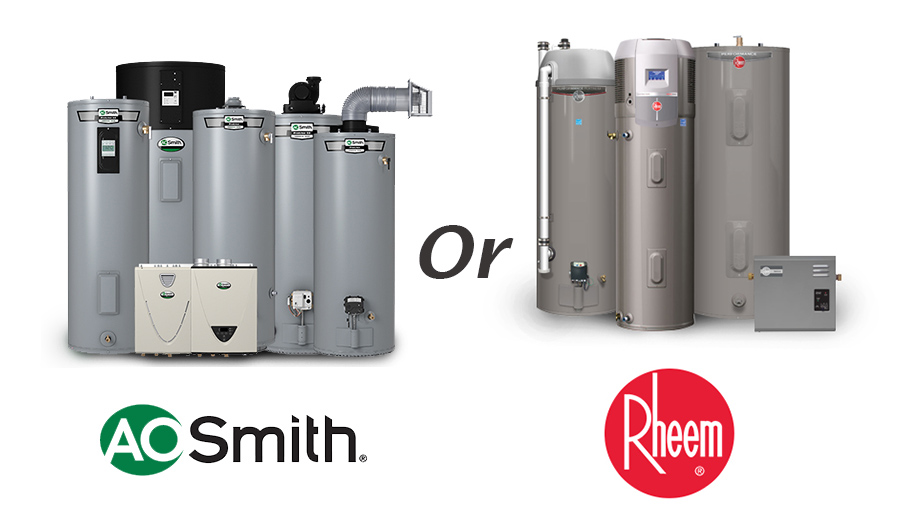 A water heater in the home is a pretty substantial piece of gear that you expect to get many years of service from, and it can be a reasonably expensive replacement. So it stands to reason that when you are putting in a new water heater, you want to make sure you are getting a good quality product! Two popular brands of water heaters are Rheem and A.O. Smith. So which one of these would be the better choice in the water heater for your home?
Rheem and A.O. Smith both produce quality water heaters. The difference comes in the range of units, availability, and price. Rheem units are more expensive but offer smart technology and solar options and are more widely available. A.O. Smith units are cheaper and have a broader selection of gas-powered models.
When you replace your water heater, you should consider your purchase carefully since you are looking at a 10 to 12-year investment. While we are all interested in a good deal, you should make sure you are getting the best value for your money for this home appliance when it comes to a water heater. You should be looking for several features in a water heater, and we will investigate how well Rheem and A.O. Smith water heaters fit these criteria.
What Features To Look For in A Home Water Heater
When you start your investigation into a new water heater for your home, you need to consider more than just the water heater's capacity.
Energy-efficient water heaters. If you consider that your water heater can be responsible for up to 18% of the total monthly energy cost for your home, it will be beneficial for your budget to look for a water heater that is energy-efficient to reduce your energy costs as much a possible from this device. Most water heaters will have an EF or Energy Factor rating, which will give you an indication of how energy efficient the water heater is.
Size of the water heater. Most homes have a designated location for the installation of the water heater. When purchasing a new one, you need to make sure that the dimensions of the unit will allow it to be accommodated in the designated location in your home.
The capacity of the water heater. This factor needs to be considered in conjunction with the physical size of the water heater. The capacity of the water heater is how much water it will hold and be able to heat. Installing a smaller unit may mean that the heater cannot keep up with the demand for hot water in your home. So, if two people shower one after the other, there may not be sufficient hot water for a third person to shower, and they would have to wait for the water to heat up again. The higher the capacity of the water heater, the more energy it will consume and the more physical space it will take up in your home.
The fuel source for the water heater. Some water heaters are gas-fueled, and some are electricity fueled. If you want to install a gas water heater, the room must have certain ventilation requirements before the installation is legal and safe. If your space does not meet these ventilation requirements for a gas-powered unit, you will have to stick with an electricity-powered water heater.
Reliability of the water heater. This is where brand consciousness may play a role in your choice of a water heater. You want to install a product from a brand that has proven itself to be reliable in the industry and one that produces a quality product.
We will be looking at two popular water heater manufacturers and comparing the quality and reliability of their products to help you decide which brand will be the premium choice for your home.
Rheem Vs. A.O. Smith Water Heaters
When seeking to understand a brand of any product, it is sometimes worthwhile to look at the companies' roots and history to establish if they have a longstanding history and significant experience in manufacturing the products.
Both Rheem and A.O. Smith are American companies with a history in the USA that spans almost 100-years. However, both companies have very different beginnings.
Rheem started in the oil refining industry in Richmond, California, from the years 1862 to 1919. In 1925, the company that we know as Rheem today was established and produced packaging material for the petroleum industry. In 1931, the company was bought by the John Wood manufacturing company, and it is at this time that they began manufacturing water heaters.
By 1941, the company had become the largest manufacturer of water heaters in the USA. Since 2007, Rheem has become a NASCAR sponsor for Richard Childress Racing.
A.O. Smith was founded in 1874 and was a baby carriage and bicycle manufacturer in those early days. They progressed to making glass-lined brewery tanks, and in 1960, began manufacturing water heaters. They were so successful in this field that they expanded to Europe in 1972.
This information shows that Rheem and A.O. Smith have a longstanding history in the manufacturing sector and have successfully manufactured water heaters. This speaks to the quality and the reliability of both brands of water heaters.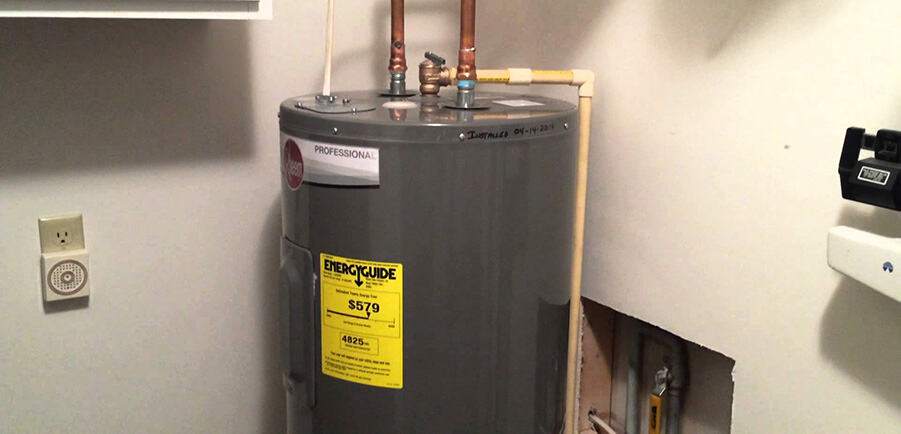 Are Rheem Water Heaters A Good Choice?
Rheem is a respected water heater brand, and it is an excellent choice to purchase this brand to install in your home.
The extensive range of capacity, power sources, tank, and tankless water heaters ensure that you are sure to find a model in one of their ranges that will suit your requirements for a water heater.
Rheem Water Heater Energy-Efficiency
Rheem is a company that is dedicated to sustainability, and they are committed to contributing to the planet in the products that they create. As a result, they have dedicated much research and cost into energy-saving and energy-efficiency in their products.
Their goal in this regard has led to developing highly energy-efficient units and the production of combination or hybrid units that combine different fuel types in a single unit for greater efficiency.
As a result of their innovations in this area, Rheem water heaters offer some of the most energy-efficient units currently available.
Rheem Water Heater Fuel Source
Because of its commitment to sustainability, Rheem has a wide range of differently powered water heating units.
They provide units powered by electricity, gas, solar power, and hybrid units that combine power sources to make for a more efficient unit.
Rheem produces tank water heaters and produces a range of quality tankless water heating solutions.
The hybrid units use a combination of gas and electricity to produce a water heating unit that is four times more efficient than a standard electric-powered water heater. This can translate into savings of around $480 per year in energy bills.
Of course, if you want to install a hybrid solution, you would need to have the required ventilation for the unit to cater to the gas component of the water heater.
Rheem Water Heater Reliability
Reliability is an aspect that Rheem has focused on as part of its sustainability drive, which has resulted in top-quality products that have great longevity.
Their Marathon range of water heaters is marketed as the "last water heater you will ever buy" since it is made from durable plastics rather than stainless steel. This also makes this model lightweight, making it easy to get into position when installing it in your home, and requires less reinforcement to support the water heater.
Rheem water heaters have a reputation for reliability and longevity. A factor contributing to their reliability is that distribution centers for the units and spare parts are widespread, which speaks to its availability.
Availability Of Rheem Water Heaters
Considering that Rheem is one of the largest manufacturers of water heaters in the USA, it stands to reason that it has a high availability far and wide across the country.
This is a positive feature for this brand because not only are the units readily available, but replacement parts are also easy to obtain. In most cases, the water heater can be repaired rather than replaced, which cuts down on the cost of ownership for these units.
Availability is an important consideration to bear in mind when purchasing an item that can last up to 12-years or more. If you can be sure that spare parts will be available for the unit many years into the future, you will have peace of mind that your water heater can last well past this normal lifetime.
Rheem Water Heater Convenience Features
The company's innovative philosophy means developing "smart" water heaters that offer a new set of convenience features for what has been in the past considered an install and forget appliance.
The "smart" features are primarily implemented in their hybrid models and incorporate the following features.
Built-in WiFi. Built-in WiFi in the water heater allows you to connect to the unit via an app on your smartphone to control the water heater's functions.
Leak detection and alert. The water heater will notify you of a possible leak and will shut off water valves automatically to prevent water damage.
Scheduled water heating. You can program the water heater to produce hot water at times in your home when it is most needed and to go into low production mode during low use times of the day.
Away mode. Program your water heater to go off during an extended absence from your home and to switch on prior to your arrival so that you have hot water when you get home.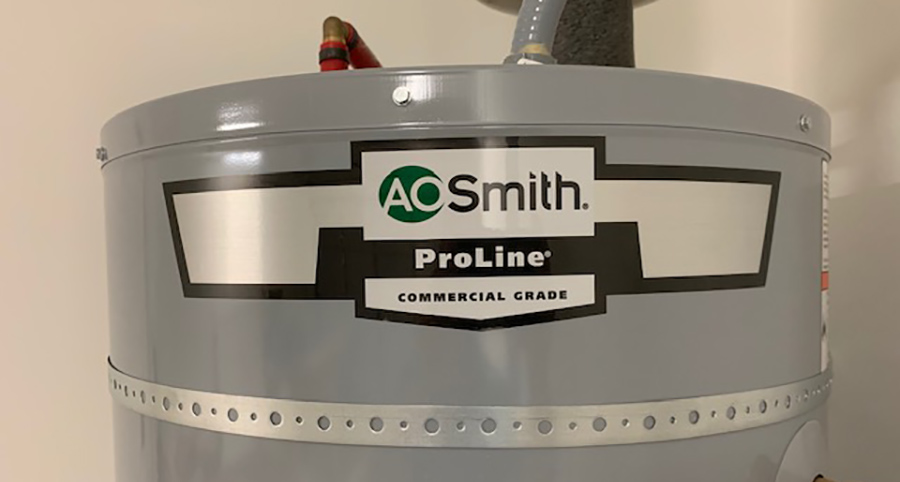 Are A.O. Smith Water Heaters A Good Choice?
A.O. Smith is also a producer of quality water heaters. Many people who have dealt with the company and installed these units in their homes have good reports on these units that endorse their commitment to producing quality water heaters.
A.O. Smith water heaters manufacture a quality water heater product and are often recommended by many plumbers and plumbing supply companies.
A.O. Smith water heaters are certainly a good choice for heating the water in your home.
A.O. Smith Water Heater Energy-Efficiency
The years that A.O. Smith has in the history of manufacturing and designing water heaters have given them time to tweak their designs to the point that they produce highly energy-efficient water heaters.
While each heater model in the range has different energy factor ratings and should be checked for each model, the A.O. Smith water heaters generally have the edge in energy efficiency over similar Rheem models, particularly in the electricity-powered models.
However, this energy efficiency gap between the two manufacturers is marginal, and in some models, the Rheem units out-perform the A.O. Smith models.
You would need to compare similar models from both manufacturers to establish which better EF rating.
A.O. Smith Water Heater Fuel Source
A.O. Smith makes models of water heaters powered by gas, electricity, and hybrid models, which combine different heating fuel sources for cost efficiency.
Similar to Rheem, A.O. Smith produces a wide range of water heaters powered by different power sources.
A.O. Smith has an option for natural gas-powered units and propane gas-powered units, which gives a little more versatility in the choice of gas fuel. In addition, A.O. Smith has a broader range of models in the gas-powered water heaters than what Rheem offers.
The one type of water heater that A.O. Smith does not produce is a solar water heater option. Therefore, if you are looking for an off-grid water heating solution for water heating, you would have to look at a product from a different manufacturer.
A.O. Smith Water Heater Reliability
The water heaters produced are made from quality components that result in a product with a long lifespan. Many people who have an old A.O. Smith water heater look to replace it with the same brand because of the proven reliability of the water heaters from this manufacturer.
The only difference between A.O. Smith and the Rheem products in this department is that Rheem has the advantage of being more widely distributed than A.O. Smith products and parts.
A.O. Smith Water Heater Availability
A.O. Smith water heaters are available in most major centers around the country, which makes them accessible if you live near a large city.
They also have a range of signature water heaters that Lowes solely distributes, so if you have a Lowes store near you, you are sure to find a supply of A.O. Smith water heaters and parts for these models.
A.O. Smith also has a subsidiary brand known as American. Read our American Water Heater Review (6 Helpful Tips).
Summary And Price Difference For Rheem And A.O. Smith Water Heaters
Rheem and A.O. Smith water heaters are quality products, and either one would be a good choice for your home.
The main deciding factor between the brands would be what is most suitable for your needs rather than one product is vastly superior to the other.
If you want to choose a greener option and go with the solar water heater option, you would have to go with a Rheem unit. On the other hand, if you want the convenience features to incorporate into a smart home design, then the Rheem hybrids with their electronic features would be the unit to choose.
When it comes to price, the A.O. Smith units are generally better priced than the  Rheem units and, and this is why many people consider them to be more value for money.
The final aspect is accessibility. The Rheem brand is distributed more widely than the A.O. Smith brand, which means your locality may dictate which water heater brand is easiest to obtain.
HomeInspectionInsider.com is owned and operated by Hubert Miles is a participant in the Amazon Services LLC Associates Program, an affiliate advertising program designed to provide a means for sites to earn advertising fees by advertising and linking to Amazon.com. HomeInspectionInsider.com also participates in affiliate programs with other affiliate sites. Hubert Miles is compensated for referring traffic and business to these companies.