If you're buying a house, you should hire a professional home inspector to examine the property on your behalf so they can come back and describe its condition to you in their report. ASHI and NACHI certified inspectors have a detailed list of criteria laid out in the Standards of Practice that should highlight any potential issues with the property that requires repair.
While you don't need to be present for the home inspection, it's highly advised that buyers attend the home inspection so you can ask important questions and get another good luck at your potential future home.
You should ask your home inspector about the condition of the structure and the main systems including the electrical, plumbing, mechanical, and roof. You should also ask if there is evidence of water damage and any potential fire/safety hazards around the home.
A home is one of the most significant investments you'll ever make, so you must get it right. However, there will likely be a million and one questions running through your head during the inspection, and it can become a little overwhelming for some people. You're going to be investing a significant amount of money into this, and that can make it hard to think objectively about what you see around the house.
In this article, we bring you 20 questions you can ask at the home inspection so you can be sure that you've got all the bases covered, and you're buying the home with your eyes wide open. Let's get into.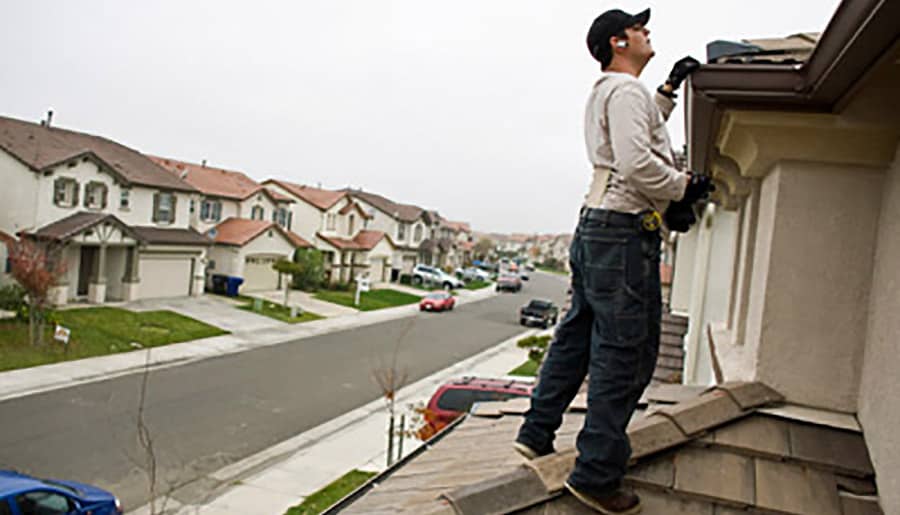 Are you licensed or certified?
It's hard to believe, but some states still do not have licensing procedures in place for home inspectors. However, there are still certifying organizations to help train home inspectors. If you live in a licensing state, your home inspector must be licensed or working under the direction of a licensed home inspector.
Ideally, your home inspector will be certified and accredited by either ASHI or NACHI. These are the top two home inspection certification organizations in the US. As of this writing, NACHI has over 26,000 certified home inspectors in the US alone and is the largest of its kind in the world.
You want someone who knows home inspection red flags when they see one, so don't be afraid to ask them how long they have been a home inspector and if they are familiar with properties of this kind in this area.
Certified Master Inspectors (CMIs)® are considered to be the best inspectors in the world. CMI® is a professional designation available to all qualifying home inspectors who wish to become Board-Certified by the Master Inspector Certification Board. All CMIs® have a minimum of 3 years of experience, are dedicated to continuing education, and have performed a minimum of 1000 fee-based home inspections.
What does this home inspection cover?
Next up, you want to know what the home inspection covers and what it does not. The home inspector should give you a quick rundown of the checklists and the upcoming tour of the property that way. You can prepare yourself with any questions you might have regarding a particular feature of the house.
Home inspections are very subjective, and a lot of what is inspected depends on the individual home inspector's experience. Home inspectors come into the business with a wide array of backgrounds that shapes the way they inspect.
Here is a list of common backgrounds for home inspectors:
General contractors
Tradesmen such as electricians, plumbers, HVAC technicians
Residential builders
Code enforcement inspectors
Law enforcement
Fireman
Insurance adjusters
Pest control
This also allows you to see any omissions in the home inspection that you may want to be assessed. If there are, you have to hire an individual expert to carry out a specific examination.
It's worthwhile reading the Standards of Practice for your home inspectors' relevant accreditation so you can see the nitty-gritty details beforehand. These are a set of minimum inspection standards. However, many inspectors will go beyond these standards. Here is a link to them below:
ASHI Standards of Practice
In general, all home inspections should examine and assess the following criteria:
Roof – including coverings, visible flashings, chimneys, and gutter systems
Exterior – including siding, doors, windows, and trim
Structure – including basement, crawlspaces & framing structure
Heating & Cooling Systems – including systems and ductwork
Plumbing – including plumbing pipes and plumbing fixtures
Electrical – including panels, outlets, switches, and visible wiring
Fireplace – including fireboxes, cleanouts, damper doors, and gas inserts
Attic, Insulation & Ventilation – accessible attic spaces, insulation, and ventilation sources
Doors, Windows & Interior – including doors, operation of windows, and interior wall, floor, and ceiling conditions
In our Complete Guide: What a Home Inspection Does & Doesn't Include, we look at these items and many more in detail to offer a clear understanding of the home inspection process.
Is the plumbing in good order?
On average, it costs around $4.50 per square foot to install new plumbing systems in the house. Depending on the size of the home, this could rack up fees of $5000 or more to replumb a house. Plumbing failures are why it's important to double-check with the home inspector about the condition and age of the plumbing system in the house.
Over the years, plumbing practices have changed considerably. If you built the home you're looking to buy pre-1995, there is a chance it's still using some form of outdated piping such as galvanized pipes or polybutylene. It's worth asking the inspector to make sure there are no major plumbing issues, and all of the piping and plumbing appliances are in good working order.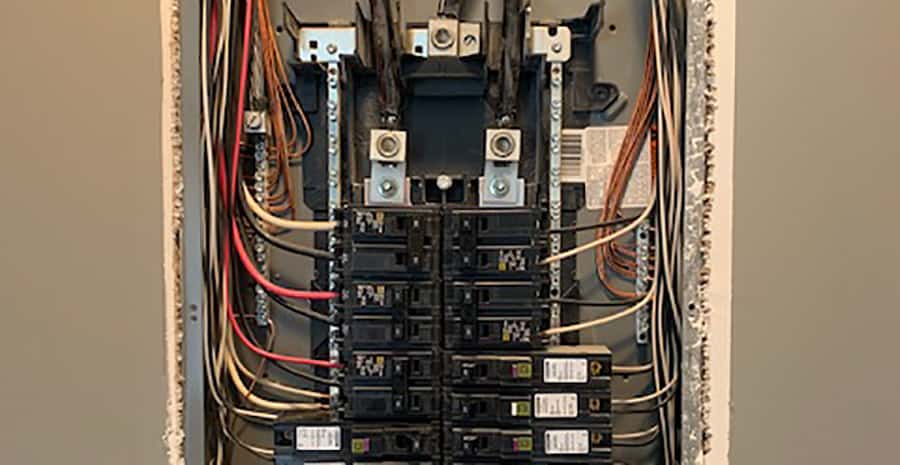 Is the electrical system current or upgraded?
The home inspector will assess the electrical system around the house as per their Standards of Practice. However, it doesn't hurt to ask a few extra questions on the matter. Your home inspector should remove the cover to the electric panel provided it's safe to do so. There are over 50,000 home electrical fires in the USA each year. These fires account for around 5000 deaths and a little over $1 billion in property damage too.
The vast majority of the time, these fires result due to inadequate and unsafe electrical systems around the house. If you spot anything that doesn't look quite right or looks like a spot of shoddy DIY work, make sure you point it out to the inspector and ask them what they think of it.
Like the point raised around plumbing, homes built pre-1980 could have outdated wirings such as solid aluminum wiring, ungrounded wiring, or knob and tube wiring.
In our article Common Electrical Problems Found During Home Inspections, we address the common electrical problems found in houses.
Does the house need to be "brought up to code?"
Most homeowners out there have heard of code violations but don't understand them. Building codes change every few years as more information becomes available, materials evolve, and technology advances. If you live in a home, chances are the house doesn't meet current building codes. Allow me to explain further.
Building code enforcement only affects new home construction and homes that are being renovated under a building permit. Cosmetic renovations do not require a building permit in most areas. Once a home has been given a certificate of occupancy, it's considered grandfathered and only has to be updated if it is being renovated. That's not to say the house shouldn't be updated, only that it doesn't have to be.
While home inspectors are familiar with building codes, they possess no legal authority to enforce them. It's worth asking the inspector about any potential violations of these codes in the home you are looking to buy to negotiate its repair with the owner. Ask if the home meet's the following codes:
National Electrical Code (NEC)
National Fire Protection Association (NFPA)
Uniform Plumbing Code (UPC)
In most states, the homeowner is still permitted to sell the property even if it does not meet the current building code. However, this gives you a prime opportunity to negotiate using this as leverage.
What's the condition of the roof?
The roof is one of the most important features of the house, as this is what protects the entire home from outdoor weather conditions, water penetration, and the intrusion of pests and animals. In general, a roof should last anywhere between 20 and 30 years, as long as it is installed correctly.
Home inspectors will typically walk the roof, if safe. However, some conditions make it unsafe to do so.
Of course, this all depends on where the house is located, the weather conditions it's subjected to, and whether or not the owner has been conducting regular maintenance such as cleaning the gutters, removing moss and mold from the shingles, repairing roof flashings, and re-caulking when needed.
Technically, the home inspector is not obligated to comment or draw judgments on the potential longevity of the roof. With that being said, most home inspectors have seen their fair share of roofs, so you may be able to get some additional information. The problem with speculating longevity is that no one can predict future conditions.
We address many common roofing problems in our article Common Roof Problems Found During Home Inspections.
Is this condition only cosmetic?
While home inspectors have an eye for details, they should be big picture thinkers. A home inspector is looking for issues that affect the structural integrity of the home and the operation of the systems inside it.
It's not the home inspector's job to pick up every single issue with the house. Some of the problems that you come across will be purely cosmetic and will not affect the functionality or the value of the house in any way.
Cosmetics are generally considered matters of taste, but they can also be related to the overall age of the home itself. I usually tell my clients, I'm not necessarily looking for things you can see. I'm looking for the things you can't see or don't know to even look for.
If you're unsure at any point during the home inspection, it doesn't hurt to ask.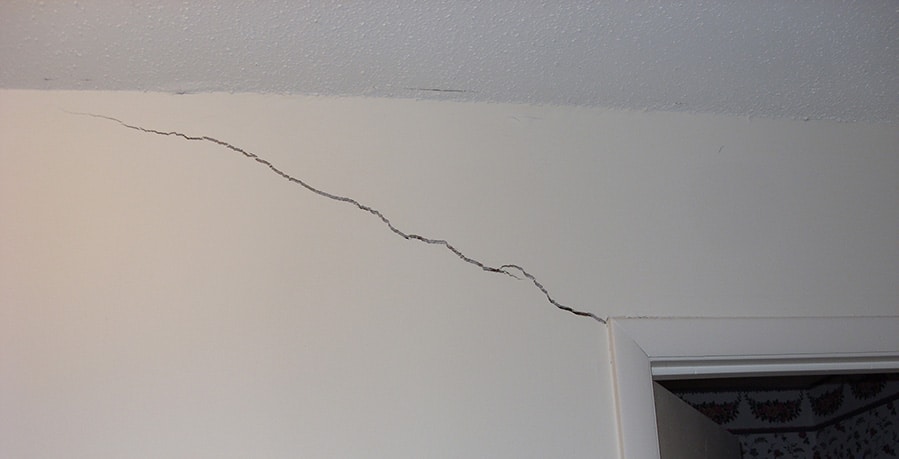 Is the house structurally sound?
The structural integrity of the building is by far one of the most important aspects when assessing your future home. This is the skeleton of the entire house. It's one of the main things that determines its overall safety and potential future value.
Fortunately, the home inspector will keep a close eye on all of the structural components of the building throughout the inspection, but once again, it doesn't hurt to double-check.
Here's a quick home inspection checklist for you. You see any of these issues, make sure you point them out to the inspector and ask them for their opinion on it:
Cracks in the walls
Uneven flooring
Windows and doors that don't shut or fit properly
Issues with the foundations
Misaligned porch of front steps leading to the property
Gaps in the mortar and brickwork
Does the property have good drainage?
When you first arrive at the property, the inspector will assess and examine the exterior to identify issues with the brickwork, structure, and driveways.
However, one of the most common issues on home inspectors' reports is poor drainage and improper grading of the landscape immediately surrounding the house. Ensure you double-check to ask the inspector what the drainage is like around the property and if they are happy with the gradient.
Suppose the house has a negative gradient and poor overall drainage. In that case, there is a strong chance you will subject the basement or crawl space to water penetration which will cause significant water damage to the foundations and the structural integrity of the house.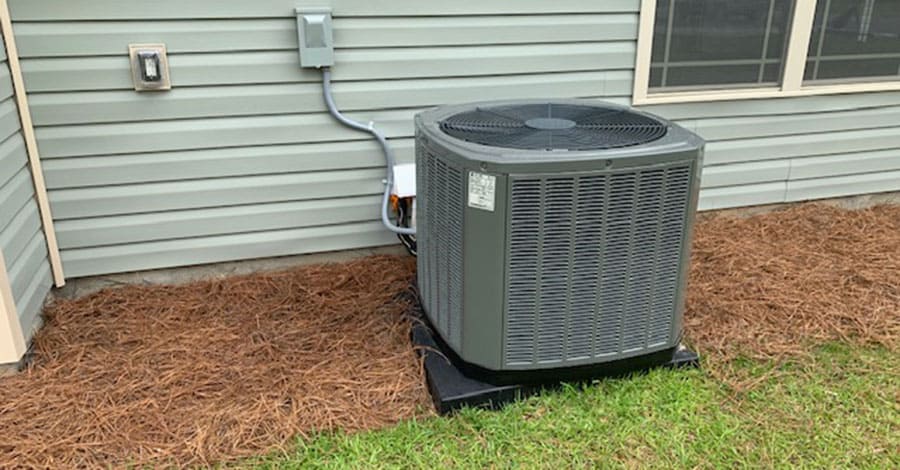 Is the heating and cooling system working properly?
The heating and cooling system is responsible for regulating the indoor air temperature and humidity levels around the home, making it comfortable for both you and your family to live in.
However, that's not all. The HVAC system also controls indoor air quality by filtering out pollutants, allergens, and other harmful particles from the air we breathe. The ducts are essential to the overall heating and cooling system. You'll likely want to know if the ducts are in good condition and have been adequately maintained.
Ask the home inspector to show you how to operate the system. This is especially important If you're unfamiliar with how the heating and cooling system works. Many people have never had one in their home before, or they're relocating to a new part of the states that have more extreme weather conditions than they are accustomed to.
Has the home been renovated or updated?
Particularly important when buying old houses, you should know whether or not any significant renovations have taken place in the home. If they have, the home inspector should pay particularly close attention to these areas for any signs of DIY errors that could end up costing you money to repair in the future.
In older houses, most people only fix things when they break. We see a lot of improper DIY work that has been performed over the years, especially in structure repairs, plumbing, and electrical systems.
You may also want to ask the homeowner why they conducted the modifications/renovations in the first place and who performed the work. Chances are, they may not have all the paperwork. However, some paperwork is better than none.
Do I need to call in an expert?
If a home inspector finds a condition beyond its typical useful life or is defective, they will often refer you to have a licensed contractor examine the condition. Just because a system is old doesn't necessarily make it defective.
However, if you suspect that there may be some significant damage to one or more of the home features, you should ask the inspector if they could recommend a relevant expert.
For example, suppose you believe that the building has significant structural problems. In that case, you should hire the services of a qualified structural engineer who will come and assess this in much greater detail.
Likewise, if several DIY electrical defects are present and the majority of the electrical system in the house is older, the home inspector will likely recommend the defects be repaired, and a licensed electrician performs a thorough examination of the entire electrical system.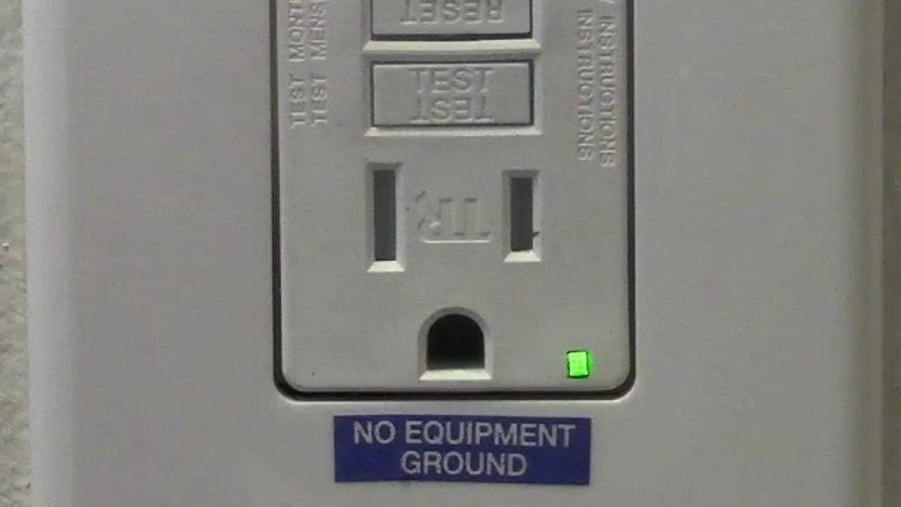 Are there any safety issues?
If you're looking for a new place to live, one of the things atop your priority list should be safety. You should definitely ask the home inspector if they believe there are any major safety hazards around the home so you can make an informed decision on whether or not you still want to make a move. Here are a few things you can ask the inspector?
Are there a sufficient number of smoke detectors?
Are there any carbon monoxide detectors present?
Is there any evidence of lead-based paint being used?
Is there any asbestos around the home?
Do you know if there are reports of radon leaks in the area?
Are there any potential electrical hazards?
Are there any mold issues present?
Did you spot any significant trip or falling hazards?
Should nearby trees and plants cause problems later?
One often overlooked issue during a home inspection is the problems that nearby trees and plants can cause. According to the standards of practice, all trees should be at least 8 to 10 feet away from the property to don't cause damage to the roof or the structure of the home.
Tree limbs that get too close to the house can damage the roof or siding later. Trees planted too close to the house can influence the foundation as the tree grows. Removing trees before they become a problem is a wise choice.
If you see any trees nearby, make sure you ask the home inspector for their opinion on whether or not they will cause a problem in the future.
Are any of your findings a deal breaker?
Here's a tip for you. Before you go on the home inspection, write down a complete list of deal-breaker scenarios that you have in mind. Deal breakers should be anything that you will consider to be a significant red flag that will cause you to think twice about buying the house.
At the end of the inspection, show this list to your home inspector to inform you if any of the issues cropped up.
We urge you to keep an open mind regarding your home inspector's findings. For every problem, there's also a solution. A home inspection deal breaker only really exists if you and the seller can't agree on how to handle the repairs.
You also have to take into consideration whether or not the house is priced for its current condition. For example, if new homes in your area sell for $200 per square foot but you can buy an older home for $100 per square foot, it's safe to assume some issues need to be addressed but that the house is priced accordingly.
I tell clients that if they are comfortable handling the repairs, even if the seller refuses to, I see no reason why you shouldn't buy this home.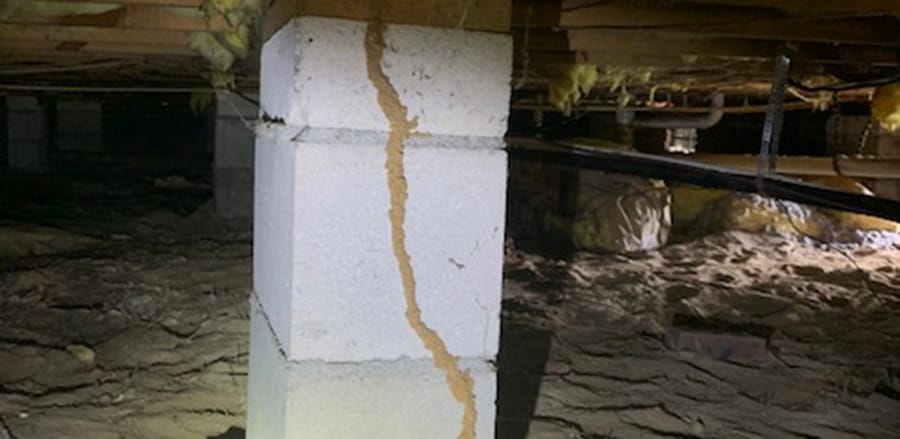 Is there any termite damage?
Pests and termites cause billions of dollars worth of property damage each year in the USA alone, so it is definitely worth your time to ask the inspector if they've spotted any evidence of pests throughout the house. 
Termites, and other wood-destroying organisms, can severely compromise the structure of a home. Ask the homeowners if the home is under a termite contract and has been checked annually.
There is a big difference between a termite contract and a pest control contract. Pest control contracts only cover roaches, ants, spiders, and other insects and have to be sprayed every 90 days or so.
Termite treatments are good for up to 10 years and require an annual inspection. Termite treatments cost significantly more than standard pest control. Termite treatment can cost $600 – $2,400 for chemical treatment of a 2,500 square foot house, according to Fixr.com.
Do you have any major concerns with the property?
Strictly speaking, the home inspector should not draw judgments or lend their personal opinion on the property. However, if you spend a few hours with the inspector, you may get a sense of how the inspector feels about a certain condition.
It's safe to assume that anything concerning foundation or structural components or old systems will rank high on a home inspector's list of major concerns. As I stated earlier, it's only a major concern if the seller isn't willing to fix it. So don't overly stress on the findings just yet.
To help you determine what is a major issue, check out 7 Major Home Inspection Issues Home Inspectors Report.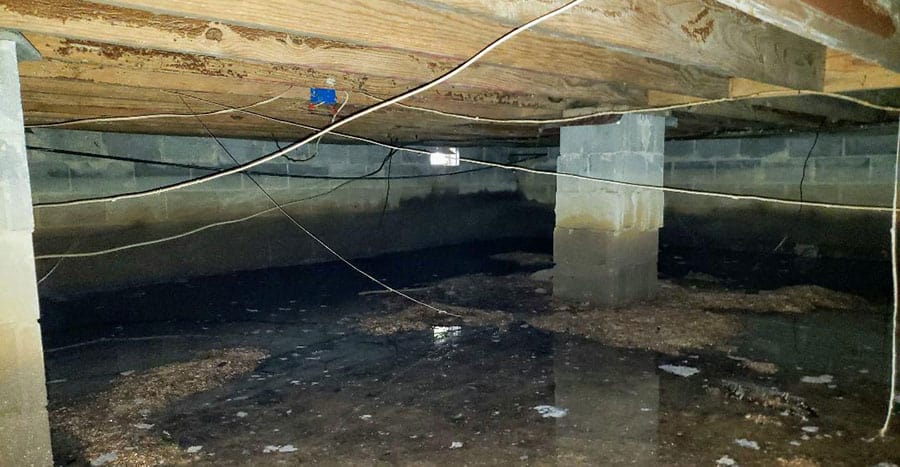 Is there any evidence of water damage?
Your home inspector will be looking for any signs of water damage throughout the house during the inspection. However, it's still important that you asked this question to the inspector at the end, so you can get a full understanding of the house that you're considering buying.
Water that penetrates the building can wreak havoc in a wide variety of ways, so you must understand if the house has a history of water damage. Here are a few things you can look out for yourself:
A strange musty smell throughout the house
Visible mold and mildew
Dripping sounds inside walls
Water stains on the walls, ceilings, or floors
If your home inspector finds a chronic wet crawl space, he may recommend an encapsulation system. Encapsulation systems seal off the crawl space, turning it into a mini basement with a commercial-grade dehumidifier system installed.
Would you buy the property?
Here's another sneaky question that you might not get away with, but it's always worth asking. Home inspectors should not provide a buying decision no matter how the question is phrased.
I tell clients that I can't speak for them because I don't know their financial position. However, if you are comfortable with the findings and like the house, I see no reason you shouldn't buy it provided the appraisal aligns with the selling price. Ultimately that's your decision, and right now, you don't have enough information to make that decision.
If you're unsure about anything, ask.
Finally, if you're not sure about anything during the home inspection or afterward, you should always ask.
There's going to be a lot to take in on the inspection day. There will be thousands of thoughts running through your head as you're walking around the house, and it's going to be hard to fire off all the questions you need to in that time. 
The best advice is to prepare well for the inspection, write down any questions that you want to ask, and make sure you're taking notes throughout the day.
I'd suggest holding your questions until the end to allow the home inspector to complete his work. Home inspectors have a routine they use to inspect. Asking questions as the inspector lengthens how long the inspection takes and could distract the home inspector causing him or her to miss more critical items.