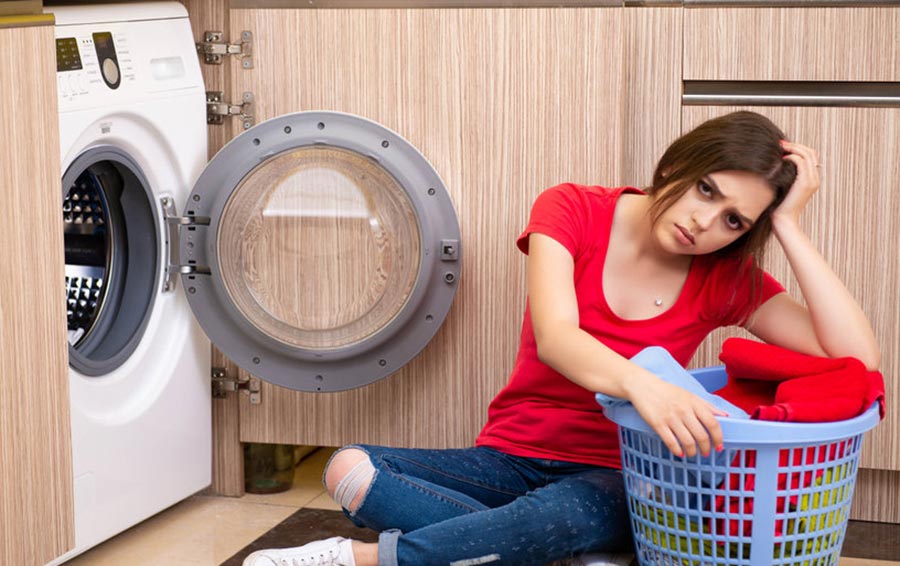 Your washing machine is at the center of your life. Without it, you would have to wash every bit of your clothes, sheets, and other belongings by hand. Unfortunately, you don't have time for that, so you need a dependable, high-quality washing machine. 
Based on our research, the worst washing machine brands are Samsung, LG, and Bosch & Seimens. In reviewing hundreds of online reviews, these brands had similar complaints of poor quality, machine failure, and poor customer service across multiple machine models.
How To Spot Low-Quality Washing Machines
A "low quality" washing machine brand is a brand that receives a lot of negative customer feedback. These machines have a design flaw or some other issue that makes them repeatedly malfunction. This eliminates consumer confidence. If a model continues to be poorly received by consumers, this lets you know it is a bad buy, even if the marketing makes the product look quite good. 
This is why, when researching products, there will be some general cons you will look for regardless of brand. Having a list of priorities and deal breakers helps you quality control what you walk away with at the appliance store. Do not settle for a brand with a high rate of complaints from your general list. 
The machine does not clean well 
Soil levels are important in any energy-efficient type of washing machine. Despite its Energy Star rating, it fails to clean well is the number one deal-breaker for washing machines. You want a machine that can carry a cleaning job through to the end without leaving laundry loads partially rinsed or soap stained. 
Long Wash Times 
It is part convenience, part efficiency that drives the purchase of a washing machine. You want a machine that will get your dirty clothes clean in time for you to wear them the next day. However, you also want a machine that will not waste much energy or water with long wash cycles. So for the sake of convenience and the value of home energy conservation, a washer that has uncommonly long wash cycles or wash time is going to be a deal breaker for you. 
Spin-cycle malfunction 
Several machines on the list of "worst" machines are called this because of bizarre spin-cycle malfunctions they can have. These machines tend to rock back and forth and vibrate violently. This can even cause room damages that might need a little home repair. For that reason, it is advised to avoid brands that reviewers note have frequent spin-cycle hiccups. 
Short machine life 
Machines have a lifespan. Manufacturers' warranties give insights into how long a machine can be expected to work well. For example, some washer models will have a considerably shorter machine life because of their design.  
Critiquing Washing Machines 
Are you wondering what the washers from hell look and act like, or what labels they wear? Don't be fooled. A great brand sometimes hides a horrible model. Criticize closely based on customer satisfaction. 
Professional critics use specific function criteria to help them pass judgment. For example, they check for how much water is left in the clothes after a run, how thoroughly detergent is strained through the clothes, how well the machine performs against tough stains, and so on. 
Perform a washing machine critique. For example, if the answer to the following criteria is "No," then the machine is low quality: 
Machine tub fills to a water level that covers a load of laundry during the wash.
Machines cycle well and run a speedy cycle. 
Detergent is evenly dispensed during the machine's cycle. 
Clothing is not tangled, wrinkled, or otherwise roughly wrung out by the agitator.
Worst "Top Brands" Malfunctioning 
Some of the highest-recommended labels can have serious bad apples. For example, a few unfortunate failures have all but traumatized families who were innocently doing a load of laundry for the following highly recommended brands when their machine began to convulse in a random shaking, jumping motion. 
1. Samsung Top Loader and Front Loader Models
Samsung Top Loaders
As a tech brand, Samsung is highly recommended. Yet, lab tests ranked it "just OK" for all important cleaning features when it came to this top-loading washing machine. However, this washing efficacy mediocrity was not the sole reason it ranked poorly in consumer reviews. Samsung top loader machines used a heinous amount of water, reportedly "guzzling" up to 199 liters per load. So for overall household utility savings, this machine doesn't deliver. 
Samsung Top Loaders have received their fair share of bad press and bad reviews. Among the most intense, one user compared the experience of using this machine to being "worse" than driving to a laundromat in the rain. 
This "just awful" machine notably got stuck frequently. The user also complained that this machine often refused to run its cycle. The only way the Amazon reviewer could restart the machine was to unplug it. 
If one bad review is not enough to sell you on the badness of this model, try several one-star reviews for size. One reviewer said they only rated it one-star because they could not give it zero. Others referred to it as the "worst machine ever owned" and gave it a single-star. This single-star rating was a common theme, showing that collectively users have had a beyond bad experience with this model. 
Samsung Front Loaders
Like LG, Samsung models are also now coming from China. The Samsung WF42H5000AW Energy Star 4.2 Cu. Ft. Front-Load Washer with Smart Care has a 3 Star rating on Amazon, with 25% of the reviews being 1 star. In reading the reviews, the washer failed in about one year in most cases, with Samsung denying the warranty claims.
Even more shockingly, the Samsung WF45K6500AW Front Load Washer with 4.5 cu. ft. Capacity has a 1.6 Star rating, with 71% of the reviews being 1 star.
The Samsung WF45R6100AC 4.5 cu. ft. Champagne Front Load Washer with Steam WF45R6100AC/US only has 3 Amazon reviews, all of which are 1 star.
2. LG Models
These machines were downvoted for the same reason that Bosch and Siemens' machines were downvoted. When an LG machine has malfunctioned, users have recorded extreme cases of the machine's self-sabotaging. For example, one user recorded a video where their LG machine jumped around on its cord, shaking violently and spinning in semi-circles. The family could not get close to it to grab it and unplug it as it jumped around, pausing and then starting up again. 
In this video, the LG machine vibrated so violently it shook out its soap trays.
LG appliances are made in China, and it's reflected in the quality of the machines.
LG WT7200CW 5.0 Cu. – 47% of the Amazon reviews are 1 Star.
 The Amazon reviews left to this model of LG credited it with "ruining a marriage." Its reviewer referred to the product as "a joke" as it only filled the tub efficiency "about 60 percent of the time". The product itself merited three visits from tech support. The reviewer states that the customer service and tech support's response was to "increase customer education," The reviewer claims LG never fixed the problem. 
The customer's bad experience with this homewrecker of a washing machine leaves a bad taste in the mouth of any consumer of this LG model. It was severe enough that the consumer in question swore off the entire LG brand of washers. 
3. Bosch and Siemens Models
Due to spin-cycle malfunctions, this has been put on "crazy, possessed" machines lists. The machine will make loud clicking noises on its spin-cycle when violently malfunctioning. It will likewise begin to sputter and jump in place. This can cause the machine to move around and knock household objects over. This can cause damages to drywall or flooring that may make these appliances more harmful than helpful. 
Some reviewers noted Bosch and Siemens brand machines malfunctioning so hard that they knocked pieces of the machine itself off. In addition, the machine can damage its outer interface when it is malfunctioning. 
Most Bosch & Siemens mid and low-end models are no longer manufactured in Germany and outsourced to other countries with lower standards.
4. Electrolux: Model- EFLW317TIW
The Electrolux Model- EFLW317TIW has mixed reviews on Amazon. The 21% of the washer's reviews on Amazon are 1 star. This model tops the charts for its pervasive badness. Some consumers even stated that they could not recommend this model to "their worst enemies." This model Electrolux is trendy, but don't allow this to deceive you. 
More than the model's lack of quality itself, the customer service at this brand is reportedly sub-par. 
One reviewer cites how the customer service reps were rude and hung upon him. Eventually, the service tech was sent out on two occasions and replaced the motherboard only for the errors and failures to continue.
5. Whirlpool Top Load WTW5000DW and WTW8700EC Models
Sometimes, the brand may make great machines, but the model is heavily complained about. That's the case with Whirlpool Top Load WTW5000DW and WTW8700EC Models. Reasons for complaint included loud "grunt" noises made by these machines during sensor wash and long wash times. 
The biggest drawback was the complaint about cleaning quality. Several users reported clothes as under-cleaned and were often left in tangled knots. 
In both machines, clothes were reported as having soap stains and under-washed. In addition, water levels were less than optimal upon filling.
It comes as a bit confusing that, as this washer uses too little water in its fill-up, it uses too much in its soak. This is because it doesn't give you the option to adjust settings mid-cycle, so you may have to drain the tub entirely and add more soap on some loads. The users who note this complain that the overall cost of water and detergent goes up because of this fatal flaw. 
6. Equator Super Combo Washer-Dryer EZ 4400
On the surface, the Equator Super Combo Washer-Dryer EZ 4400 is a great buy. It is a compact washing machine with a "winterize" feature that makes it great for RV users. Load size is small, but that is expected from a compact-sized washing machine.
The downsides most regularly complained about with this machine are the error codes it throws. In addition, users have complained about this machine being buggy. If that wasn't enough of an issue, customer support after purchase gets a lot of complaints. 
The Amazon reviews are dismal, and those who purchased and wrote reviews stated the machine broke within months of ownership and use.
7. Indesit Moon SIXL146
This machine was complained about heavily because it had no glass door to see through its front-load. In addition, reviewers complained about this machine "making no sense at all." For example, detergent reportedly built up in the door seal, and the machine held water in weird places. In broad terms, reviewers complained because this machine had no design creativity. 
8. Costway Machines 
Costway Machines are well-liked for their compact and portable size. This is ideal for a smaller space. Yet, when you break down the effectiveness of these machines, some negative aspects start to overshadow their convenient size. Precisely, with two models. The Costway 15-inch 1.4 CFT Smart Portable Top Load Washing Machine (120 volts) and the Costway 14-inch 1.6 CFT Portable Top Load Washing Machine Mini Compact Washer Dryer.
Reviewers complain about these models because they don't have an automatic shut-off feature. 
9. Danby: Model DWM045WDB
Former users beg their fellow consumers not "to waste money" on this Danby model. The design is attractive, but it's a trap. Yet, the body of this machine has been described as "too weak" for heavy loads by its former users. The agitators in these machines also receive a lot of complaints. 
Overall, this Danby model is terrible for large loads. 
10. Speed Queen AWNA62SN305AW01
This machine model scored extremely low in lab tests of cleaning efficiency. This was incredibly disappointing for users because of the machine's high rise in price point. In addition, it was rated among the lowest of machines for dirt removal efficiency. 
11. Deco: Model DC 4400 CV
This brand has been described as "cool to look at," but it's glitchy. The machine will stop running mid-cycle and sometimes fails to show anything on its display. Consumer complaints abound. 
12. Maytag MVWB750YW 
Machines in the "worst" column typically use too much water for the resource-efficient homeowner. In this case of this model of Maytag, however, those consumers who dubbed it "worst" said it used too low of a water volume. As a result, users have complained that this machine leaves clothes hanging above the waterline by as much as nine inches. 
Another complaint that made this model among the most vehemently hated machines was its harsh laundry treatment. The complaints of brutalized garments rolled in. It is impossible to wash delicates with this model, say the consumers who noted their "absolute hate" of this machine.
General Features to Avoid 
The majority of washing machines that generate complaints have some traits in common. Major drawbacks that received general complaints included: 
Front-loading washer requiring pedestals
Front-loading machines have a higher potential for mold growth and a foul odor due to in-door crevice puddles.
Keep an eye out for general design flaws such as these. Washing machines with quirky detergent loading trays register low on recommendations lists. It needs to make sense, and be convenient, as well as pretty, for a design to work. 
Keep an eye out for washing machines that develop foul smells due to water pooling. This will eventually affect your laundry room, clothes storage, and your quality of life. 
Other Reasons To Avoid Some Washers
Comparing customer experiences can help you decide about the "worst washing machine brands" you don't want to buy. Still, there are factors outside of negative brand feedback to consider. Other reasons to avoid washing machine brands can include study you do on priorities that matter to you, such as environmental values, water temperature, and other drawbacks. Finally, remember that your ultimate buying decision will come from your personal goals.  
How To Select The Best Washers 
Now that you know what you do not want in a washing machine, your next step is to make a list of outstanding features. Next, you can tick off boxes of downsides to narrow your search among great buys. Then, you can be more customized in your search among good buys by knowing what makes a good washing machine. Finally, you can compare the best with your personal goals for the best user experience. 
In general, you should look for the following things as indicators of good washing machine quality: 
Affordable
A decent size, generally 24-27 inches
Clear Energy Star label, and a solid consumer energy-use ranking 
Preset functions that consistently operate 
How To Make Your Pick 
Once you've cast out the bad batches of machine models and narrowed down the nice-to-haves, you are almost ready to make a buying decision. Some additional guidelines will help you make your final choice. 
Compare reliability data from Consumer Reports. 
Check satisfactory guidelines. 
Plan your ultimate buy around your laundry room floor plan. 
Review lab test reviews for the best understanding of maximum clean efficiency. 
Next Step: Pair A Washer With A Dryer 
Now that you have made the tough calls on a high-quality washing machine go to the next step and start your research on a dryer. Pairing the best with the best adds a boost of power to your laundry room and the long-term return on investment yield you get in it.