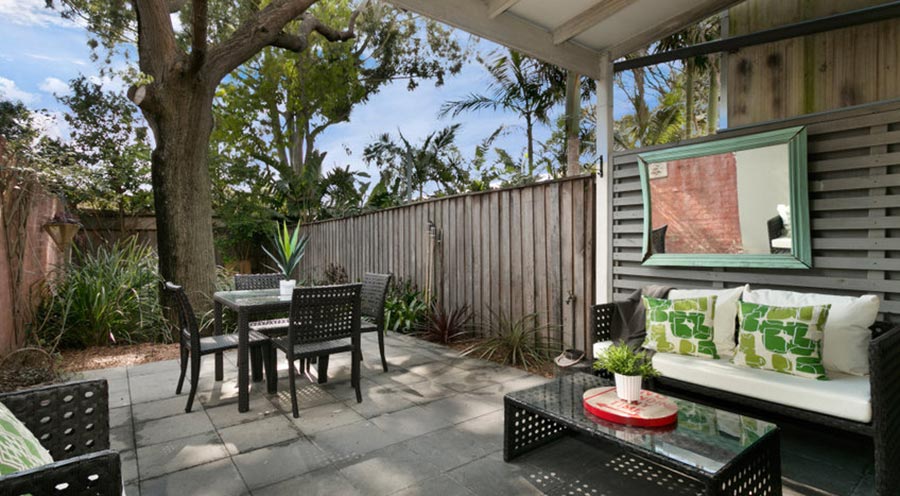 You've just bought a house with an unattractive concrete slab patio, or you've had one for years and tried to ignore it. Concrete patio spaces are a great addition to the exterior of your home. But, you don't have to live with a dull space since there are different ways of making the concrete attractive. 
It's normal to wonder if you have to live with a dull concrete patio forever. The good news is you don't have to. Here are 9 ideas you can make your patio attractive:
Add a large outdoor rug
Painting the patio
Staining your patio
Scoring patterns in concrete 
Deck over the concrete slab
Consider adding pavers
Create a custom look with stamped concrete
Create custom planters for plants and flowers
Create an outdoor entertainment space
Construct a pergola
Some methods of making the concrete patio attractive are easy to do. That way, you can upgrade your DIY skills. For other methods, you'll need to call in professional help. 
You can make patio concrete appealing and create a lovely place to chill. Below are nine ideas you can play around with and transform the drab-looking concrete flooring. 
How Can I Make My Concrete Patio More Attractive?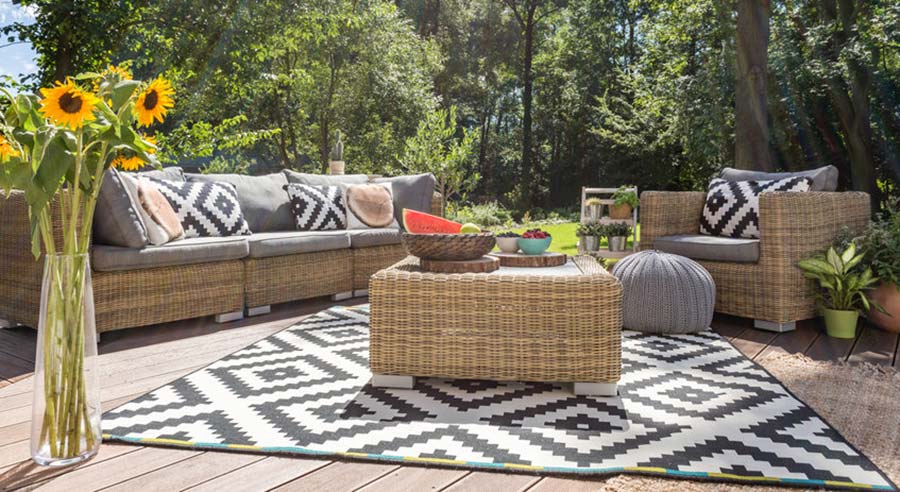 1. A Large Outdoor Rug
Picture this: you have completed the outdoor patio after much deliberation. The final product you chose was concrete. It has numerous advantages, which is the main reason for using it in the outdoor space. 
But, as durable and good quality as it is, concrete isn't appealing. This space will last for a long time, but chances are it won't make you smile often. It would be best if you had a way of sprucing it up and making it match the inside of your home. 
One way of making the new patio appealing and a place you want to be often is placing an outdoor rug. Invest in one the fits the area well before adding the patio furniture. The good news is there are many designs, shapes, and sizes of rugs to choose from. 
The rug will bring the whole area to life. Additionally, you can match it with the outdoor furniture you choose for the patio. 
2. A Bit of Paint Works Wonders
If you have any space in your home that you want to transform quickly, one of the easiest ways to do so is using paint. The same applies to patio spaces around your home. Instead of leaving it as it is, how about using a coat of paint to transform it. 
Painting such a space has numerous benefits. First, it makes the concrete patio attractive. Second, there's no limit to the kind of paint you can use. So, pick out any colors and get to work transitioning the space to what makes you happy. 
Second, painting concrete adds to its durability. The layer of paint will act as protection against the natural elements. It helps the cement last longer, especially if you live in areas with extreme weather. It keeps out the moisture that can damage your concrete surface. 
Third, it gives the patio a facelift. Each time you notice the space looks dull, all you need is a fresh coat of paint to transform it. That not only benefits the patio space but the entire exterior of your home. Touch-ups are inexpensive and something you can do on your own. 
Make sure you properly clean the floor before you paint it.  Because of the consistency and texture of the patio paint, you should use a roller to apply the stencil to your patio.
Use measuring tape and some chalk to find the center of your patio. That will be your starting spot. Then, lay the stencil flat and use painter's tape to keep it in place. Next, roll the paint on the stencil until it's filled. Let it dry for a while before you move the stencil to the next spot. It will probably take you a few days to finish, so plan which places you will stencil to prevent walking on freshly stenciled parts when you want to exit your patio. 
Once you're done, you will want to protect your paint with a sealer. If you don't, the paint will get destroyed. Make sure you let it dry for 24 hours before you walk on it.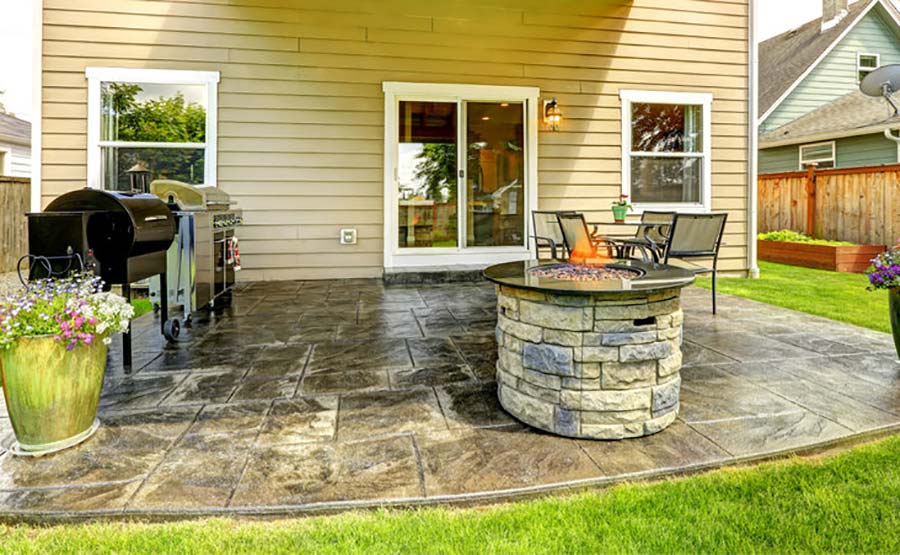 3. How About Staining?
How can I make my concrete patio more attractive? As you wrack your brain with this matter, consider staining. 
Staining is the method homeowners use to elevate concrete flooring. You can use it on a new or existing floor that needs refurbishment. What you get in the end is a complete transformation. 
Staining transforms dull and drab-looking concrete patios into the best spaces to enjoy in your home. It does so through the opaque effect, but the results depend on several facts about the concrete. These include:
Age of the concrete on the patio
Concrete's texture
Concrete's composition
The environment
The porosity of the surface
Still, staining is one way to transform the dull concrete patio. It requires wetting the surface, and then you pour the product on it. When it dries up, it becomes a permanent part of your patio, giving it an elegant look. 
You can inquire from the local hardware store about different staining colors to use. That makes it easier to create a theme on the patio. Also, note that there are two types of staining: non-reactive and reactive staining. 
You can use the two on any concrete, be it new or old. The best concrete surface to use staining on is one that's not more than a decade old. Ensure the surface is smooth, which makes it easier to stain as a DIY project. 
Before you start staining your concrete patio, you will have to pick the right stain. Stains come in 2 formulas. The acid-based formula is long-lasting and resistant to fading. In addition, it produces a natural-looking finish that won't peel or chip. The water-based formula is available in many different colors and is easier to apply. In addition, it has fewer toxic chemicals, and it dries more quickly than the acid-based formula.
Prepare your concrete for staining. Fix any cracks and clean them well. 
To apply the stain on the concrete slab, you will use an acid-resistant airless paint sprayer. You can use paintbrushes and paint rollers in smaller areas and tight corners on the slab. To create a smooth and uniform finish, go over each sprayer coat with the paint roller. 
Make sure you allow the acid stain to react with your concrete for 6 hours. To see the final color, clean any residue and pour water on the floor. If you want a darker color, apply a second coat. Then, clean the residue from the floor with a degreaser and neutralizer solution using an acid brush. Next, you will rinse with clean water and mop up excess water. Keep rinsing until the rinse water is free of color, and you can wipe the floor without picking up the color. 
Water-based stains don't leave any residue. Read the label instructions and follow the manufacturer's guidelines for the correct drying time.
Make sure you use a concrete sealer. A clear sealer will enhance the depth of color and repel dirt, water, and environmental wear. Let the stain cure for 24 hours and spread the sealer as it says on the instructions. It will take about 48 hours for the sealer to harden completely.
4. Get Creative With Scoring Patterns
How about using some patterns scored onto the concrete to give it a lovely finish? Scoring concrete transforms it from an ordinary space to one you want to spend the most time on. 
It's a simple process. All you need is to cut patterns onto fresh concrete before it completely dries up. You can do it yourself or ask the contractor to do it for you. Then, pick the pattern you want and make the space more appealing. 
The best way to make the patterns pop is using scoring that's mixed with color. Again the right color depends on the theme you want on your patio. Consider the color of the furniture and surrounding space before settling on one or mix several. 
You can use a diamond blade for the process that gives you a good finish. However, you can chisel the lines if you want to get a more rustic look. Just remember this is a more tedious endeavor that takes time to produce results. 
Scoring is an eco-friendly way of transforming your concrete patio without needing to tear it up. Also, it's pocket-friendly and doesn't require lots of maintenance to keep it popping. Not to mention, you get a chance to customize the space as you please.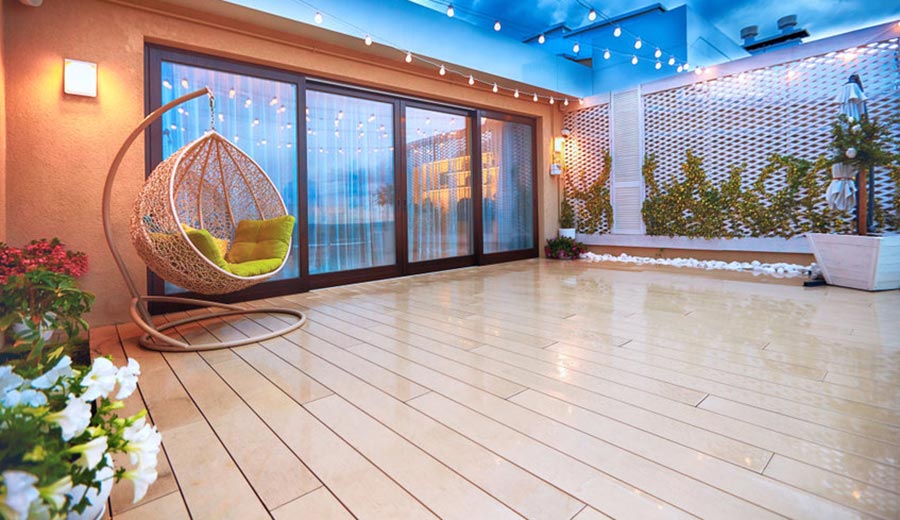 5. Deck Over the Concrete Slab
Are you considering decking over the concrete slab? That's another splendid way of making your concrete patio look amazing. 
Concrete decking is simple and a great way to transition the outdoor space. So many people turn to it because concrete is versatile. You can transform it into any design you want through proper curing. That way, the concrete patio can match the exterior of your home.
Not to mention the whole process can turn into a DIY approach. Just gather the suitable materials and get to work. Once you complete decking the concrete floor, add white fascia boards at the edge. These make the space irresistible.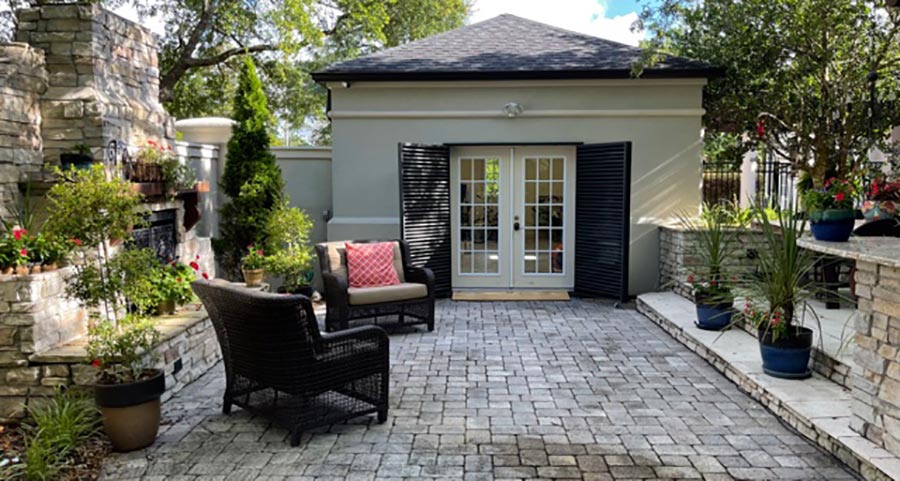 6. Consider Adding Pavers
Did you know you can add pavers over existing concrete and make it the loveliest outdoor space in your home? All you need is a dry concrete surface, and you are good to go. 
Old concrete isn't appealing. The dull look makes you think more about how to transform the space into something extraordinary, right. Pavers are another excellent method to transition concrete patios instead of tearing them up. 
You'll notice that pavers are simple to use and an inexpensive way of repairing damaged concrete surfaces. In addition, paving stones are versatile since you can get them in different colors, textures, and designs. Therefore, put on your creative hat and get to work. 
They work best with new concrete that doesn't have much damage on it. However, you can use it on existing concrete as long as you do some damage control. The surface must be smooth and in good shape before using pavers. 
Installation is a simple process but requires some prowess. It would be best if you started by pressure cleaning the concrete floor then let it dry completely. After that, arrange the border paving stones and glue them down using adhesive. 
Next, you add a thick layer of sand, arrange the paving stones, and then sweep the sand into the joints to lock them. Just be sure the surface underneath is smooth and doesn't have any cracks. It's the best way to have a smooth, even finish. 
If your existing patio is too small, you can extend beyond it and continue onto a standard gravel base. However, the gravel base and the existing slab could shift in different ways, which would end up creating a gap or hump where they meet. It's best to separate the two with a few stepping stones instead. 
If your patio has stairs, you can glue pavers on them as well. Keep in mind that you have to cover the treads to maintain the height of the steps.
7. Create a Custom Look With Stamped Concrete?
How can I make my concrete patio more attractive while it's still wet? Another great way to make the space the talk of every guest is using the faux tile look. 
The faux tile look is transforming one surface to resemble another. It's a clever simulation technique that contractors use that has been around for centuries. 
Concrete is easy to mold and work with, making it easy to transform the patio space into art. That means you can make the concrete flooring resemble wood, for example. Contractors tend to use hand carving, stamping, or texture skins in this process. 
You can make the patio resemble wood, slate, or stone. Just be sure to let the contractor know what you like. 
Additionally, you can ask them for opinions or ideas that they've worked on before, which creates a better picture for you. Also, remember you can add color to the concrete patio, making the faux designs more appealing. 
Sometimes it will be necessary for you to do some detailing with a hand chisel or a roller to remove any displaced cement paste that came up through the joints between stamps or to fix any blurred pattern lines.
Once your concrete slab is completely cured, you can apply a finish coat of sealer. Make sure you don't apply the sealer too heavily because you could end up trapping moisture in the slab.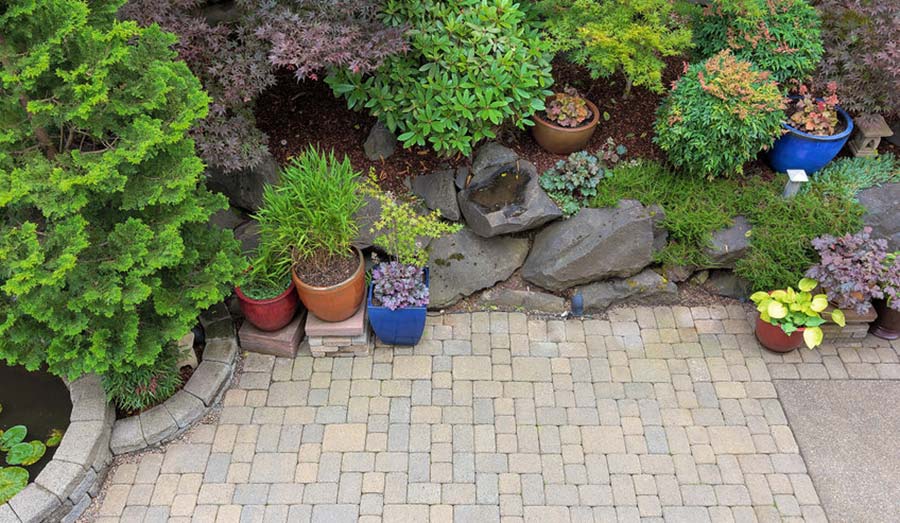 8. Build Custom Planters For Plants and Flowers
Once you pick any of the above methods, remember to bring in a touch of nature. You can choose the plants depending on the type of patio you have. If space is enclosed, get some indoor plants and flowers. 
The same applies to open space. Flowers and plants make the concrete floor look even better. They bring out the colors of the pavers, rug, carpet, or paint you opt to use. It's the finishing touch that every concrete patio needs.
Consider the fact that the patio is next to your backyard. Being outside, you need to go with the theme of nature. That's why it makes sense to have several planters spread throughout the space. Having them as close as possible to the floor works wonders.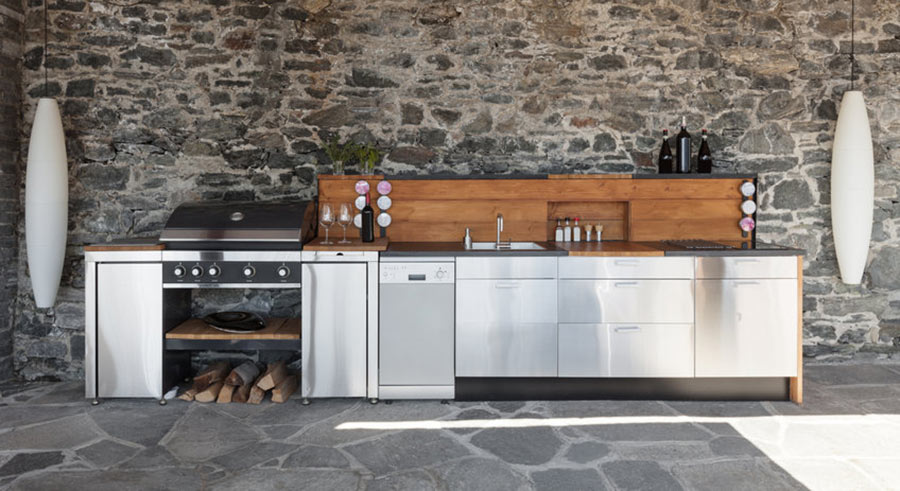 9. Create an Outdoor Entertainment Space
A lot of people are focusing on creating indoor-outdoor rooms for entertaining, especially now. However, a well-designed patio can be a great place to hang out or celebrate anything during the summer. 
You can construct an outdoor kitchen complete with a water-resistant outdoor rug to establish the dining area. You can add some potted flowers, string lights, and a pergola to make it feel cozier.
You can also add a grill to your patio so that you can talk to your guests while making dinner. 
Add comfortable couches, chairs, a coffee table, and a water-resistant rug to make your patio feel like a living room. 
A fire table is excellent for colder summer nights when you still want to hang out outside but don't want to be cold. A cheaper alternative to this is to keep some blankets in a waterproof basket. You can also build your fire pit. 
Depending on how large your patio is, you can create more hangout zones than just one. Your patio can feature an outside kitchen, a dining area, and a fire pit.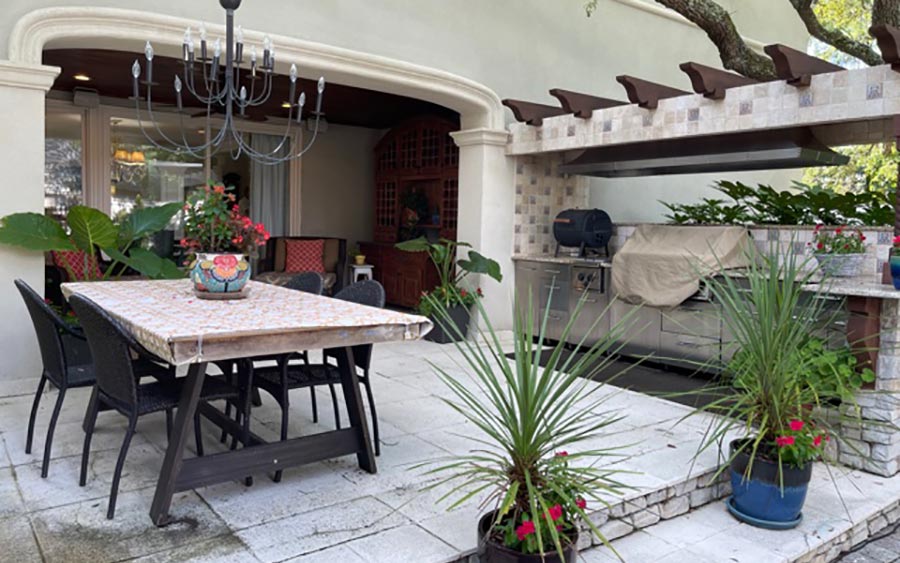 10. Construct a Pergola
If you bought a house with a concrete slab patio and didn't want to have a patio, don't worry; it doesn't have to be an eyesore. If your concrete slab patio is already shady, you can add a bench or a hammock to create a relaxing place. 
If your concrete slab patio isn't shady, you can make it shady. It's better to relax and nap in a cool shade than to worry about getting burned if it's too hot outside. You can plant some trees around your relaxing spot, or you can build a pergola. Pergola is also great for growing clematis, roses, and grapes. 
You can build a pergola for very little money, and you can do it yourself. Most contractors can build a beautiful pergola in just a couple of days. 
One side of the concrete slab should be slightly lower to encourage water to drain away. However, this isn't something that you will see with the naked eye, so make sure you measure it first. If your concrete slab is entirely level, you can easily make it higher on one side. 
In Summary
Now you are not wondering how you can transform your concrete patio into a lovely and appealing space. The nine ideas above can be a great place to start. 
When you complete the transformation, you won't need any convincing to spend time on the patio relaxing. Not to mention your guests will always want to join you in the fantastic area. 
HomeInspectionInsider.com is owned and operated by Hubert Miles is a participant in the Amazon Services LLC Associates Program, an affiliate advertising program designed to provide a means for sites to earn advertising fees by advertising and linking to Amazon.com. HomeInspectionInsider.com also participates in affiliate programs with other affiliate sites. Hubert Miles is compensated for referring traffic and business to these companies.